This quick summer side dish has a creamy sauce WITHOUT mayonnaise! The dressing is made with Greek yogurt and avocado for a protein-packed, superfood rich pasta salad your whole family will love, and it comes together in minutes!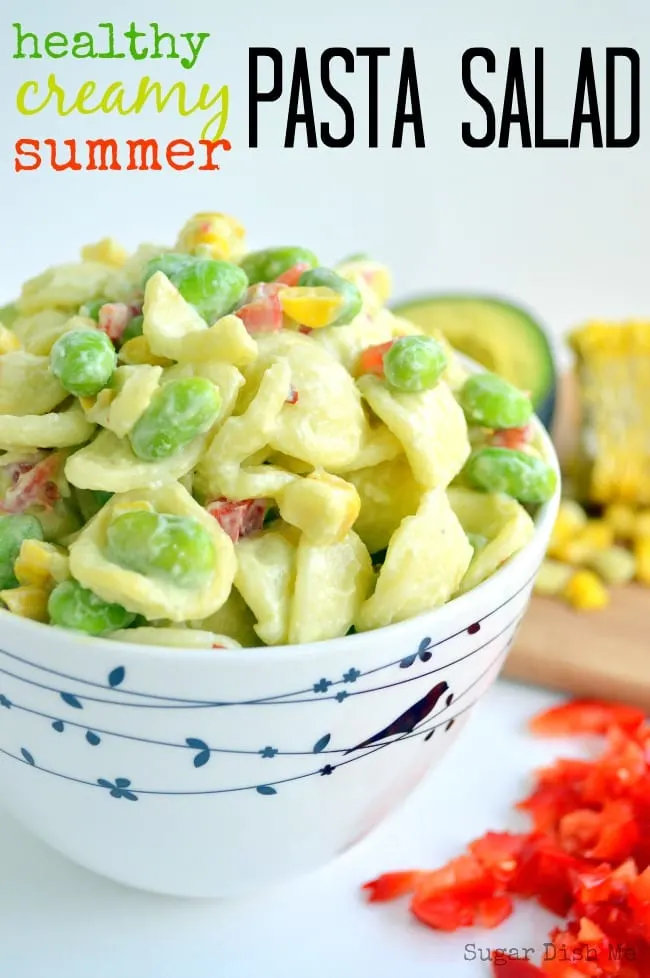 This content is sponsored by The American Dairy Association in an effort to salute it's local dairy farmers with a celebration of #AllThingsDairy as they seek nutritious recipes combining milk, cheese and yogurt with fresh produce. To learn more about the health benefits of dairy and the essential role it plays in your diet visit DairyGood.org . I was compensated for the content in this post but… well you all know about my love affair with cheese and ice cream so it's fair to say that all opinions are REALLY my own.
I was reallyreallyreally proud of myself with this pasta salad because I tricked my other half into eating something he swears he hates : avocado.
This win was almost as good as the avocado frosting he loved. Almost.
So here's how it goes: I super love pasta salad and so does everyone I know. I make it and bring it along with me to most get-togethers, usually upon request, and my normal dressing is made with vinegar and honey and is goo-ooooo-oood. Not to pat myself on the back or anything, but … yeah.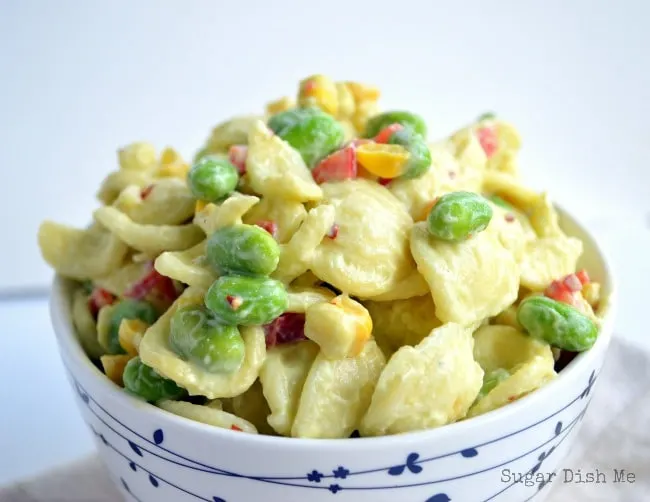 Anyways, sometimes I want a creamy pasta salad but here's the thing: I'm not much on mayonnaise. Working in a sandwich shop in high school totally ruined the mayo-factor for me after I served way too many mayonnaise sandwiches with a little bit of ham. Ewww.
Awhile back I made over tuna casserole with Greek yogurt and was majorly in love with the results, so I decided that Greek yogurt is not only my breakfast almost every day, but is also my new miracle makeover food. Plus it's got this tang thing happening that is straight up outstanding. For this dressing I only used 3 things, plus a little salt and crushed red pepper flakes:
Greek yogurt
avocado
lime juice
That's it. I swear.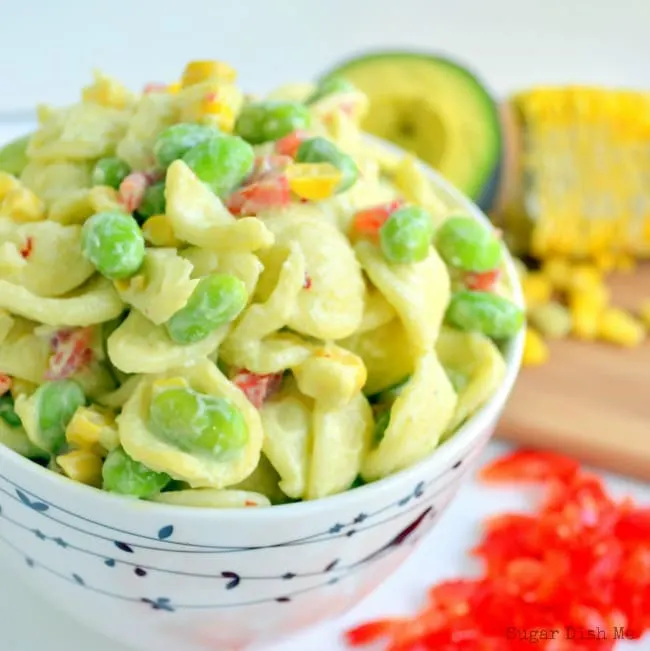 You end up with this perfectly creamy HEALTHY dressing that binds like mayo but tastes like fresh, delicious, nutrient-packed awesomeness with a hint of lime. Which worked out really perfectly because June is Dairy Month!
Fresh nutritious dairy foods like milk, cheese and yogurt don't just taste delicious; they're good for your body! Dairy foods are the #1 source of calcium in most individual's daily diet and offer 9 essential nutrients. Milk and dairy products are fresh 365 days a year, making Dairy Month a great time to think about exciting, nutrient rich combinations like creative grilled cheese sandwiches, salads and refreshing desserts.
Join in the fun & deliciousness and celebrate "All Things Dairy" with 15 Food Bloggers from around the country as we celebrate #AllThingsDairy by sharing some of our favorite dairy recipes PLUS enter for a chance to win one of 3 Cuisinart ICE-30BC Pure Indulgence™ Frozen Yogurt-Sorbet & Ice Cream Makers to entice you to make your own delicious dairy treats this summer!
I mean… not that you need an ice cream maker for pasta salad, but you get the idea.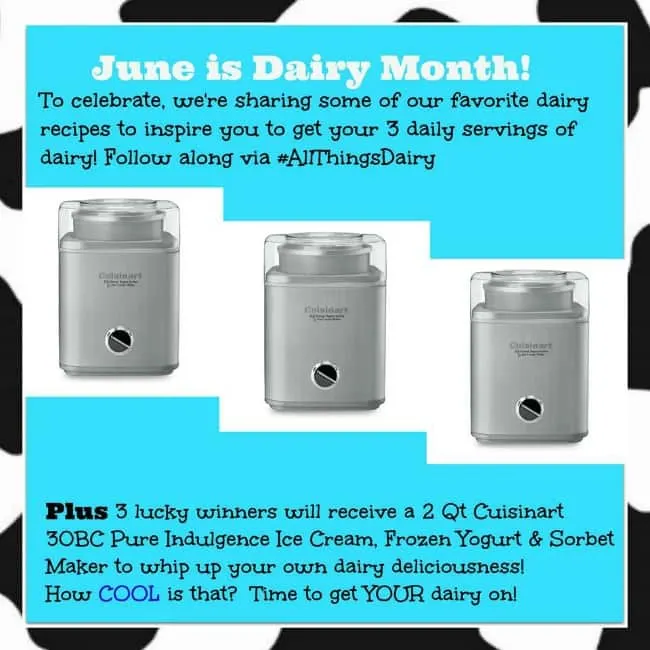 I have one of these fancy Cuisinart countertop ice cream makers and I loooooooove it. You will too! Use the Rafflecopter widget below to enter to win!
Healthy Creamy Summer Pasta Salad
A simple, delicious, creamy pasta salad that uses no mayo! Greek yogurt and avocado make a perfect, nutrient-packed dressing on a protein-rich summer side dish.
Ingredients
12 ounces small pasta (I used orecchiette)
1 cup shelled edamame (I used frozen, thawed)
½ cup red bell pepper, diced
½ cup sweet corn kernals
For the Dressing:
¼ cup plain Greek yogurt
½ a ripe avocado
juice of ½ a lime (about 2 teaspoons)
crushed red pepper flakes (optional; to taste)
kosher salt to taste
Instructions
Cook the pasta according to package instructions for al dente. Drain, rinse with cold water, and drain the cold water. Pour the pasta in a large bowl.
Toss the pasta with the edamame, red bell pepper, and corn.
In a smaller dish mix together the Greek yogurt and avocado. You will have to smash up the avocado, so I usually use a fork to smash/stir. When the mixture is creamy and smooth, squeeze in the lime juice. Stir.
Pour the dressing over the pasta and veggies in the bowl. Stir to coat.
Add salt and crushed red pepper flakes to taste.
Loooooook at all these fantastic dairy recipes!
Souffle Bombay – Berry Cheesecake Shooters
What the heck's a bonbon?- Watermelon, cucumber and strawberry granita with lemon vanilla frozen yogurt
We're Parents!? – Strawberry Cheesecake Pancakes with Homemade Whipped Topping
It's a Keeper – 10 Homemade Ice Cream Recipes (round up)
Pass the Sushi – Blueberry Frozen Yogurt
Opera Singer in the Kitchen – Double Cheese Spinach and Mushroom Omelette
Real: The Kitchen and Beyond – Jarlsberg Mushroom Melts + 10 Grilled Cheese Ideas
The Vintage Mom – Frozen Strawberry Yogurt Pops + Some More Fresh Ideas!
Giggles, Gobbles, and Gulps- 10 Fun Ways to Drink Your Milk (round up of flavored milk recipes)
Little Kitchie – Spinach & Prosciutto Pizza
How I Pinch A Penny – Banana Pudding Shooters
Mind Over Batter – Strawberries and Cream Icebox Cake
Kitchen Conundrum- Rich & Creamy Macaroni and Cheese
The Suburban Soapbox – Chocolate Martini