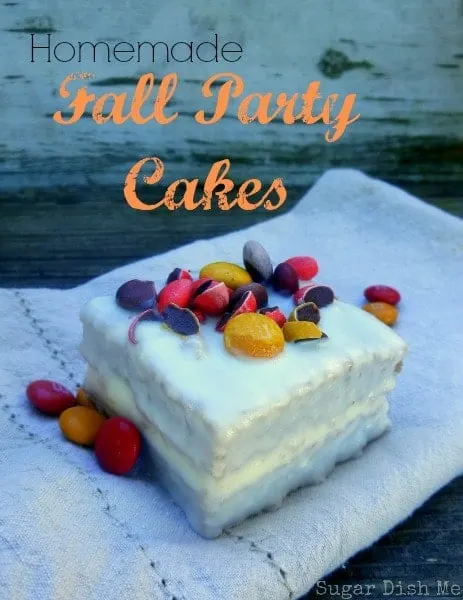 Is it just me or do the seasonal M & M's taste better than the regular ones? I had to hoard these because for some reason all the fall M & M's are sold out in August while it's still 984 degrees here in NC (NOT fall). I found these Fall M & M's sandwiched in between Christmas cookies and artificial trees at Kmart. STOP RUSHING ME!!!!!
I need some time to enjoy my season.
I used to run a little store here locally and part of my job was managing all the vendors with their various eats and treats. Little Debbie was always waaayyyyy ahead of the holiday curve and when they stocked the shelves every Monday it was always like a stark reminder of whatever calendar date is looming. Valentine's Cakes at the end of December (I'm serious.), Fall Cakes in late July/early August, and Christmas Tree Cakes in late September/early October.
Annoying.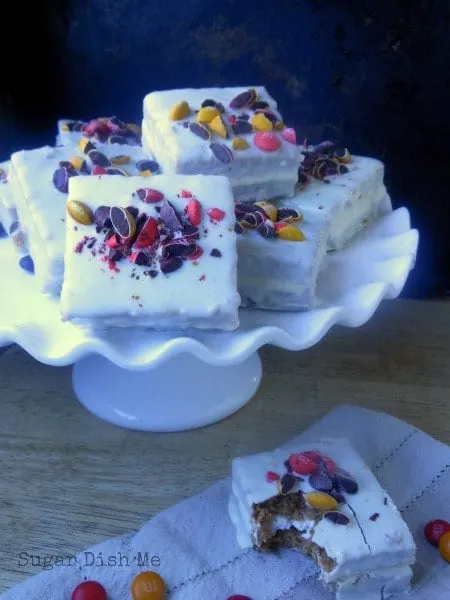 So by the time I decided I wanted to spend my junk food calories on a seasonal cake it was always the wrong season. I don't want Christmas trees in October, no matter how much I like those sparkly sprinkles.
And then I made my own Fall Cakes. But really this is just a basic recipe so you could make these any kind of seasonal cakes you want. If you like chocolate holiday cakes, use a chocolate cake and chocolate almond bark for the glaze. Cut the cakes with cookie cutters for Valentine's Day. Stars for the 4th. Buy fun sprinkles! Go crazy!
FYI – my kids tell me I am still the reigning lunchbox hero for putting these in their brown bags all week. It's a title I I kind of really love, especially because my oldest is 13 and is starting to think everything I say is really dumb (13-year-olds know everything.). At least he thinks my cakes are cool.

Homemade Fall Party Cakes
A homemade version of Little Debbie Fall Party Cakes topped with M & M's!
Ingredients
1 box spice (or yellow or chocolate or white) cake mix, plus the eggs, water, and oil to prepare
½ cup shortening
½ cup marshmallow fluff
1 teaspoon vanilla extract
1½ cups powdered sugar
1-2 tablespoons heavy cream
1 (20 ounce) package vanilla almond bark
8 Tablespoons vegetable shortening
1½ cups M & M's (seasonal colors!), coarsely chopped
3 large sheets of wax paper
Instructions
Preheat the oven and mix the cake according to package instructions. Butter a 10½ X 15½ jelly roll pan. If you do not have a jelly roll pan you can use a 9 X 13 rectangular pan, but note that your bake time will be just a tad longer and your cakes will be a little fatter.
Pour half the batter into the prepared pan and bake for 10-12 minutes. A pick inserted into the center will come out clean. Let it cool for about 5 minutes before carefully inverting it onto a sheet of wax paper. Repeat the process with the second half of the cake batter.
When the cakes have cooled, beat together the ½ cup shortening, ¼ cup marshmallow fluff, and the vanilla. Sift in the powdered sugar. Beat (it will be stiff) and then add the cream a tablespoon at a time to reach your desired consistency. You're looking for sweet spreadable cream.
Spread the frosting on one of the cakes. Carefully use the wax paper and your hand to flip the other cake on top so you have a giant cake sandwich. This step is tricky! Be careful!!!!!! Sliding the cake on wax paper onto a wire baking rack before flipping can help. Remove the top piece of wax paper and set the cakes aside.
In a small saucepan over medium to medium high heat, melt the almond bark and shortening, stirring frequently until you have a nice soupy smooth melted glaze. Remove from the heat.
Use a large knife to cut the giant cake into small even squares. I went with 20 medium sized cakes but really they would be awesome as smaller little two-bite snack cakes. It helps to rinse the knife in hot water and then wipe it off with a kitchen towel between each cut to avoid crumbies every where.
Drop one cake at a time into the warm glaze and use a spoon to coat all sides. Carefully lift the cake out with a fork and lay it onto a sheet of wax paper. Sprinkle the M & M's on top and let the glaze set up as it cools. Repeat with each cake.
These keep at room temperature just fine, but I really like mine straight out of the fridge. Extra delicious!