Easy from-scratch quick pizza dough that's ready to bake in just 10 minutes! This 10 Minute Pizza Dough turns homemade pizza-making into a quick meal for everyone to enjoy!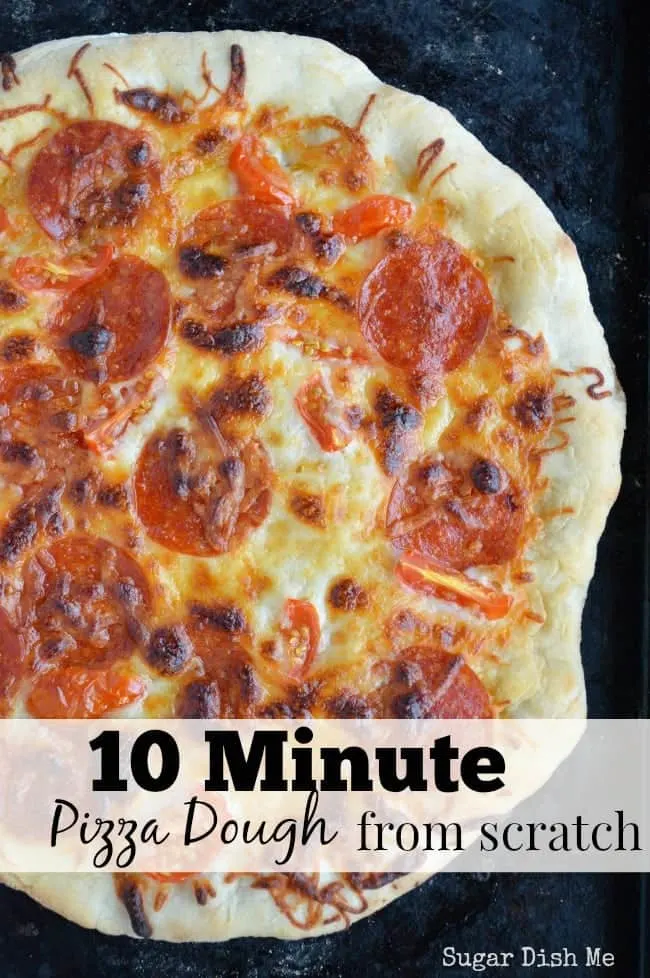 UPDATE January 2018: WOWWWWWW. This recipe has been printed hundreds of thousands of times since I originally published it in October 2013.
This recipe is STILL a favorite in our house – we use this easy pizza dough almost weekly! The comments are full of tips and tricks from readers that have tried this recipe and make it nearly as much as I do.
If you have tried this Quick Pizza Dough – ready in 10 minutes and made from scratch I'd love to hear from you!

[original post text follows]
I was talking to my mom on the phone a week or so ago and she was getting ready for they boys to come visit. She asked about what dinners would make them happy — I think she was worried that they might have some kind of fancy food preferences because I use them as recipe guinea pigs all the time.
Truth be told though, my kids are just like all the other kids. They want tacos, chicken fingers, burgers, and pizza.
For all my Figgy Chicken and Creamy Chicken, Mushroom, and Wild Rice Soups, they would probably be happy with those 4 foods in rotation for all of eternity.
If we are being real here I could probably survive on pizza and tacos without much trouble.(shhh. That's a secret.)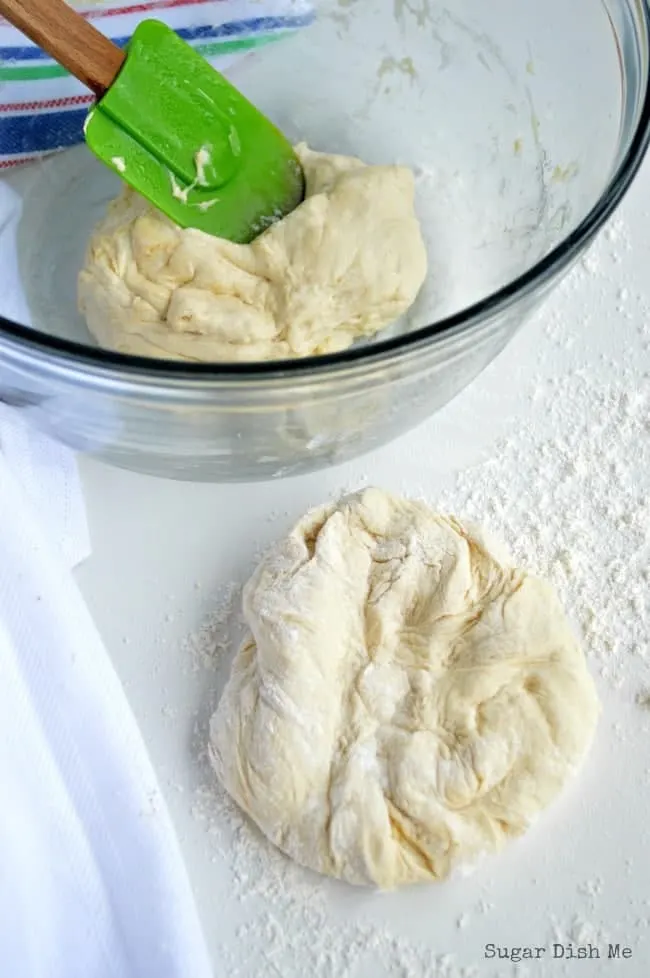 I make homemade pizza about once a week, mostly because I'm cheap and know that I can make dough for about 42 cents, and then cover it with cheese and leftovers and my kids are none the wiser (also a secret).
But after talking to my mom I realized that homemade pizza dough can seem sort of daunting and intimidating if you don't do it all the time.
And most recipes call for like 2 hours of rising and 10 minutes of kneading, and it's pretty much way easier to just pick up the phone and wait for pizza delivery while you check homework or watch TV.
So today I am sharing with you my favorite shortcut – quick pizza dough that is ready to bake in 10 minutes. You can have homemade pizza on the table in 20 minutes flat, and I don't know about you, but I can't get anyone to deliver here that fast (I actually can't get ANYONE to deliver here so maybe I'm out of touch, but seriously — 20 minutes start to eat is pretty good, right?).
Do I need to knead quick pizza dough?
Yes. But I broke this recipe down into a few super easy steps. And this dough you only have to knead just a LITTLE.
Stir together the ingredients to form a shaggy dough …
Throw the dough on the counter and knead for 4-ish minutes.
Add more flour if things are too sticky…
Stretch the dough onto a well-floured surface. Sometimes I make circle pizzas. Sometimes they look like blobs. No one cares. They taste good.
Put all your toppings on the pizza. If you want to be fancy, this Kale Pesto is soooooooooo good on pizza. Just an idea.
Bake the pizza.EAT THE PIZZA.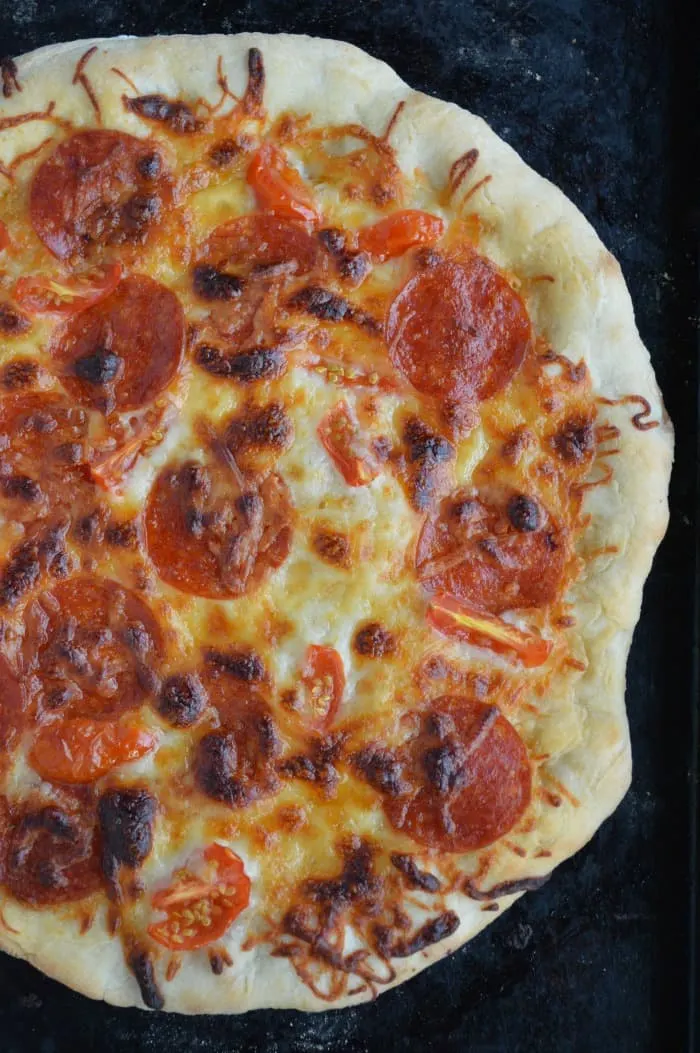 Do I need special equipment to make 10 Minute Pizza Dough?
Nope! I actually really pride myself on developing recipes that only require the bare minimum of basic kitchen necessities. So you can bake this pizza right on a baking sheet (or on the back of a baking sheet!). But if you have the items available (or are just looking to expand your kitchen repertoire), for this 10 Minute Pizza Dough Recipe you can use: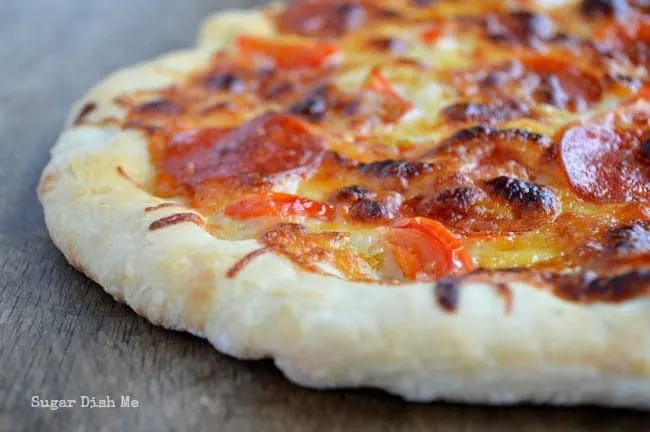 Can I Make This Pizza Dough Ahead of Time?
You can, but I want to caveat this heavily.
If you are serving a crowd and want to just BE PREPARED, you can definitely make this dough ahead, but instead of letting it quick rise covered with a towel ON the stove where it should be warm from the preheated oven, you should keep it in a cooler, drier place (like the countertop), and move it to the stove a few minutes before you are ready to shape it.
This dough works best when you make it and bake it within the hour. If you are looking for a dough you can make a day or so ahead and then refrigerate, I'll suggest my Copycat Mellow Mushroom Pizza Dough, linked below.
Wanna try your hand at other From Scratch Pizza Recipes?
You are definitely gonna want to try these.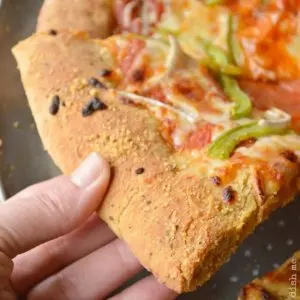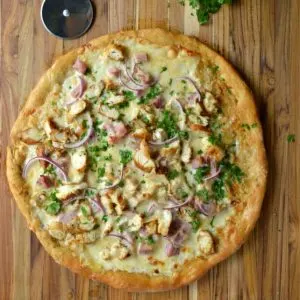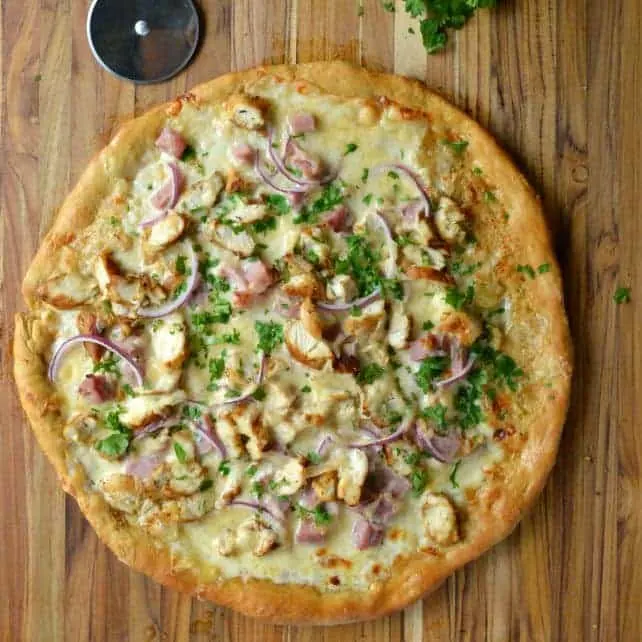 Copycat Mellow Mushroom Pizza Dough! This is my homemade version of my FAVORITE restaurant pizza dough. Obviously it takes longer than 10 minutes but it's SO worth it.
Chicken Cordon Bleu Pizza. Chicken! Ham! CHEESE CHEESE AND MORE CHEESE. This is an amazing pizza recipe. So you are gonna want to try it.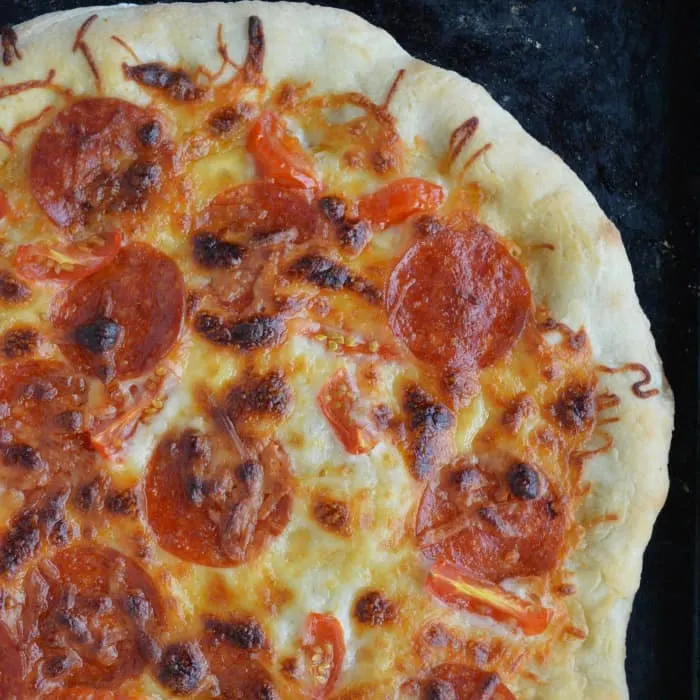 Yield:

2 (12") Pizzas
Quick Pizza Dough
This Quick Pizza Dough comes together and is ready to bake in just 10 minutes; you can have fresh, hot, homemade pizza on the table in 20!!!
Ingredients
3/4 cup warm water *See Note*
1 teaspoon active dry yeast (if you buy the little envelopes you will have some left over. Envelopes typically contain 2 1/4 teaspoons. Fold the remaining yeast up tightly and keep refrigerated for the next time)
2 cups all purpose flour, plus more for kneading and dusting your work surfaces
1 teaspoon sugar
1 teaspoon kosher salt (less if you only have table salt handy)
1 1/2 tablespoons olive oil
cornmeal (optional)
Instructions
Preheat the oven to 500 degrees. NOT BROIL. If you have a pizza stone, be sure it's in the oven before you turn it on (This prevents is from cracking). If you are not using a pizza stone you can use the back of a cookie sheet -- see instructions below.
Pour the warm water in a large bowl. Add the yeast and let it sit for about a minute until it's looking a little foamy.
Add the flour, sugar, salt, and olive oil. Stir to combine (I use a sturdy spatula or wooden spoon) and form a shaggy dough.
Flour a clean work surface and dump the dough onto it. Knead the dough for about 4 minutes, incorporating any dry bits that weren't mixed in the bowl.
Place the dough back in the bowl and cover it with a kitchen towel (I know the bowl is dirty; it's fine.). Put the bowl on top of the stove (the heat from the oven will make the dough more pliable) and let it sit for 5 minutes.
While you wait for the dough, get your pizza toppings ready -- grate your cheese, slice onions and peppers, etc.
If you have a pizza peel, rub it with flour and dust with cornmeal (this prevents sticking). If you do not have a pizza peel you can use a wooden cutting board OR you can assemble and bake on THE BACK of a cookie sheet.
Divide the dough in half (well-floured hands help) and stretch it carefully into a circle. I like a thinner crust so I just leave a slight lip around the edge of my circle and I stretch it pretty thin but this is all about preference (Note: thicker dough will take a little longer to cook).
Place your circle on the peel/cutting board/cookie sheet you set up and add your toppings.
If you are using the cookie sheet, place it right in the oven (middle rack) and bake for 10 minutes.
If you heated a pizza stone in the oven, carefully slide your pizza off the peel or cutting board and onto the stone. Bake for 10 minutes (more if you opted for a thicker crust) or until the crust is golden and the cheese is melted.
Repeat with the second dough.
EAT.
Notes
#1 - I always test my water temp by sticking my fingers under the faucet and letting the water run -- you are looking for just barely warm (I read once to think of a baby's bath water if that gives you a reference point). Too hot will kill the yeast and too cold won't activate it. Your packaging should have a recommended temperature if you're nervous about this.
Recommended Products
As an Amazon Associate and member of other affiliate programs, I earn from qualifying purchases.
Nutrition Information:
Yield:
8
Serving Size:
2
Amount Per Serving:
Calories:

197
Total Fat:

3g
Saturated Fat:

1g
Trans Fat:

0g
Unsaturated Fat:

3g
Cholesterol:

0mg
Sodium:

344mg
Carbohydrates:

37g
Fiber:

2g
Sugar:

1g
Protein:

5g