Oven fried chicken. The fried chicken fake out.
In my opinion, this is the best kind of fake out.
Other kinds of fake outs that are not the best definitely include my little boys and their tendency towards the dramatic.
For example…
when Andrew goes with Chad to their jiu jitsu class and he konks his head kinda hard because um… it's wrestling. And then he plays it up for like 2 hours and acts a goofy fool to the point where I think I maybe need to haul him over to urgent care and have him checked for a concussion?
But actually what happened is that a chiropractor also attends the same class. And the chiropractor checked him to make sure everything was cool. He also told Chad what to watch for. Andrew, smart little method actor that he is, listened carefully and then acted all the crazy concussion symptoms out because it seemed like a great excuse to be extra silly in the car without anyone putting him in check.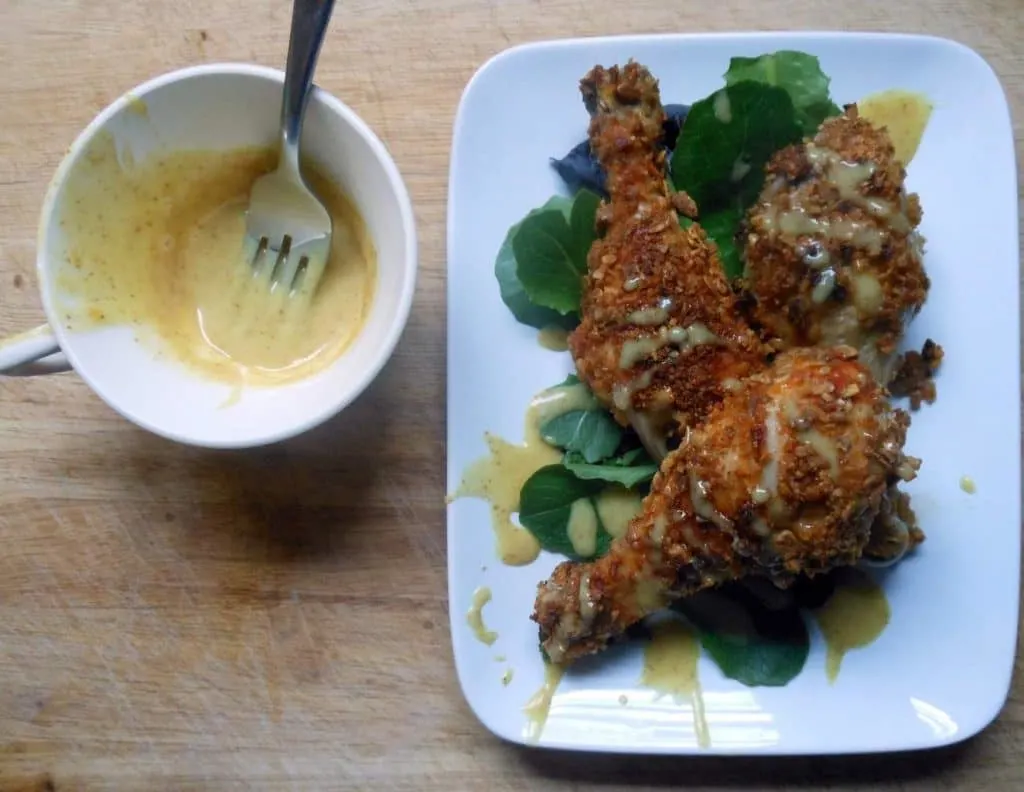 Someone give my kid an Oscar.
Because before he fessed up to the loopy head-injured over-acting I was sort of freaking out a little bit. I definitely Googled a bunch of symptoms (which is bad news you guys; freak-out-mommy bad news). He gave it up when I started checking his pupils.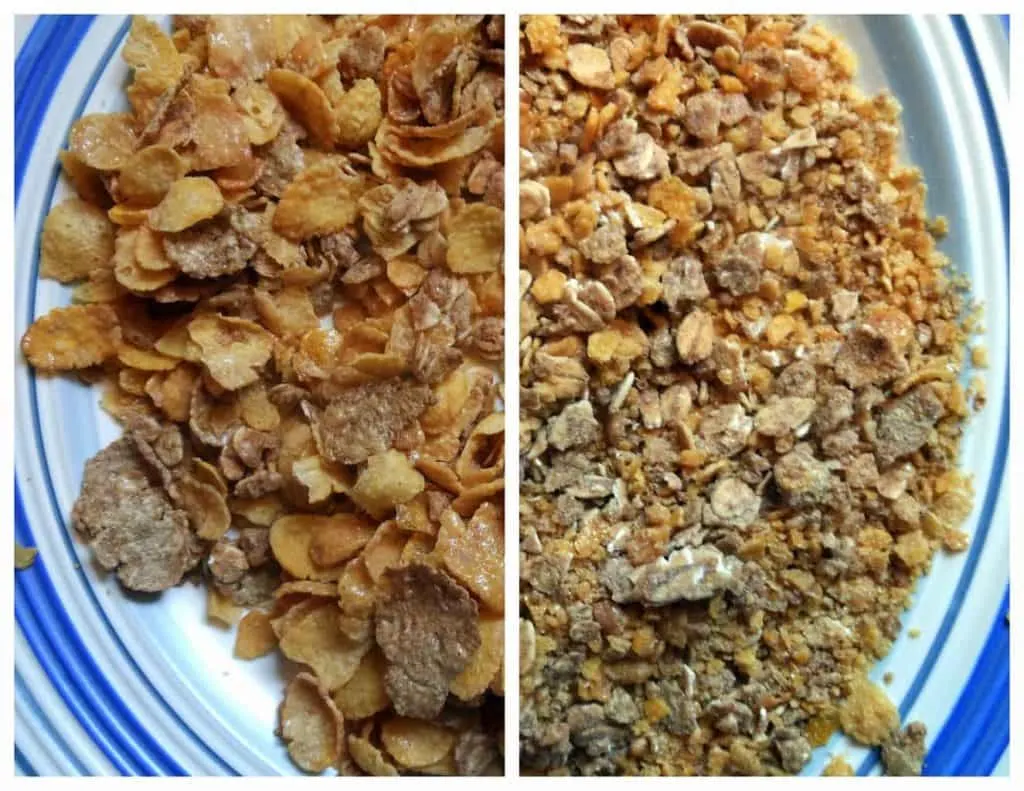 Never a dull moment.
So let's talk about the fake out fried chicken for a minute. It has a super crunchy crust with a hint of honey sweetness. The meat stays tender and juicy and the whole thing comes together pretty fast. This is another one of my "in a pinch" meal solutions (for more cheap fast weeknight meals made out of random cabinet scraps check out the In a Pinch category), and if you opt not to make the honey mustard sauce to go with it it's actually only 4 ingredients.
My little gifted actors really love Honey Bunches of Oats cereal. It's a staple around here. But you could absolutely use Special K, Corn Flakes, Total, Great Grains– pretty much anything that's kinda sweet and oaty and flaky. You just wanna smash up the cereal enough to give it extra crispy texture that is small enough to stick.
If you don't keep buttermilk in the fridge then pour 2 tablespoons of vinegar (I use distilled for this but in a pinch just work with what you've got) into a liquid measuring cup and then fill it the rest of the way with regular milk stopping at the 2 cup mark. Let it sit for about 10 minutes and then pour it over the chicken to soak.
Making this chicken is way way way easier than trying to reason with a 12-year-old.

Honey Bunches of Oven Fried Chicken
Ingredients
cooking spray, as needed
2 cups fat free buttermilk
4-6 skin-on chicken legs
1 tablespoon paprika
2-3 cups honey & oat cluster cereal
2 tablespoons spicy mustard
2 tablespoons honey
1 tablespoon rice wine vinegar
1 tablespoon light mayonnaise
Instructions
Pre-heat the oven to 375. Spray a baking dish with cooking spray.
Pour the fat free buttermilk into a Ziploc bag (large enough to accomodate all your chicken pieces) OR a bowl deep enough to cover most of the chicken. Place the chicken in the buttermilk, sprinkle with the paprika, seal, and refrigerate for 20-30 minutes, turning once to evenly coat.
While the chicken soaks, place the cereal in the food processor and pulse until coarse crumbs form (the crumbs will be roughly the size of the oats). If you don't have a food processor you can seal up the cereal in another Ziploc bag and then crush it on the counter. Dump the cereal crumbs in a shallow dish.
Roll the buttermilk soaked chicken pieces one at a time in the cereal crumbs, pressing the crumbs on with your fingers to help coat (if necessary). Place each breaded chicken piece in the prepared baking dish, just far enough apart that they don't touch. Spritz over the top of the chicken with a little more cooking spray.
Bake for 25-30 minutes-- the juices will run clear; internal temp should be 165.
While the chicken bakes, whisk together the spicy mustard, honey, rice wine vinegar, and mayonnaise.
Drizzle the honey mustard over the baked chicken to serve.
Fake out fried chicken made with cereal! Let's make this happen.