Hot Cocoa Cookies start with a cake mix! They are loaded with chocolate flavor and little mallow bits. These cookies remind me of snow days and packets of hot cocoa mix. Yum.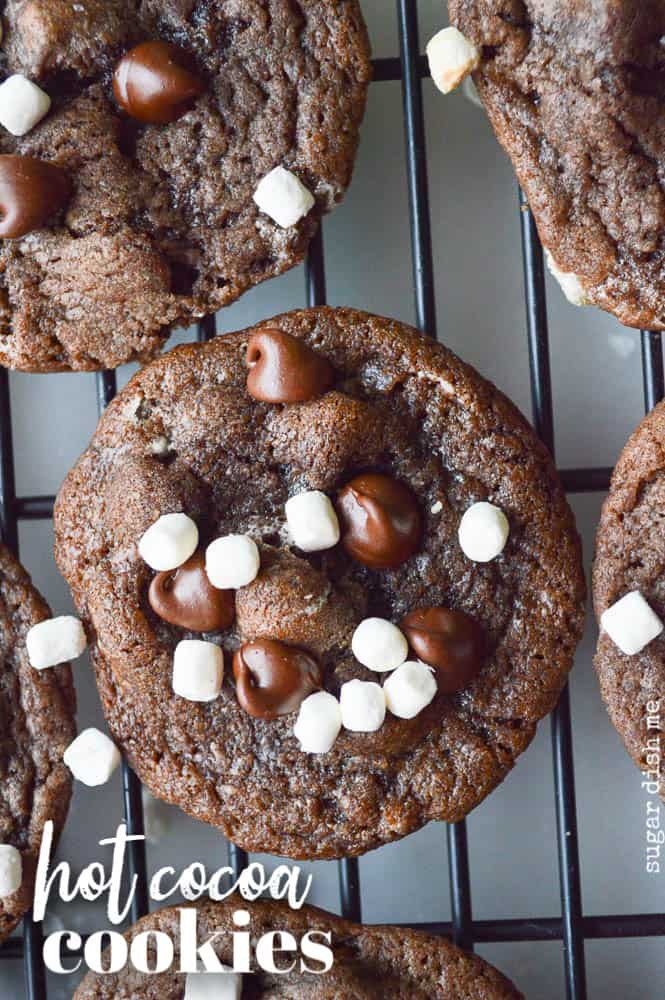 CLICK HERE TO PIN THIS RECIPE AND SAVE FOR LATER
I'll start by telling you that I am not above a box mix. I add powdered pudding mix to Pistachio Pudding Cookies. Neapolitan Cheesecake Brownies are definitely made with boxed brownie mix. Snickers Ice Cream cake totally uses Snickers ice cream bars that I bought and unwrapped.
I don't usually make hot cocoa from a packet because I am bratty like that and prefer Bourbon Spiked Hot Chocolate.
What I'm saying is, prepared ingredients don't make you any less of a person.
In fact, they probably make you MORE of a person.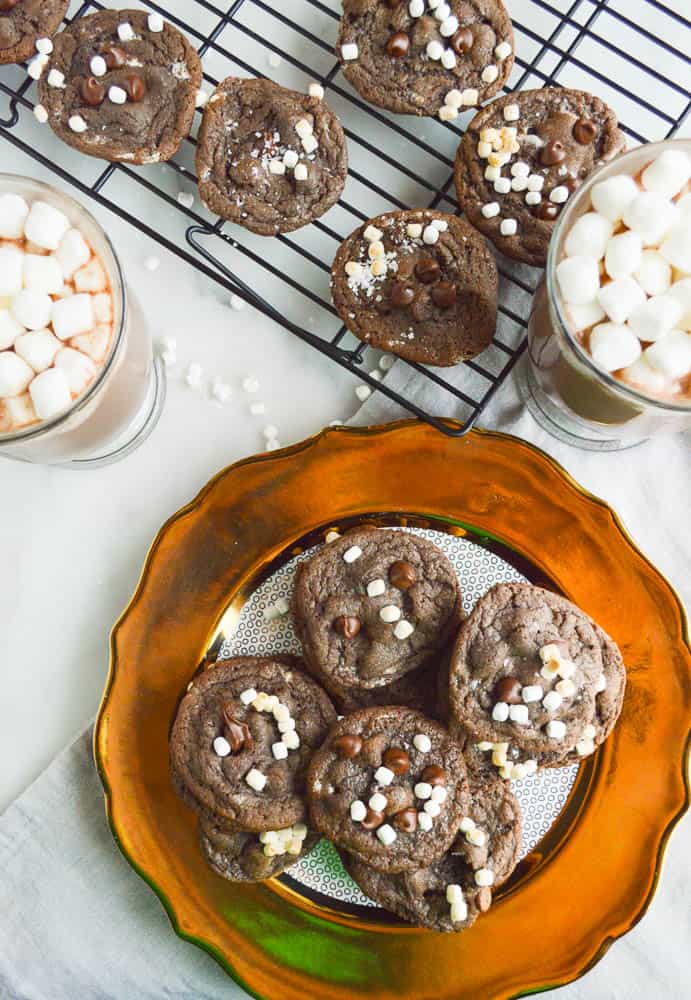 Hot Cocoa Cookies use dark chocolate box cake mix, but in this case it's not actually a short cut or a time-saver. [YES this dough has to be refrigerated sorry!] The cake mix is there for flavor.
These cookies taste like a better version of packaged hot cocoa, right down to the mini marshmallows. Did you know you can buy those? Like whole jars of them?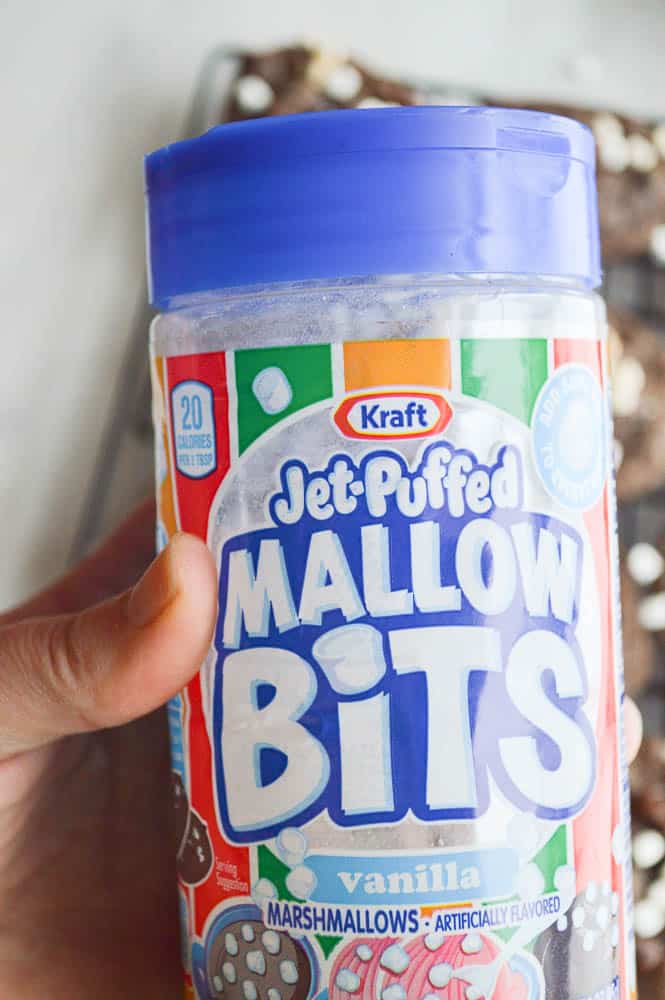 Now you know. And I actually could not think of a better use for them (besides hot cocoa I mean) than Hot Cocoa Cookies.
I live in North Carolina and we don't really get a ton of snow. Once or twice a year if we are lucky. (All my Minnesota and Buffalo, NY friends can shoot winter lasers at me now. I get it)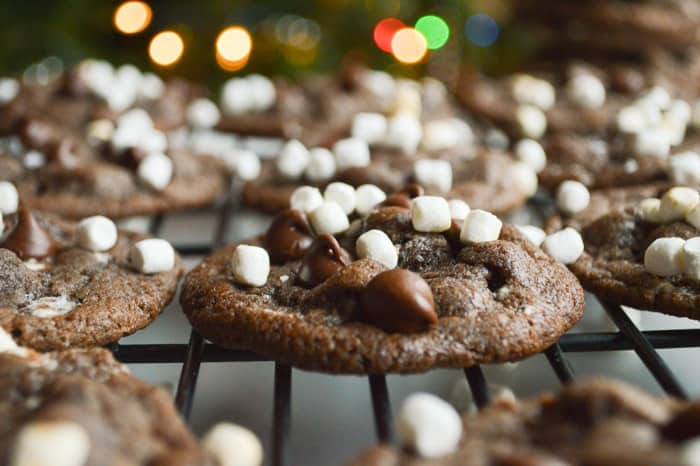 Because of that, when snow strikes, we are WOEFULLY unprepared. Like … we all have memories of my mom tying plastic grocery bags over our shoes so we could go out and play and build a muddy snowman.
When I say "we all" I mean me and my siblings, a.k.a. children of the 80's and early 90's. Probably now we'd get reported for bad parenting or something ridiculous. But those bags on my shoes hold good memories! Like playing until my cheeks were all rosy and my fingers felt a little bit raw from cold wet snow. And my mom helping me take the bags OFF my shoes and parking me in front of the fireplace.
Followed by her making me hot cocoa from those little packets of Swiss Miss.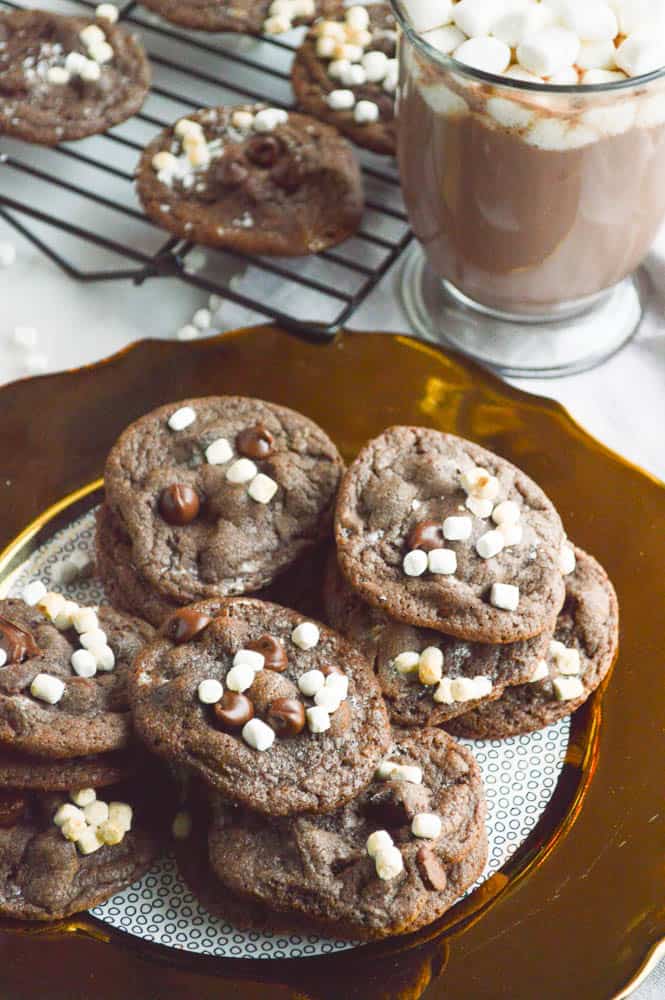 These cookies taste like all of those memories for me. It's the best when food does that.
Cookies that evoke happy memories definitely qualify them as Santa-appropriate. I think you'll love them. We do!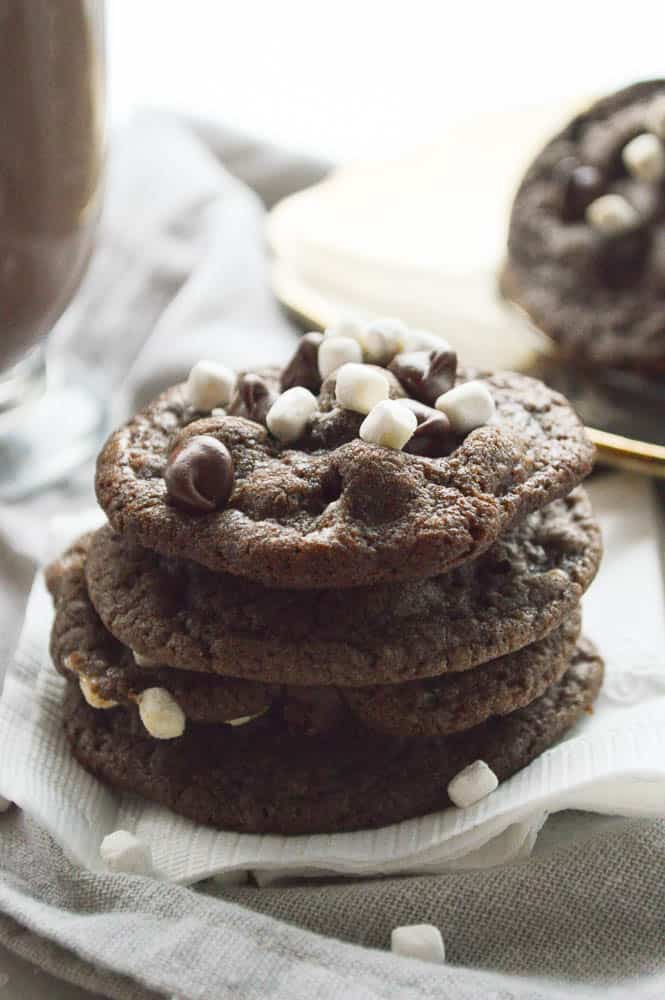 Need some other Cookies for Santa recommendations?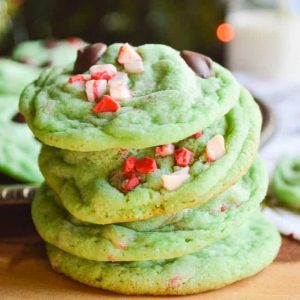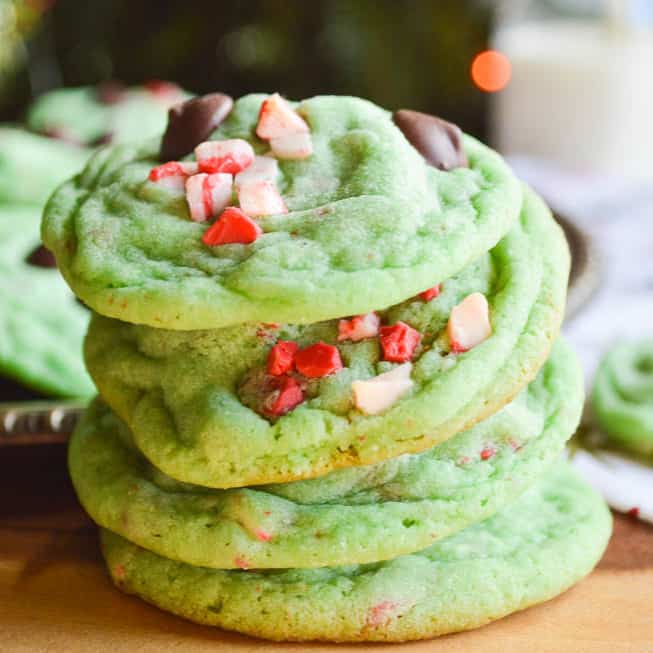 Lofthouse Cut Out Cookies are a little bit of a project, I won't lie. But you really can't beat fluffy sugar cookies and simple sweet frosting.
The Grinch Stole Christmas Cookies are a household favorite around here. My grown kids request them EVERY year.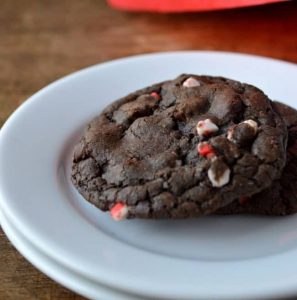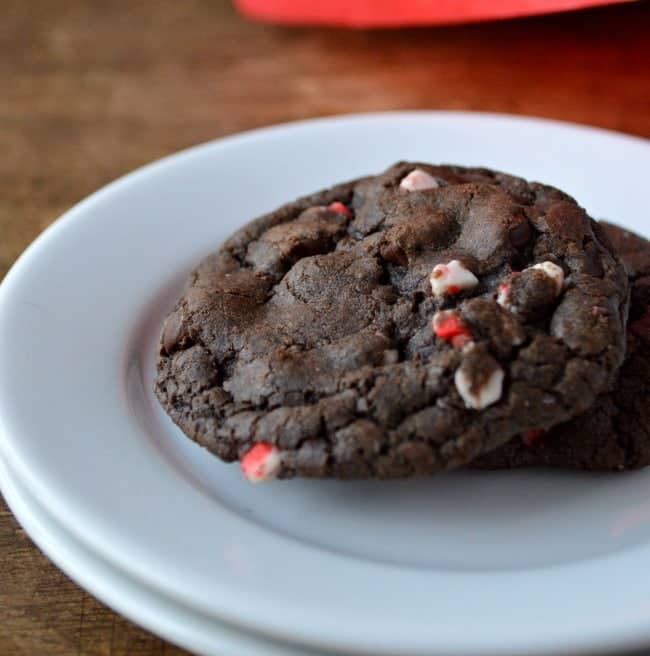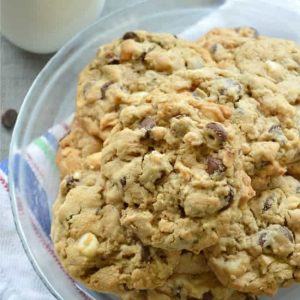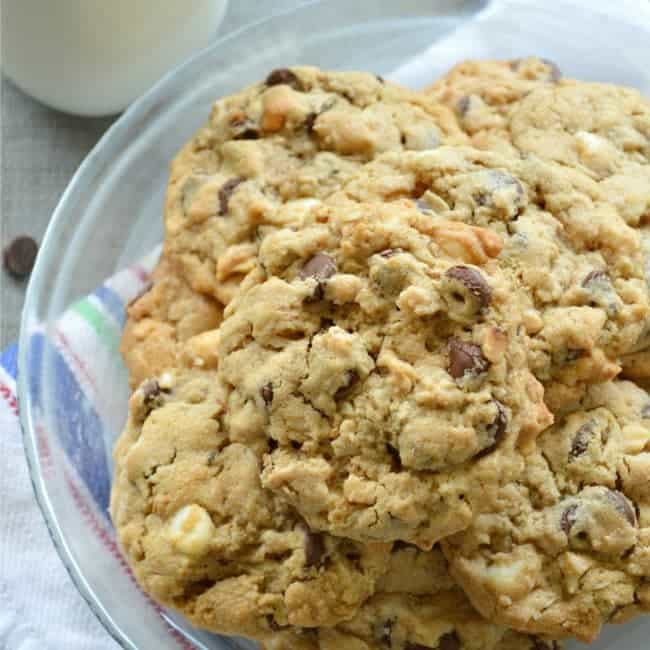 Peppermint Hot Chocolate Brownie Cookies are a reliable staple. Probably the most popular holiday recipe on this site!
Triple Chocolate Peanut Butter Oatmeal Cookies are as good as they sound, y'all.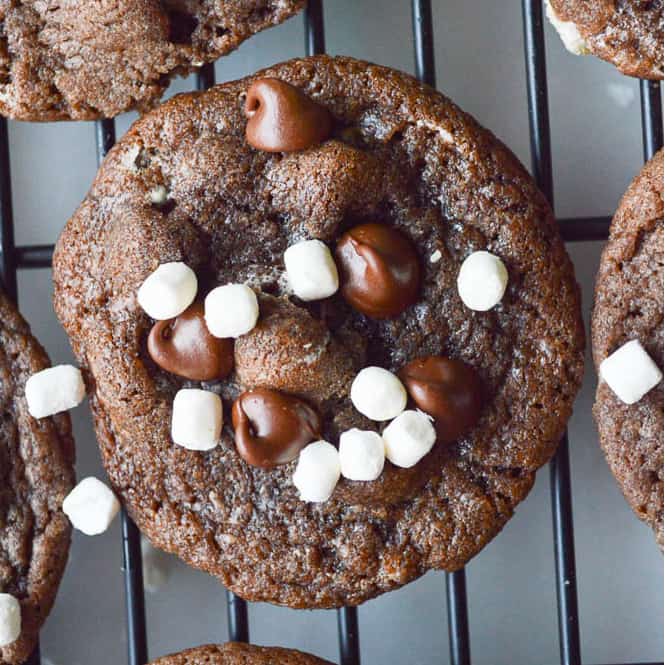 Yield:

30 cookies
Hot Cocoa Cookies
Total Time:
2 hours
19 minutes
Hot Cocoa Cookies taste like winter break! They taste like snow days! They taste like packets of hot chocolate but better. Make these cookies a day ahead so you can just scoop and bake after chilling!
Ingredients
1 and 1/4 cup all-purpose flour
1 and 1/4 cup dark chocolate cake mix
1/2 teaspoon baking soda
1 teaspoon salt
3/4 cup unsalted butter, softened
1/2 cup granulated sugar
1/2 cup packed light brown sugar
1 egg
1 and 1/2 teaspoons vanilla extract
1 cup semi-sweet chocolate chips (plus more for sprinkling over the tops of the warm cookies)
Instructions
In a large bowl whisk together the flour, dark chocolate cake mix, baking soda, and salt.
In another large bowl (or the bowl of your stand mixer using the paddle attachment), cream the butter and sugars until fluffy. Add the vanilla and egg, and mix until just combined.
Dump in the flour/cake mix mixture all at once. Mix for a minute on medium, scrape down the sides and bottom, and continue mixing until just combined.
Add the semi-sweet chocolate chips and 1/2 cup of the mallow bits. Mix until they are evenly incorporated. Scrape down the bowl and gather up the dough. Wrap it tightly in plastic wrap and refrigerate for AT LEAST 2 HOURS! Overnight works as well.
Preheat the oven to 350°F and line your cookie sheets with parchment paper. Portion the dough out by the heaping tablespoonful and roll into an oval / egg shape (instead of a round ball) . Place the cookies so they are standing end over end ("tall"-ways), about 2" apart. Top each with a few mallow bits.
Bake for 9-11 minutes.
When you take the cookies from the oven, top each warm cookie with a few additional chocolate chips and mallow bits. Let cool for 4-5 minutes before removing to a rack to cool completely.
Notes
Chilling is important! It's what gives you thick cookies that don't spread too much. It also gives all those good fats in the butter time to bind to the dry ingredients properly.
Recommended Products
As an Amazon Associate and member of other affiliate programs, I earn from qualifying purchases.
Nutrition Information:
Yield:
15
Serving Size:
2
Amount Per Serving:
Calories:

224
Total Fat:

14g
Saturated Fat:

8g
Trans Fat:

0g
Unsaturated Fat:

5g
Cholesterol:

38mg
Sodium:

208mg
Carbohydrates:

26g
Fiber:

1g
Sugar:

22g
Protein:

1g