You can have homemade pizza in just 20 minutes! 20 Minute Skillet Pizza From Scratch uses my 10 Minute Quick Pizza Dough and a hot cast iron skillet to turn out a perfect homemade pizza with a nice crispy crust in 20 minutes. WAY faster than delivery.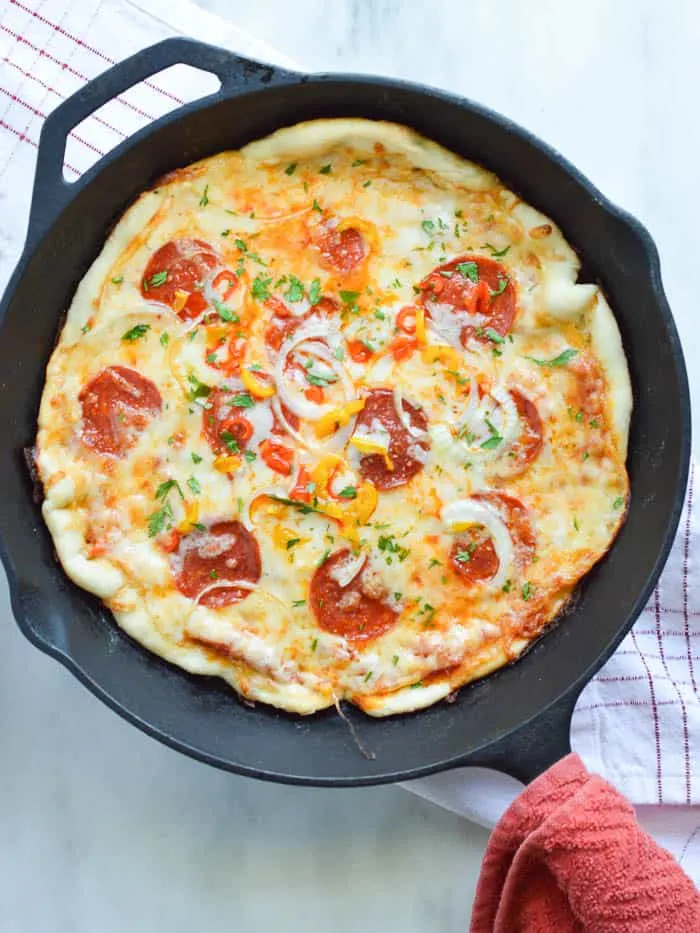 Have you ever made a skillet pizza? It was all the rage circa late 2012 / early 2013 (like the pizza version of sheet pan dinners), but the trend never died for me.
I love a quick easy meal, and I use my cast iron skillet(s) for pretty near everything.
This 20 Minute Skillet Pizza Recipe starts with my 10 Minute Quick Pizza Dough, so you'll want to have that handy.
My preference for this recipe is a 9″ or 10″ cast iron skillet . That lets you stretch the pizza dough enough to have a thin and crispy crust with just a little bit of a lip around the edge. The quick pizza dough + thin and crispy crust + cast iron technique are the three things that make this the perfect pizza for when you need dinner in a hurry.
Can I Use Store Bought Dough?
Yes! You sure can. Store bought dough will actually take this down to a 10 minute skillet pizza recipe because you'll only need to stretch the dough, top, and bake. Pay attention to the thickness of the dough you are using. If it tends to lean on the thicker side you may need to divide it up more so that you can stretch it out more thinly.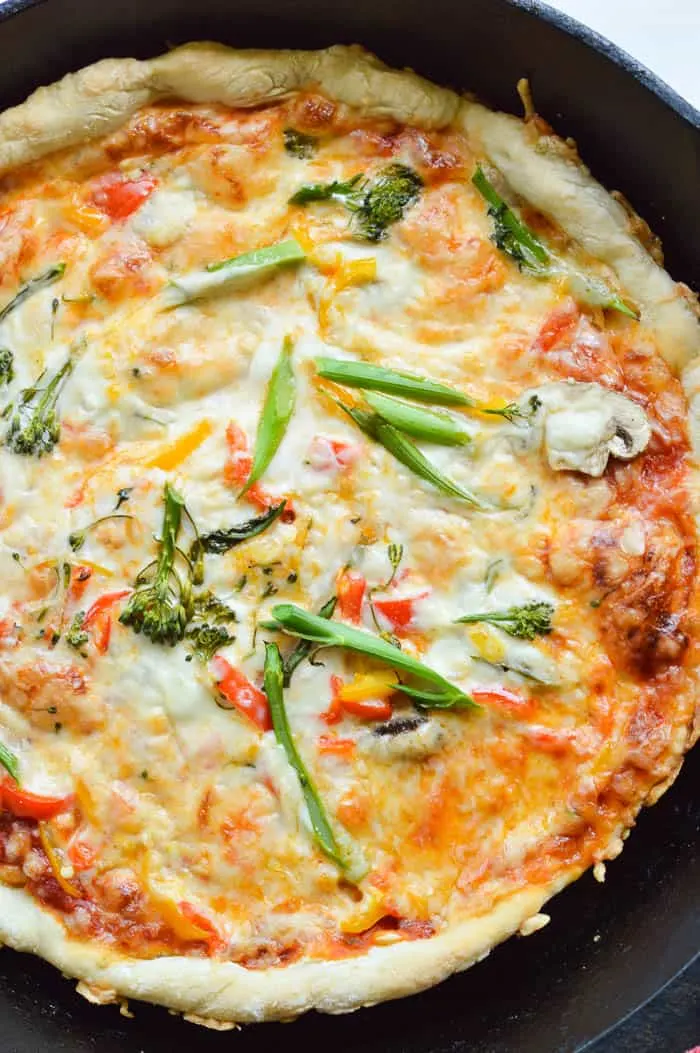 Gather Your Pizza Toppings
Let's be real – a good pizza starts with the crust (more on that in a minute), but the toppings are where it's at.
Sauce! I have no problem using store-bought sauce. I'm pretty partial to Delallo's Pizza Sauce. But if you are looking for a delicious sauce from scratch I suggest this Easy Pizza Sauce Recipe.
Low moisture part-skim shredded mozzarella cheese (the low moisture is important because it cooks up VERY differently than a whole milk mozzarella)
VEGGIESSSSS. I topped the skillet pizza pictured with red and yellow sweet peppers, thinly sliced vidalia onions, and chopped broccolini. Obviously if veggies are not your thing, by all means have sausage and pepperoni! But if you DO like veggies, I suggest grabbing your favorite seasonal vegetables and chopping them up.
PRO TIP:
Pay attention to the water content of the vegetables you are using and let that dictate how you slice them up. Summer squash, for example, has a lot of water in it. So thin slices will work better than a coarser chop.
The same can be said for meat! Make sure you have drained / patted dry any meats that tend to be full of moisture or greasy. Not only will your pizza taste better, but it will remain crisp and never be soggy.
Vegetarian / Vegan Options
The dough I recommend for making your pizza is actually vegan. So if you are looking for a way to cook for someone in your life that has a vegan diet and you have no idea where to begin, this might be it! I recommend this cashew "Parmesan" cheese and this nutritional yeast if you decide to try it.
Skillet Pizza is All About the Technique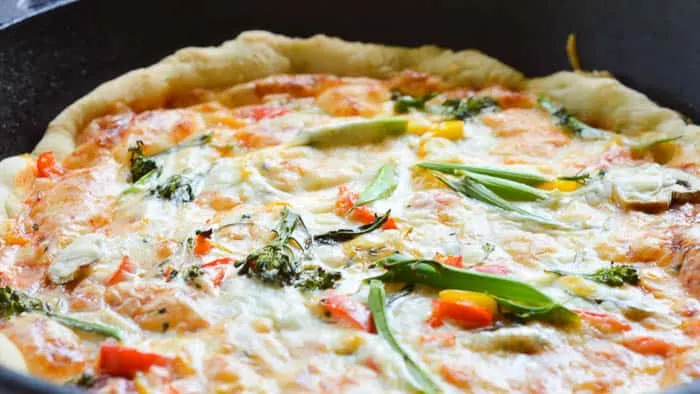 To make an awesome skillet pizza you need to make sure the skillet is HOT before you start cooking. You want to preheat the oven to 450°F and then spray your cast iron (or other oven safe skillet) with non-stick cooking spray and place it on a burner set to medium-high so it can heat up. If the skillet starts to smoke turn the heat down.
Stretch out your dough on a floured work surface so that it is 10 inches across, leaving a nice little lip around the edge. Add a thin layer of sauce, sprinkle on the cheese, add your toppings, and then use a wooden cutting board or pizza peel to transfer the pizza CAREFULLY to the waiting hot pan. The transfer is the hard part here.
DON'T press your pizza into the pan. Just get it in there as well as you can. If parts fold over just try to unfold them. Let the pizza cook on the stove top for 2 minutes. This will cook and crisp the crust on the bottom.
PRO TIP
Scattering cornmeal on the pizza peel or cutting board will make the transfer much easier.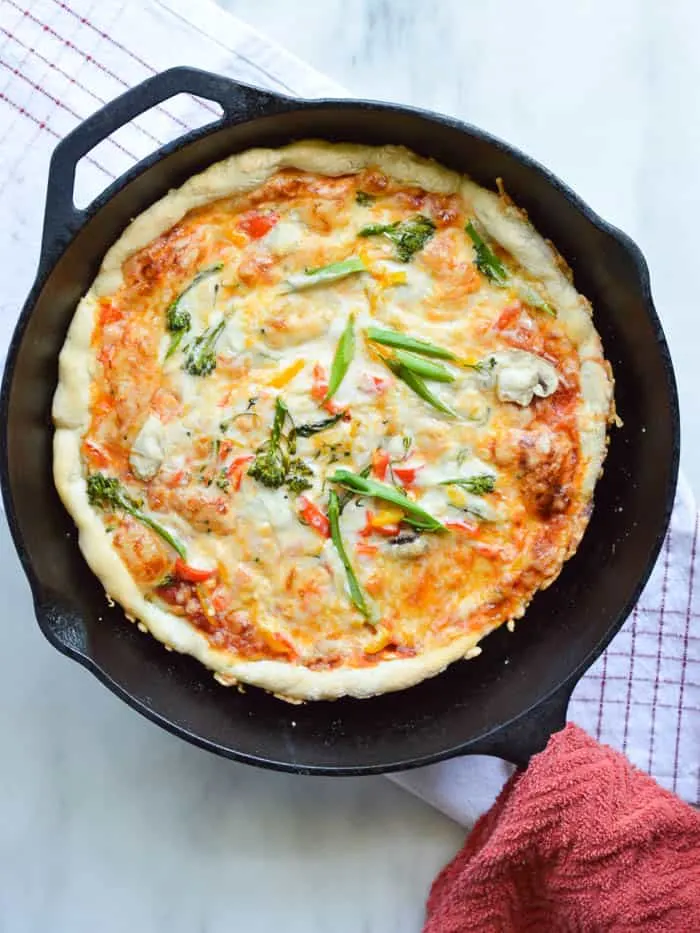 Move the pizza to the preheated oven and bake for 4-5 minutes.
Turn on the broiler at the very end and just let it brown the crust and bubble the cheese a bit.
TA DAAAAAAAAA – crispy, easy, crazy quick pizza from start to finish in just 20 minutes.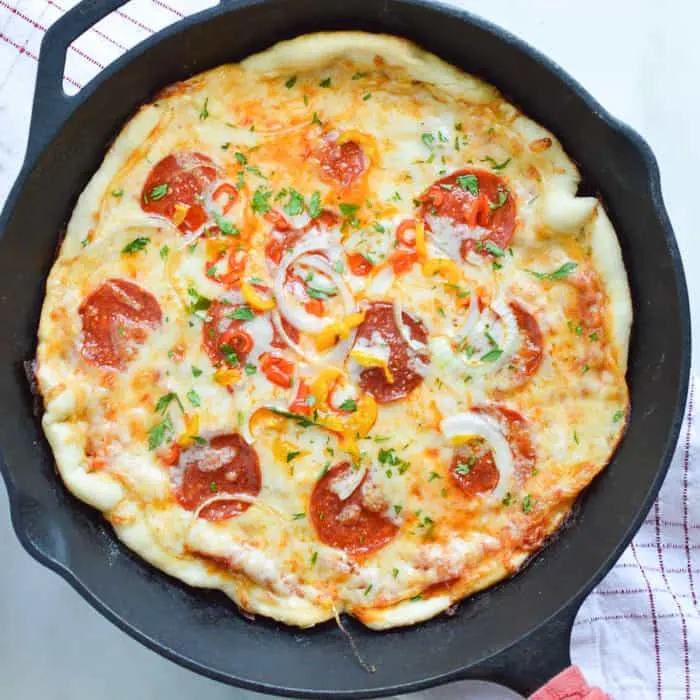 Yield:

Makes 2 pizzas
20 Minute Skillet Pizza
This easy 20 minute skillet pizza recipe uses a quick pizza dough (or you can use store bought!) and a simple technique so that you can serve up pizza faster than any delivery! If you love a crisp crust this pizza recipe is perfect.
Ingredients
2 prepared pizza doughs
1.5 cups pizza sauce
2 cups low moisture part skim mozzarella cheese
2 cups sliced vegetables
1/2 cup sliced pepperoni or crumbled sausage (or protein of choice!)
Instructions
Preheat the oven to 450°F.
Spray a 9" or 10" oven safe skillet with non-stick cooking spray and place it on a burner on medium-high heat. If the skillet starts to smoke, move it off the burner until just 1-2 minutes before you are ready to add the pizza.
Working quickly, stretch out the prepared pizza dough on a well-floured surface to fit your pan while leaving a small lip around the edge.
Top with half of the pizza sauce, then half the cheese, then half the toppings.
Carefully slide the pizza onto a pizza peel or wooden cutting board to transfer to the hot skillet. If you have cornmeal handy, scatter it across the wooden surface before transferring for ease.
Slide the pizza into the waiting hot skillet and cook on the burner for 1-2 minutes. Then place the pizza into the preheated oven and bake for 4-5 minutes.
Turn the oven to broil and let the pizza broil for just 1 minute to crisp the crust and bubble the cheese.
Remove the pizza from the oven and slide it onto a cutting board to cool for a few minutes before slicing.
Repeat the process with the second pizza.
Recommended Products
As an Amazon Associate and member of other affiliate programs, I earn from qualifying purchases.
Nutrition Information:
Yield:
16
Serving Size:
1
Amount Per Serving:
Calories:

100
Total Fat:

6g
Saturated Fat:

3g
Trans Fat:

0g
Unsaturated Fat:

3g
Cholesterol:

16mg
Sodium:

277mg
Carbohydrates:

6g
Fiber:

1g
Sugar:

2g
Protein:

6g