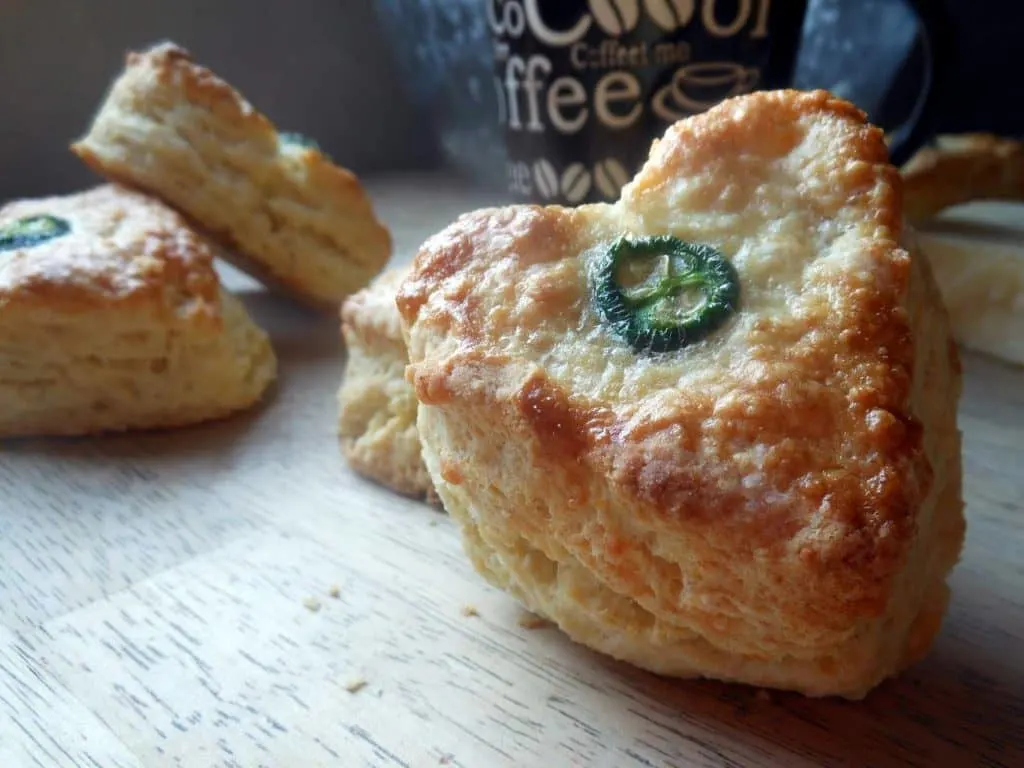 A handful of years ago on this day I stuffed a bunch of chocolate cupcakes with peanut butter frosting into a travel tin and took them to work.
Taking baked goods to work was a normal part of my routine– I hauled in most of my treats to hand out to customers while I worked because it made me happy (and because if they stayed in the house I would eventually have 5 treats too many). Baking and cooking is mostly about sharing. It's just part of the gig.
But those cupcakes were extra special with an ulterior motive.
I made those cupcakes for a guy that had a birthday … and I was crushing on him majorly. But I had to play it cool and act like oh yeah, you know, it's no big deal. I make everyone cupcakes on their birthday! I did not tell him that I spent hours perfecting that peanut butter frosting. I did not tell him how many chocolate cake recipes I tried before I chose the one to take. I did not tell him I threw 2 batches of ganache in the sink the night before because the ratio was wrong and the chocolate scalded and it just wasn't right. He had no idea how much I put into those doggone cupcakes.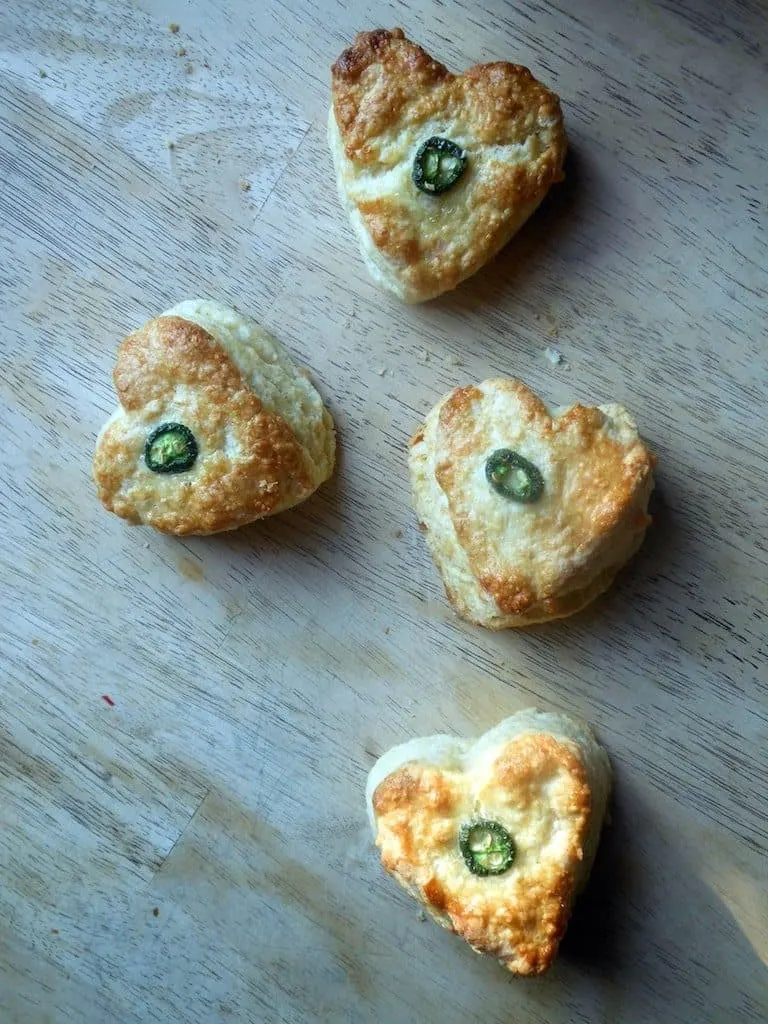 When he stumbled in at dawn on his way to work that morning, paid for his coffee, and started to leave, I, with a stomach full of knots, passed him a cupcake.
He gave me a sleepy smile, said thank you, and headed out the door coffee and cupcake in hand. I didn't realize until just then that I was holding my breath.
A few minutes later he was back asking me if he could have one more cupcake to take to work. I gave him two.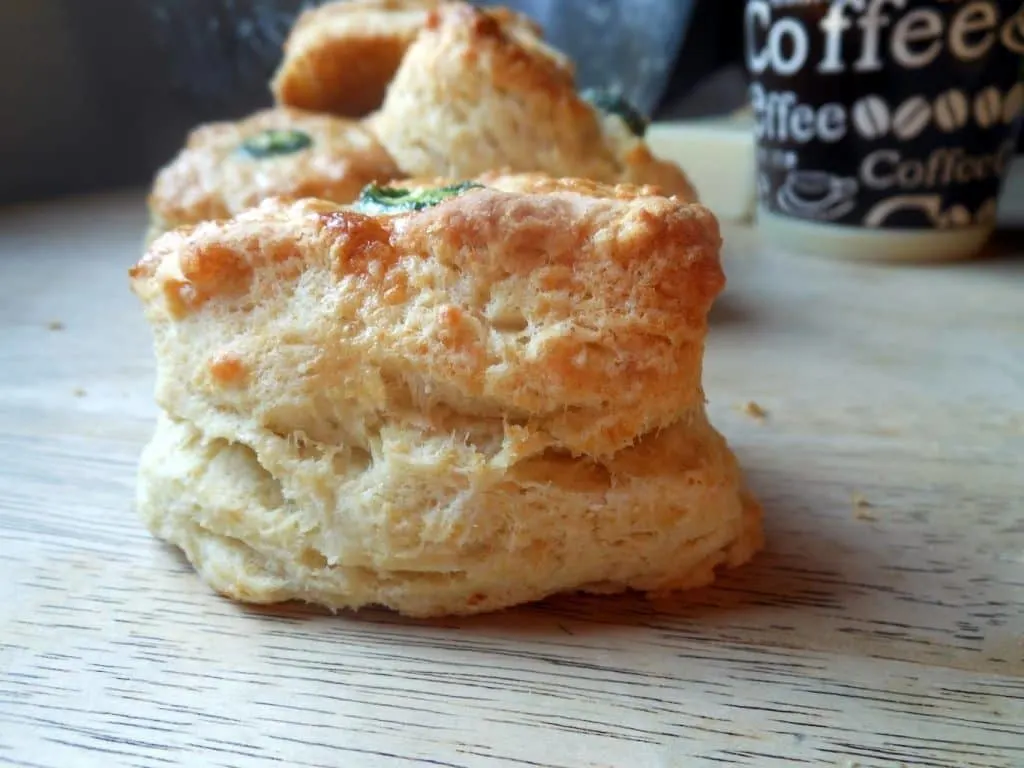 So today, years later, I wrapped up 3 of these Jalapeno Cheddar Buttermilk Biscuits, poured a tall travel mug of coffee, and gave that same guy a big birthday kiss. He'll be back later for cake.
I didn't mean to get all sappy on you there, but today is Chad's birthday and I think it's fair to say that the old adage is true: the way to a man's heart is definitely through his stomach.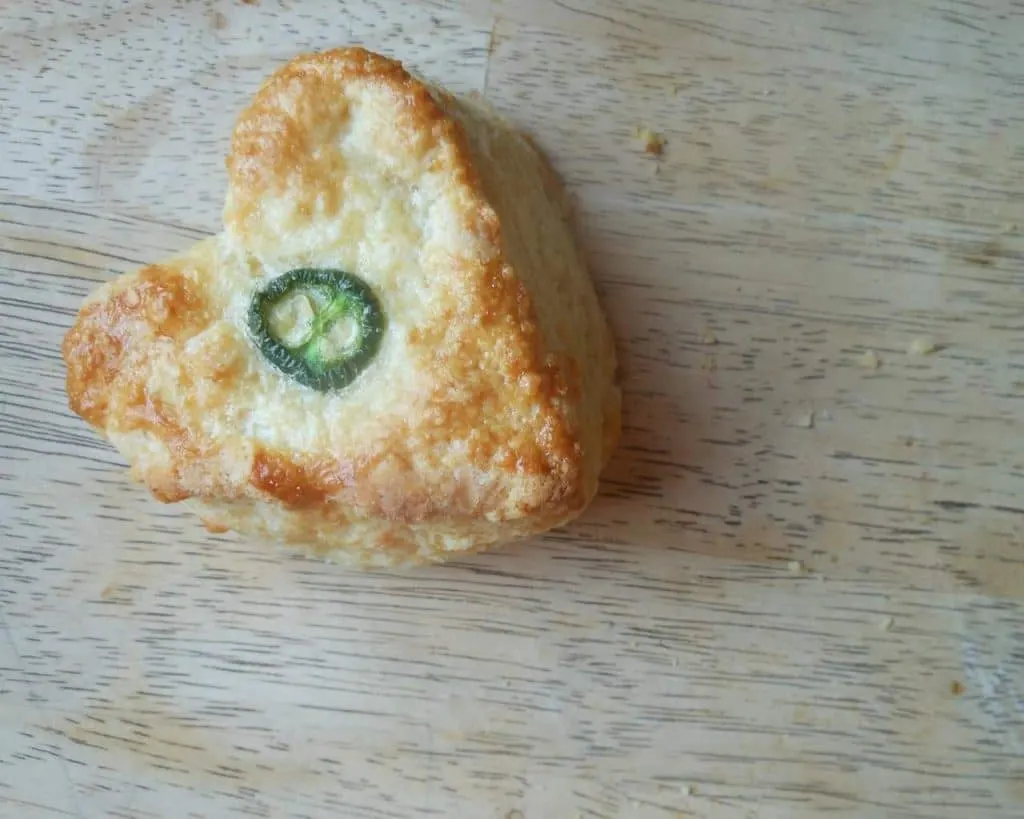 This biscuit recipe is phenomenal. I've tried my hand at many many many biscuits and for some reason the simplicity of a perfect biscuit continued to elude me. Until these. This recipe is from Adrianna at A Cozy Kitchen and she has a ton of fabulous biscuit recipes (not to mention a whole book about pancakes!). She really breaks down the steps to making a perfect buttermilk biscuit (photos and all) — key here is to remember to use COLD COLD butter, buttermilk, and eggs, and to handle the dough as little as possible.
I added fresh jalapenos and sharp white cheddar cheese because they were for Chad and peppers are his thing. You can use Adrianna's original recipe for How to Make Flaky, Awesome, Perfect, Buttermilk Biscuits. If you are like me and need help with biscuits I would highly recommend her post. Otherwise you can see my paraphrased instructions and additions of cheese and jalapenos below.

Jalapeno Cheddar Buttermilk Biscuits
Serves:
8-10 big fluffy biscuits
Ingredients
2 cups all purpose flour
1 tablespoon baking powder
½ teaspoon baking soda
1 scant teaspoon fine grain sea salt- regular iodized salt works too! (I used this Pink Sea Salt Grinder)
¾ cup COLD unsalted butter
½ cup COLD sharp white cheddar cheese
3 medium fresh jalapenos, 2 diced & 1 sliced (optional)
½ cup COLD buttermilk
1 large COLD egg
For the Egg Wash:
1 large egg
1 tablespoon milk
Instructions
Pre-heat the oven to 400. Line a baking sheet with parchment paper.
In a large bowl whisk together the flour, baking powder, baking soda, and sea salt. Use a box grater to grate the butter and cheese into the bowl. Toss in the 2 diced jalapenos. Don't work anything in, just put the bowl in the freezer.
Pour the buttermilk into a liquid measuring cup. Beat in the egg. Go ahead and mix up your egg and milk for the egg wash (I use a little cup or ramekin). Put both egg mixtures in the fridge.
Take the bowl out of the freezer and work the butter and cheese into the flour until pea-sized crumblies form. I just use my hands. Pour in the buttermilk and egg and work the dough until it just comes together.
Lightly flour the counter, turn the dough out, and pat it out about ¾ inch thick. Cut the dough using a biscuit cutter or a cookie cutter or even a floured juice glass. You'll have 8-10 biscuits.
Place them on the prepared baking sheet, lay a slice of jalapeno on each, and brush with the egg wash. *** If you feel like you were working slowly, put the baking sheet back in the freezer before brushing with the egg wash to make sure it's really cold.***
Bake for 10-15 minutes. Serve warm.