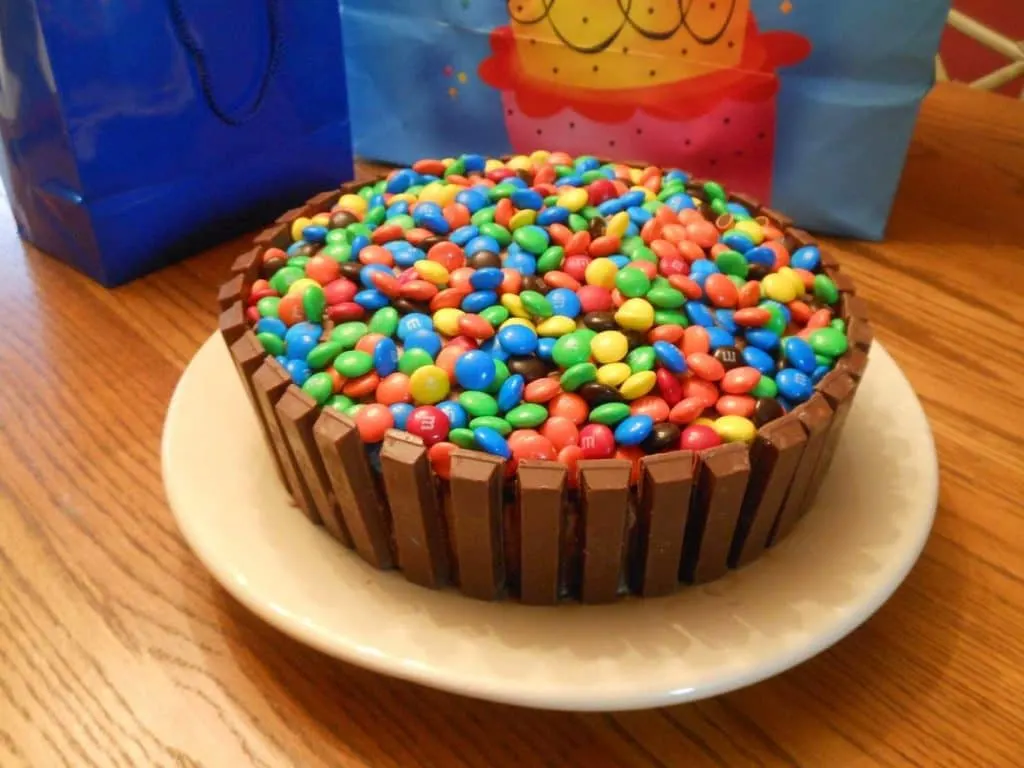 Let me start by saying that I can't take credit for this cake.
I've seen it about 436 times on Pinterest.
But my Andrew turned 12 and asked me for a cake covered in candy. I don't really know what exactly he had in mind, but this immediately jumped into my brain full speed ahead. I used THIS VERSION of the recipe from Recipe Girl, with only a couple of minor adjustments.
I need you to know that this is hands down THE BEST CHOCOLATE CAKE I have ever had. I am not even kidding. It's a dressed up box cake mix- I started with Duncan Hines Devil's Food and then followed Recipe Girl's measurements and baking instructions to the letter. She was spot-on.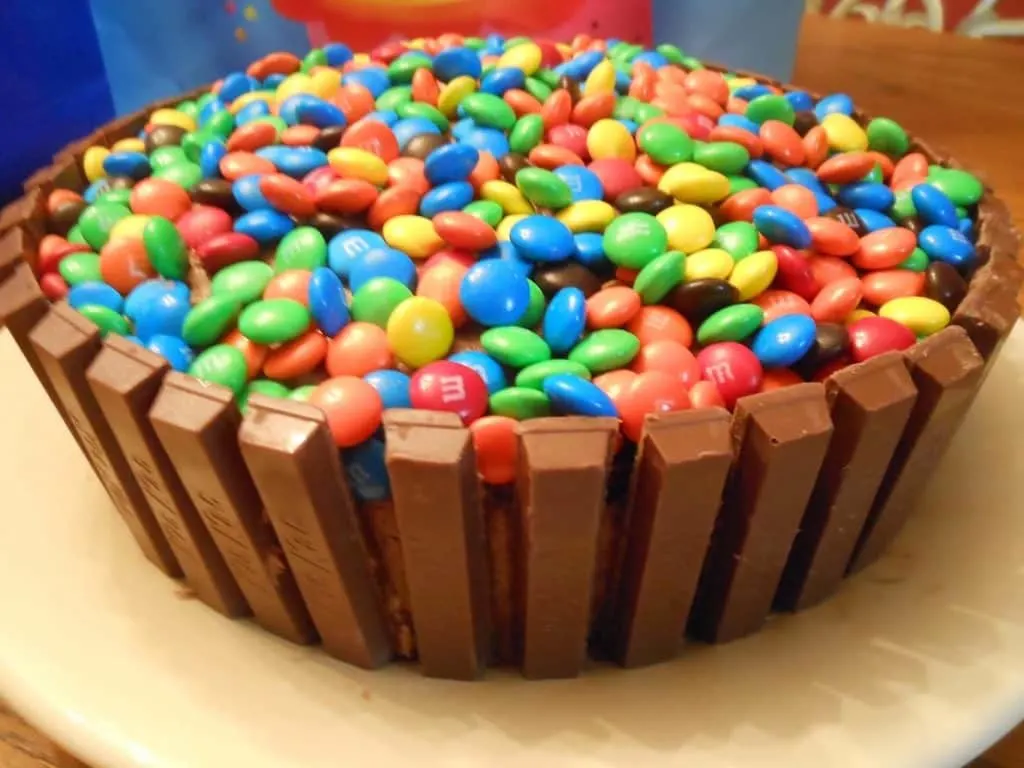 I changed the frosting because her chocolate buttercream called for melted chocolate chips and I didn't have any. So I used her recipe for buttercream frosting (lighter than the one I usually make and YUMMY) but sifted in 3/4 cup cocoa powder at the end in place of the melted chocolate chips. It was a major frosting victory.
After I smacked Chad's knuckles with the spatula a few times for trying to steal chocolate buttercream(at one point he snatched the whole mixing bowl when my back was turned and tried to run off with it), I finally got my two layers of cake stacked and iced.
The original recipe also called for Giant Kit Kats. In the interest of not wasting a tank of gas going from store to store AND also to avoid spending $17 on candy, I went with the snack size Kit Kat bars. They are wrapped in two's – like what you would get in your candy bag on Halloween. I used most of two 12 packs (** make sure you buy enough! I made the mistake of trying to eyeball how far my Kit Kats would go and came up short. So we had to stop at the grocery store on the way to my mom's and I completed cake decoration with the plate in my lap while we drove down the road**). The Kit Kat's on my cake don't have as much height as they do on Recipe Girl's, but it was plenty.
We loved this cake!!!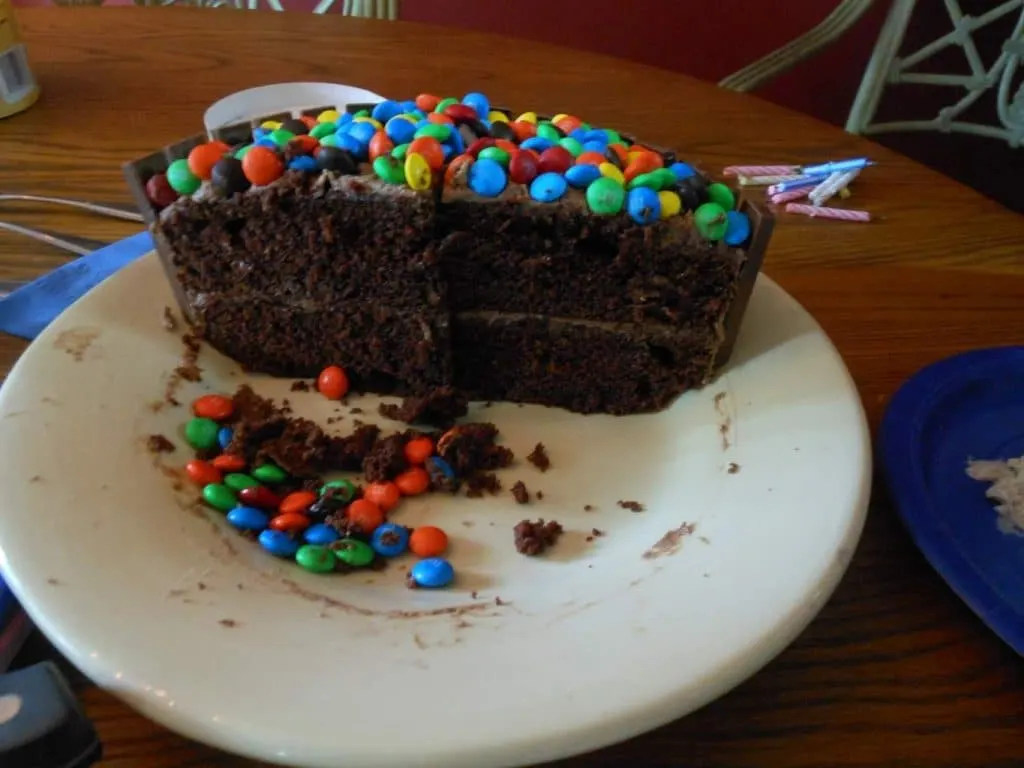 Kit Kat Cake
Ingredients
1 box of Duncan Hines Devil's Food Cake Mix
1 cup all-purpose flour
1 cup sugar
¾ teaspoon salt
1⅓ cups water
2 tablespoons canola or vegetable oil
1 teaspoon vanilla
1 cup sour cream
4 large eggs
1 stick salted butter, at room temperature
3 ounces cream cheese, at room temperature
16 ounces powdered sugar
¼ cup milk
1 teaspoon vanilla
¾ cup unsweetened cocoa powder, sifted
2 (12 packs) of Snack Size Kit Kat bars
12.6 ounce bag of M&M's
Instructions
Pre-heat the oven to 325. Grease and flour two 9 inch round cake pans and line six cups of your muffin pan with paper liners (there is enough batter here for the cake AND six cupcakes).
In a large bowl whisk together the cake mix, flour, sugar, and salt.
Beat in the water, oil, vanilla, sour cream, and eggs on medium for about 2 minutes.
Fill the six cupcake liners to ¾ full. Then distribute the remaining batter evenly between the prepared cake pans.
The cupcakes will bake for about 25 minutes. The cakes will bake for 35-40. Check them with a toothpick inserted into the middle; it will come out clean. Cool the cakes completely before frosting.
To make the frosting, beat the butter and cream cheese together until smooth.
Add in the powdered sugar in a little at a time, beating on low speed. Slowly pour in the milk and vanilla.
Beat until the frosting is smooth and everything is evenly incorporated. Then gradually beat in the cocoa powder. Add a splash or two of milk if the frosting is thicker than you'd prefer.
Once the cakes have cooled, situate the first layer on a serving platter or cake stand and frost the top and sides.
Gently set the second layer on top of the first and then frost the top and the sides. Place the Kit Kats around the sides of the cake, leaving just a little gap in between each one. Be sure to place them so part of the Kit Kat bar sits above the top of the cake, creating a "fence" that holds in the M&M's. Space them evenly.
Sprinkle the M&M's over the top, adding more and more and making sure they are evenly distributed. Use the whole bag; it looks great with a big pile of candy in the middle!