A homemade refrigerator cookie with a hint of fresh ginger and lemon zest! Lemon Ginger Sugar Cookie Slices are so simple to make with just a few pantry staples and you'll love having from-scratch slice-n-bake cookies in your fridge!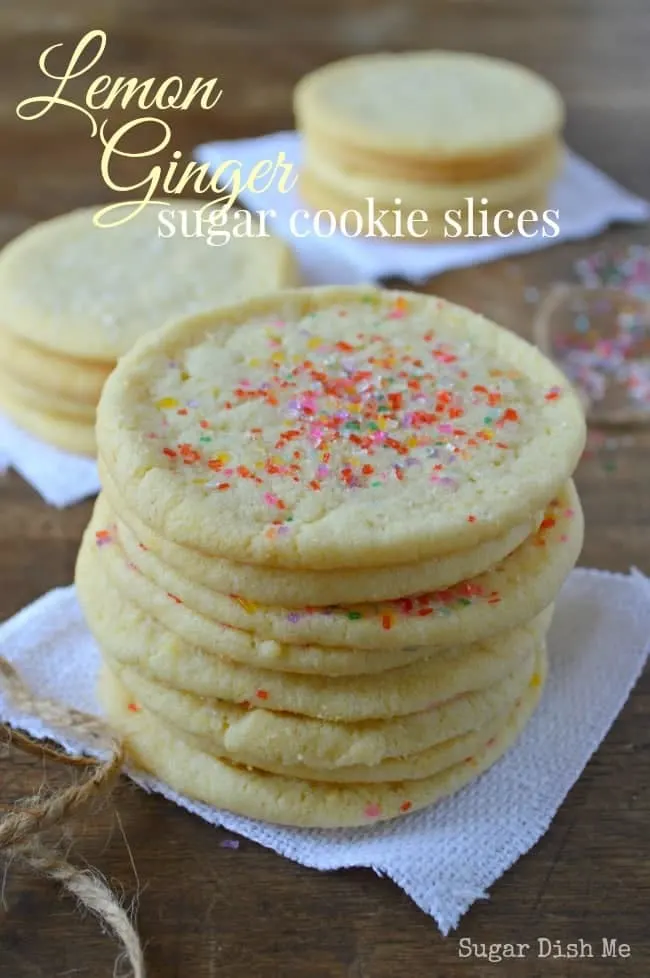 I feel like this is a cookie that doesn't need a lot of explaining.
I mean… December? CHECK. Sugar? CHECK. Butter? CHECK. SPRINKLES?? CHECK CHECK.
We can talk more about it in a minute, though.
Because first I need to hyperventilate at you that there are 19 days until Christmas and I am woefully behind. I've bought a few things here and there, but I feel like my gift-giving mojo has been compromised or something. All the Christmas lights and tree trimming and cookies have stunted my shopping growth.
I guess it is also not helping that the sad little town I live in has like 3 stores, one of which is a Kmart with a Little Caesar's inside and everything smells like old pizza.
I've been online shopping though, so I am sure I have plenty of purchases lurking around out there that just haven't arrived yet. So maybe I have actually bought lots of things and I am just unaware because my shopping happens while I am supposed to be working.
Or maybe I should double check the boxes in my closet.
Is anyone else feeling this scattered? Can we just have one more month of December so i can get it together and hang up 10000000 more strands of lights?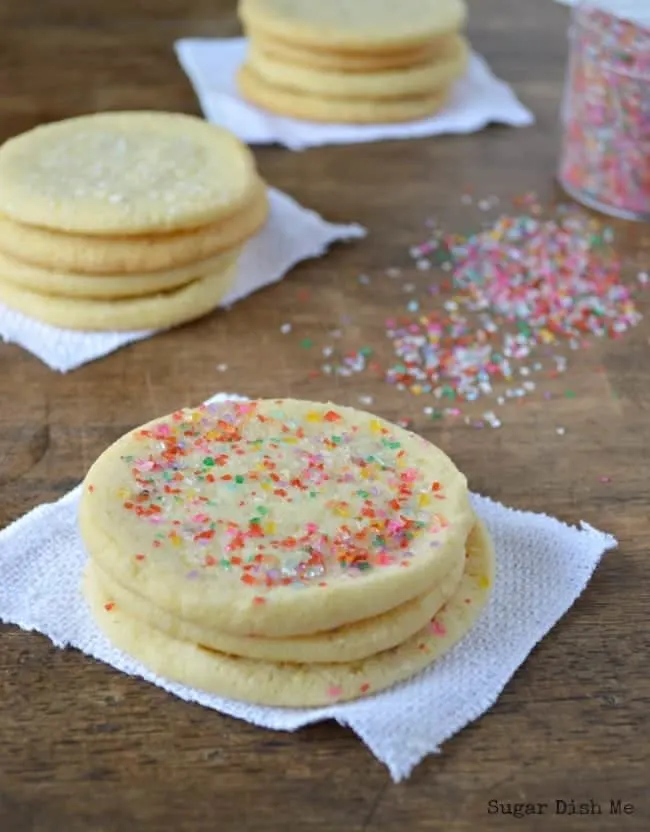 And of course we need to bake more cookies.
These are refrigerator cookies! Slice-n-bake little dreams that are full of fresh ginger and lemon zest. They will make your house smell AMAZING.
You just make the dough, wrap it tightly in plastic, and then slice however many you need and bam! Bake.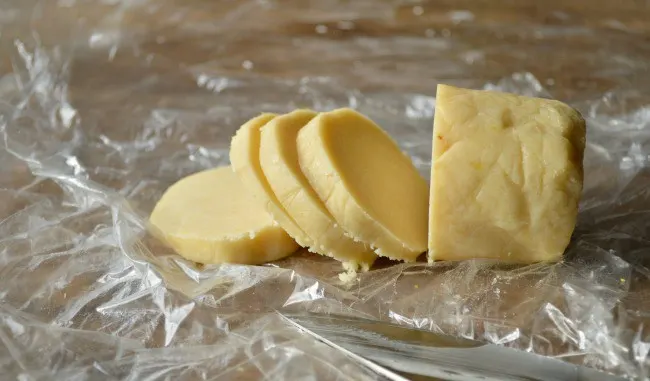 Surprise guests? Grab the cookie dough out of the fridge.
Short notice work function? Grab the cookie dough out of the fridge.
Cold rainy Saturday? You know what to do.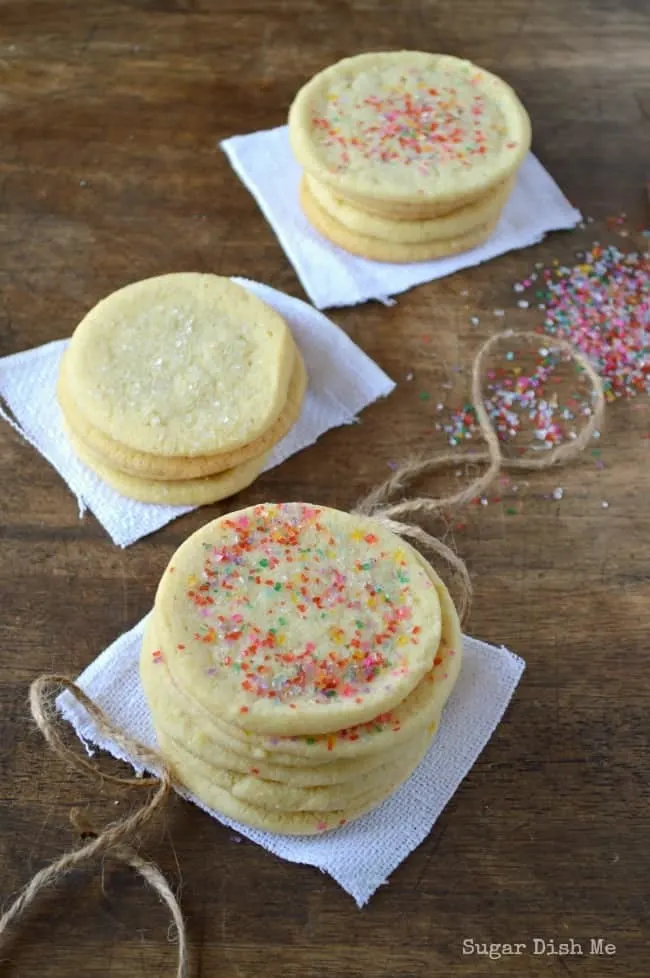 I would also like to recommend sparkle sugar sprinkles.
On everything.
To infinity.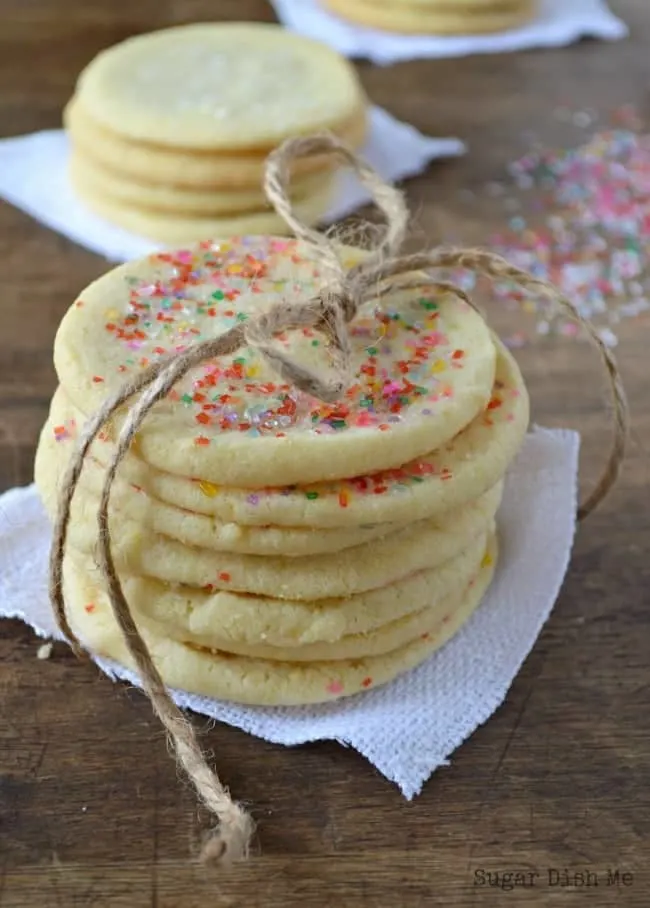 The end.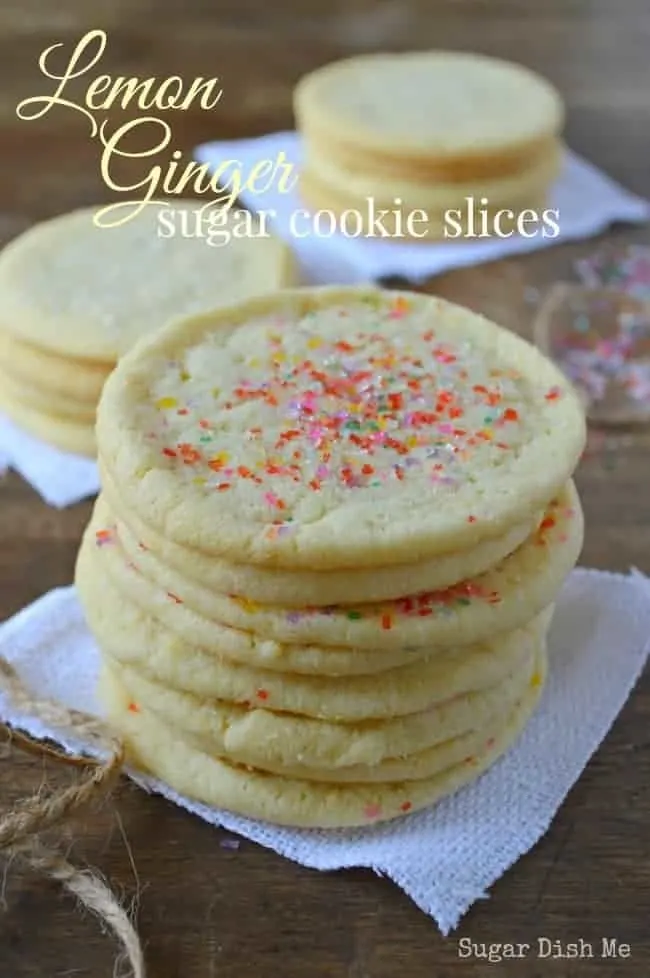 Yield:

about 60 cookies
Lemon Ginger Sugar Cookie Slices
Total Time:
2 hours
21 minutes
Lemon Ginger Sugar Cookie Slices are homemade slice-n-bake sugar cookies that mix up fast! Because they are refrigerator cookies they need at least 2 hours to set up in the refrigerator before slicing and baking. Top with your favorite sprinkles!
Ingredients
1 1/2 cups unsalted butter, softened
1 1/2 cups granulated sugar
1 teaspoon vanilla
1 teaspoon fresh ginger, grated
2 teaspoons fresh lemon zest
3 cups all purpose flour
1 teaspoon baking soda
1/2 teaspoon salt
sprinkles, sprinkles, SPRINKLES!
Instructions
In a large bowl beat the butter and sugar until light and fluffy, then mix in the vanilla, ginger, and lemon zest for about another minute.
In another bowl whisk together the flour, baking soda, and salt. Gradually add the dry mixture to the creamed mixture until a soft ball of dough forms. Be sure to scrape down the sides.
Divide the dough in half and shape it into two 8" rolls. Wrap each roll tightly with plastic wrap (after I wrap mine I usually roll it on the counter a few more times to give it shape and flatten the ends).
Refrigerate for at least 2 hours.
Preheat the oven to 350°F. Unwrap a log of cookie dough and cut into 1/4" slices.
Place them 2" apart on an ungreased cookie sheet and cover each with sprinkles. Bake for 11 minutes. The edges should NOT brown. These are soft cookies. The edges will puff up and they will spread a little when baking.
Let the cookies cool on the sheet for a few minutes before removing to wire racks to cool completely.
Recommended Products
As an Amazon Associate and member of other affiliate programs, I earn from qualifying purchases.
Nutrition Information:
Yield:
60
Serving Size:
2
Amount Per Serving:
Calories:

84
Total Fat:

5g
Saturated Fat:

3g
Trans Fat:

0g
Unsaturated Fat:

2g
Cholesterol:

12mg
Sodium:

39mg
Carbohydrates:

10g
Fiber:

0g
Sugar:

5g
Protein:

1g
Cookie recipe adapted from A Taste of Home's
Sugar Cookie Slices
recipe