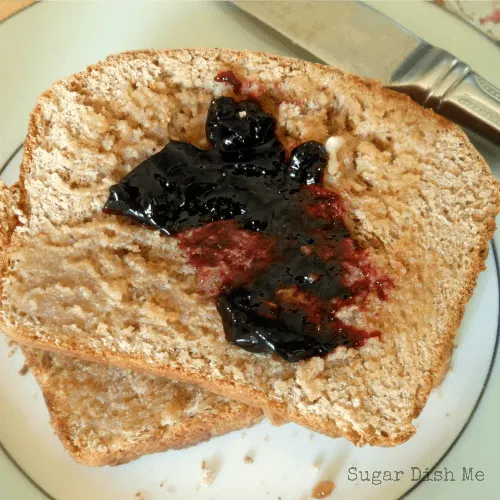 Breakfast is easily my favorite meal of the day. Unless dessert is a meal.
I love breakfast for lots of reasons. Some of them include waffles with whipped cream. Or "Ah-lah-modey". Other reasons have to do with coffee, eggs, breakfast potatoes. Don't even get me started on biscuits or cinnamon rolls.
But I have to say that one of my very favorite things about breakfast is that I don't have to talk my children into eating it (except when I make these Oat Nutty Whole Wheat Blueberry Pancakes – Evan doesn't like them. Because his taste buds are deranged). So here's the deal: I cook. Every night. I think I'm pretty decent at it… unless all of my family and friends have carefully constructed a very elaborate lie that includes all of you. Gah. That would be weird, right? One of you would tell me I hope.
Okay, so DINNER. I cook the food, I set the table, I call the family, we all sit down. I'm going to take a wild guess and say that 4 out of 7 days one or the other of my boys has to be coaxed into eating his meal. It. Drives. Me. Crazy. We're eating good food over here!
Evan tries to pick out every shred of seasoning – today he was totally offended by cilantro. He spends mealtimes dissecting food, searching for things like green peppers and red onions. Andrew, to be fair, has gotten much better about this with age. But he still has major aversions to all beans (unless they are in chili), shrimp (unless it's shrimp cocktail or fried), and mushrooms (unless nothing- he hates them).
Breakfast presents NONE of these problems. No matter what I put on the table at breakfast, the little boys are all about it. Maybe pickiness expands as the day wears on? Maybe they're still asleep when I feed them at 6:15 a.m.? Whatever the rhyme or reason, in the morning I never have to tell them to finish their food 14 times. It's such a relief.
Most days my breakfast is cereal. Or oatmeal with fruit. Lots of days I call a banana + coffee breakfast. I started making this bread last month, and it has quickly become my favorite breakfast staple. It's great fresh from the oven. But if you don't feel like baking for two hours before you eat the first meal of the day, it's still great the day after, toasted, with a little bit of butter and way too much blackberry jam.
P.S. The power just inexplicably went out … what in the world.
This bread is fantastic covered in peanut butter and sliced bananas. It makes THE BEST cinnamon toast. Slice it up and soak it in custardy goodness for french toast? Amazing. Mapley bacon and egg sandwiches? Yessssss. Oh! In one of those breakfast casseroles that calls for cubes of bread? I just thought of that. Just right this minute.
Do power outages boost creativity?
I call this "breakfast bread" because it's a little bit cinnamony and a little bit sweet with lots of earthy whole wheat and oatmeal goodness. Not that it wouldn't easily pair up with sliced turkey breast, a big leaf of lettuce, and a cranberry spread… wow. My mind just totally went to a Thanksgiving place…
But really this bread is suited for breakfast. Slice it thin. Dip it in egg.
Your kids won't complain about a thing.
Except maybe the egg.
Maple Oatmeal Breakfast Bread
Ingredients
2 cups boiling water
1 cup old fashioned oats
⅓ cup brown sugar
2 tablespoons maple syrup
1 tablespoon honey
¼ cup unsalted butter
1 teaspoon kosher salt
1 teaspoon cinnamon
1 tablespoon instant dry yeast
1½ cups bread flour
4 cups whole wheat flour
Instructions
In a large bowl, combine the boiling water, old fashioned oats, brown sugar, maple syrup, honey, butter, salt, and cinnamon. Stir, set the bowl aside, and let the oatmeal mixture cool to lukewarm.
When the oat mix has cooled, stir in the yeast and then the flours with a sturdy wooden spoon until a shaggy dough forms.
On a clean work surface, knead the dough for about 10 minutes, dusting the surface with bread flour occasionally if the dough gets too sticky. The dough will be smooth and a bit satiny.
Form a ball and transfer the dough to a lightly greased bowl (butter, cooking spray, a bit of olive oil- whatever suits), cover the bowl loosely with plastic wrap and let the dough rise for 1 hour.
Grease two 8½ X 4½ loaf pans (you can use a larger loaf pan but your bread won't be as tall). Divide the risen dough in half, shape into two loaves, and situate the dough in the prepared loaf pans. Cover each pan loosely with GREASED plastic wrap and let the dough rise for another hour, or until it's about an inch above the rim of the pan.
Preheat the oven to 350.
When the dough has risen, uncover and bake for 35 minutes.
Remove the loaves from the oven when they are golden brown. Let the bread cool slightly before turning out of the pans. Slice with a sharp serrated knife to avoid smushing your pretty bread.
This bread is best served warm, but it will keep, wrapped tightly, for up to a week (if it lasts that long).
(adapted from
THIS
recipe at King Arthur Flour)