Fresh cherries are tossed with baby greens, sliced red onions, and grilled chicken. Cherry Almond Chicken Salad is topped with lightly salted almonds and a cherry balsamic vinaigrette for a quick, easy, healthy meal.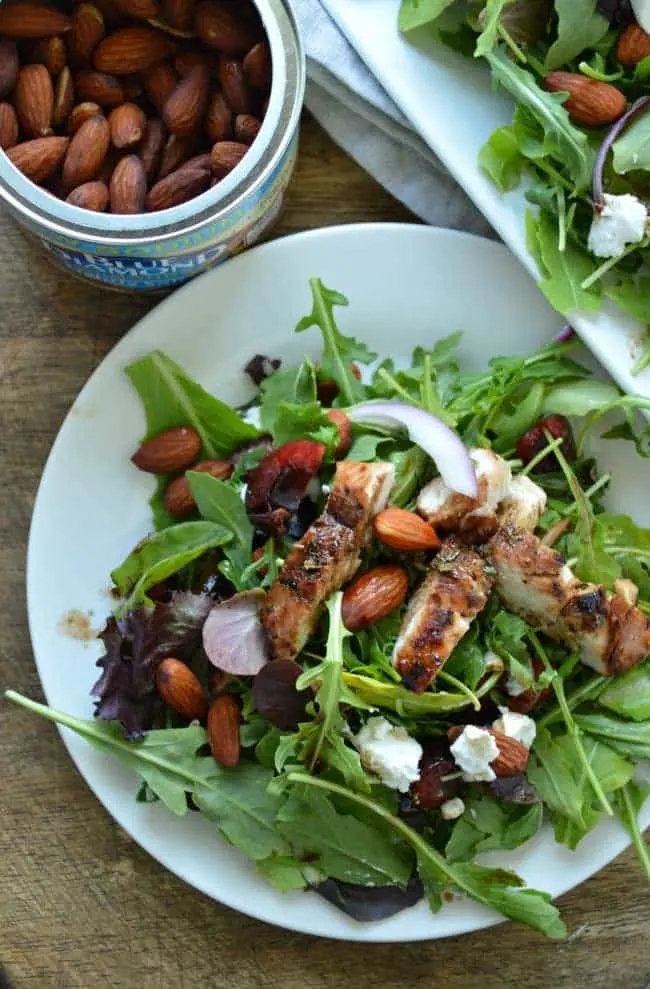 This post is sponsored by Blue Diamond Almonds. I have partnered with them to bring you some easy, delicious recipes using one of my favorite foods: almonds! All opinions, photos, and the original recipe is my own.
I bought more cherries and made us a really delicious salad!
And I totally borrowed the flavor profile from one of my favorite pancake recipes.
Cherries and almonds were kind of made for each other.
You know, like when you make a cherry pie and you add almond extract? That's where I was going with this. I also added goat cheese. Good grief do I love goat cheese.
Summer flavors all packed into one dish — like a little taste adventure on a plate. Summer is kind of one big adventure from start to finish, so having food to match feels right.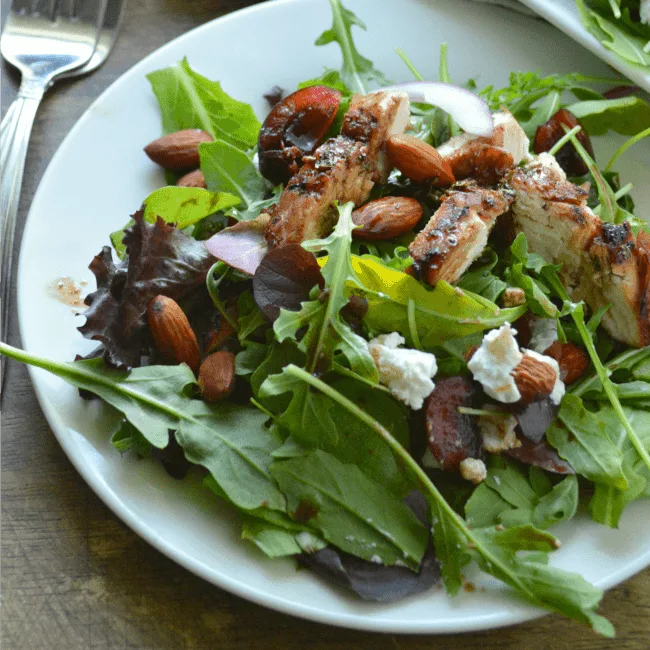 Between the vacations, excess time spent out of doors, pools, lakes, ball games, hikes, and winery patio loafing (my very favorite), there are approximately a zillion opportunities for adventure this time of year. Adventures call for snacks. My snack love for almonds has been well documented. They are part of my 36 Points every. single. day.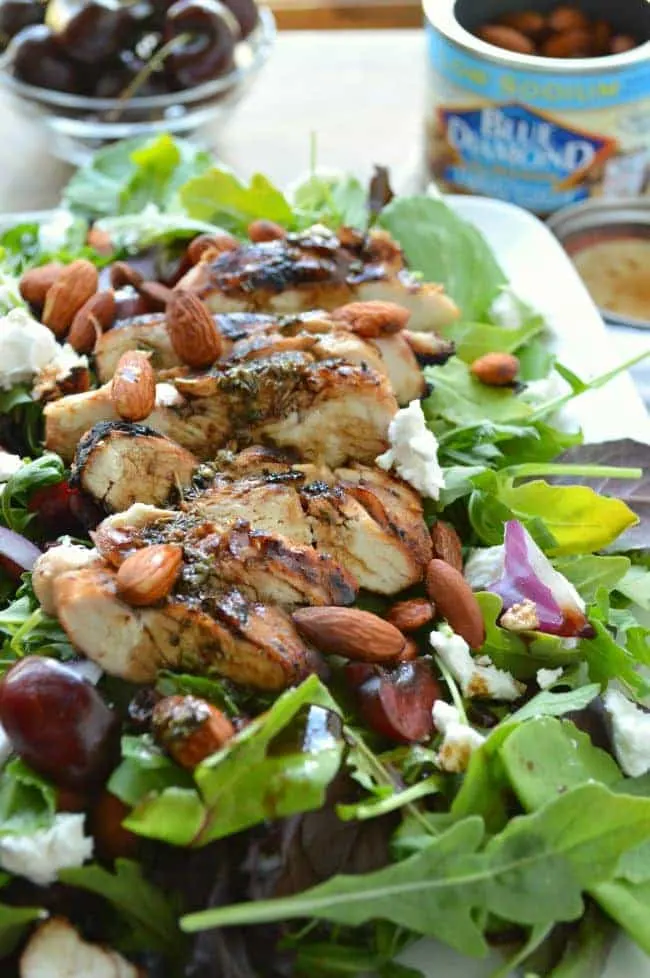 We are delivering a triple cherry bomb here. Can you believe there was a time not that long ago that I did not like cherries? I mean, I still don't really eat them straight up the way I do all the other fruit, but I can't get enough of them in RECIPES. There's Cherry Bomb Chicken (which I just made again last night and it's still one of my favorite summer grill recipes), and then there's that Cherry Berry Cream Cheese Tart which… omg. It is gooo-ooo-ood.
There's the Roasted Cherry Toasts with Honey Nut Cream Cheese which will remain my favorite breakfast toast from now to infinity. Also Cherry Cola Slab Pie, which is basically like a big 'ol slab of American summer.
Anyway. About the triple cherry threat: we have chicken marinated in cherry juice!!! Yes. And sliced cherries! Double yes. And then there's this cherry balsamic vinaigrette. New favorite dressing!!!
With all that sweet, the Blue Diamond Lightly Salted Almonds offer the perfect salty crunch.
You can also easily work this salad out as an easy side (which is what I did last night!!) by leaving off the chicken. I like to also cook the chicken ahead of time and keep it in the fridge for a quick lunch. Simple, healthy, sweet, salty, creamy, crunchy — I fit it all into one plate!
Cherry Almond Chicken Salad
Fresh and delicious!!! This cherry almond chicken salad recipe is sweet and tangy with the creaminess of goat cheese and the crunch of almonds.
Ingredients
For the Chicken:
1 pound boneless skinless chicken breast, sliced into thin cutlets for faster cooking
2 cups cherry juice
salt & pepper to taste
For the Cherry Balsamic Vinaigrette:
⅓ cup balsamic vinegar
3 tablespoons cherry juice
1 tablespoon honey
1 teaspoon Dijon mustard
½ teaspoon dried oregano
2 tablespoons extra virgin olive oil
For the Salad:
5-6 ounces Mixed Greens
1 cup fresh cherries, pitted and halved
2 ounces semi-soft goat cheese
½ cup red onion, very thinly sliced
1 cup Blue Diamond Lightly Salted Almonds
Instructions
Soak the chicken in the cherry juice and refrigerate while you put together the dressing and salad. You can also cook the chicken ahead of time and refrigerate it until you are ready to serve.
To make the dressing put all the ingredients in a jar with a tightly fitting lid (I used a small mason jar), screw on the lid, and shake well until they have combined. Set the dressing aside.
Fill a big bowl with the mixed greens. Sprinkle with the cherries, goat cheese, and red onion slices. Top the salad with the Blue Diamond Lightly Salted Almonds.
To cook the chicken, you can grill (pictured) or pan sear, depending on what's easiest for you. Either way, you want to cook for about 4 minutes on each side, checking to make sure the juices run clear and the internal temperature has reached 165F. You may need a little oil in the pan if you are pan searing, and your cook time might be a few minutes longer. Let the chicken rest before slicing.
Top the salad with sliced chicken and spoon the dressing over everything.
Serve immediately.
This "Flavor Your Adventure" post is sponsored by Blue Diamond Almonds. For more snack ideas to "Flavor Your Adventure" this summer, visit
Blue Diamond Almonds on Facebook
,
Twitter
and
Instagram
.
And if you love almonds too, you will love these other almond recipes!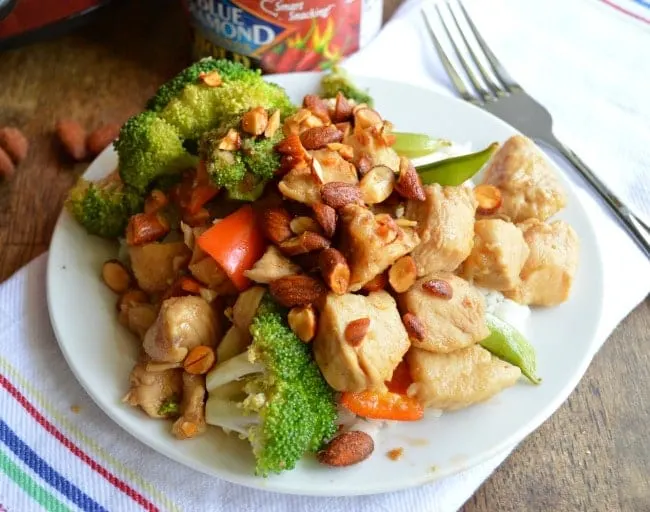 Slow Cooker Honey Sriracha Chicken Stir Fry