Toasty slices of baguette topped with fresh garden tomatoes, garlic, and basil. Fresh Tomato Bruschetta is a quick and easy summer appetizer and a wonderful way to use up garden veggies!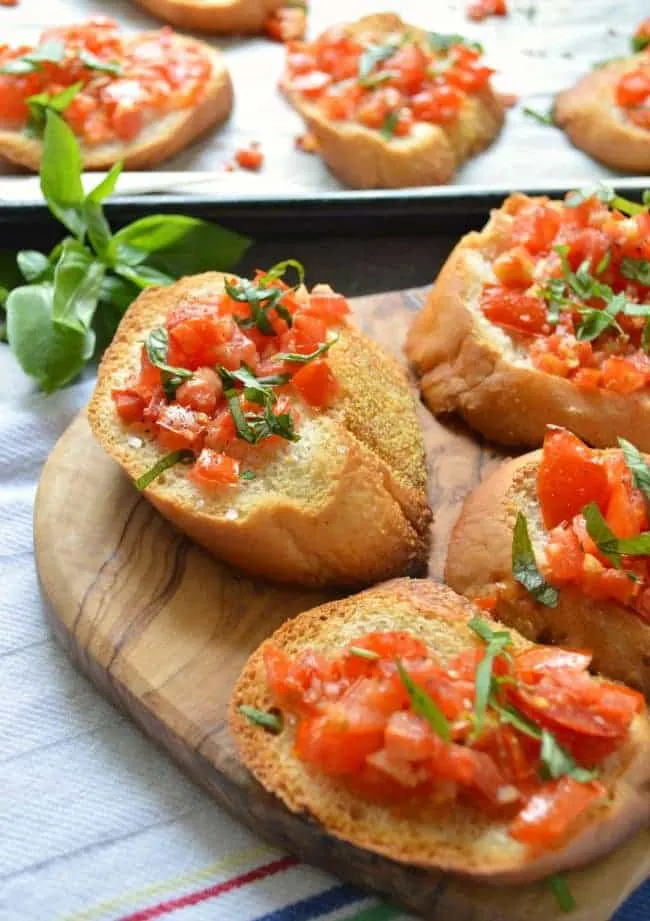 This post is originally from 2012, but I dug it out and gave it some new photos because I was gifted tons of fresh garden tomatoes over the weekend!! Some of my favorite recipes are the oldies.
Since I returned from La-La-Vacationland a little over a week ago I've spent most of my time indulging in a few of my favorite summer flavors before they are gone, gone, gone until next year. I'm eating peaches everyday. Three times a day.
I'm putting blueberries in all the baked goods (see: Blueberry Biscuit Bombs and Orange Brown Butter Blueberry Muffins). Breakfast BLT's have become a staple. Tomatoes and basil have made their way into every evening meal.
These fresh flavors are so far the only high points to be found in these few weeks between beach vacation and back-to-school. We are stuck in the North Carolina August summer limbo; the afternoon storms have all but ceased, the sticky heat seems relentlessly hotter.
Backpacks, notepads, and No.2 pencils are just around the bend, but the weeks ahead have thus far dulled the excitement of a new year and old friends.
I am ready for jacket weather. I miss my hair straightener. And scarves.
There are only a few highlights to the summer's end drudgery. Garden tomatoes and basil are pretty high up on my list.
Tomato bruschetta is the very first thing that came to mind when my neighbor gifted me a 5-gallon bucket full of fresh garden tomatoes. It didn't hurt that I needed an excuse to use up some of the basil from my basil bush plant that is all but shading the green beans at the back of my garden.
Amazon basil. Forreal.
So instead of dwelling on the fact that my tank tops are feeling tired and my hair is feeling frizzy (not the good beach kind of frizzy but the why-have-those-curls-escaped-my-elastic-and-proceeded-to-stick-straight-out-just-above-my-ears kind of frizzy), or wondering how early is too early to start decorating for Halloween, I have busied myself with dicing absurd amounts of tomatoes. And chopping basil by the pound.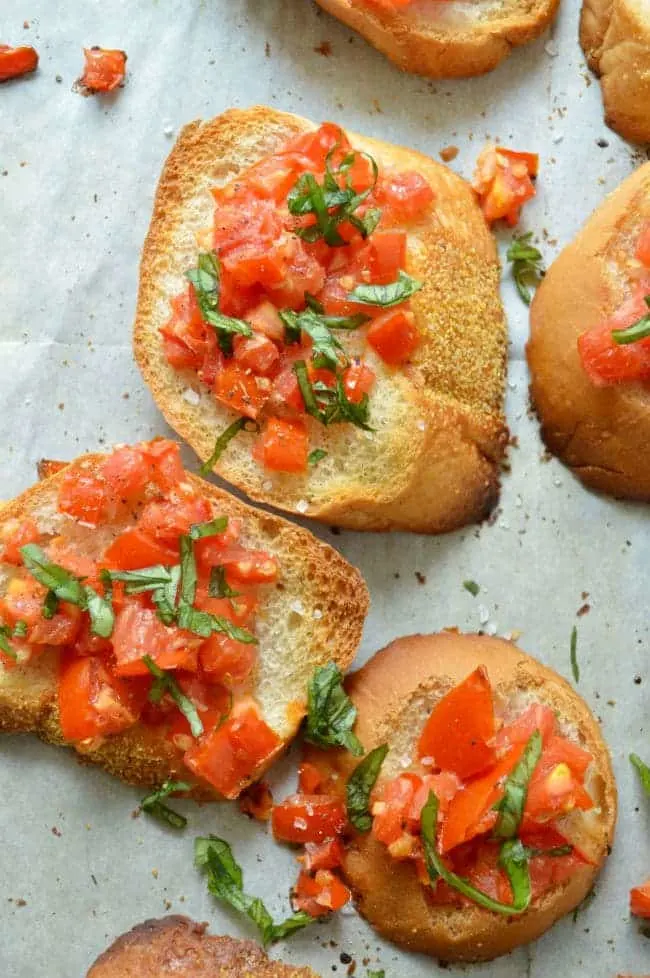 This big pile of fresh tomato bruschetta and a few slices of balsamic marinated grilled chicken was called dinner. Truth be told, I would have gotten along just fine without the chicken.
Except the next morning I had leftover bruschetta topped with a perfectly medium poached egg.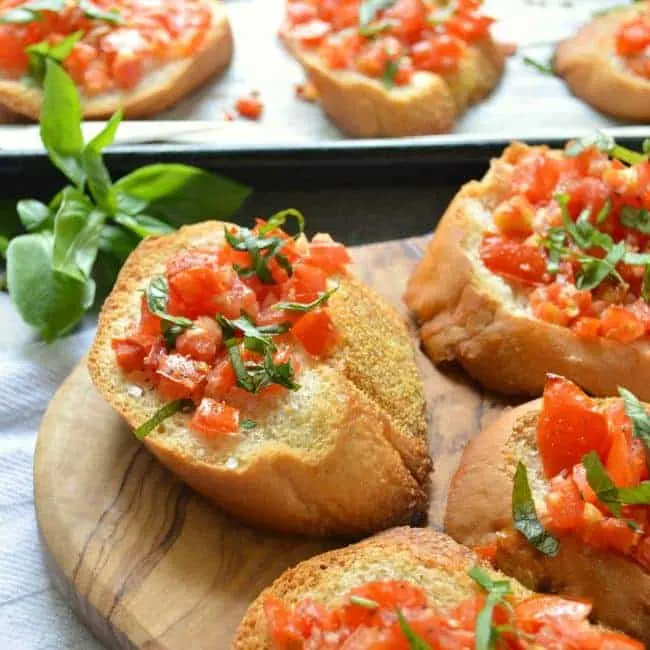 And then I remembered why I'm glad it's still summer.
Fresh Tomato Bruschetta
Fresh Tomato Bruschetta is a quick and easy summer appetizer and a wonderful way to use up garden veggies!
Ingredients
3-4 large fresh tomatoes, diced
3 cloves garlic, very finely minced
2 tablespoons olive oil
1 loaf baguette or other crusty bread, sliced on a bias to create more surface area for the topping
sea salt and fresh ground black pepper to taste
¼ cup chopped fresh basil
Instructions
Pre-heat the oven to 450.
Place your tomatoes in a medium bowl. Add the garlic and toss to coat. I like to drain the excess tomato juice with a fine strainer at this point.
Put the tomatoes and garlic back in the bowl and toss with the olive oil.
On a rimmed baking sheet line up the sliced baguette. Dip a brush into the oil in the tomato/garlic mixture and brush the exposed side of the bread.
Put the pan in the oven and toast for 1-2 minutes. Remove from the oven and flip the bread.
Spoon the tomato mixture onto each slice. Sprinkle with a dab of sea salt and freshly cracked pepper.
Bake for only 5 or 6 minutes; the edges of the bread will begin to brown.
Remove from the oven and garnish each piece with the basil.
Love Summer Vegetables? You'll also love these…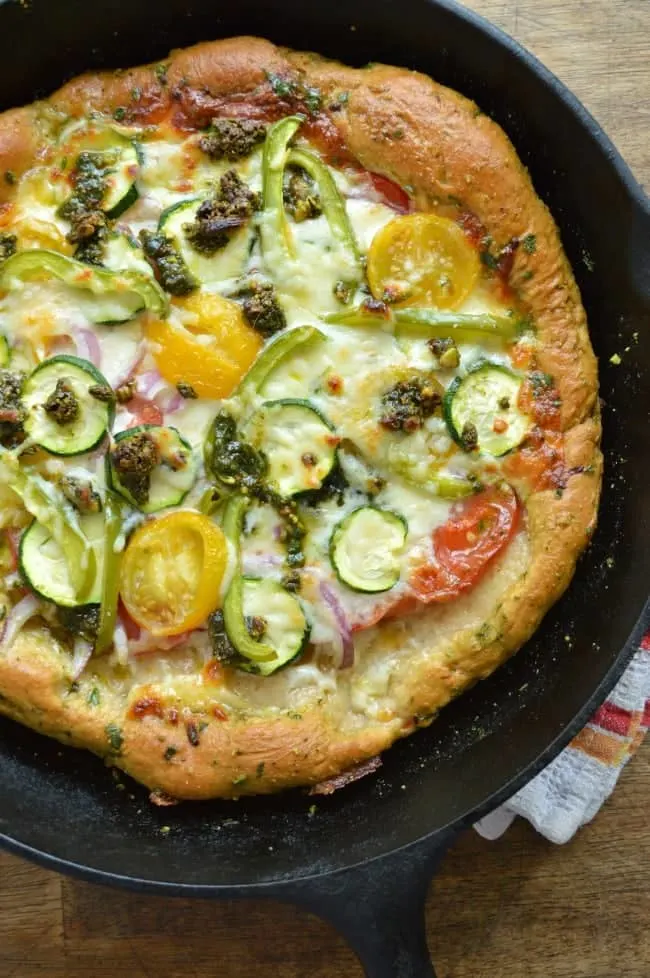 Summer Vegetable Skillet Pizza