A tasty one-pot dish that comes together quickly and is packed with flavor! These One Pot Chicken Riggies are inspired by a dish served largely in central New York that I sometimes get a major craving for!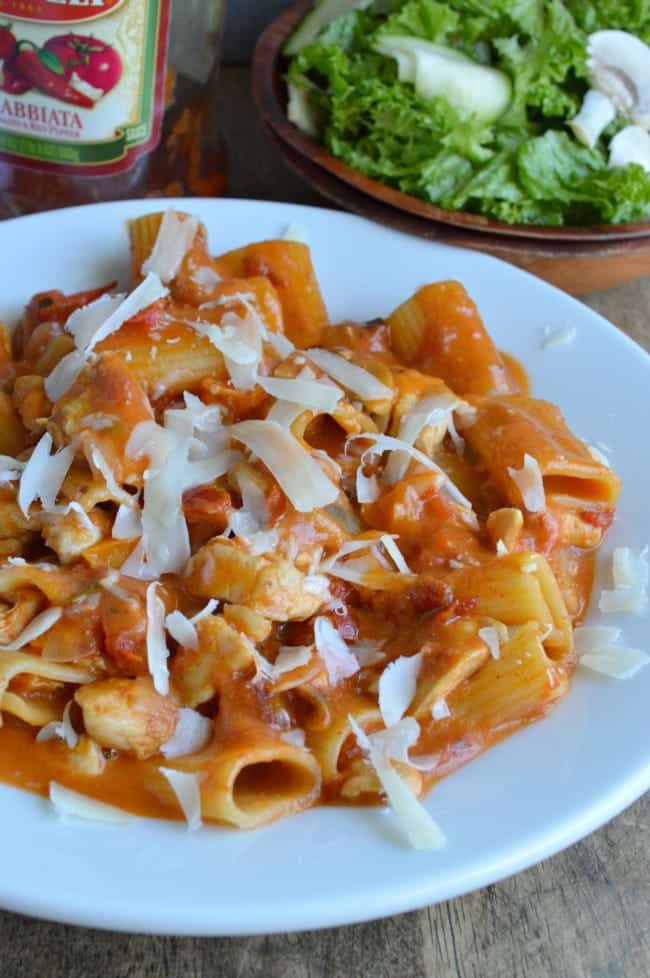 This post is sponsored by Bertolli® brand pasta sauce and the Kroger sponsored 'Taste of Italy' program. We worked to bring you awesome flavor packed into an easy recipe! All opinions, original recipe, and photos are my own.
When my boys were little we did a lot of bouncing back and forth between North Carolina (where I live now and was raised) and central New York. The part of New York that everyone forgets about. It's a place with mountains and valleys, ultra green grass in the summer, truckloads of snow in the winter, some of the most awesome little pizza joints and delis, and CHICKEN RIGGIES.
If you have never had chicken riggies — authentic chicken riggies — you are missing out. Like I might recommend a road trip. If you go please bring me back a slice of pie from Teddy's. If you aren't up for an extra long drive though, you can make chicken riggies at home, and you only have to mess up one pot.
My kinda meal.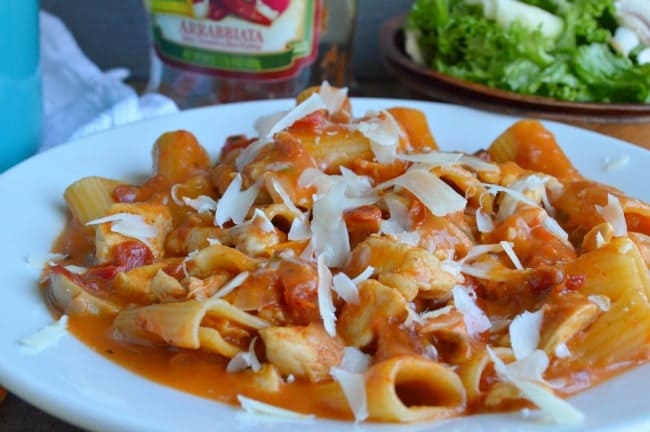 One Pot Chicken Riggies call for fresh veggies and a dash of heavy cream, but I didn't add any seasoning to this recipe besides salt. And that is because I used one of my favorite kitchen cheats: high quality, tasty, prepared tomato sauce. More specifically,Bertolli® brand Pasta Sauce. This Tuscan-inspired sauce is full of all the flavor I need. The hint of summerleaf basil, the vine-ripened tomatoes, and the Extra Virgin Olive Oil lend superior taste and take about 42 steps out of my dinner prep.
I made this two ways — once with the more traditional Tomato Basil Bertolli® brand Pasta Sauce, and once with the Arrabiatta because we like it hot! It was an easy way to spice things up without chopping more peppers or adding crushed red peppers flakes. All the heat I needed was packed right in the jar.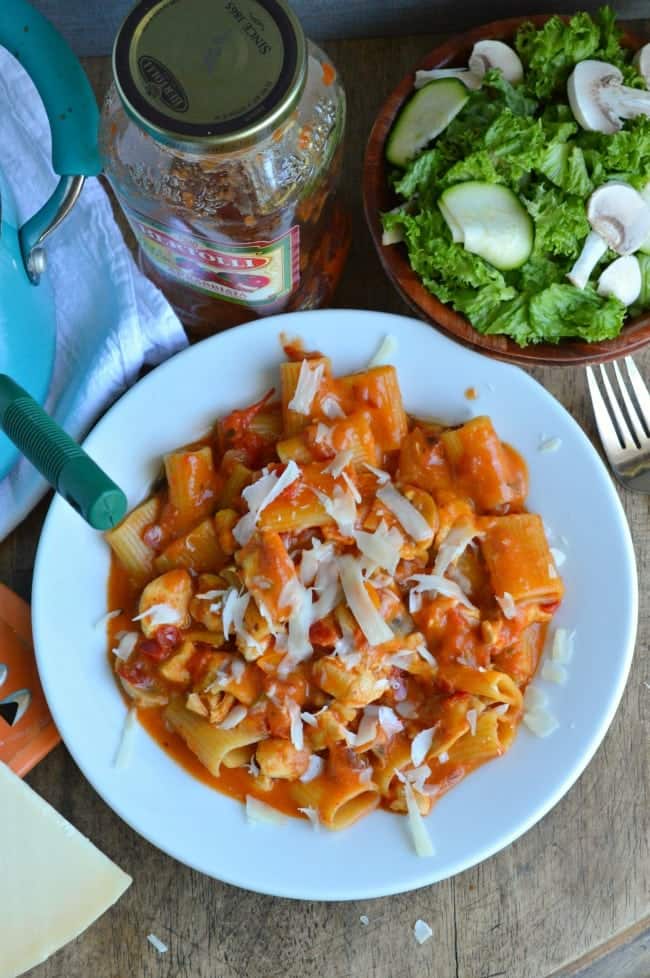 This dish completely reminds me of the real deal. Except I don't need a saute pan, a pasta pot, and a stock pot for sauce. It's pretty awesome.
You can find Bertolli® brand Pasta Sauce at your local Kroger (which also includes Dillons, Harris Teeter, Smith's, King Soopers, Fred Meyer, and Ralphs).
One Pot Chicken Riggies
Ingredients
1 tablespoon olive oil
3 cloves garlic, minced
1 pound boneless skinless chicken (light or dark meat), cut into 1" pieces
1 red bell pepper, diced
1 medium onion, diced
1 Italian Long Hot Pepper
1 cup sliced fresh mushrooms
12 ounces rigatoni
4 cups water
¼ cup heavy cream
1 jar Bertolli® brand Pasta Sauce
Instructions
In a large enough pot to cook the pasta, heat the oil over medium heat. Add the garlic and cook for just about 1 minute on medium to medium low. It will be fragrant but don't let it burn! Add the chicken pieces, turn the heat to medium high, and brown them on all sides.
Add the peppers, onions, and mushrooms, and then cook for 1 - 2 more minutes.
Pour in the pasta and the water. Stir. Let the water come to a boil and let everything cook, stirring occasionally until the pasta is al dente. There will still be a small amount of water in the pot. It's fine.
Stir in the heavy cream and then the Bertolli® brand Pasta Sauce.
Garnish with grated Parmesan and serve!