Fluffy, rich peanut butter cheesecake on a graham cracker crust topped with chopped fresh apples! This Peanut Butter Apple Cheesecake is sure to satisfy that peanut-butter-dipped-apple craving!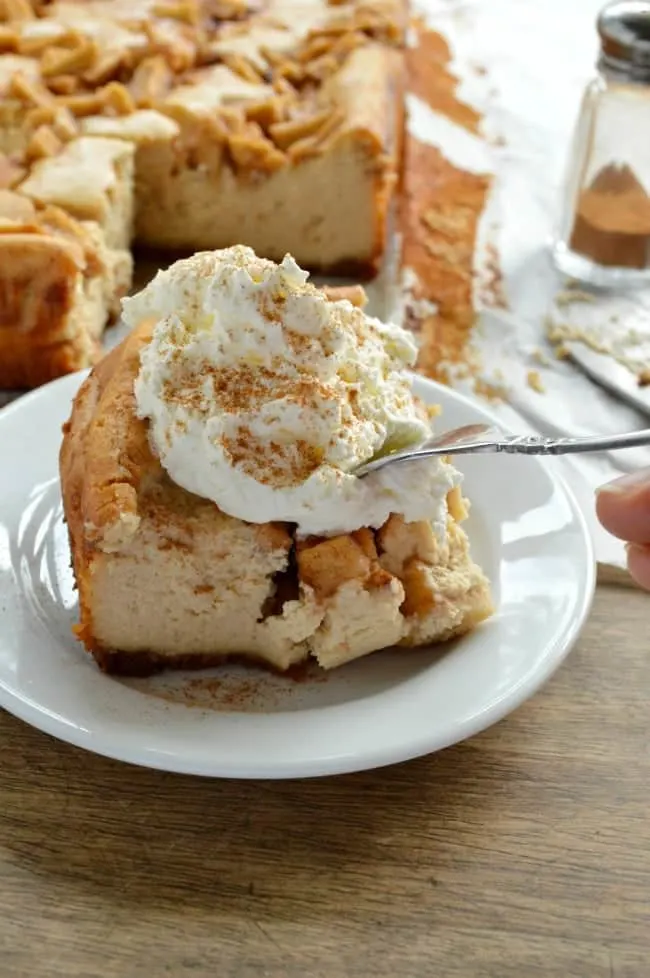 I partnered with the J.M. Smucker Company and Walmart to make you this awesome Peanut Butter Apple Cheesecake using Jif Peanut Powder. All opinions, photos, and the original recipe are my own.
Yup. This happened.
I married my love for dipping apple slices in the peanut butter jar with my other love for cheesecake. The results are kind of mind-blowing.
I had the same sort of moment about this time last year when I decided to make these Chewy Apple Peanut Butter Bars. Remember when we tried not to eat the whole pan? Good times.
Anyway.
Inspiration this year struck when I found myself wandering through the happiest little farm stand Annie, our most recent little foster puppy. She and I were on the last leg of our 1 1/2 hour freedom ride home from the shelter and we both needed to stretch our legs. I was also probably seduced by all the pretty pumpkins spilling out of everywhere in front of the shop. I mean..you guys know how I feel about Halloween.
Annie and I picked out some pumpkins and then I found ALL THE APPLES. To be more specific: local Granny Smiths. I bought way too many as per usual, and now we are enjoying an apple a day plus all the apple baked goods I can manage.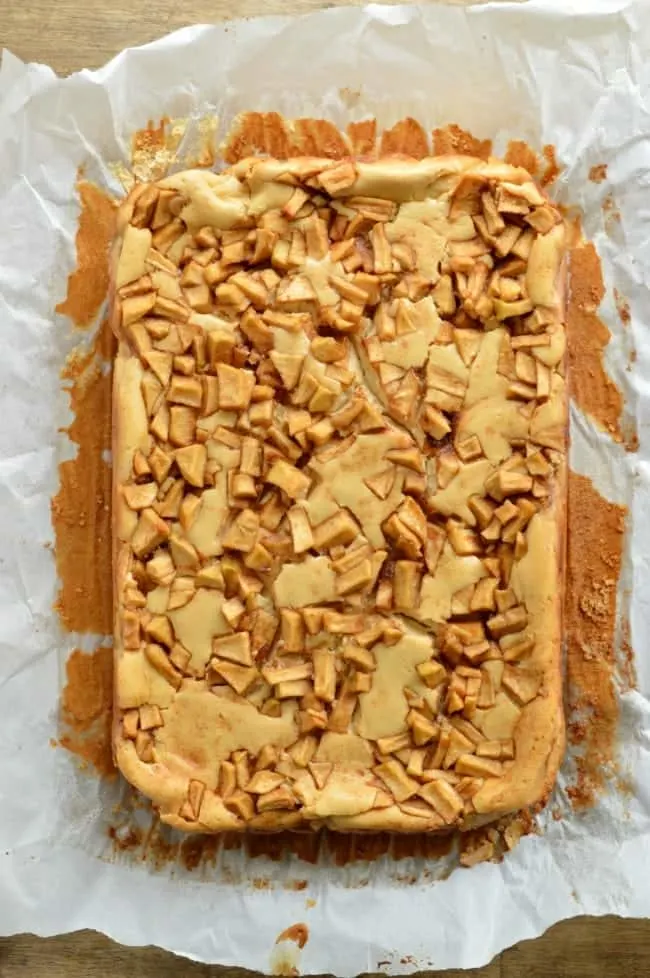 I had about a hundred apple + peanut butter ideas (many of which I might shove in your face over these next few weeks because of the previously mentioned apple hoarding), but the one I was most excited to start with was this Peanut Butter Apple Cheesecake. It is based on an ollllllld recipe. One I published in the first 1-2 months of blogging. It's a great recipe (I served it for Thanksgiving like 6 years in a row), but the post is totally embarrassing. Back in the days when I was basically just writing this blog for my mom to read while she was supposed to be doing work.
I deleted all the disaster photos that I took with my old phone that was like 1/2 a megapixel or something, so you can only laugh at me just a little bit. Side note: Can you believe I have been writing about food for 4 years? That is kinda crazy.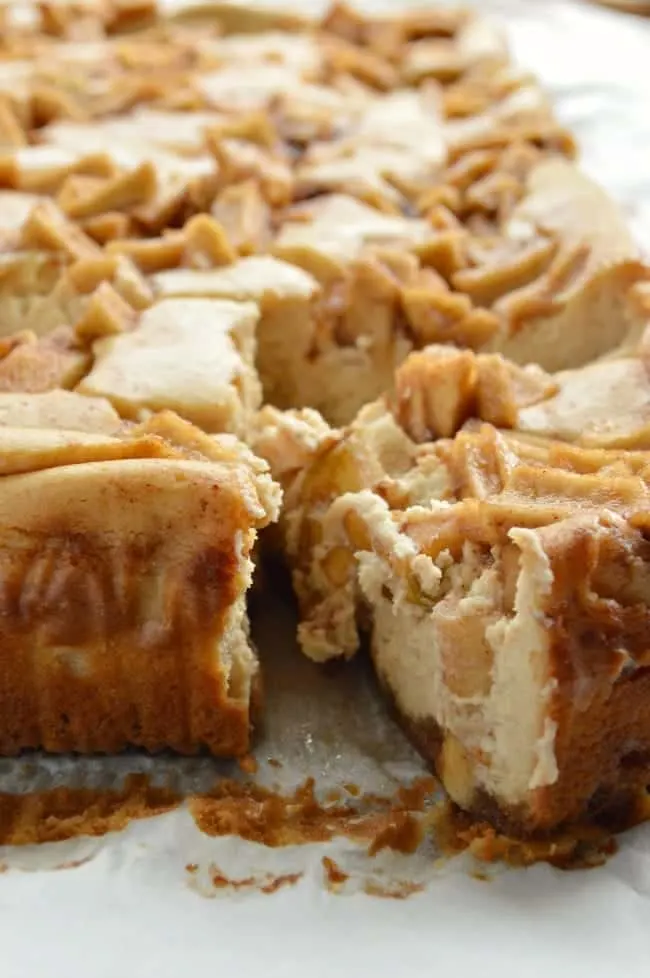 So I took that old recipe and changed it a little, mostly just incorporating tons of peanut butter flavor from this new Jif Peanut Powder that I found while binge-buying all the fall baking stuff (read: pumpkin spice everything, worm sprinkles, and candy corn marshmallows) at Walmart.
Adding peanut butter to baked goods just got exponentially easier. I am perfectly happy to lick regular peanut butter off my fingers, but sometimes when you are baking with it, the finger-licking is not an option. And then you have to wash sticky peanut butter off your hands, the measuring cup, the spoon… am I the only person that has these issues with peanut butter or am I just a total slob?
Anywho– with the peanut powder you just scoop it out and add it to whatever. Cheesecake batter. Smoothies (YES). Sliced apples (totally did that with this cheesecake recipe). You can reconstitute it with water and honey. It's pretty dang great.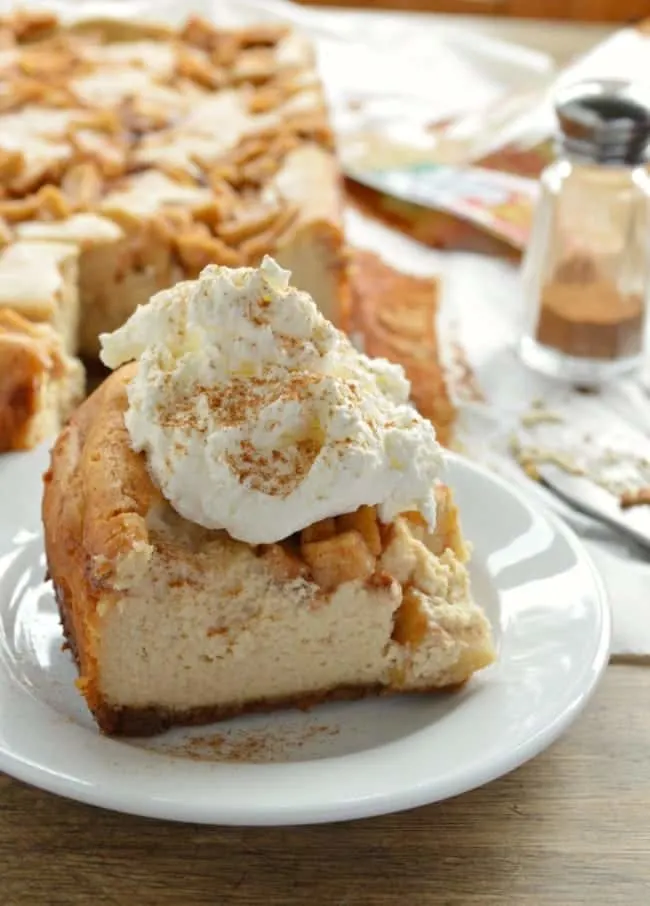 Jif Peanut Powder also 85% less fat than traditional peanut butter and is 7-9 grams of protein per serving. Peanut Butter Apple Cheesecake with Jif Peanut Powder is pretty much winning at everything.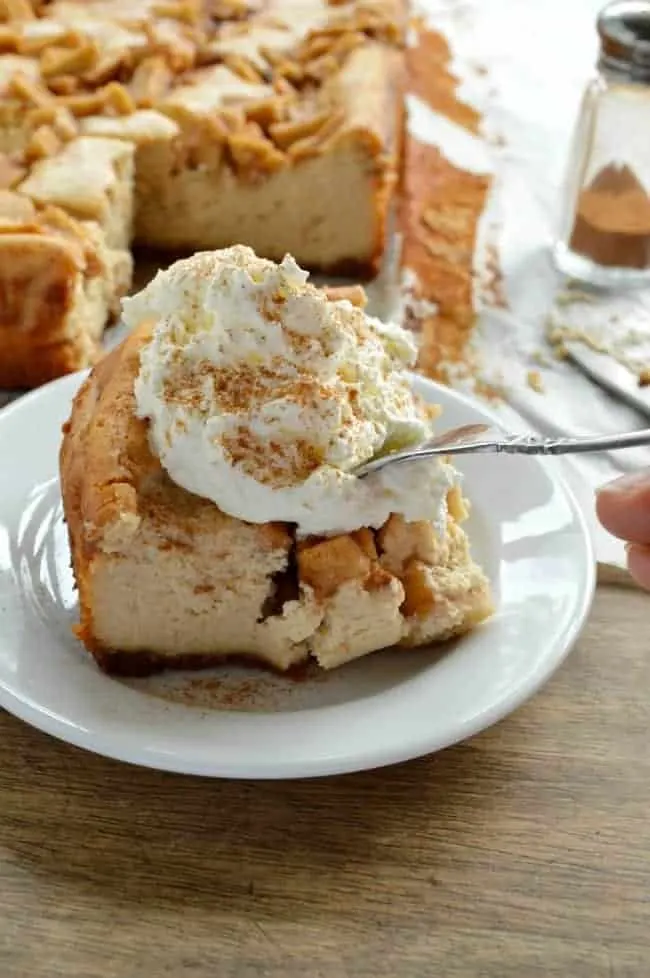 Yield:

12 - 15 slices
Peanut Butter Apple Cheesecake
Cook Time:
1 hour
5 minutes
Total Time:
3 hours
20 minutes
Peanut Butter Apple Cheesecake is a fall favorite! Creamy peanut butter cheesecake topped with delicious cinnamon peanut butter apples, all on a graham cracker crust. Be sure to leave yourself a couple of hours for the cheesecake to chill before slicing and serving.
Ingredients
For the Crust:
1 1/2 cups graham cracker crumbs
1/2 cup butter, melted
2 tablespoons brown sugar
For the Topping:
3 medium firm apples (such as Granny Smith or Honey Crisp), peeled, cored, and coarsely chopped
1/4 cup brown sugar
2 tablespoons Jif Peanut Powder
1 teaspoon cinnamon
For the Cheesecake:
4 (8 ounce) packages cream cheese, softened
1 cup packed brown sugar
1 cup sour cream
1/3 scant cup Jif Peanut Powder
4 large eggs
1 teaspoon vanilla
Instructions
Preheat the oven to 325F. Line a 9 X 13 pan with parchment paper or butter the pan generously. Make the crust first by mixing together the graham cracker crumbs, melted butter, and brown sugar. Press it into the prepared pan and bake for 10 minutes. Let the crust cool.
Next make the topping. Toss together the chopped apples, brown sugar, Jif Peanut Powder, and cinnamon. Set the topping aside and let the apples macerate while you make the cheesecake filling.
To make the filling, beat together the cream cheese and brown sugar until fluffy. Then add the sour cream and Jif Peanut Powder.
Mix in the eggs 1 at a time, beating well between each addition. Stir in the vanilla and pour the batter over the prepared crust. Top the cheesecake with the apples.
Bake for about 65 minutes. Let it come to room temperature before chilling. Chill for at least 2 hours before serving.
Recommended Products
As an Amazon Associate and member of other affiliate programs, I earn from qualifying purchases.
Nutrition Information:
Yield:
12
Serving Size:
1
Amount Per Serving:
Calories:

447
Total Fat:

29g
Saturated Fat:

14g
Trans Fat:

0g
Unsaturated Fat:

11g
Cholesterol:

122mg
Sodium:

281mg
Carbohydrates:

43g
Fiber:

2g
Sugar:

32g
Protein:

7g
This is a sponsored conversation written by me on behalf of JM Smuckers. The opinions and text are all mine.