This shop has been compensated by Collective Bias, Inc. and its advertiser. All opinions are mine alone. #WhenImHungry #CollectiveBias
Thick and chewy brown butter blondies loaded with Peanut Butter SNICKERS® pieces outside and in. Peanut Butter SNICKERS® Bar Blondies are perfect by themselves or warm and topped with a heaping scoop of vanilla ice cream.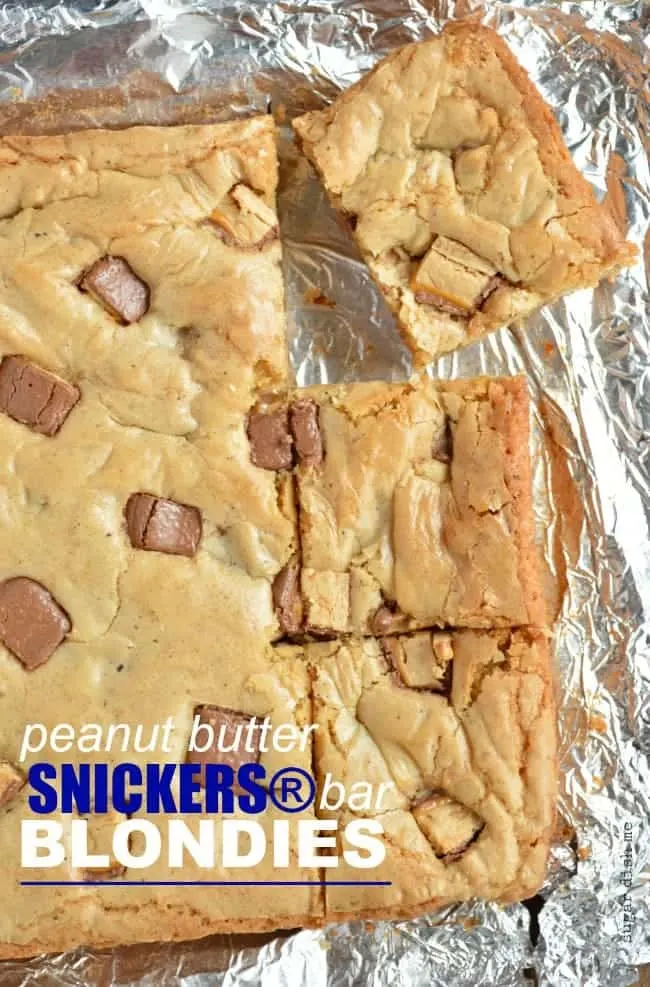 Welcome to the best blondies ever.
I do not say that lightly.
I am a blondie connoisseur and have recipes for Honey Chipotle Almond Blondies, Fireball Blondies, and of course those Maple Walnut Blondies that everyone everywhere loves from that one restaurant – you know what I mean. But these blondies have knocked all the others down a few pegs. They are the reigning champions.
Earlier this year I installed a step tracker on my phone and decided that I was going to shoot for 10,000 steps a day. Most of the time I walk my dogs (all 4 of them) like a mad woman. It's a nice excuse to get out of the house and think. Also the dogs think I am like some sort of superhero as soon as I grab the leash.
Forget bacon treats.
Walking in a circle around the block is like the greatest thing to ever happen to them (and nevermind that we have a huge fenced yard that they can run in anytime they'd like).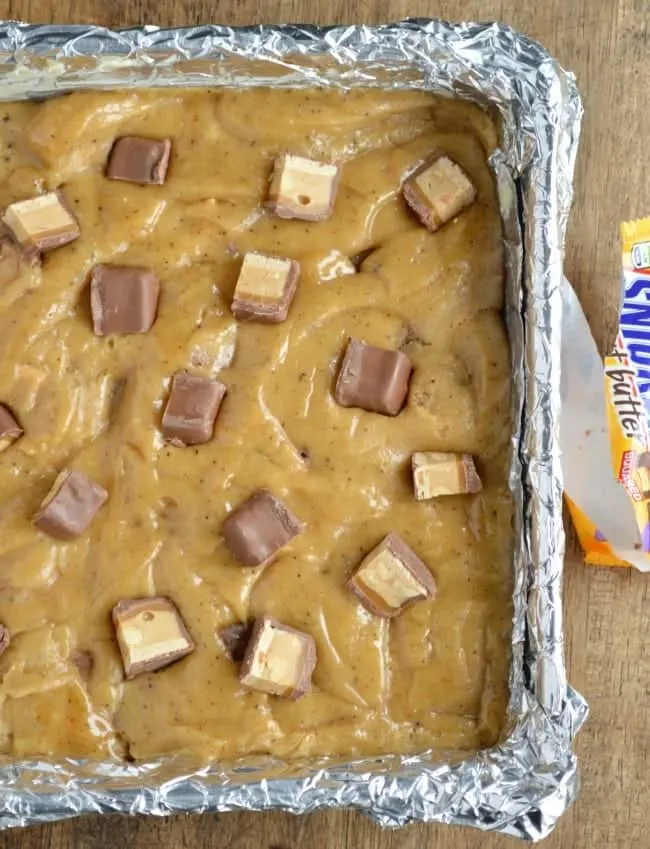 Anyway. When you start tracking your steps you get into these weird competitions with yourself where you think pssshhhhh. 10,000 is nothing; let's shoot for 15.
Sometimes 15 turns into 20. 20,000 steps is like 10.5 miles or something. And when we went to Disney World last week we were easily walking that far every day. I was loving it.
Except.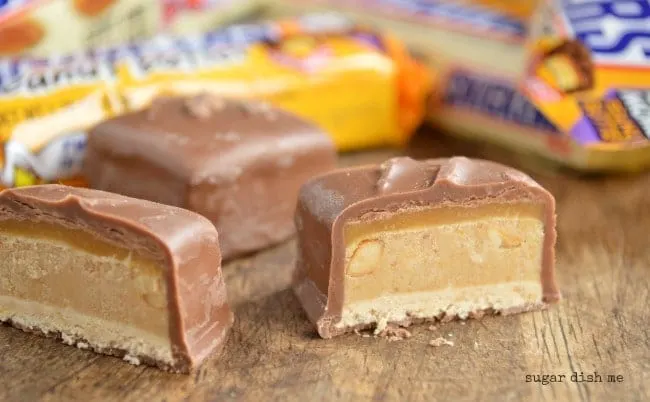 When we got done walking around and around and around and it was late and I was exhausted, THERE WAS NO FOOD.
When you walk that far weaving your way in between small people and 10865367574 stroller mommies, you get hungry. 11 pm and no food places open makes you HANGRY. And gahhhh at the end of the day all I really really wanted?
Was one of these Peanut Butter SNICKERS® Bar Blondies.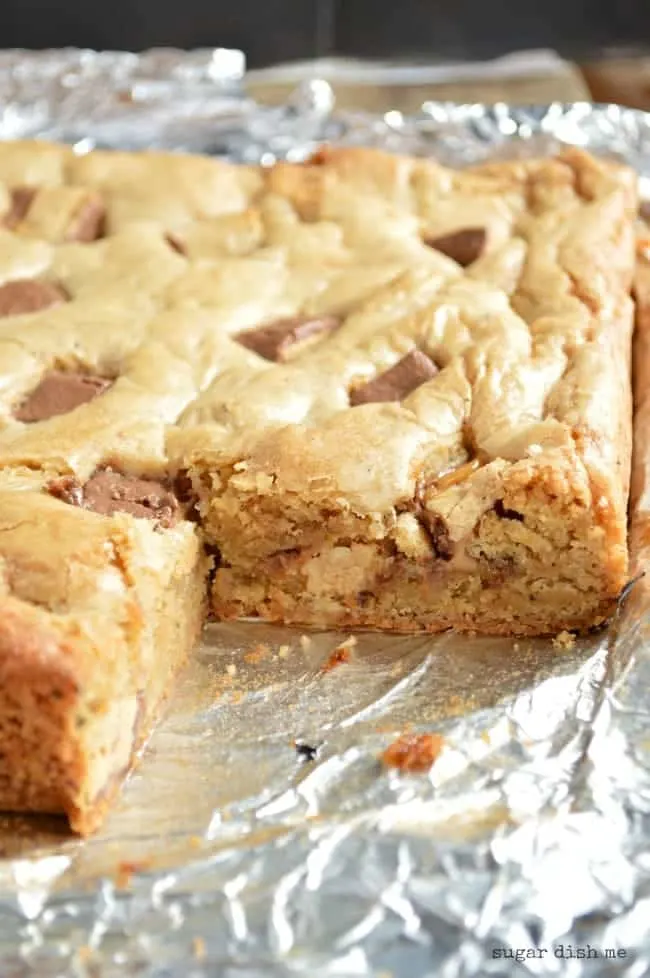 From now on I will keep one wrapped in my bag at all times. That's why we're friends, right?
Peanut Butter Snickers Bar Blondies
Thick brown butter blondies stuffed with Peanut Butter SNICKERS® Bar pieces. These are amazing by themselves and are even better topped with melty vanilla ice cream!
Ingredients
1 cup unsalted butter
1 cup light brown sugar, packed
½ cup granulated sugar
2 eggs
2 teaspoons vanilla
2 cups all purpose flour
1 teaspoon sea salt
1 teaspoon baking powder
3 ( 1.78 ounce) packages Peanut Butter SNICKERS® Bar Squares, cut into bite size pieces
Instructions
Preheat the oven to 350F. Line a 9" square baking dish with parchment paper or foil and then butter the parchment or foil.
Brown the butter by adding it to a medium saucepan and melting over medium high heat. Let it continue cooking for about 5 minutes. WATCH IT CLOSELY! It will snap and crackle as the water cooks out of the butter. As soon as it is light brown and smells nutty, remove it from the heat. Let the butter cool for a minute or two and then add it to a large mixing bowl, making sure to scrape ALLLLL the little browned bits from the pan.
Whisk the sugars into the brown butter. Make sure it's not still hot and then whisk in the eggs, one at a time. Then stir in the vanilla.
Add the flour, ½ teaspoon of the sea salt, and the baking powder to the bowl. Stir to evenly combine.
Stir in half of the Peanut Butter SNICKERS® Bar pieces. Pour the batter into the prepared pan and then Sprinkle the remaining candy bar pieces over the top.
Bake for 25-30 minutes.
Let the blondies cool slightly before lifting the parchment or foil from the pan. Cut into 9 pieces.