These Fluffy Banana Muffins are moist and buttery and loaded with extra ripe bananas to make one of our all-time favorite breakfast treats!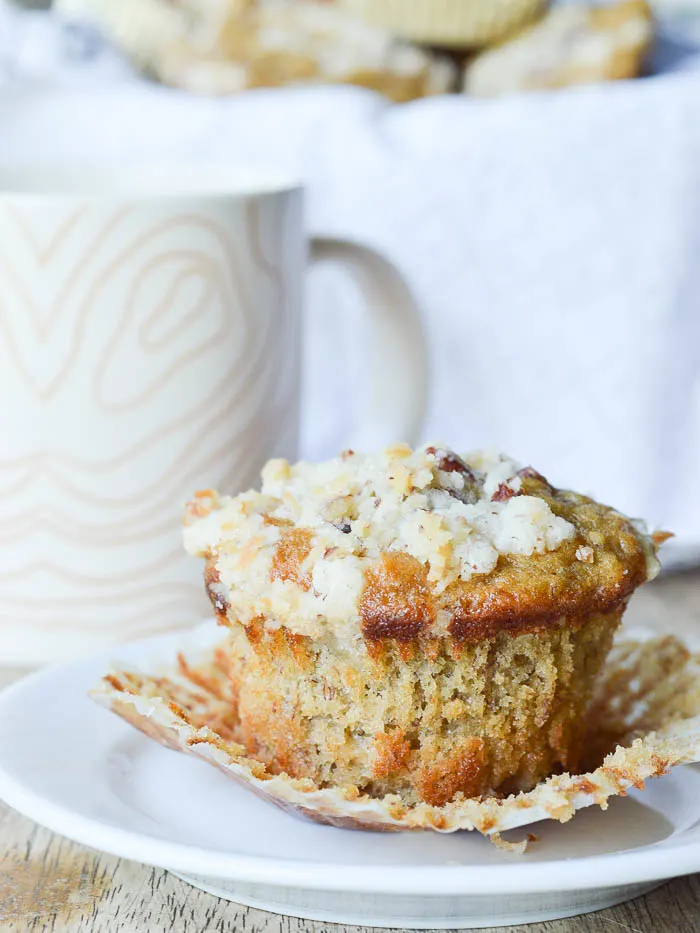 Can I tell you a secret about these perfectly fluffy and tasty banana muffins?
THEY ARE FORGIVING.
I had a pile of ripe bananas that were on the cusp of crossing over sitting on my counter the other morning, and I thought I'd better use them 911 or they'd dissolve into a pile of goo, so I got to work making these muffins. I mixed everything up, had some really pretty paper muffin liners all set to go in my muffin pan, and even went as far as to portion out all the batter.
Then I tasted the batter.
And realized I'd forgotten to add the sugar.
This is a One Bowl Recipe
Bananas are pretty great natural sweeteners, but it wasn't enough, y'all. The batter was … lacking. I checked the clock, and we were getting dangerously close to me needing to be at my desk for my actual job, but I have serious issues just throwing perfectly good food in the trash.
So I scooped up each muffin liner with my hands, scraped the batter back into the bowl, mixed the sugar in by hand, washed the muffin pan, RE-lined it, and portioned the batter into the muffin cups again. It made a huge mess and I was mostly prepared for the muffins to come out looking and tasting like trash, because in most baking recipes the order of operations matters! But you know, these actually turned out GREAT. Pretty even. And super tasty. It was a nice surprise.
Which is pretty much a metaphor for my whole life lately – ready for disaster, hoping for the best, and being fine with the results either way, sometimes pleasantly surprised.
So what I am saying is, this is a TRUE One Bowl Muffin Recipe. You can ef it up and rework things, or leave it with your 8 year old and cross your fingers, and odds are it's gonna turn out okay.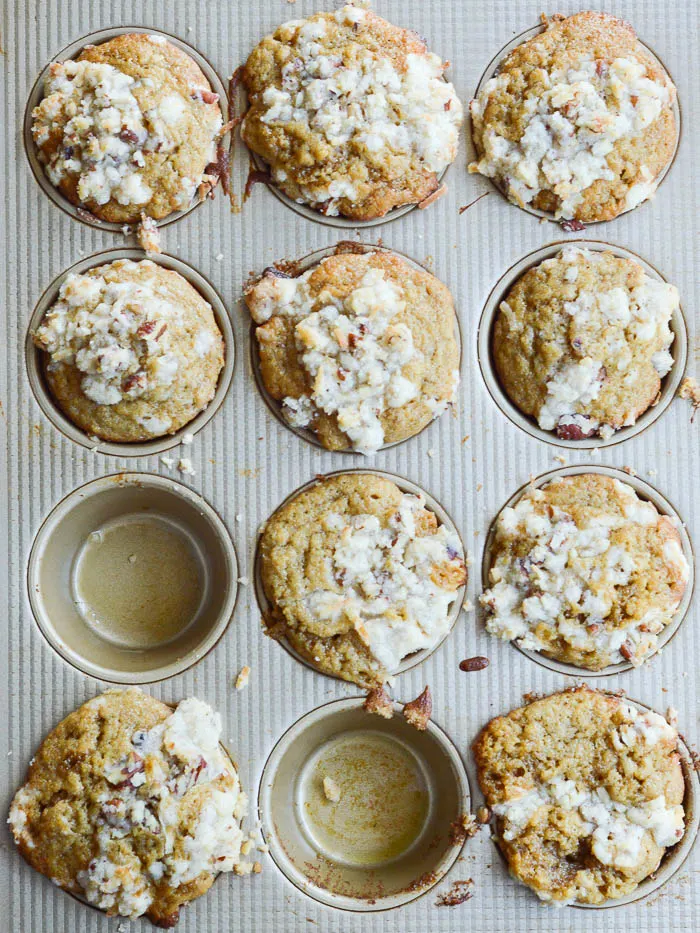 Banana Tips
Since bananas are the star of this recipe, I thought a few quick banana tips were needed.
Obviously overripe bananas work best! I typically aim for 3 medium bananas; that will give you a nice heaping cupful and won't affect bake times, but will yield loads of banana flavor.
Did you know you can freeze your ripe bananas? I do this often when I have really ripe bananas hanging around but no time to bake. You can literally just throw them in a plastic freezer bag and throw them in the freezer. If you are using frozen bananas, you will want to let them thaw a bit before using (so that you can mash them).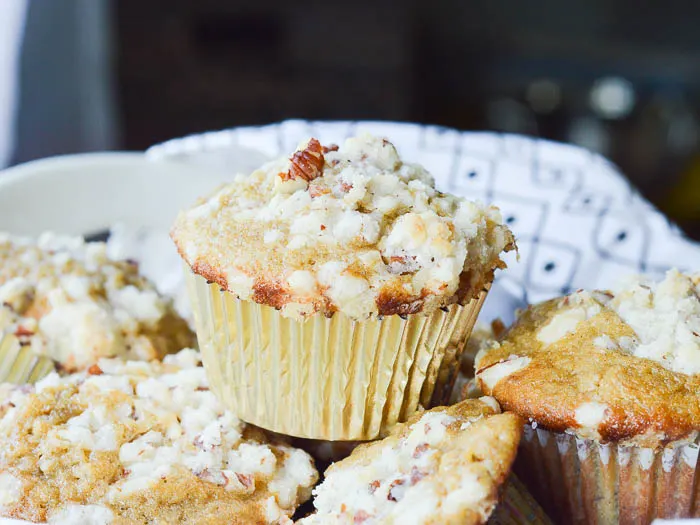 Can I Substitute for the Sour Cream?
Yes! You can. Sour cream is always hit or miss for me; I either have NONE but thought I did, so started baking and realized my memory is not great, OR I get overzealous and buy too much, and then when I open the container there's mold. So I tested this recipe with options because I always have yogurt handy.
The sour cream makes a richer, moister muffin, but I have made these muffins with plain Greek yogurt, and vanilla Icelandic yogurt, and both of those results turned out great.
To Streusel or Not to Streusel
When I put together this post on How to Make Box Muffins Better, streusel was one of the suggestions I offered, and honestly it's my very favorite with pretty much any muffin recipe. It adds about 50 calories per serving, so if you are counting and care, leave it off.
But! Streusel topping on muffins makes them look like they came from a bakery. Something about that buttery crumbly topping that gets just the slightest crunch when baked is exactly what most muffins need to be extra special.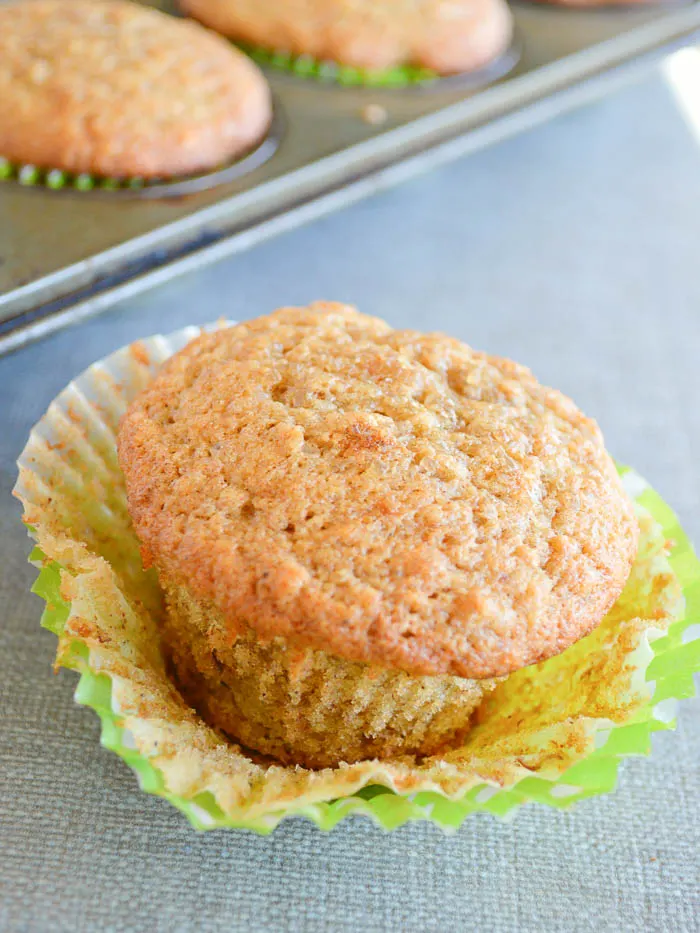 Awhile back I made these Sweet Potato Muffins with Pecan Streusel and they remain a MAJOR favorite. And just like with this recipe, they are good sans streusel. But the topping really does make them GREAT.
I used shredded sweetened coconut AND chopped pecans in the streusel on these fluffy banana muffins, and I loved the taste as well as the texture, but again, this recipe is EASY. So use both, or one or the other, or neither. Make it with the streusel or without. It definitely takes them up a level, though.
Overfill those Muffin Cups
This recipe is for 12 big fat fluffy banana muffins.
You can stretch it to make 14 muffins, but who wants to put the muffin tin back in the oven with just two little muffins in it? Not me!
One of my fave cupcake & muffin tips is to shoot for cups that are about 3/4 of the way full (most standard recipes will say 2/3). The fuller cups give you bigger muffins and really stellar muffin tops.
So fill those paper liners up. Just trust. You'll get a pretty dome and will feel all professional — like you could conquer the muffin world! (you can.)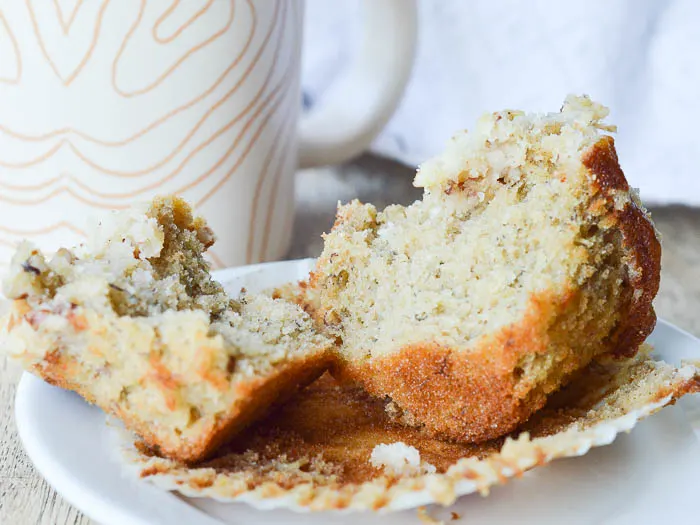 Love Breakfast? Me too
I think I have more breakfast recipes than anything on Sugar Dish Me, and as much as I love a good muffin, savory recipes are mostly my jam. If you are looking for more breakfast recipes to save, I really love: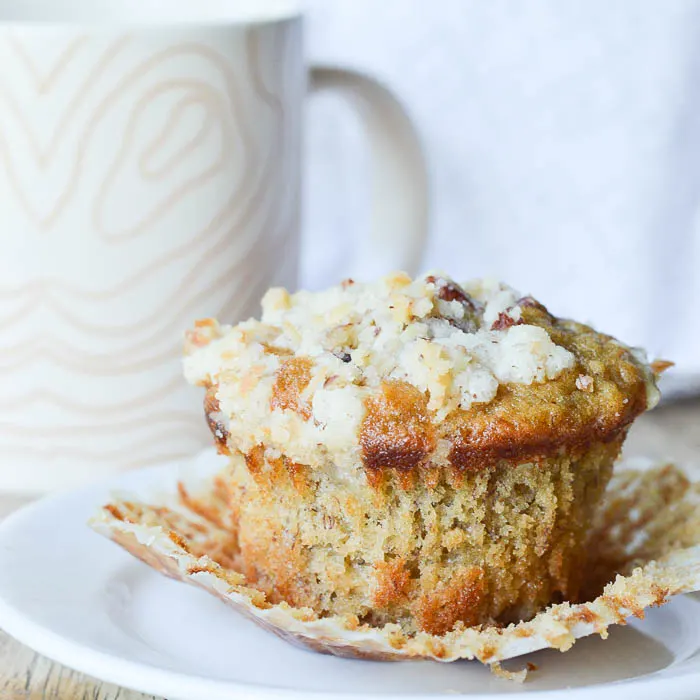 Yield:

makes 12 muffins
Fluffy Banana Muffins with Pecan Streusel
These Fluffy Banana Muffins are easy to make with your overripe bananas! They are super moist with a buttery tender crumb, and with the streusel topping you'll feel like a professional baker!
Ingredients
For the Muffins
3 large Eggs
1/3 cup Sour Cream
3/4 cup Unsalted Butter, Melted and slightly cooled
1 cup mashed bananas (2-3 medium Bananas)
1 cup Light Brown Sugar, Packed
1 teaspoon Pure Vanilla Extract
1 1/2 cups All-Purpose Flour
2 teaspoons Baking Powder
1 teaspoon Cinnamon
1/2 teaspoon Baking Soda
1/2 teaspoon Salt
For the Streusel
3 tablespoons butter, softened
3 tablespoons granulated sugar
1/4 cup finely chopped pecans
1/4 cup shredded coconut (optional)
1/4 cup all purpose flour
Instructions
Preheat the oven to 350°F and line a standard muffin pan with paper liners.
Make the streusel if you are using it! Using a fork or your fingers, mix together the soft butter, sugar, pecans, flour, coconut, and flour until coarse crumbles form and the largest pieces are pea-sized. Set aside.
In a large bowl lightly beat the eggs. Add the sour cream, melted butter, bananas, brown sugar, and vanilla, and whisk until combined.
Add the flour, baking powder, cinnamon, baking soda, and salt. Stir until just combined.
Divide the batter evenly between the 12 prepared muffin cups, and sprinkle streusel over the top of each.
Bake for 18-20 mins. Cool slightly before serving.
Notes
Your muffin cups will be SUPER full and you will think I gave you bad instructions. Just trust me that filling them up will give you fluffy tall muffin tops -- like the perfect little dome. If you are still uncertain you can actually stretch this batter to yield 13-14 muffins, they just won't be as tall.
Recommended Products
As an Amazon Associate and member of other affiliate programs, I earn from qualifying purchases.
Nutrition Information:
Yield:
12
Serving Size:
1
Amount Per Serving:
Calories:

336
Total Fat:

19g
Saturated Fat:

11g
Trans Fat:

0g
Unsaturated Fat:

7g
Cholesterol:

88mg
Sodium:

276mg
Carbohydrates:

38g
Fiber:

2g
Sugar:

21g
Protein:

4g