Flour tortillas filled with sweet ricotta and dipped in an egg batter. These Berry Blintz Breakfast Enchiladas are like cheese blintzes meet enchiladas meet french toast covered in berries.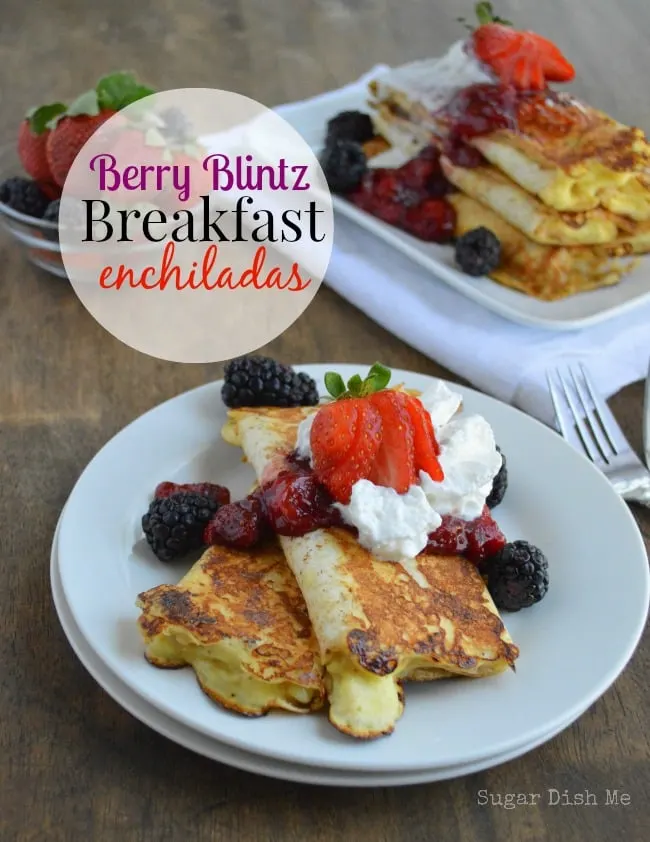 This is one of those recipes that evolved as I made it. It started with brainstorming french toast ideas and realizing I had a stack of burrito-sized flour tortillas instead of a day-old loaf of thick crusty bread.
But the whole premise behind french toast is that the thick bread soaks up all the cream and eggs, creating that perfect custard with the pretty golden grilled finish when cooked. Flour tortillas a great for soaking up enchilada sauce, but I was pretty sure a big stack of egg-soaked burrito wrappers would end up being less than impressive.
Breakfast burritos have become pretty standard grab-n-go fare. They even sell them at truck stops (by the way… WHO cooks the truck stop food? Like when you walk in to grab a bottle of water and there are piles of fried chicken on a hot plate and a freshly baked, loaded-with-all-the-meats pizza, but there's no deep fryer or oven in sight? Is this the same kind of voodoo that keeps the little church ladies huddled over a table with mini golf pencils, painstakingly filling out winning numbers on lottery cards?). I have never seen a breakfast enchilada though… maybe it's the sauce?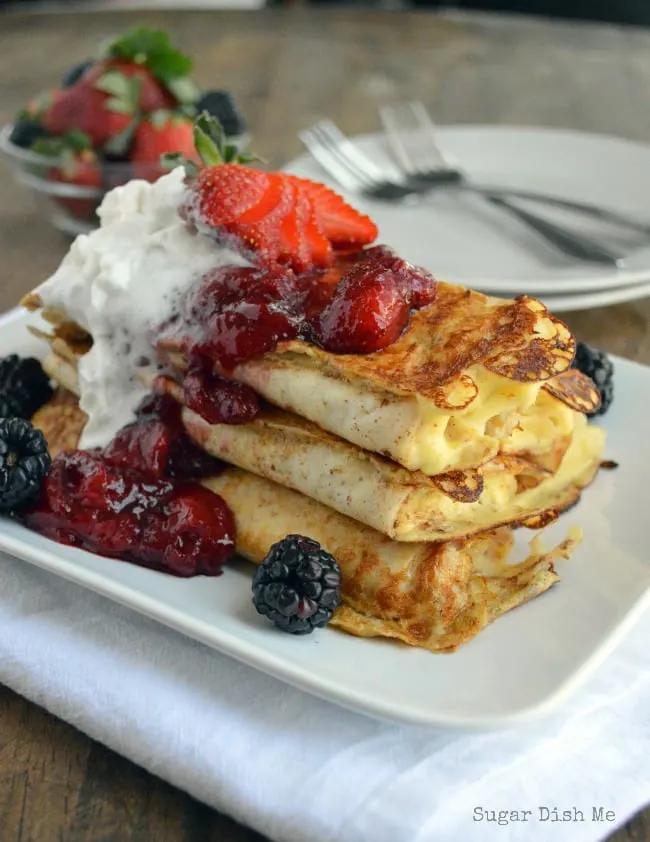 At any rate, I decided breakfast enchilada needed to be a thing. But then I made it into kind of a cheese blintz, a la IHOP.
So pretty much this brunch dish is all sorts of things that don't really belong together, but they really should be together. Like all the time. Because the result is amazing.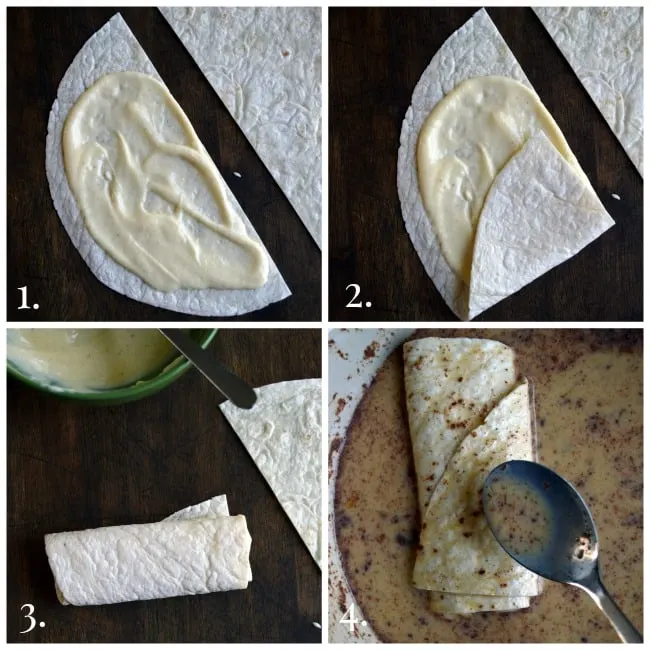 You are basically going to mix up some ricotta cheese with sugar and cinnamon and other delicious things, and then spread it on half of a burrito-sized flour tortilla. You could use the whole tortilla at once and make a giant enchilada-blintz thing, but I'll just let you know ahead of time that I tried that. The pieces are a little unmanageable when turning and it's tricky getting the insides to cook. So smaller pieces, okay? Okay.
You could use small taco-sized tortillas, too.
After you roll the tortilla around the filling, you're gonna soak it for a few minutes in a vanilla-scented egg and milk batter, just like you would with french toast. AND THEN you cook it on a pancake griddle, cover it in cooked berries and whipped cream, pour another cup of coffee, and enjoy.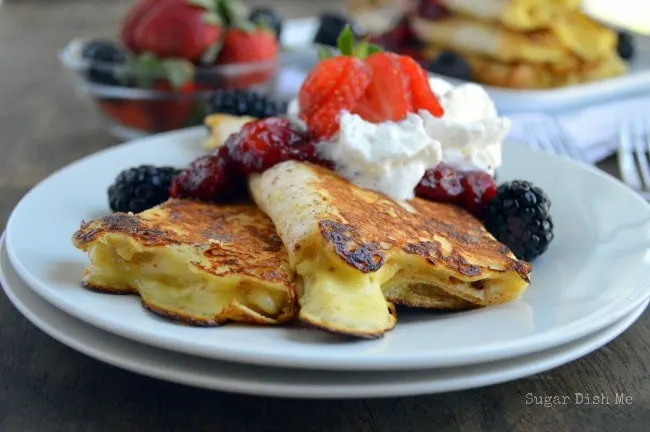 I have a lot of breakfast recipes posted here, but this one, so far, is my very very favorite.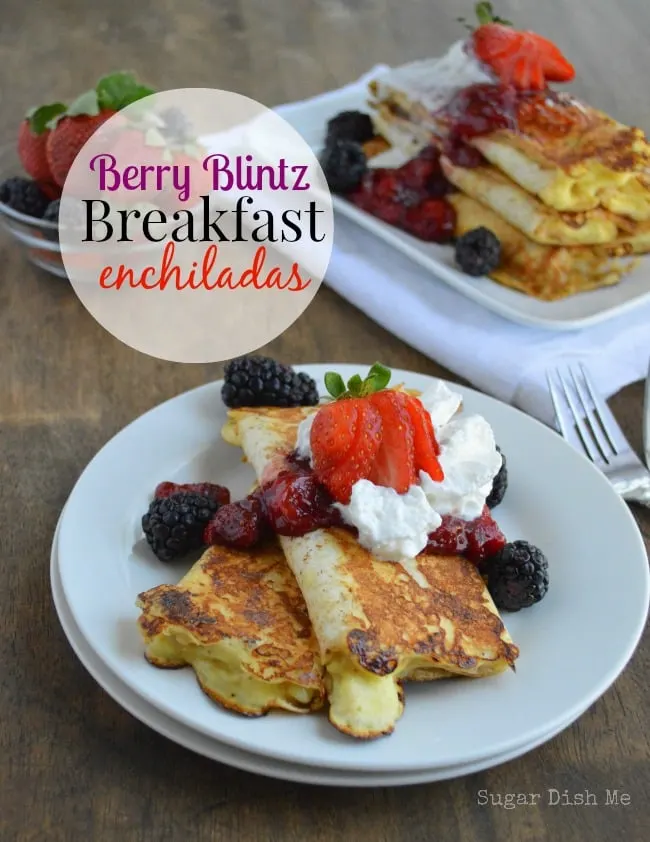 Yield:

6-8
Berry Blintz Breakfast Enchiladas
Flour tortillas filled with sweet ricotta, dipped in a vanilla egg batter, and grilled like french toast. Then these are covered in cooked berries and whipped cream for an impressive and easy brunch dish!
Ingredients
For the Filling:
1 cup ricotta cheese
1 egg
1/4 cup granulated sugar
1/2 teaspoon cinnamon
1/2 teaspoon nutmeg
For the Blintz Enchilada Wraps:
4 large burrito-sized flour tortillas
2 eggs
1/3 cup milk
1 teaspoon vanilla
1/2 teaspoon cinnamon
1/2 teaspoon nutmeg
For the Berries and Topping:
2 cups fresh berries, coarsely chopped (strawberries pictured, but blackberries, blueberries, or a combination will work as well)
1 tablespoon granulated sugar
1/4 cup water
whipped cream and more fresh berries to garnish
fresh mint to garnish (optional)
Instructions
In a medium bowl, mix the ricotta, egg, granulated sugar, cinnamon, and nutmeg until smooth. Lay out the tortillas and cut them in half.
In a large shallow dish (I used a pie plate) beat the two eggs, milk, vanilla, cinnamon, and nutmeg.
In a small saucepan, start the berry sauce by tossing the berries with the sugar and water. Let it simmer over medium heat, stirring occasionally while you work on the enchiladas. Go ahead and heat a skillet or pancake griddle to 375/400° as well.
Spoon the filling onto each tortilla in a thin layer. A couple of tablespoons per is plenty. Roll each half up (see photos in post for illustrated examples) and then place them in the dish containing the egg/milk mixture.
Turn them over in the egg mixture, spooning it over the top to make sure that each enchilada is soaked and covered.
You can butter your cooking surface if you prefer, but I haven't found it necessary with my pancake griddle. It will definitely depend on the condition of the surface.
Place the soaked tortillas on the hot cooking surface. 5-6 minutes per side was good for mine. **see note**
Top the cooked blintz/enchiladas with the berry sauce, whipped cream. and more fresh berries. Fresh mint is also a perfect garnish here.
Notes
My pancake griddle has a much more even heat than my stove. I suggest 5-6 minutes per side if you are using a griddle or electric skillet (you want the egg in the ricotta to cook). If you are preparing these on the stove though you may require a little less time (my stove tends to cook with high and less regular heat).