This easy Pomegranate Quinoa Salad is tossed in a fresh and citrusy Orange Maple Vinaigrette to make a completely healthy and delicious side to any meal. Pomegranate arils give this dish a festive look that would work beautifully on a holiday table!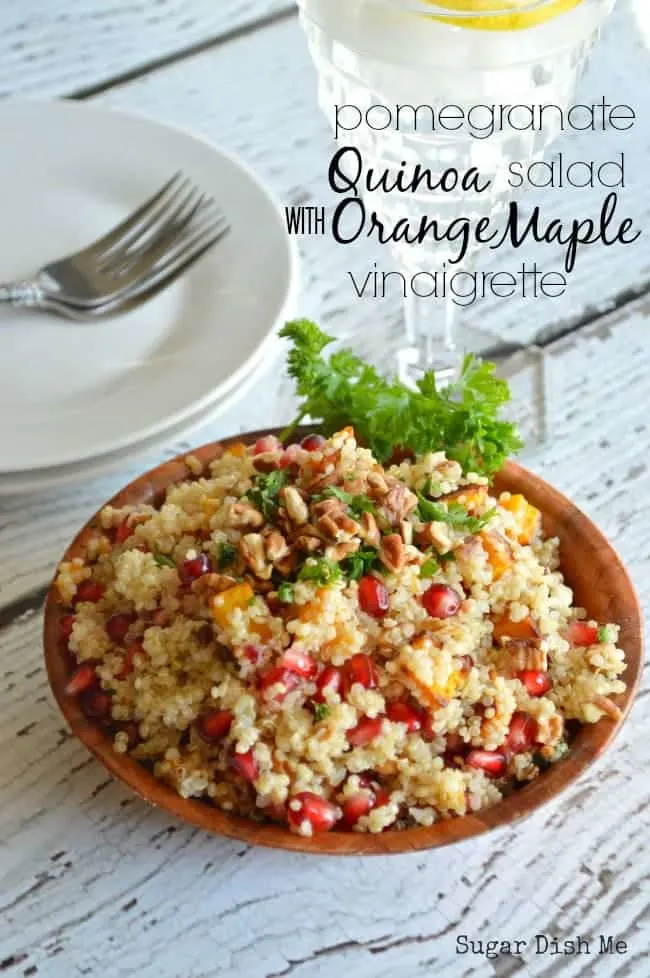 When I was going over our Thanksgiving menu with my mom and sisters this past weekend, I tried to assign salad as something to bring.
I was met with stiff rejection. I think it went something like, "I have no room for salad on my Thanksgiving plate."
That assignment was changed to some kind of dessert, I think.
And that is how you Thanksgiving.
Because it's really all about the desserts and sides, right? Also sandwiches.
We will have lots of Rainbow Harvest Roasted Vegetables, and maybe some Brown Sugar Butternut Squash. And even with all the salad rejection going on, no one will be rejecting this Pomegranate Quinoa Salad with Orange Maple Vinaigrette.
I made a huge batch of this and ate it for lunch everyday for a week. And now I'm ready to go again. There is SO MUCH room on my Thanksgiving plate for this kind of salad.
I tossed quinoa with roasted butternut squash, pomegranate arils, pecans, and parsley. Side Note: Have you bought a pomegranate lately? They are like drool-worthy amazing, and between pomegranate and grapefruit I am all full of superfruit and feeling like I could conquer the world the Holidays.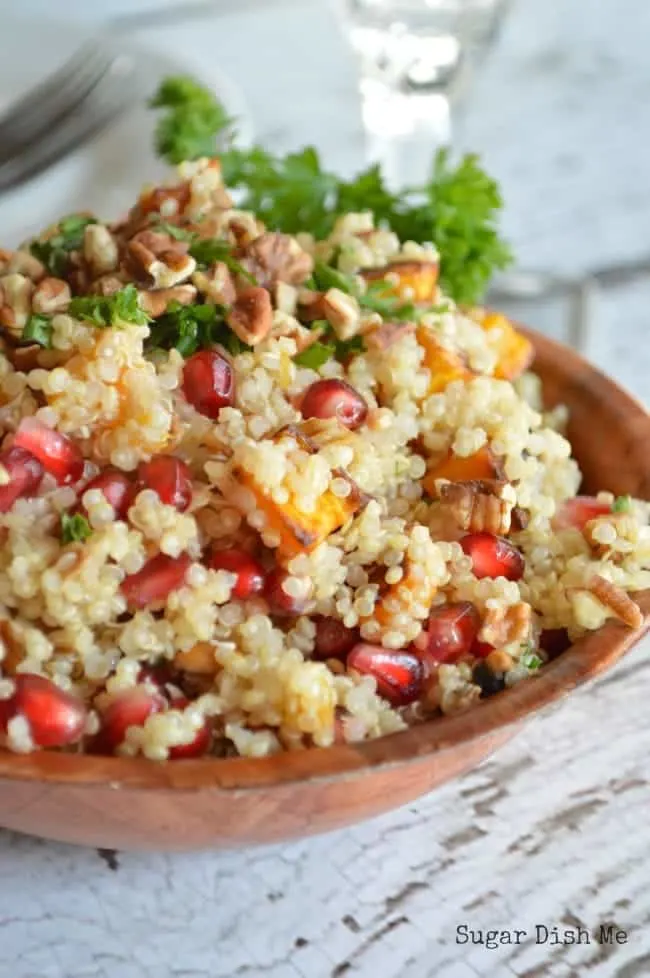 It's not often I can make a vegan dish that my other half goes crazy for. He's a meat-and-potatoes-my-grandma-makes-me-biscuits kind of dude. But I served this for dinner with a roasted chicken and he was all over it. He even asked for seconds. That is how I know this is as good as I claim it to be.
Let's also talk about this dressing for a minute. I mixed up a little more last night and poured it over a bed of greens. So delicious! Orange Maple Vinaigrette tastes like fall. And it has a sneaky ingredient: Pomegranate Red Wine Vinaigrette.
I actually bought it by accident. I make lots of homemade dressings and salsas and keep a steady supply of red wine vinegar on hand all the time. So when I went to restock, I grabbed 2 bottles of this pomegranate variety, but didn't realize it until I was making pico and noticed a hint of sweetness. The good news is that this is a happy accident! The pomegranate red wine vinegar totally makes it.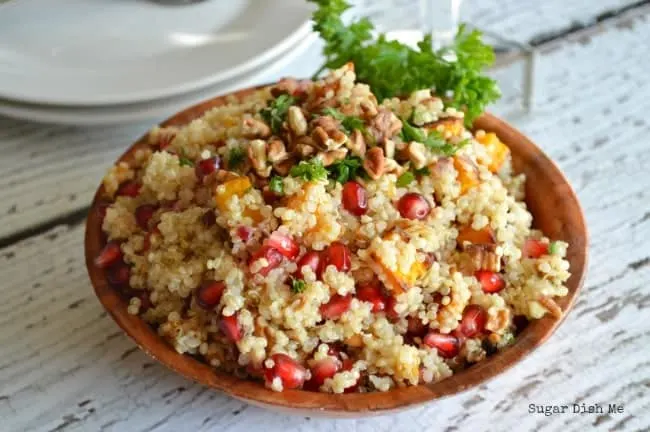 I bought this one if you need a reference or recommendation, but I'm sure there are others. And regular red wine vinegar should be just fine too.
Pomegranate Quinoa Salad with Orange Maple Vinaigrette
A healthy and delicious grain salad with gorgeous pomegranate arils, roasted butternut squash, and pecans.
Ingredients
1 tablespoon olive oil
2 cups butternut squash cubes (1" pieces)
½ teaspoon kosher salt
2 cups cooked quinoa
arils of 1 whole pomegranate
½ cup chopped pecans
2 tablespoons chopped fresh parsley (plus more for garnish)
For the Orange Maple Vinaigrette:
¼ cup pomegranate red wine vinegar
2 tablespoons orange juice
2 tablespoons maple syrup
⅛ teaspoon cinnamon
2 tablespoons extra virgin olive oil
kosher salt to taste
Instructions
Preheat the oven to 400°F. Toss the butternut squash with the olive oil and scatter it in a single layer across a baking sheet. Sprinkle with the kosher salt and roast for 25- 30 minutes, turning the pieces halfway through.
In a large bowl toss together the quinoa, pomegranate, pecans, parsley, and the roasted butternut squash.
In a liquid measuring cup whisk together the pomegranate red wine vinegar, orange juice, maple syrup, and cinnamon. Vigorously beat in the olive oil until the dressing is well-blended.
Pour it over the salad and toss to coat. Add salt to taste.
Garnish with additional parsley
Thanksgiving salad! Let's make it happen.