A Copycat Mellow Mushroom Pizza Crust topped with caramelized onions, Apple Butter Pulled Pork, bacon, pineapple, and 3 kinds of cheese. This Pulled Pork Pizza is restaurant quality from the dough to the toppings, but is super simple to make at home! The pork and the dough can both be made ahead of time.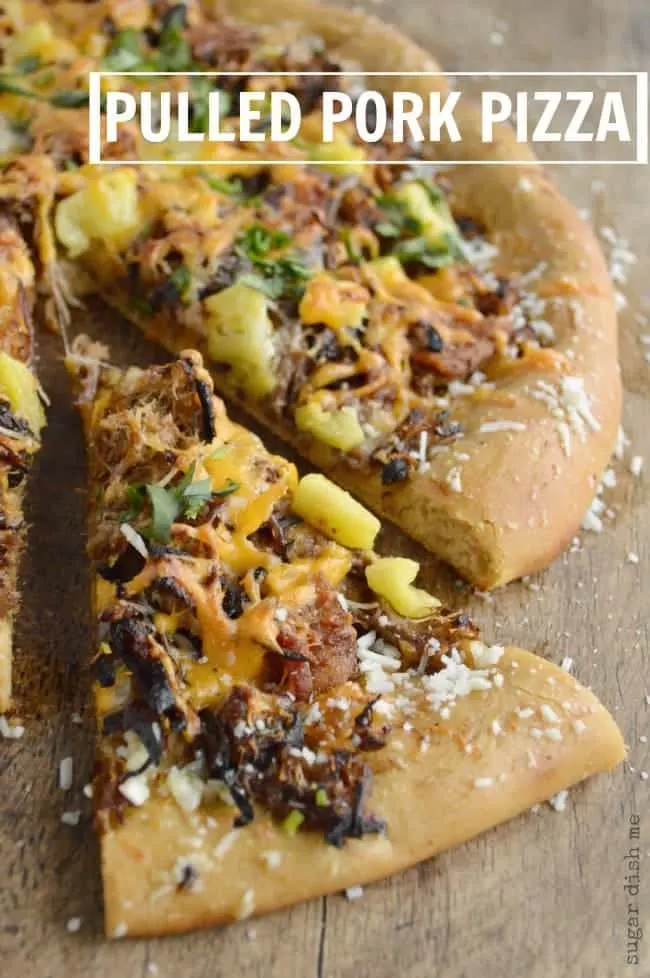 This content is sponsored by Musselman's Apple Butter but all opinion, photos, and original recipes are my own. I've partnered with Musselman's this year to bring you a wide variety of Apple Butter recipes because there are SO many fun ways to use it!
First things first [I'm the rillest]. Sorry, sorry.
Let's start again.
Okay so first I made you a pulled pork pizza. With that Apple Butter Pulled Pork. It's got a host of other goodies happening with it, but the thing I'm really excited about – like REALLY REALLY excited about – is the pizza crust.
Have you ever had a Mellow Mushroom Pizza? They have this crust; this unbelievably amazing crust that is like crispy but soft and airy all at one time. And this Pulled Pork Pizza bears a copycat version.
I'm excited! Are you excited?
You should be.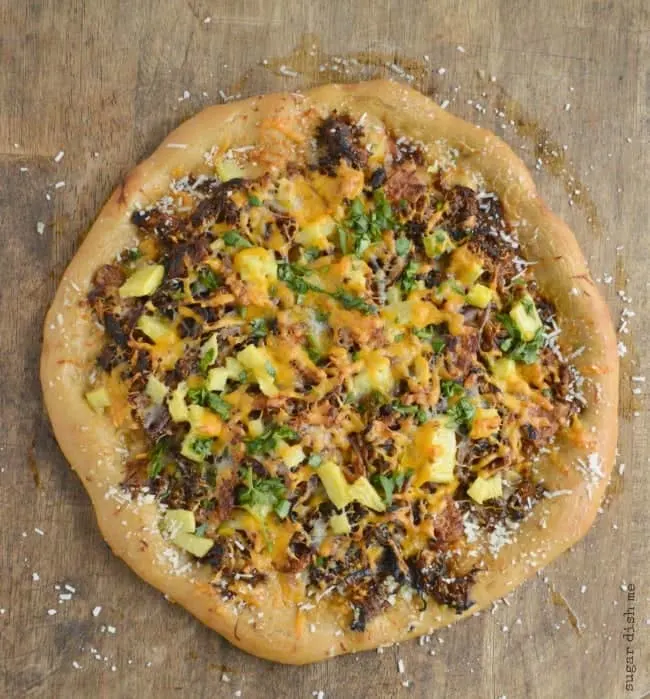 I consulted Google when I decided that whatever happy juju goes into Mellow Mushroom pizza dough needed to be what went into THIS pizza dough. I read a bunch of weird comment threads and Ask.com answers that seemed wonky. I landed in a reddit forum which, if you have ever landed there by accident, you know that it is like the black hole of the internet but all the answers are surely in there somewhere, yes?
Anywho… the point to all my rambling is that the answer to the Mellow Mushroom Pizza Dough seems to lie in a secret ingredient: MOLASSES.
It helps to bloom the yeast in place of the sugar and gives the dough this really beautiful depth of flavor. It also plays really well with the pulled pork because why? Because Apple Butter, that's why.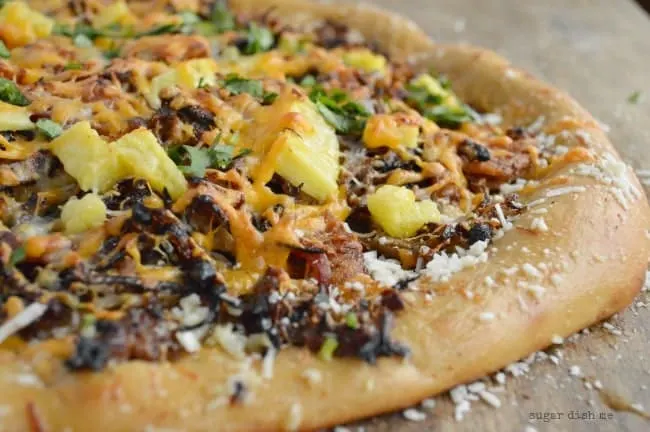 Usually when I make pizza crust I fall back on my old standby 10 Minute Pizza Dough. I mean… 10 minutes is pretty perfect. And if you are in a hurry, feel free to take all these toppings and put them on that dough. But when you make FAST pizza you lose that developed yeast flavor. It's that thing that the yeast does to the dough when you take the time to let it rest and rise.
So if you can find the time for real pizza dough it will be sooooo worth it. And!!! This dough keeps really well in the fridge. Surprisingly I held onto mine in an airtight container for a whole week. Which means you can ABSOLUTELY make it ahead of time.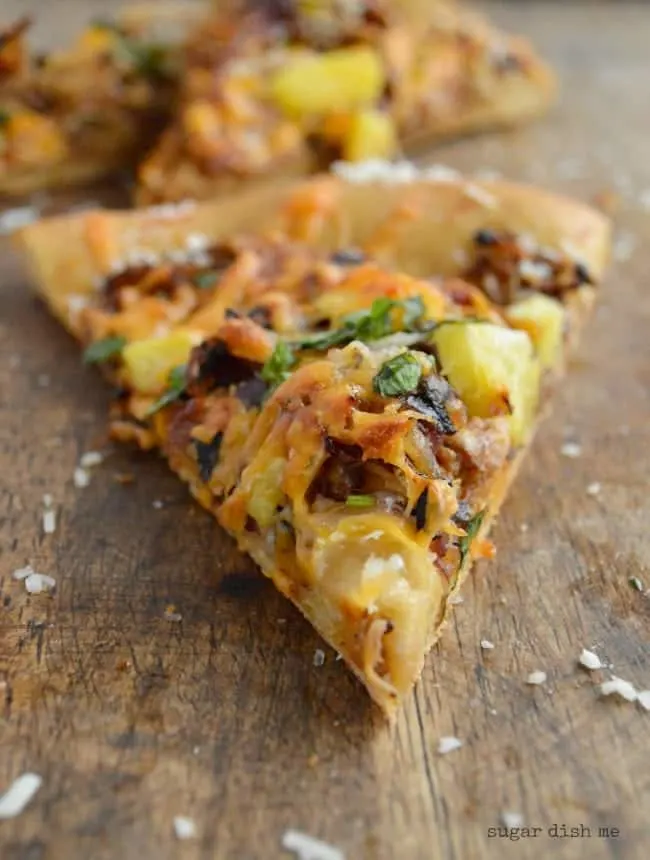 Pulled Pork Pizza
A copycat Mellow Mushroom Pizza Dough topped with Apple Butter Pulled Pork, caramelized onions, bacon, cheese, and pineapple. Don't let the prep time intimidate you -- 2 hours is just the rise time for the dough and it can be made ahead of time.
Ingredients
For the Pizza Crust:
1 ½ cups warm water (check your yeast package for exact temperature recommendations)
2 tablespoons molasses
4 ½ teaspoons active dry yeast (2 (¼ ounce) packets)
3 ½ cups all purpose flour (plus more for your work space)
2 teaspoons salt
1 tablespoon olive oil
For the Pizza:
3 tablespoons butter, divided
1 cup onion, thinly sliced
¼ teaspoon salt
2 cups of the Apple Butter Pulled Pork
1 cup thinly sliced fresh pineapple
2 slices bacon, cooked and crumbled
1 cup cheddar cheese, shredded
½ cup Colby/Jack cheese, shredded
½ cup part skim mozzarella, shredded
2 cloves garlic, finely minced
chopped cilantro to garnish (optional)
Instructions
To make the pizza dough, stir together the warm water and molasses until the molasses dissolve (I like to do this in a liquid measuring cup). Add the yeast and let it sit for a few minutes while you work on other things.
If you have a stand mixer, go ahead and add the flour and salt to the mixer bowl and start it on low using the dough hook attachment. If you are working without a stand mixer, quickly whisk together the flour and salt. Pour the wet mixture into the dry mixture. Add the olive oil. If you are using a stand mixer, let it continue on low for about 5 minutes. If you are working without a mixer, stir together all the ingredients and then knead in the bowl with your hands for 5-7 minutes.
With floured hands, form the dough into a ball and place it in a lightly greased bowl. Cover with a kitchen towel and let it rise in a warm place for 2 hours (it should at least double in size). ***See Note***
To make the pizza, preheat the oven to 525F. NOT BROIL. If you are using a pizza stone, be sure to preheat it with the oven. Scatter a little flour or cornmeal on your pizza peel (if using) or your baking sheet. Stretch half the dough to your desired shape. Circles are great! But not required.
Melt 1 tablespoon of the butter in a medium saucepan. Add the onions and sprinkle with salt. Cook for about 10 mins. the onions will be caramelly and soft. Spread them evenly across the pizza dough.
Top each pizza with 1 cup of the Apple Butter Pulled Pork, ½ cup of the pineapple, 1 slice of the bacon, ½ cup of the cheddar cheese, and ¼ cup each of the Colby/Jack and mozzarella.
Bake the pizza for 6- 7 mins. While the pizza cooks, take the remaining 2 tablespoons of butter and melt it in the same pan you used to cook the onions. Add the garlic and cook on medium for only 1 minute. Remove from the heat. When the pizza comes out of the oven, brush the crust with the garlic butter. Garnish with the chopped cilantro and serve.
Notes
Once your dough has risen you can go a few ways -- You can either cook both pizzas now (follow instructions below) Or you can cook 1 pizza and save the remaining dough (I just divide the dough and place the unused portion in an airtight container; Refrigerate for up to 5 days). You can also opt to refrigerate both portions for later use. Be sure to divide the dough before storing.
For more Apple Butter Recipes by me Click HERE.
For a great big ton of Apple Butter Recipes, check the Musselman's Website.
You can also follow them on Facebook, Pinterest, and Twitter.