This shop has been compensated by Collective Bias, Inc. and its advertiser, Tabasco Holiday #SeasonedGreetings and #CollectiveBias. All opinions, photos, and the original recipe are mine alone.
Cream cheese, sharp cheddar, raspberry preserves, and the smoky spice of Tabasco Chipotle sauce make these Raspberry Chipotle Cheese Balls into the most delicious party food! This crowd-pleasing bite sized finger food makes this holiday party recipe even more festive and fun.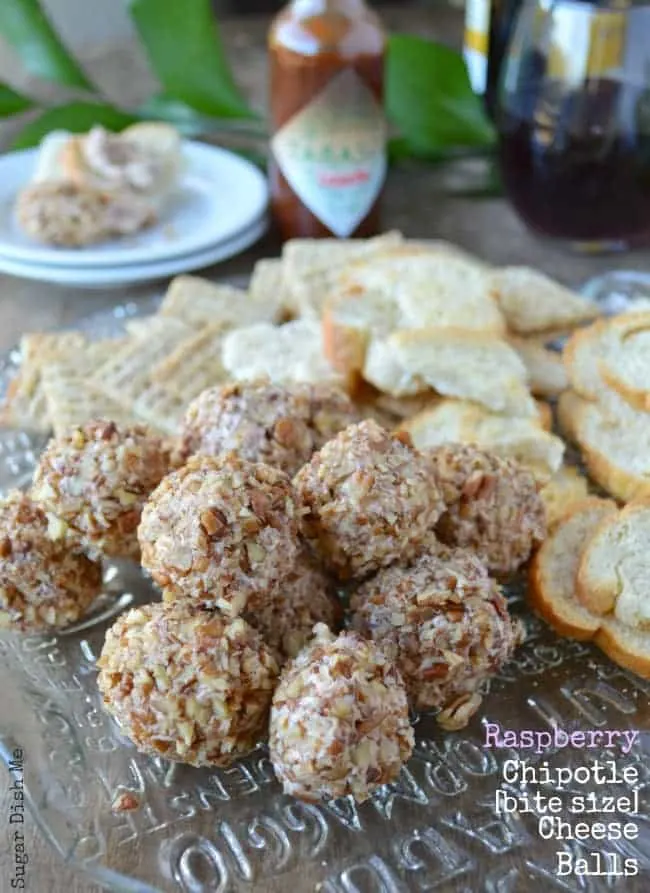 How much fun are finger foods?!!! I had a whole dialogue with you guys the other day about how tiny food is cute (IT IS) and I knew all along I had these bite-sized little delicious party food treats ready to share with you. A couple years ago (eeek! I can't believe it's been that long!) I made these Bite Size Bacon Spinach Cheese Balls and they were a major hit.
I'm telling you. Tiny food is like the party food tip of the century.
Instead of standing there with your paper plate all stacked to the heavens with meatballs and breads and crackers, and then struggling to hack at a too-cold cheese ball and carefully smear a little at the edge of your plate, you can just HAVE A WHOLE ONE. (or two. Or 6 if you are Chad and lack cheese ball self-control).
Retreat to your corner with your plate and go to town.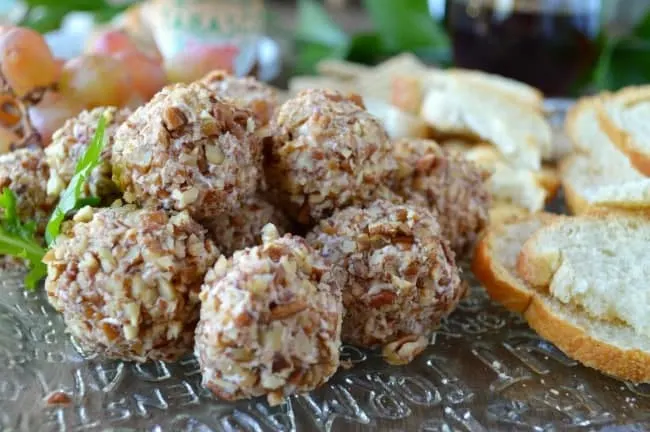 As soon as I spied Tabasco Chipotle Pepper Sauce this idea came to me, and I'll tell you why.
Forever ago I had a job in sales. I worked with one of my best girlfriends and sometimes we would stop at her house for breaks. Heather (my friend — I promise I do not refer to myself in the third person because… ew.) was a trained pastry chef and she always had fun things in her fridge. Once (or probably way more than once, but this one time sticks out in my head) we stopped at her house for a snack, and after some refrigerator rummaging she came up with a block of cream cheese and this fancy raspberry chipotle sauce. We hovered over her kitchen counter with a pack of crackers, poured the sauce over the cream cheese, and went to town.
Best snack ever.
I can only guess that these flavors stuck with me because they are seriously so delicious, and I KNEW I needed to recreate them into a holiday party recipe. One a little more graceful than a naked block of cream cheese.
Have you ever made a cheese ball? IT IS SO EASY!! You basically just mix everything up and let it chill until you can scoop it out and roll it into chopped pecans.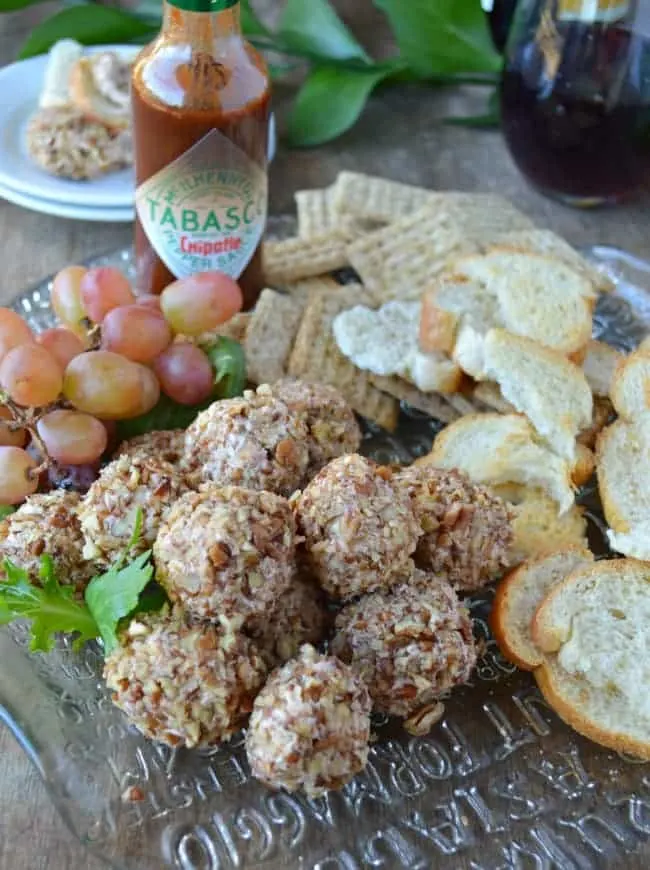 I made a pretty tray with mine — added some fresh greens and grapes along with broken toast and grainy crackers.
These are just slightly pink because of the raspberry preserves; it sort of reminds me of the color of port wine peeking through the pecans which I think makes it even more festive. The Tabasco Chipotle Pepper Sauce lends a smoky spice but with the cream cheese and sharp cheddar I wouldn't really call it heat as much as I would FLAVOR.
Love it.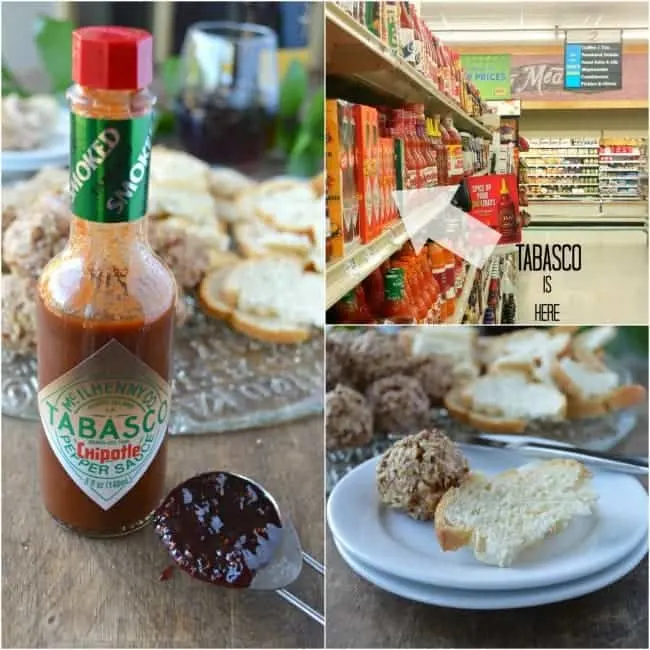 Shopping Tip: I was able to find my Tabasco Chipotle Pepper Sauce in the condiments aisle of my local grocer (Food Lion!). It's eye level! So you don't have to squint your eyes and look around for days.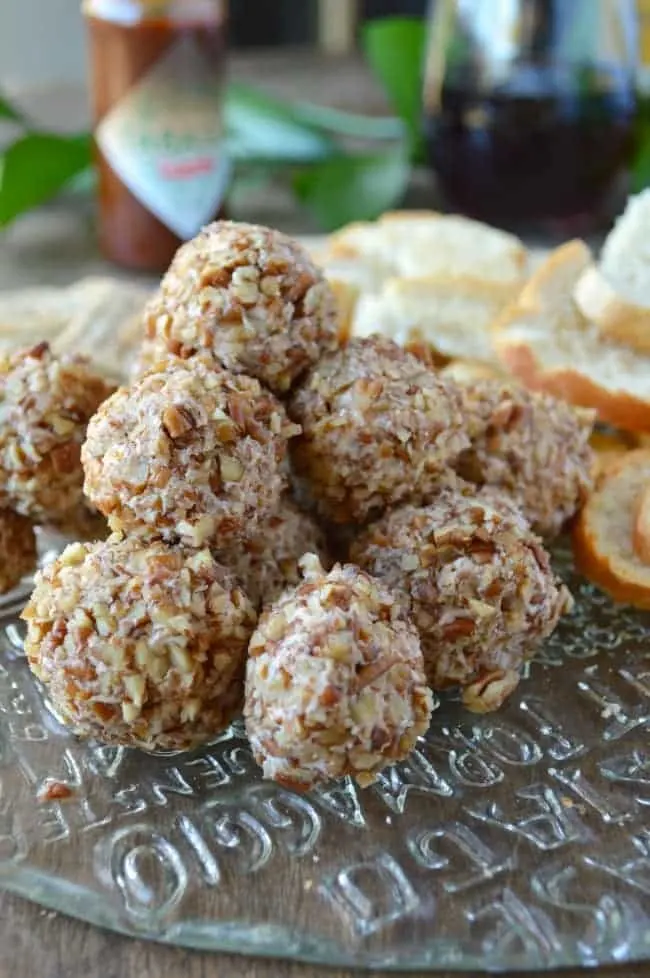 Raspberry Chipotle Cheese Balls
Deliciously sweet and smoky spiced bite-size cheese balls that are perfect for parties. These require just a short amount of active time, but remember to allow your self 2 hours (included in the prep time) for chilling. These can be made a day ahead.
Serves:
about 24 tablespoon-sized cheese balls
Ingredients
1 tablespoon olive oil
½ cup red onions, very finely diced
½ teaspoon kosher salt
2 (8 ounce) blocks of cream cheese, softened
1¼ cups sharp white cheddar cheese
2 tablespoons raspberry preserves
3 tablespoons Tabasco Chipotle Pepper Sauce
6 ounces chopped pecans
Instructions
In a medium skillet heat the oil. Add the onions and salt and cook over medium heat, stirring occasionally, until they are soft, fragrant, and caramel-colored (about 5 minutes).
In a large bowl beat together the cream cheese, caramelized onions, shredded cheddar, raspberry preserves, and Tabasco Chipotle Pepper Sauce until well combined. Scrape down the sides of the bowl as needed.
Cover the cream cheese mixture tightly with plastic wrap (so the plastic touches the cream cheese and seals out the air) and refrigerate for at least 2 hours.
Scatter the chopped pecans in a shallow dish and then, working 1 tablespoon at a time, roll each portion in the pecans until they aren't sticky. Repeat until you are done. Refrigerate until you are ready to serve.
Alternately you can make one big cheese ball by rolling the entire mixture in the pecans all at once and then refrigerating until it firms up a little.
Follow #SeasonedGreetings for more ideas with Tabasco products this holiday season!