Tender chicken slow cooked in a delicious sauce made with honey, sriracha, and soy sauce. Tossed with broccoli, carrots, bell peppers, and Blue Diamond Sriracha Almonds, this is a protein-packed meal you can make without heating up the kitchen.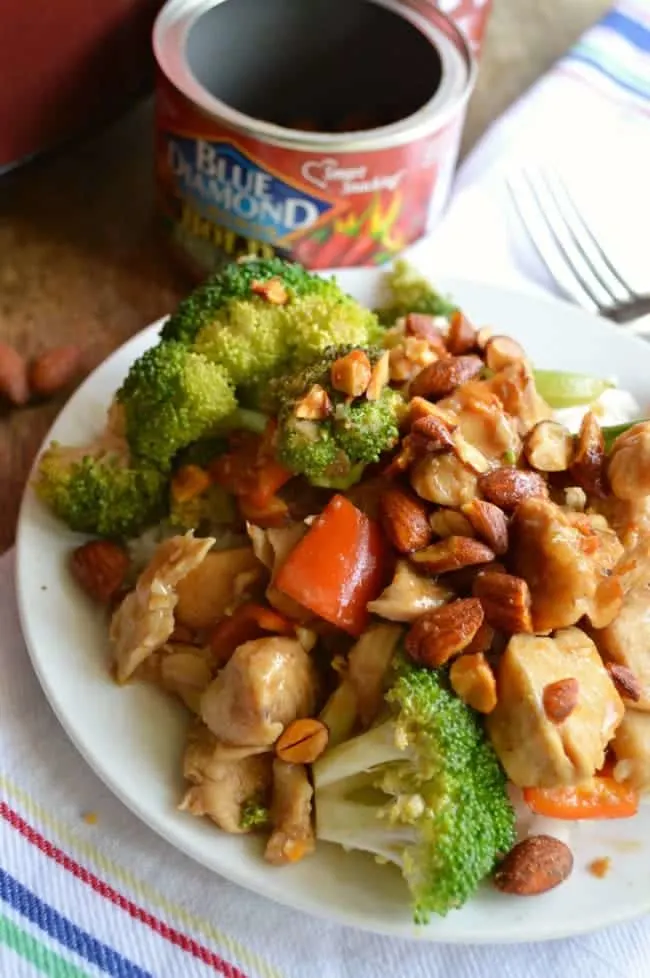 This post is sponsored by Blue Diamond Almonds. We've been working together for the last year to bring you fun recipes with new products and flavors. All opinions, photos, and recipes are my own, and YES! I do eat almonds everyday.
Winner winner chicken dinner!
Sorry.
Also is that actually a thing or did it stick in my brain from a movie about gambling?
Anyway. This meal is my new hero. It's all tender chicken and perfectly cooked vegetables (no soggy broccoli!!), a sticky sauce, and a little sriracha almond crunch.
I really really didn't think it could get better than the wasabi soy almonds, but here we are with another awesome flavor: SRIRACHA!!!! Ya'll know I'm a fan of heat (in my food, not in the air, because P.S. this billion degree summer weather is completely gross) and sriracha chiles have it! But with the almonds the heat is toned down. You get allllllll that chile flavor, a little spice, and a slightly salted almond crunch. I've been snacking on them daily, packing them in Chad's lunch, adding a few to my bowls of popcorn, AND THEN!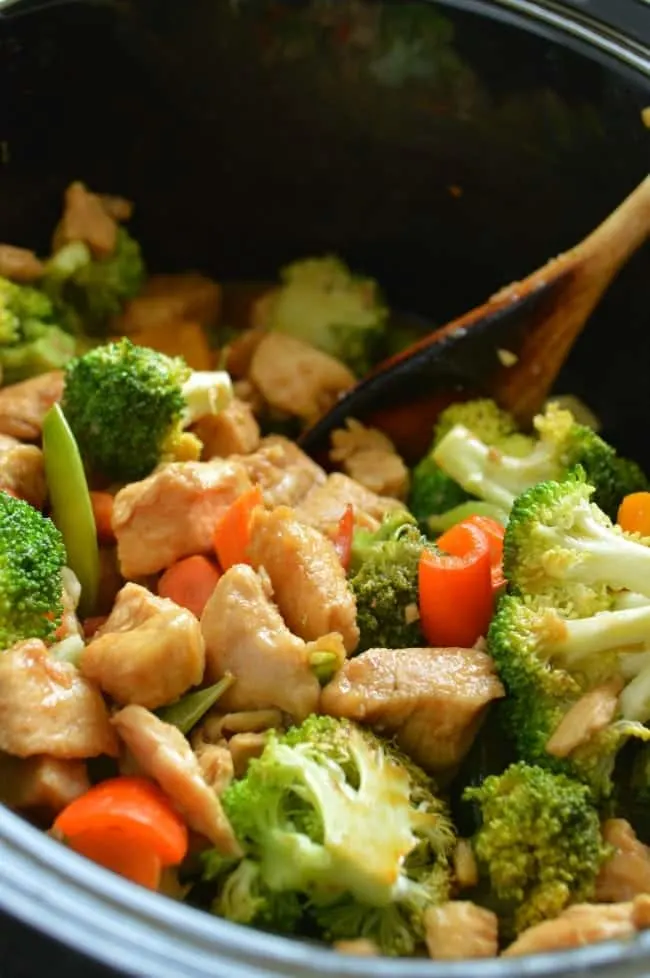 I decided to add them to stir fry. But not just any stir fry. A Honey Sriracha Slow Cooker Stir Fry. I feel like slow cooker stir fry might be a kind of oxymoron, but bear with me here because it was really the only way I could describe this dish. Plus my kids love stir fry so if I called it 'Crock Pot Chicken and Vegetables' or something, chances are high that at least Evan might not eat it.
The sauce is really simple, made with honey, soy sauce, a little garlic, and of course sriracha. I did brown the chicken in a skillet before adding it to my slow cooker, which works a special kind of caramelization magic.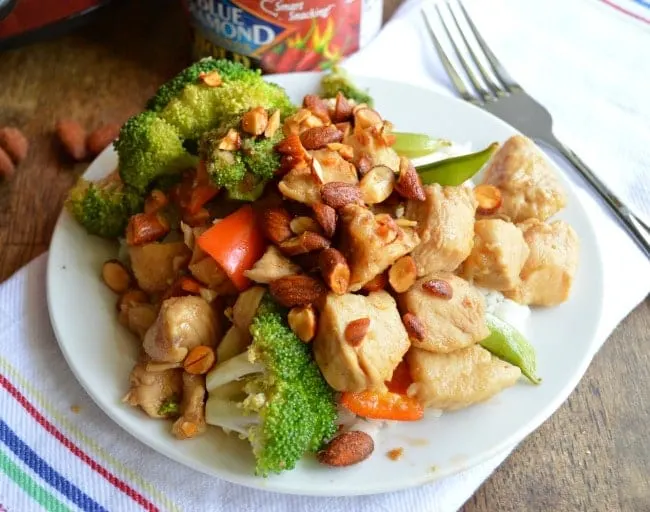 You can cook this on the fast side of slow or you can let it simmer for most of the day. By 'the fast side of slow' I mean that this is not one of those slow cooker meals you have to remember to start before 10 a.m. or you won't be eating until after 9 p.m. Noooooo. I am kind of bad at planning meals ahead of time, or the day will get away from me. I'll think that a crock pot dinner sounds fabulous but then it'll be after 3 in the afternoon. With this recipe that doesn't matter! It can be ready in 2 hours, tops. Active time, including chopping all your veggies, is only about 15 minutes. I call that a win.
I add my vegetables with about 45 minutes of cook time to go (that's with my crock pot set on high; on low you probably want to double that) which cooks them through but leaves them still a tiny bit firm. I do not like mushy vegetables. It is imperative that my broccoli hang onto that little bit of snap.
You can add the sriracha almonds one of two ways: if you like them a little softer (think like with cashew chicken) you can toss them in with the vegetables. If you like more crunch, you can chop them up and stir them in before serving. I am also partial to more on top, with an extra dab of sriracha sauce.
Slow Cooker Honey Sriracha Chicken Stir Fry
A delicious 'stir fry' recipe that comes together really easily in the slow cooker. The honey sriracha sauce is my new favorite and the Blue Diamond Sriracha Almonds add the best spicy little crunch.
Ingredients
1 tablespoon vegetable oil
1½ - 2 pounds boneless skinless chicken breast, cut into 1½" pieces
3 tablespoons cornstarch
½ cup honey
½ cup low sodium soy sauce
1 tablespoon sriracha chili sauce
3 cloves garlic, minced
1 teaspoon sesame oil
½ teaspoon onion powder
2 heads of broccoli, stems removed
1 cup red bell pepper, seeded and coarsely chopped
2 medium carrots, peeled and chopped
½ cup sugar snap peas
½ cup Blue Diamond Sriracha Almonds
Instructions
Heat the vegetable oil in a large skillet. Toss the chicken with the cornstarch and evenly coat. Add the chicken to the skillet and brown it. You're not trying to cook it through; you just want a little color.
Add the chicken to your slow cooker.
Whisk together the honey, soy sauce, sriracha, garlic, sesame oil, and onion powder. Pour it over the chicken and stir to coat all evenly. Cover and cook on high for 2 hours or low for 4-6 (see note).
When you have 45 minutes of [high] cook time left add the vegetables. If you like your almonds a little more tender you can add them now, too. If you are cooking on low I'd add the vegetables with about 1½ hours to go.
Before serving, stir everything to coat with the sauce. Serve over rice or quinoa, or just as-is!
I like to add more sriracha almonds and sriracha sauce over the top.
Notes
1. If you cook on low you might want to stir halfway through the cook time, especially if you are cooking for 6 hours.