An easy pasta salad recipe that makes the perfect summer side dish. Creamy Ham and Cheddar Pasta Salad has a simple 3-ingredient dressing, shredded sharp cheddar, and thick pieces of ham.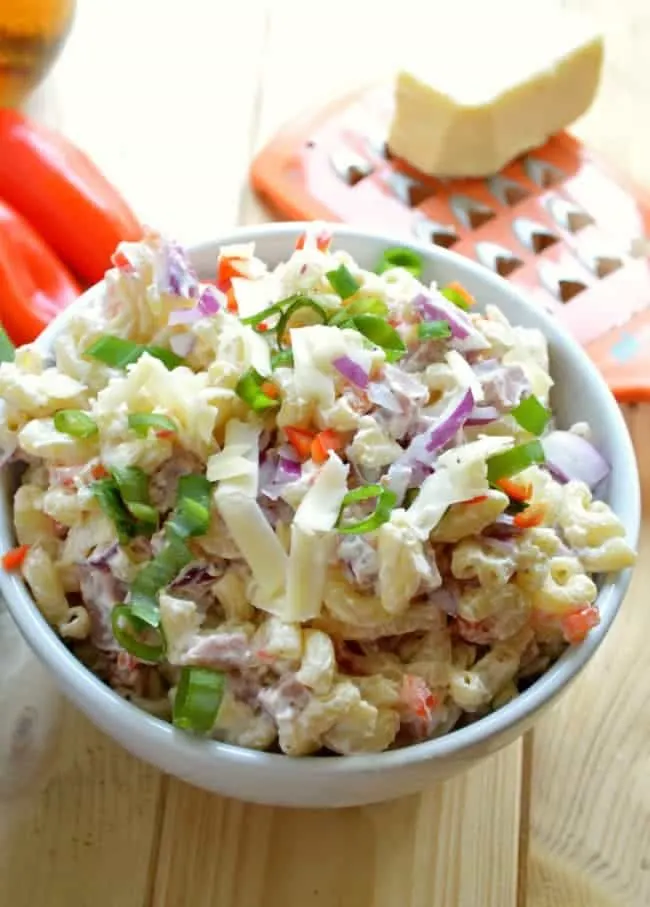 With all the summer hot dog and burger grilling going on, you have to have some stand-out side dishes in your rotation. Since we cook out nearly ever night in the summer (and the rest of the time we use the slow cooker), I like to make 3 or 4 side dishes ahead of time and when dinner rolls around I can just put the containers on the table. [side note: this sounds like I am really good at planning, but the goal here is actually the least amount of work possible when it comes to cooking dinner] This Creamy Ham and Cheddar Pasta Salad is one of those sides.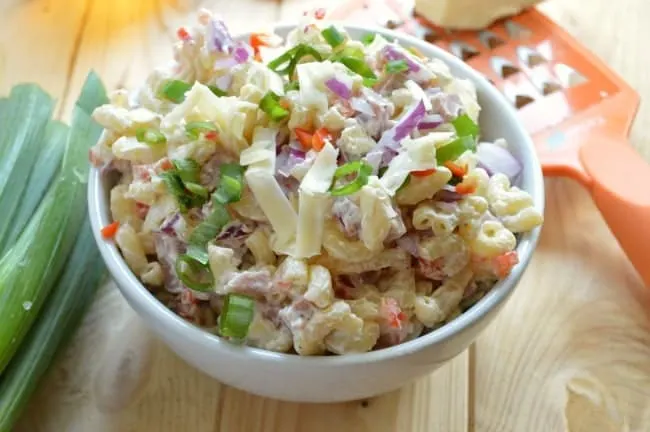 The dressing is the easiest thing ever — there are only 3 ingredients. AND I lightened things up.
Macaroni salads have a certain mayonnaise-laden reputation. The carb-a-holic in me LOVES a good pasta salad, but seriously I can do without the mayo nearly every time (except for the time we made these Ultimate Tomato Sandwiches. And the time we made Maple Sriracha Aioli <<<—- necessary ). Greek yogurt is the best substitute; I've used it over and over in recipes like this Healthy Spinach & Feta Greek Pasta Salad and this Healthy Creamy Summer Pasta Salad.
We are adding this Creamy Ham and Cheddar Macaroni Salad to the awesome list.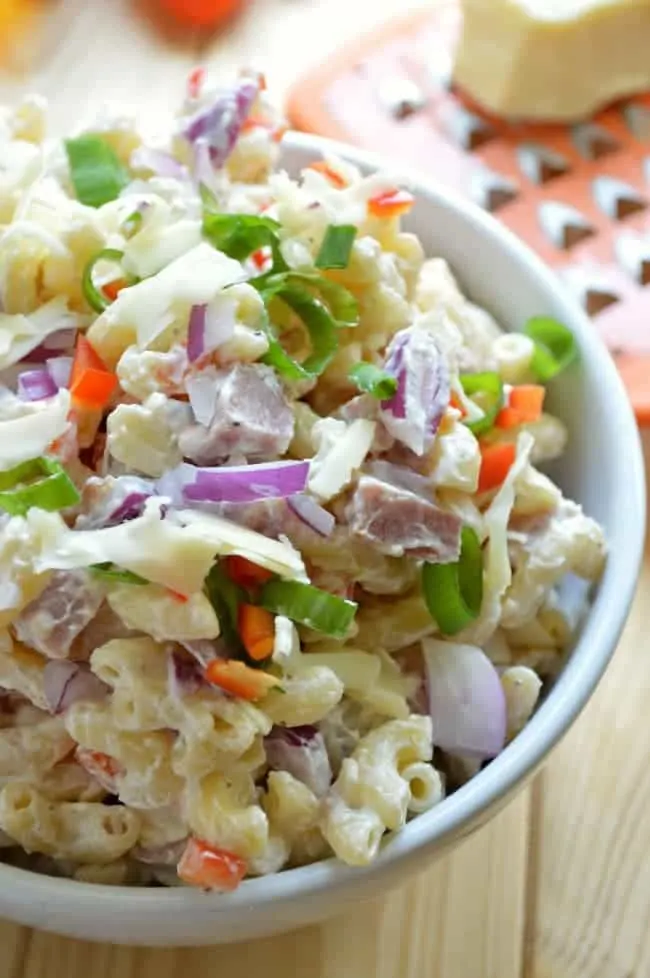 I used a thick cut, applewood smoked ham in this salad. You can take your pick at the deli or use leftovers!
Somewhere along the way I got it in my head that ham only happens at Thanksgiving and Easter, unless it's in the form of super thinly sliced deli meat. But having this totally delicious, fully cooked ham on hand made the first week of summer vacation here my favorite kind of simple. I cut thick slices and served them with green beans and grilled corn. I made my favorite Baked Honey Mustard Ham Sandwiches. The boys made some quick sandwiches on whole wheat bread for lunch, and I turned out a chef salad that I will definitely be sharing here soon.
Creamy Ham and Cheddar Pasta Salad
An awesome easy summer side dish!
Ingredients
4 cups cooked elbow macaroni
½ cup diced red onion
½ cup diced red bell peppers
1 cup ham, cut into ½" cubes
1 cup shredded sharp cheddar
salt and pepper to taste
chopped green onions to garnish
For the Dressing:
1 cup plain Greek yogurt
¼ cup apple cider vinegar
1 teaspoon granulated sugar
Instructions
Toss together the salad ingredients.
Whisk together the plain Greek yogurt, cider vinegar, and sugar. Pour the dressing over the pasta salad and toss to combine.
Sprinkle a few more red onions, shredded cheese, bell peppers, and chopped green onions over the top to garnish.
Keep refrigerated
Notes
This salad will keep in the refrigerator all week! Make it ahead and enjoy fuss-free meals!