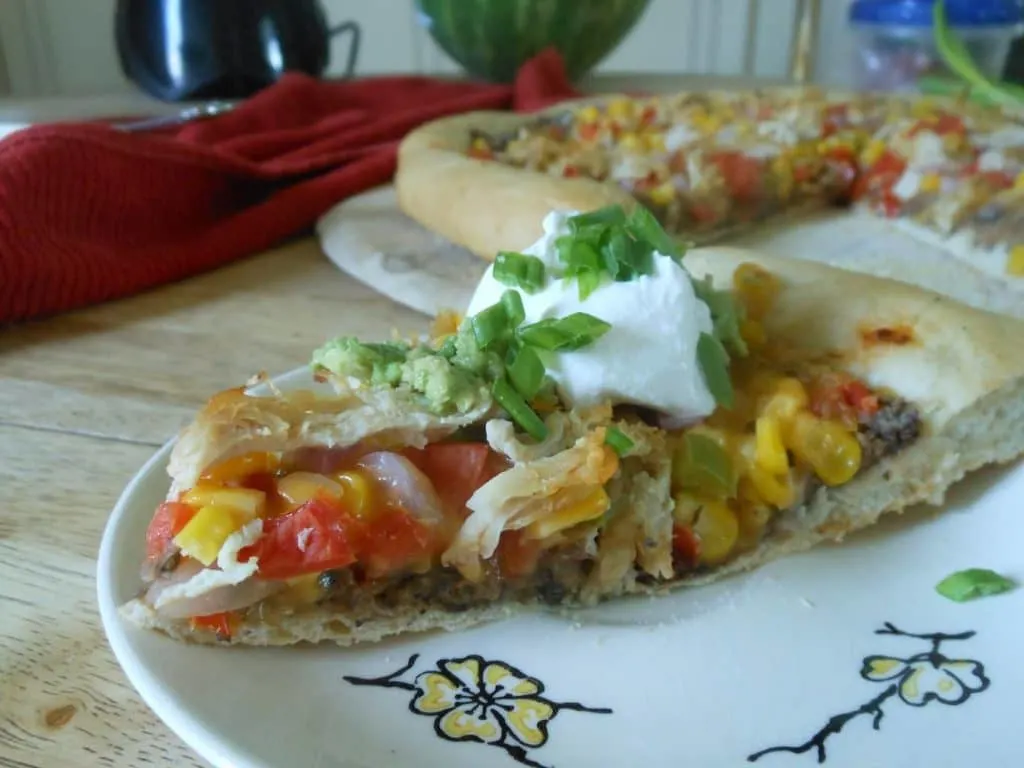 This morning, a little after 4 a.m., my eyes fluttered open because I heard a noise.
Actually, this is the third time this week that a late night noise has pulled me from my already sporadic slumber. The first two times were weird; once I woke up in a panic and scrambled off the bed around 1 a.m. because I felt certain something was creeping around, and it wasn't Chad. Chad could sleep through a hurricane, so my scream-and-scramble-for-the-door move didn't phase him much. He just swung his feet over the edge of the bed towards the floor and sat there rubbing his eyes in the dark, most likely thinking that I'm completely crazy. Then I made him try to sleep all night with the light on.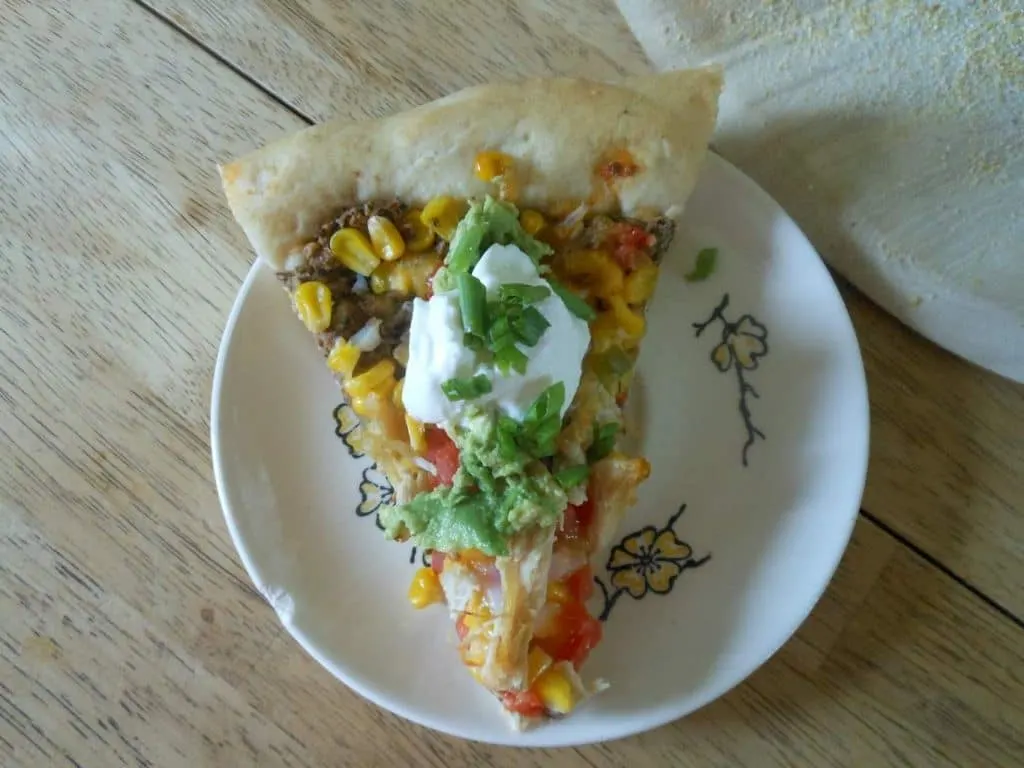 About the time we both dozed off, maybe around 3 in the morning, the TV in the living room started blasting white noise out of nowhere.
I promise I am not making this up.
Several mornings this week when I have gone into the kitchen to put the coffee on and start breakfast, my oldest son, Andrew, has been perched on the couch with a blanket quietly watching re-runs of The Office. As soon as I flip the light switch and start to wonder why the TV is on, his head pops up from behind the cushions like as if it's the middle of the day. "Hi Mommy!"
"Why are you up?," is all I can muster in my pre-coffee before dawn coma.
"Bad dreams… couldn't sleep. Can we have pancakes?"
Geez.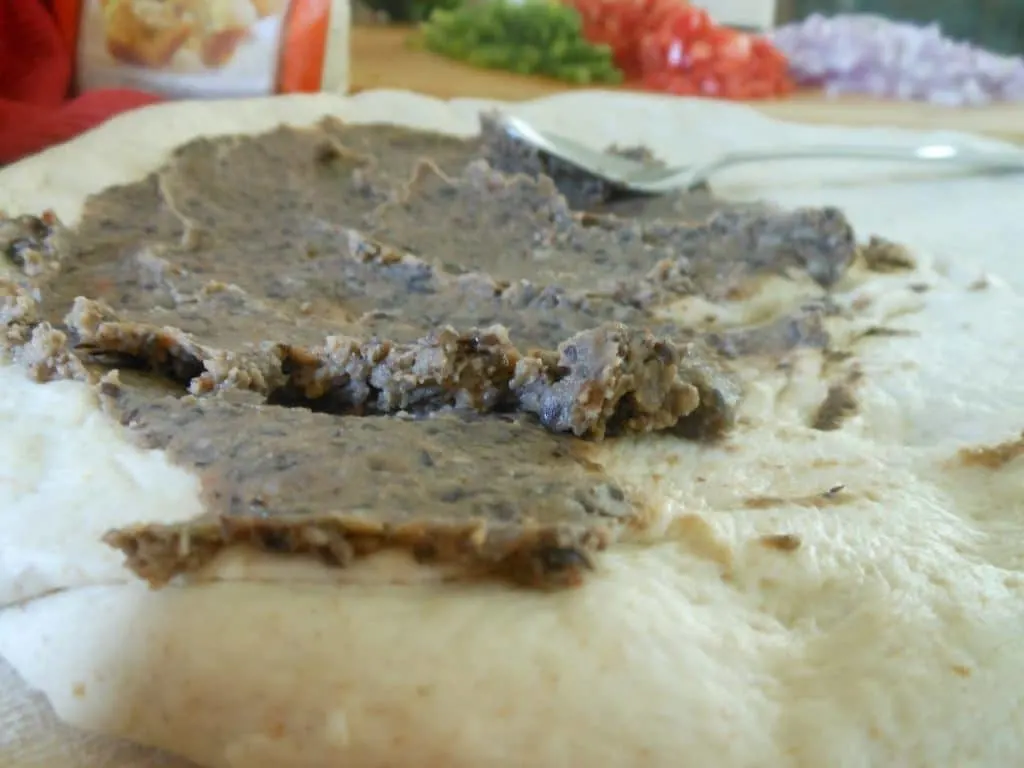 So back to this morning at 4 a.m. A noise woke me up and when I sat up in bed to identify the source, I realized it was the TV. Not scary white noise TV like earlier this week, but little boys parked on the floor watching cartoons TV. And sure enough, upon opening my bedroom door and padding through the house, I found two little boys in a mess of pillows and blankets sprawled across the floor watching cartoons at 4:15 in the morning.
And they had yet to fall asleep.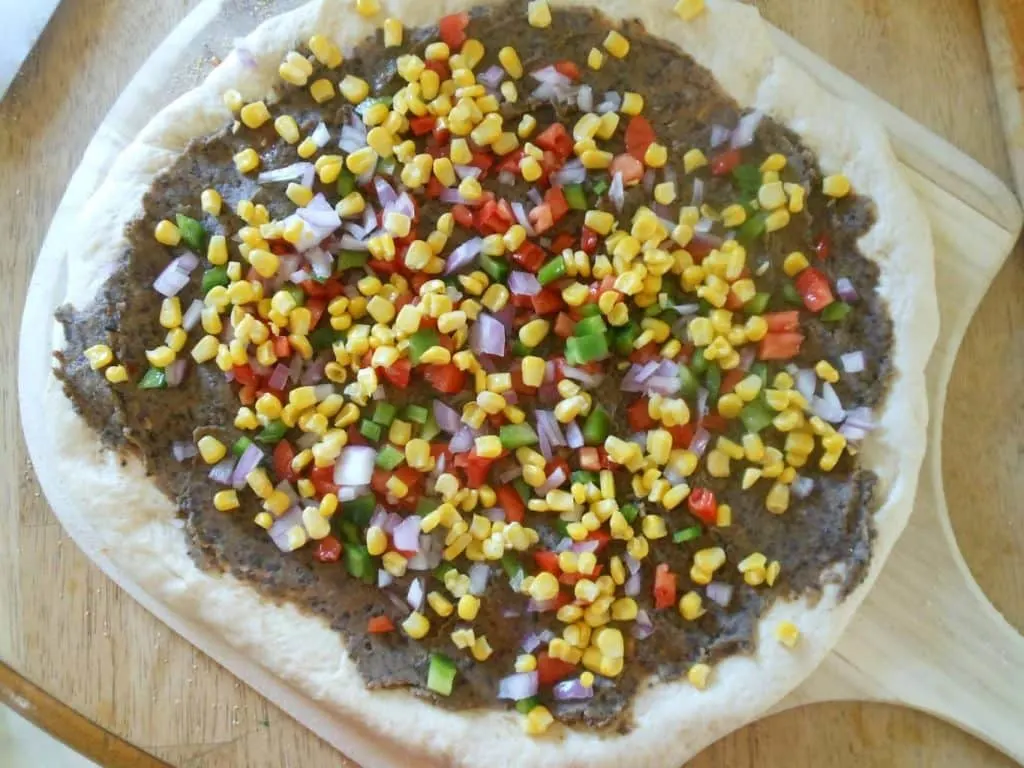 I crashed the middle-of-the-night cartoon party and shooed my boys off to bed, managing to catch a teensy bit more sleep before my morning routine started calling. The only good that came of the whole mess was that they both slept until after noon. When I pressed the issue over cereal and milk at 2 p.m., expecting to hear tales of crazy nightmares or scary bumps in the night, they told me that they were simply staying up to see if they could do it.
Remember when you were a little kid and you just stayed up all night for no reason other than to see if you could? Completely the opposite of now, when I'm thrilled to pieces if I hit the sheets by 11 p.m. Or better yet, 10.
I can't wait to see what kind of interruptions this night will bring…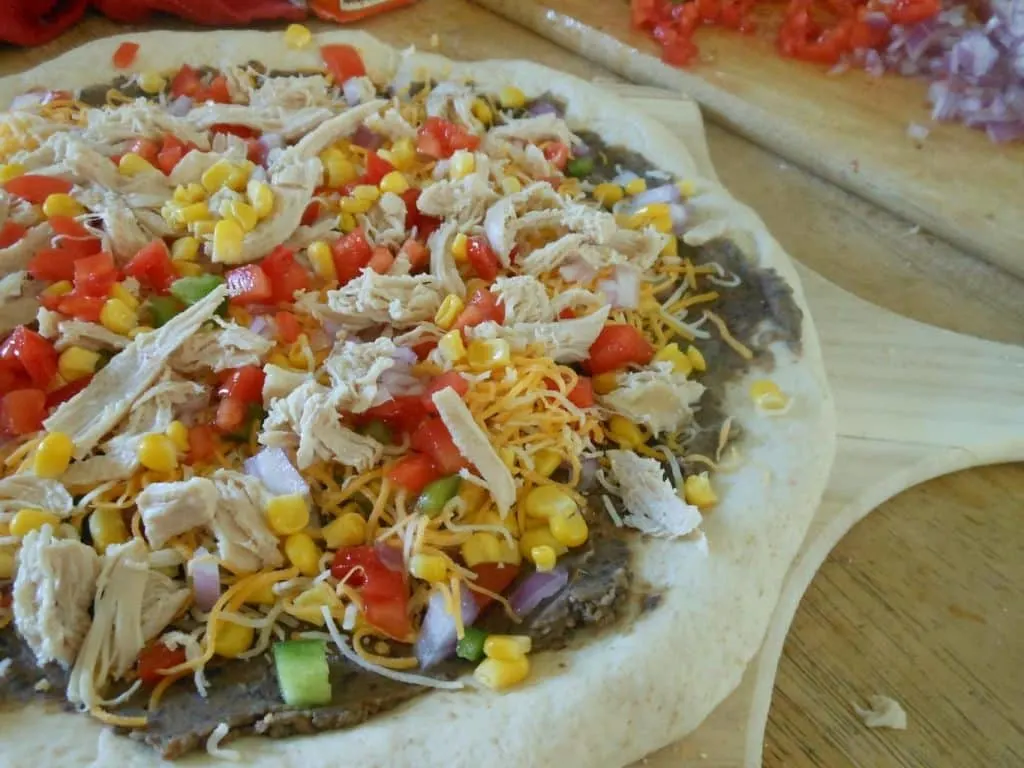 Typically I can offer you some clever liaison between what's going on in my life and the recipe I've decided to share, but sleep-deprived as I am this week, It's just not happening. I made this southwest inspired pizza shortly before we went on vacation. Chad talked about it for a week, so I'm guessing he liked it alright.
I used a whole wheat crust, but a jalapeno cheese crust would have been even better. In place of sauce I made a paste with some leftover black beans, a heap of seasoning, and a bit of chicken broth. I sprinkled corn, bell peppers, red onions, and tomatoes over the black bean sauce. Added a little shredded chicken and a heap of shredded cheddar jack cheese.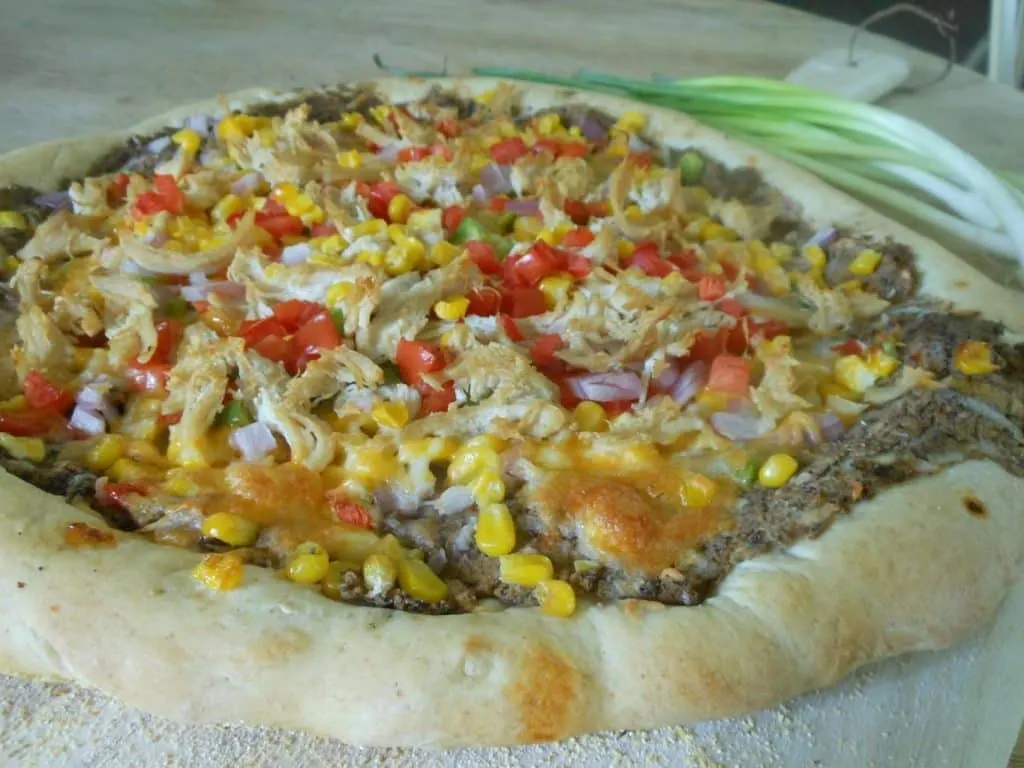 And then happily smothered each slice with guacamole and sour cream.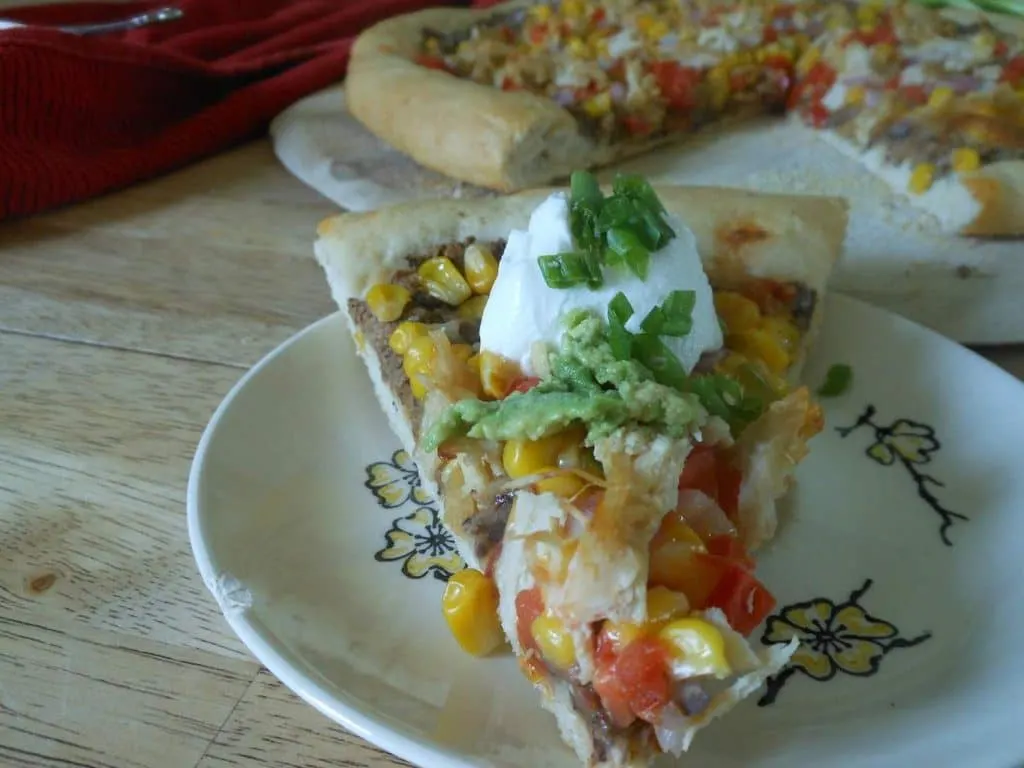 Here's to hoping for a night without any paranormal activity.

Southwest Black Bean Pizza
Ingredients
1 can of black beans (or approximately 2 cups cooked), drained and rinsed
1 teaspoon cumin
1 teaspoon chili powder
½ teaspoon garlic powder
¼ teaspoon black pepper
¼ teaspoon cayenne pepper
chicken broth, vegetable broth, or water
dough for 1 pizza
½ cup frozen whole kernel corn, thawed
½ cup green bell pepper. diced
½ cup red onion, diced
1 cup fresh tomatoes, diced
1½ cups shredded cheddar jack cheese
½ cup shredded chicken
sour cream and guacamole to garnish
Instructions
To make the black bean sauce, add the black beans, cumin, chili powder, garlic powder, black pepper, and cayenne pepper to a food processor or blender. Pulse a few times and a thick paste will begin to form. Add in the broth or water a tablespoon at a time until you reach your desired consistency.
Spread the black bean sauce across the pizza dough. Sprinkle the bell peppers, red onions, corn, and tomatoes over the black bean sauce. Cover with cheese and chicken and bake according to the directions for your pizza crust.
Garnish each slice with guacamole and sour cream.