Thick slices of bread are soaked in vanilla custard and grilled. Topped with bourbon and brown sugar peaches, this Bourbon Peach French Toast makes a great summer dessert or sweet addition to brunch.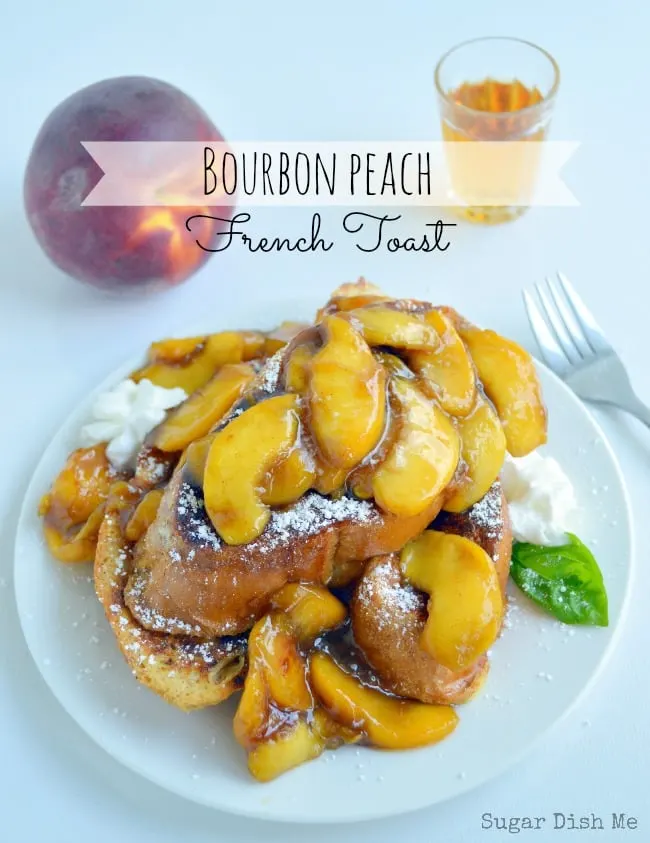 f
I'm still trying to figure out if this is breakfast? Or dessert? It sort of fits into that crepes with cream cheese frosting, red velvet waffle, strawberry crumble category. With bourbon.
It IS acceptable to booze up your fruit for breakfast. Example: mimosas.
And if this is dessert then the bourbon is doubly acceptable. As is extra sugar.
To be fair, South Carolina peaches don't really need any sugar at all. They qualify as dessert all by themselves. But when you have a loaf of day-old baguette laying around leftover from when you made tomato bruschetta, AND it's peach season, AND there's bourbon on the kitchen counter, AND you're looking for ways to fill the summer vacation void… well, you really have no choice but to add brown sugar and get cooking.
I soaked the slices of day-old baguette in an eggy mixture with milk, cinnamon, and nutmeg. I left just a smidge of bacon grease in the bottom of my cast iron frying pan before adding the peaches, bourbon, brown sugar, cinnamon, and a little cornstarch. Then I grilled the bread.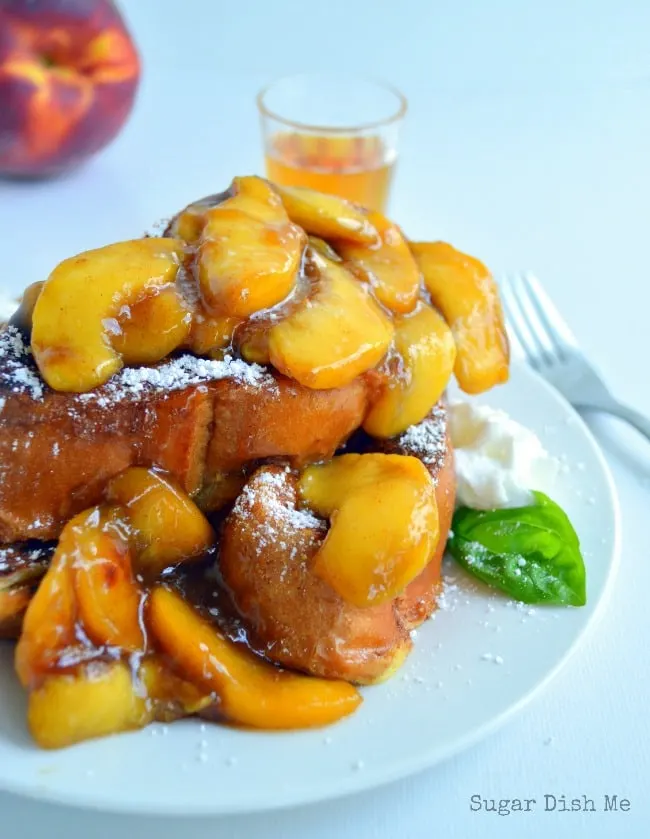 This bread dusted with powdered sugar and dipped in maple syrup would satiate any sweet craving all on its own. That is, in fact, the route my little boys went with this mid-morning treat.
More peaches for me.
Plus powdered sugar never hurts.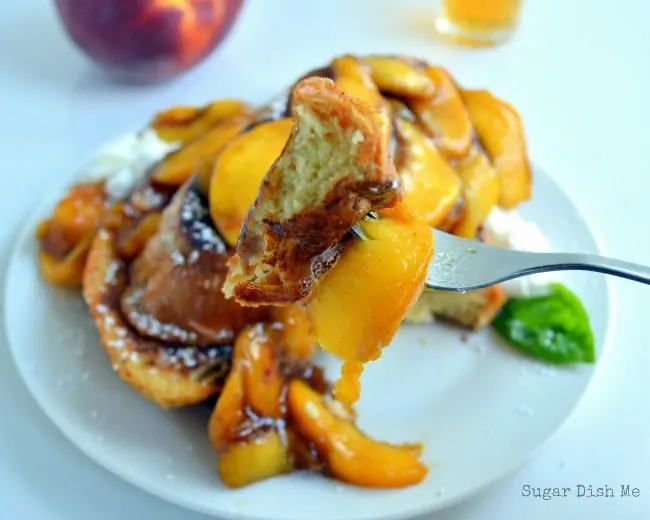 I'm not sorry about this heaping portion, either. Or the fact that i might have had seconds. And then I may have eaten a bowl of sweet bourbon peaches. I justify my overindulging with copious amounts of torturous exercise. Also I skipped lunch because I was sooooo full from all the toasted egg bread and syrupy fruit. I make all kinds of real life sacrifices so I have things to tell you all about.

Bourbon Peach French Toast
Ingredients
3-4 large peaches, peeled, pitted, and sliced
½ cup brown sugar
¼ cup bourbon
1 teaspoon cinnamon
1 tablespoon cornstarch
1 tablespoon oil or bacon grease
1 loaf crusty white bread, cut into 1-1½″ thick slices
1½ cups milk
5 eggs
1 teaspoon vanilla
1 teaspoon cinnamon
½ teaspoon nutmeg
butter for the skillet
powdered sugar to garnish
Instructions
In a large bowl whisk together the brown sugar, bourbon, cinnamon, and cornstarch. Add the peaches and toss to coat. Set the peach mixture aside.
In another large bowl, whisk together the milk, eggs, vanilla, cinnamon, and nutmeg.
In a deep baking dish lay the sliced bread out flat. Pour the egg mixture over the bread and let it soak.
While the bread is soaking up the egg mixture, heat a large skillet over medium high heat. Add the tablespoon of oil or bacon grease and swirl in the pan to coat.
Pour in the peach mixture and when the liquid begins to bubble, reduce the heat to medium. Stir occasionally and cook until the sauce has thickened and peaches are nice and soft. Turn off the heat and let them sit while you grill the bread.
Heat your pancake griddle to about 375 and generously butter (If you're using a skillet on the stove top, use medium high heat and add the butter to the pan just before you add the slices of battered bread).
Line the bread slices up and cook for 3-4 minutes on each side (The bread should have soaked up all of the egg mixture and the sort of long cook time helps the egg to cook all the way through those thick slices of bread. Soggy french toast is NO GOOD!).
Stack the french toast slices on a plate, pour the bourbon peaches all over and around, and dust the whole sweet mess with powdered sugar.
This post
at I AM SIMPLY TIA put me in a french toasty frame of mind. I owe her a big thank you for reminding me that old bread is good for more than just croutons.