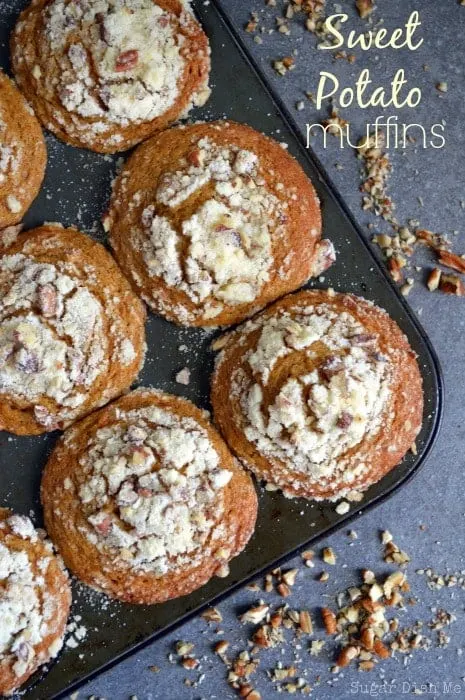 I think I'm doing this backwards.
I think that the first recipe I share with you in the new year is supposed to err on the side of spinach or a smoothie or something. But I have breakfast on the brain. Specifically perfect-with-a-cup-of-coffee-and-uses-up-your-leftover-sweet-potatoes breakfast.
The first recipe last year was pizza so… I think I maybe fail at January dieting. But I win at delicious. So there.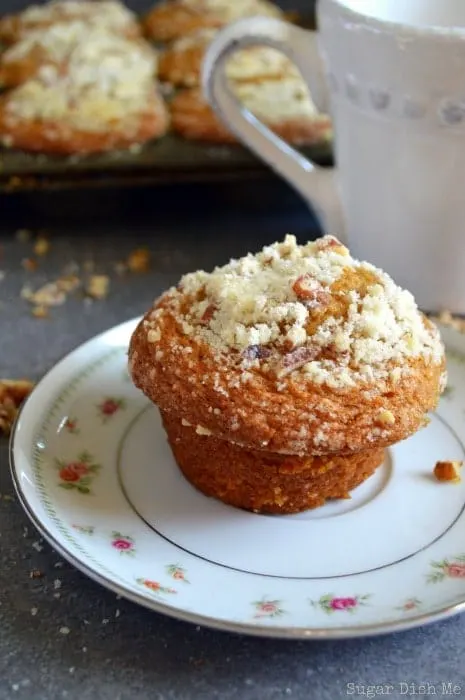 And anyway, sweet potatoes are vitamin-rich.
3 eggs + pecans = plenty of protein > brown sugar
Breakfast math my friends.
In the last couple of months I have been doing a little bit of baking for a local coffee shop. I made these muffins for them originally, but they were so so SO delicious that I had to make a second batch and keep them for myself.
Actually, I say I kept them for myself, but what really happened was Andrew and Chad ate them all. And suddenly Evan does not like pecans which means that they are my new baked goods insurance policy.
These muffins are fluffy and perfectly spiced. Sweet, but not too sweet. The crumb is tender and the streusel has the perfect amount of crunch. In a word: LOVE.
Make 'em happen.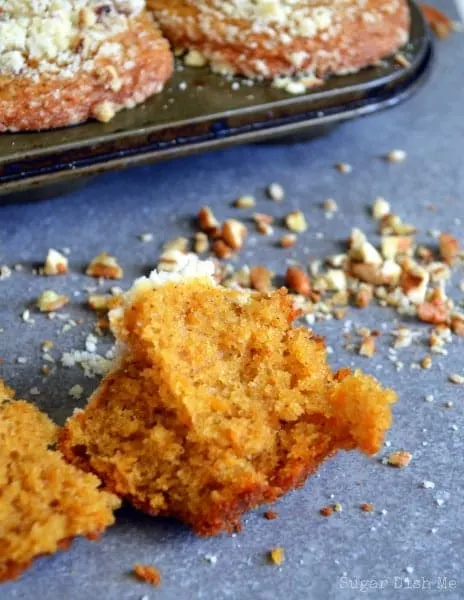 Sweet Potato Muffins with Pecan Streusel
Fluffy moist muffins made with leftover sweet potatoes and brown sugar, with a crumbly pecan streusel topping. Perfect with your morning coffee!!!
Ingredients
3 large eggs
⅓ cup sour cream (full or reduced fat)
¾ cup vegetable oil
1 cup baked sweet potato mash
1 cup packed light brown sugar
1 teaspoon vanilla
1½ cups all purpose flour
2 teaspoons baking powder
2 teaspoons cinnamon
½ teaspoon baking soda
½ teaspoon nutmeg
½ teaspoon salt
For the Pecan Streusel Topping:
3 tablespoons unsalted butter, softened
¼ cup finely chopped pecans
¼ cup all purpose flour
3 tablespoons granulated sugar
Instructions
Preheat the oven to 350°F and line a standard muffin pan with paper liners.
In a large bowl lightly beat the eggs. Add the sour cream, oil, and sweet potato mash and stir well. Mix in the brown sugar and vanilla. The batter will be frothy and kind of fluffy at this point.
Add the flour, baking powder, cinnamon, baking soda, nutmeg, and salt.
Stir until just combined.
Divide the batter evenly between the 12 prepared muffin cups.
In a small bowl crumble together the softened butter, chopped pecans, flour, and sugar. Sprinkle the topping over all the muffins. Be liberal with it! Use it all up.
Bake for 18 - 20 mins.
Adapted from this
Sweet Potato Muffins Recipe
by Lyuba at
Will Cook for Smiles
. Over there you can also find the recipe for this gorgeous
Creamy Chicken Enchilada Soup
(on my weekend menu!) and so much more!