Sweet Potato Pancakes are warm and cozy, spiced with cinnamon and nutmeg, and topped with cinnamon syrup. Perfect for using up leftover sweet potatoes!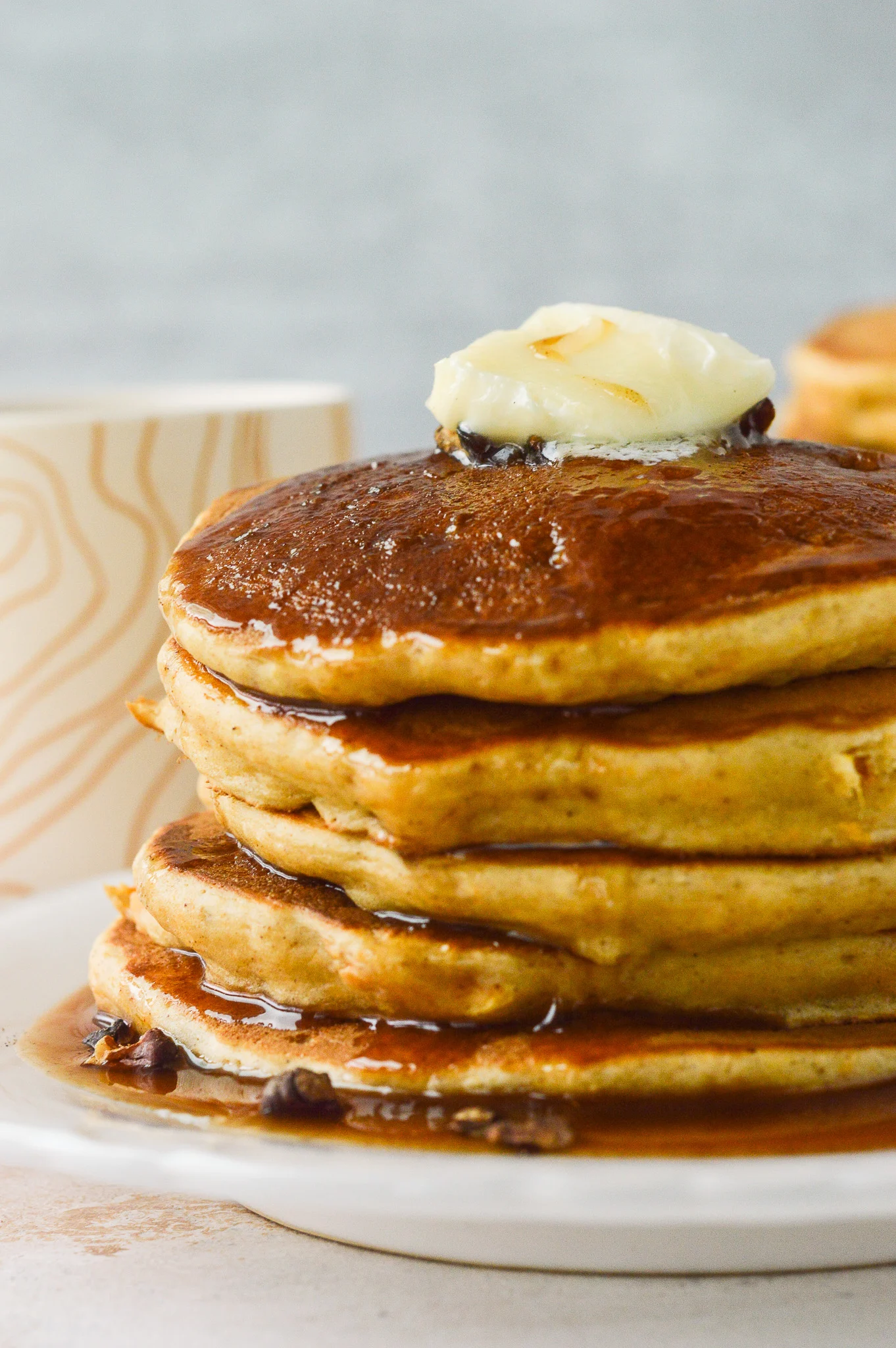 Do you ever just stumble into the weekend like you aren't sure how you got there? And no amount of coffee helps to get you back on track with whatever you'd hoped to do with the day?
I've got a pancake recipe for that.
Everything lately feels like it's all moving too fast and too slow, all at the same time. I'm up too early or in bed too late – or both – and if I don't schedule something every week to help vary my days, I literally have no idea what day it is.
Are we all here in this weird we're-almost-there-but-not-there-yet-place? No? Just me? ?
One of the things I've missed the most this past year is going out for breakfast and MAN OH MAN do I miss someone else making me a nice hot stack of pancakes. So I stumbled into this weekend, woke up a lil bit late, made a big 'ol pot of coffee, and made us a batch of Sweet Potato Pancakes. I ALSO made warm and buttery Cinnamon Pancake Syrup. A bonus.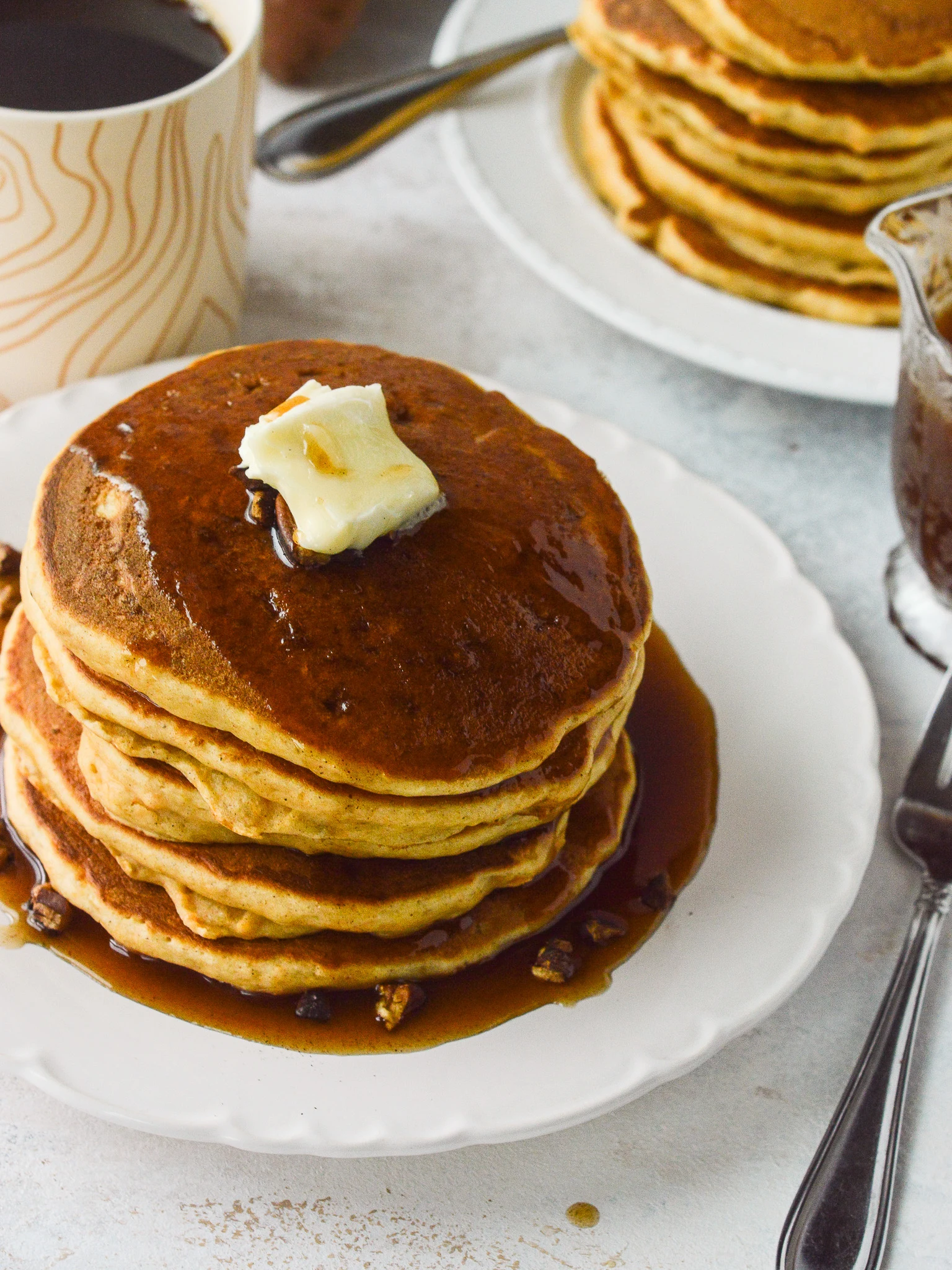 How to make Sweet Potato Mash
This recipe calls for 2/3 of a cup of mashed sweet potatoes, and before you get to mixing up all your other ingredients, you are gonna want to have it handy. There are several easy ways you can come up with mashed sweet potatoes, so let's talk about it.
Leftover Baked Sweet Potatoes
This is always my preference. If I am thinking about it, I will try and bake one extra large or two medium sweet potatoes the night before. Refrigerate and in the morning the skin peels right off. mash, measure, and that's it! I also use leftover baked sweet potatoes in my Sweet Potato Muffins with Pecan Streusel Recipe.
Microwaved Sweet Potatoes
An easy shortcut in a pinch, but not my favorite because it makes the sweet potato flesh a little bit tough and weird. You won't get the caramel-ey mash that you do with a baked sweet potato, but it does the trick. If you go this route your batter might be too thick, so a dab more milk can help.
Boiled Sweet Potatoes
If you are trying to cook your sweet potatoes the day-of, and you wanna skip the microwave, this is the way to go. Peel two medium sweet potatoes and cut them into 1″ cubes. Place them in a medium to large pot and cover with water plus a couple of inches. Bring to a boil and add a pinch of salt. Cook for 12-15 minutes, or until they are fork-tender. Drain, cool slightly, and mash.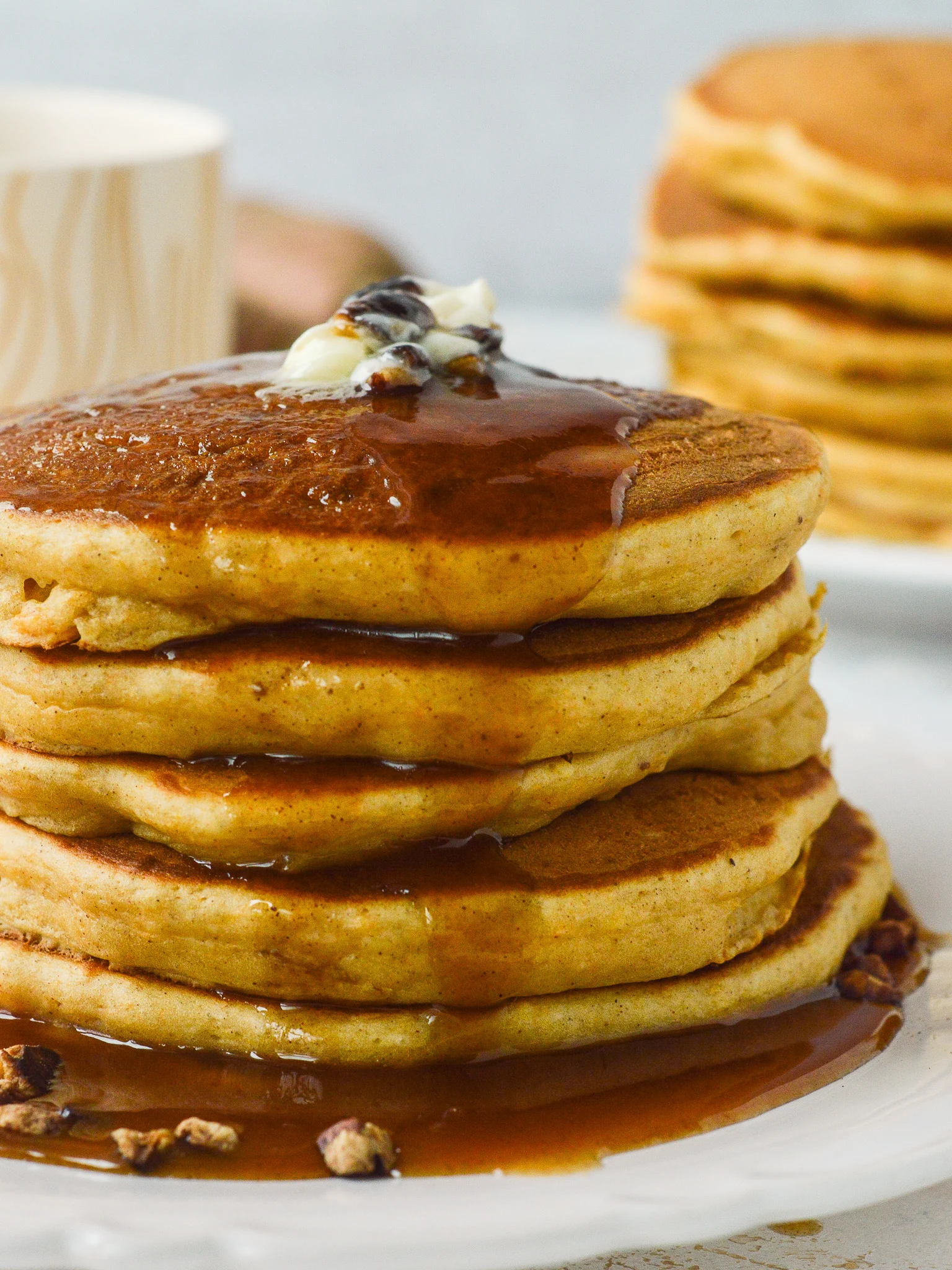 How to make Sweet Potato Pancakes
So let's talk about the method here since, aside from how you get 2/3 of a cup pf mashed sweet potatoes, the ingredients list is basically all just pantry staples.
You're going to mix up your dry ingredients first. Just whisk them all in a large bowl. I almost called this a one-bowl recipe, but with all the potato-mashing, plus the next step, that was out the window. These are worth the dirty dishes though, I promise.
Use a large measuring cup if you have it! I swear by this 4-cup liquid measuring cup; I use it for dressings and sauces and all the things. Pour in the buttermilk. Then add the mashed sweet potato and mix until they are mostly smooth.
Pour the buttermilk + mashed sweet potatoes into the dry mixture. Then add the oil and egg. Mix until combined.
Heat the griddle, portion out the batter, cook, flip, cook, SERVE!
To make buttermilk in a pinch, mix together 1 tablespoon white vinegar + 1 cup LESS 1 tablespoon milk. Let stand for 10 minutes.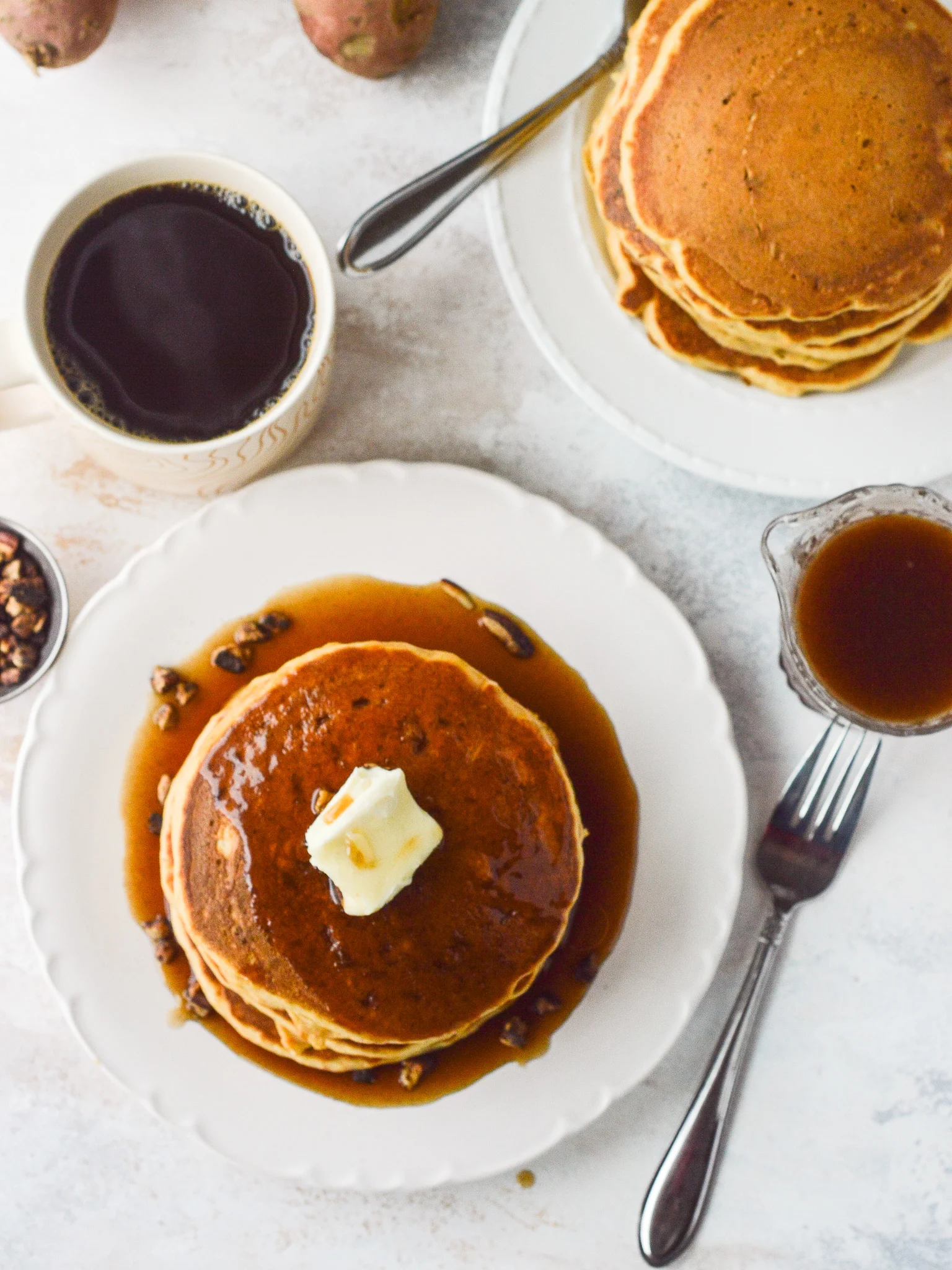 Wanna make more pancakes?
Make Morning Glory Pancakes if you love a morning glory muffin but also wanna have breakfast with substance. These are loaded with shredded carrots, apples, coconut, walnuts, and pumpkin seeds! (They are also excellent with cinnamon syrup.)
Homemade Fluffy Pancake Mix is perfect for days you need a shortcut. This is also great for gifting and there's a cute printable label. 1 cup mix + 1 cup milk + 1 egg = PANCAKES.
Try these Blackstone Raspberry Pancakes! Put your Blackstone Griddle to work and crank out a big 'ol weekend breakfast.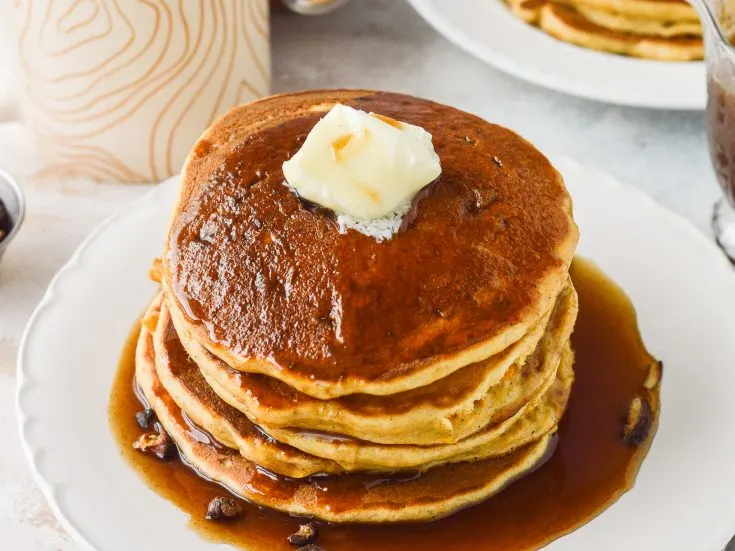 Yield:

12 pancakes
Sweet Potato Pancakes
The easiest fluffiest Sweet Potato Pancakes around! You can make these with leftover sweet potatoes, or you can quickly pop a potato in the microwave. Served with a warm, buttery cinnamon syrup and sprinkled with toasted walnuts - you really can't go wrong!
Ingredients
2 cups all purpose flour
2 teaspoons baking powder
1 teaspoon cinnamon
1/2 teaspoon nutmeg
1/2 teaspoon baking soda
1/2 teaspoon salt
2/3 cup mashed sweet potato
2 cups buttermilk
3 tablespoons oil
1 egg
Cinnamon Syrup, soft butter, and toasted walnuts for serving
Instructions
In a large bowl, whisk together the flour, baking powder, cinnamon, nutmeg, baking soda, and salt.
In a medium bowl or large liquid measuring cup, whisk together the buttermilk and mashed sweet potatoes. Pour the mixture into the bowl with the dry mixture. Then add the oil and egg.
Mix until everything is JUST combined and let it stand while you preheat the griddle or skillet. The batter will be thick.
Heat the griddle to 350° OR heat a non-stick skillet on the stove over medium high heat. Test a small amount of batter first by spooning about a tablespoon onto the griddle. When air pockets start to pop on the surface, or after about 45 seconds, flip. This is just to be sure the heat is right. the first pancake can sometimes be a little wonky with any batch.
Portion the batter out in heaping 1/4 cup portions and use the cup to gently push the batter into circles. Wait until air pockets start to pop on the exposed surface OR wait about a minute and flip. Cook for about a minute on the second side.
Work in batches until you've used up all the batter. Serve warm with cinnamon syrup, softened butter and toasted walnuts.
Notes
1. You can use regular milk in place of buttermilk. OR you can add 2 tablespoons of white vinegar to 2 scant cups of milk, let them sit for 10 mins, and bam! You have buttermilk.
Recommended Products
As an Amazon Associate and member of other affiliate programs, I earn from qualifying purchases.
Nutrition Information:
Yield:
12
Serving Size:
1
Amount Per Serving:
Calories:

151
Total Fat:

5g
Saturated Fat:

1g
Trans Fat:

0g
Unsaturated Fat:

4g
Cholesterol:

20mg
Sodium:

316mg
Carbohydrates:

21g
Fiber:

1g
Sugar:

4g
Protein:

4g