Looking for a faster way to make homemade popovers? Learn how to make popovers with a blender and turn out this classic baked treat with even less effort.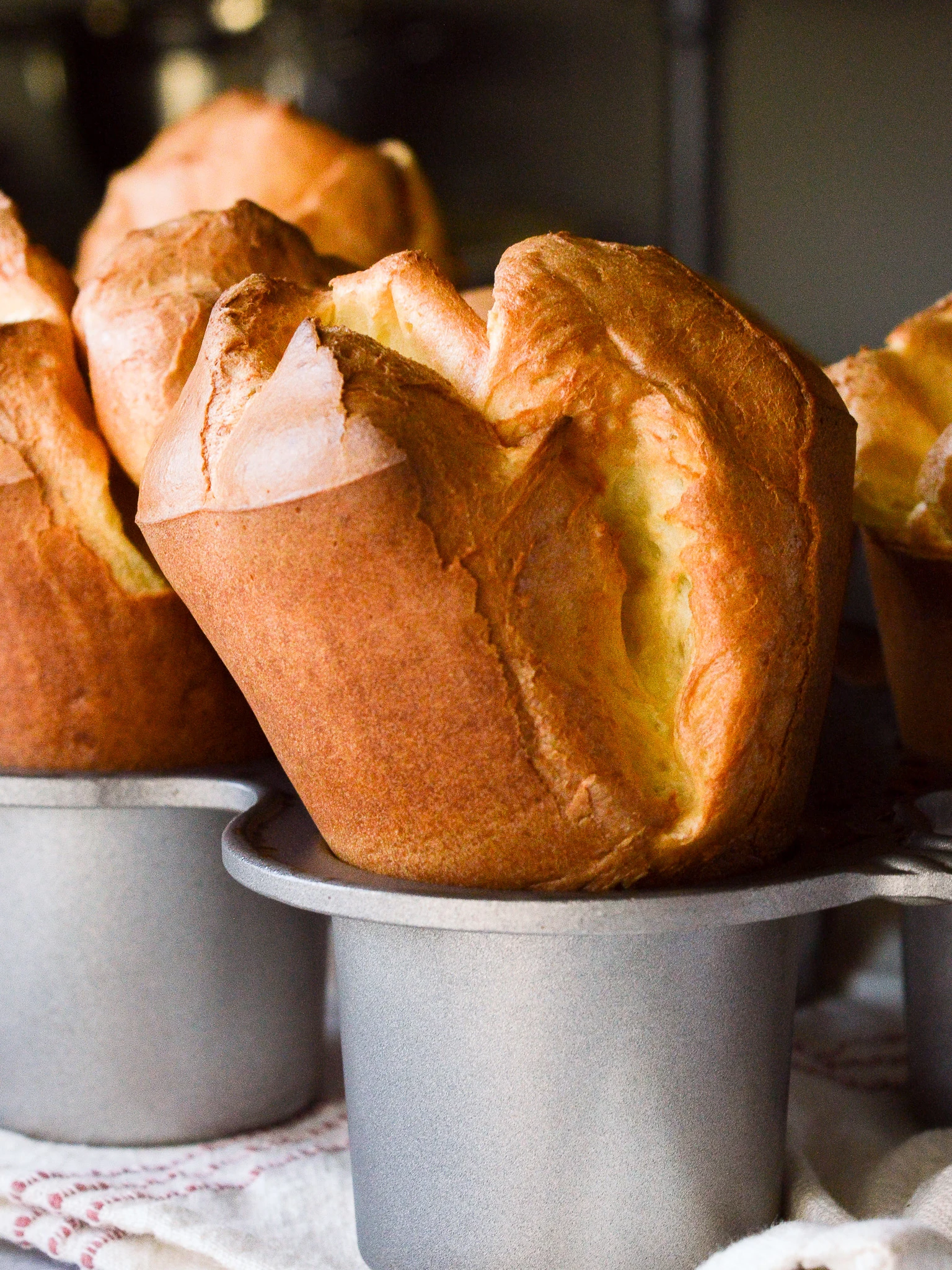 Popovers and biscuits are the bread and butter (har har har) of this website. It's how many of you found me initially, and they are the recipes I've spent the most time testing through the years. From The Biggest Fattest Fluffiest All Butter Biscuits (yassssss) to my recipe for the Biggest Fattest Fluffiest Popovers (a recipe I am really, personally connected to), I have lots and tips and tricks on making successful, fluffy breads.
I still get LOADS of questions though, and the occasional email about when things fail and how to troubleshoot. I also get many many great ideas from your questions!
Can I mix popovers with an immersion blender?
This question comes up often, and several readers have said that yes! You can mix popovers with an immersion blender in place of "elbow grease", aka stirring furiously with a whisk. So I tried it.
And WOWSER did it work.
I legitimately did like 7 things wrong and these popovers still puffed ALLLLLL THE WAY UP.
Conclusion: You can definitely mix popovers with an immersion blender. You can also make them in a traditional blender.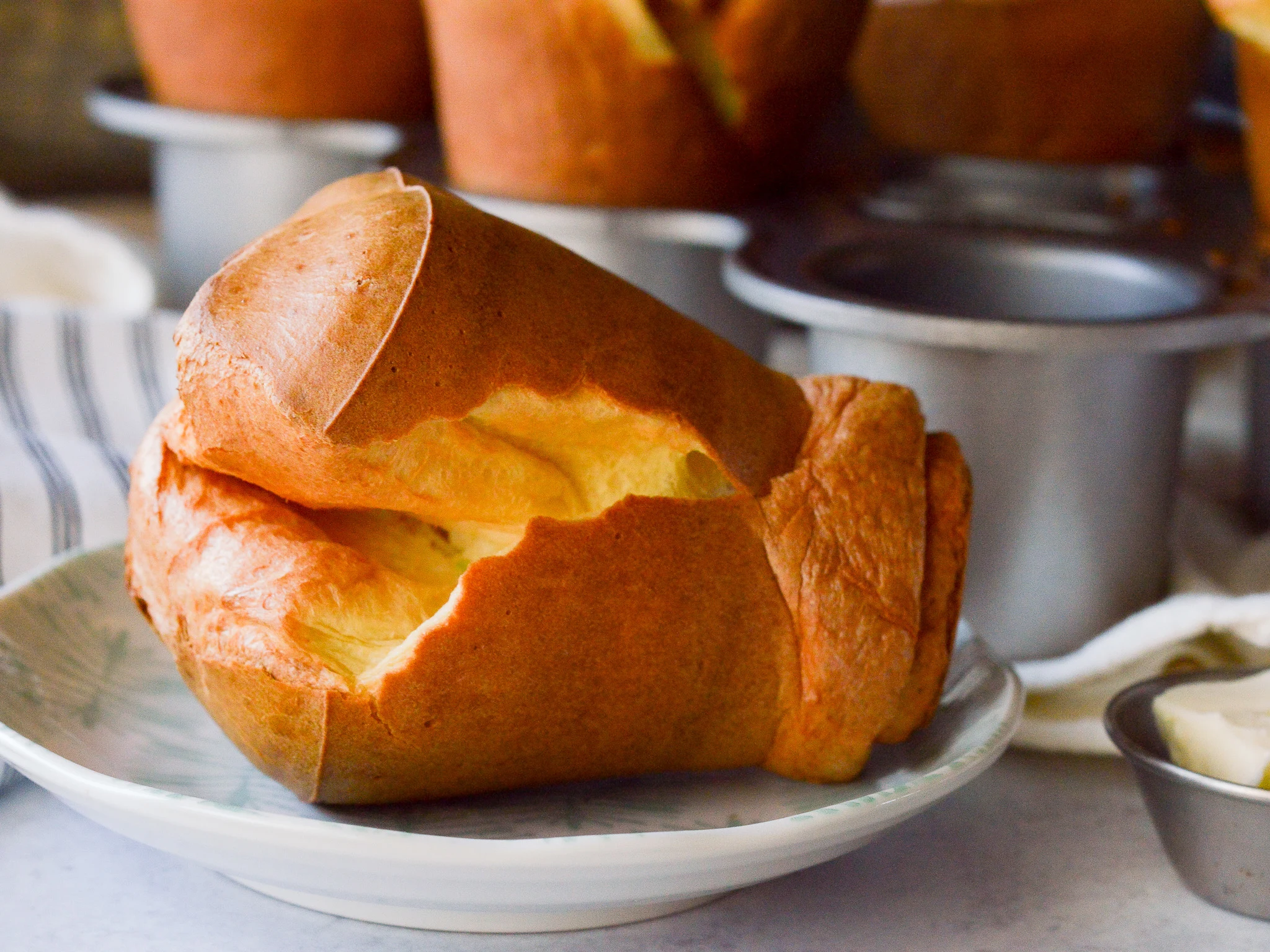 The Method
To make popovers in the blender, you can use the provided recipe below and follow these easy steps.
PREP. Move your oven racks down to the lowest and second lowest levels so your popovers have room to rise. Preheat the oven to 450°F and thoroughly grease your popover pan inside each cup as well as on the top of the pan.
TEMPER YOUR EGGS. Place your eggs – UN-CRACKED – in a medium bowl and cover with hot tap water. Let them sit for 10 minutes. This brings your eggs up to room temperature.
POUR. Pour the milk into a large bowl if using an immersion blender, or into the pitcher portion of your blender. Add the salt. Once your eggs have been warmed for 10 minutes, crack them into the bowl or blender.
PULSE. Blend for 5-10 seconds.
MELT. Melt the butter.
PULSE. Blend for another 5-6 seconds. Add the flour and blend until the mixture is frothy – about 10 seconds, then quickly stir in the melted butter (one quick pulse will do!).
POUR. Pour the batter into your prepared popover pan. It's important that you just fill the cups with ONE pour. 3/4 of the way full is perfect.
BAKE. For 20 minutes. Reduce the heat to 350°F and bake for 15 more minutes.
SERVE. Hot popovers with soft salted butter – SO GOOD.
Popover Mistakes
My goal here was to test how well making popovers with a blender works, but I also noted the places that I strayed from my own recipe directions. So they aren't really mistakes, but I am always looking for the details that ACTUALLY make this recipe fail.
That way it's easier to point you in the right direction if you don't find success (but you will! You will.).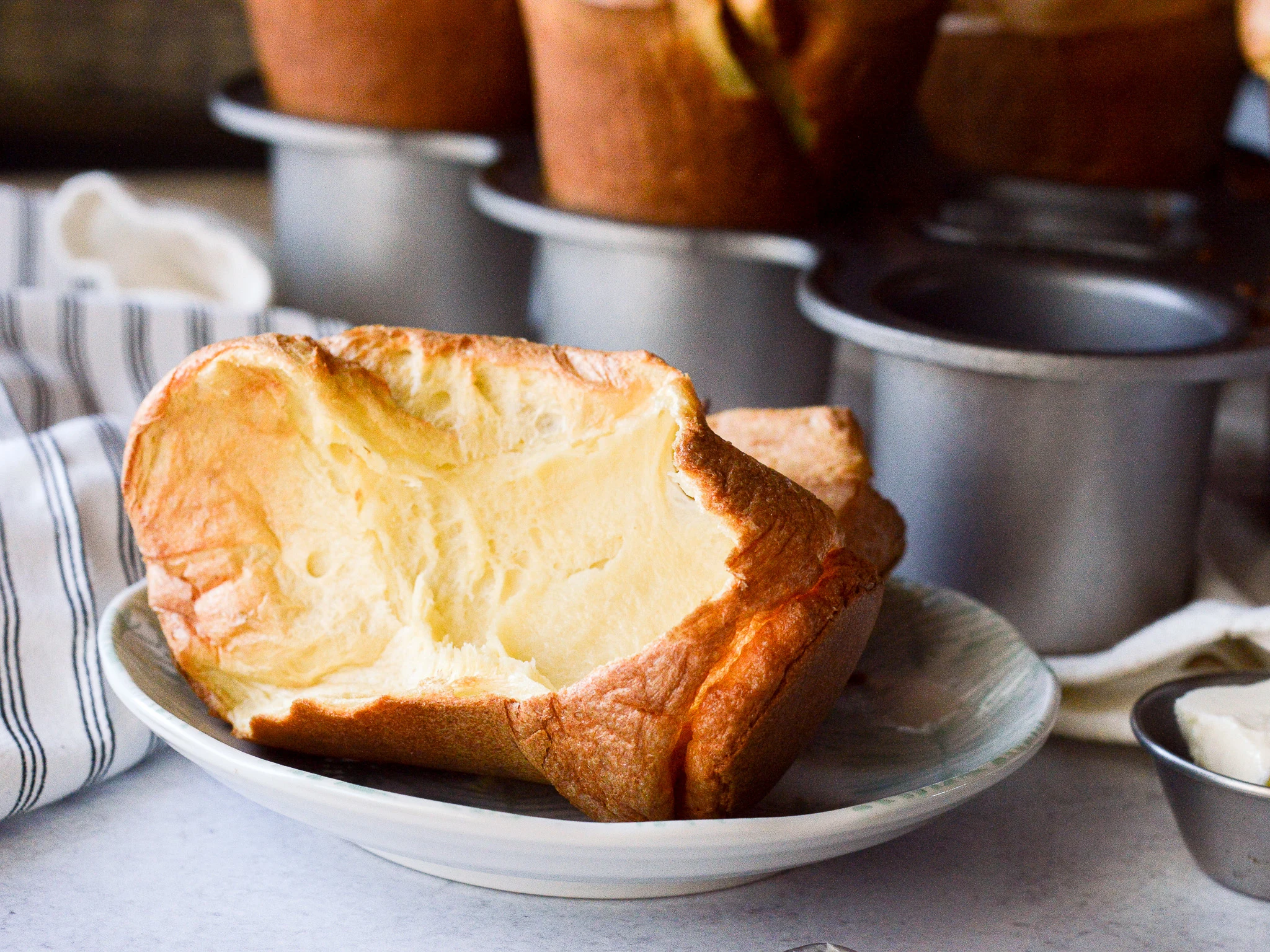 Here are my specific circumstances for the most recent test.
cold 2% milk (not room temperature)
warmed / room temperature eggs
a standard blender
a single pour into each cup with the exception of one cup – the last cup I filled – where I scraped the last bit of batter out of the blender pitcher
added the butter with the flour instead of after
my oven was not completely preheated; it was only at 430°F when I put the popovers in
I never preheat my popover pan, though some people AND some older articles profess this as a method for success. I made these popovers in a cold pan.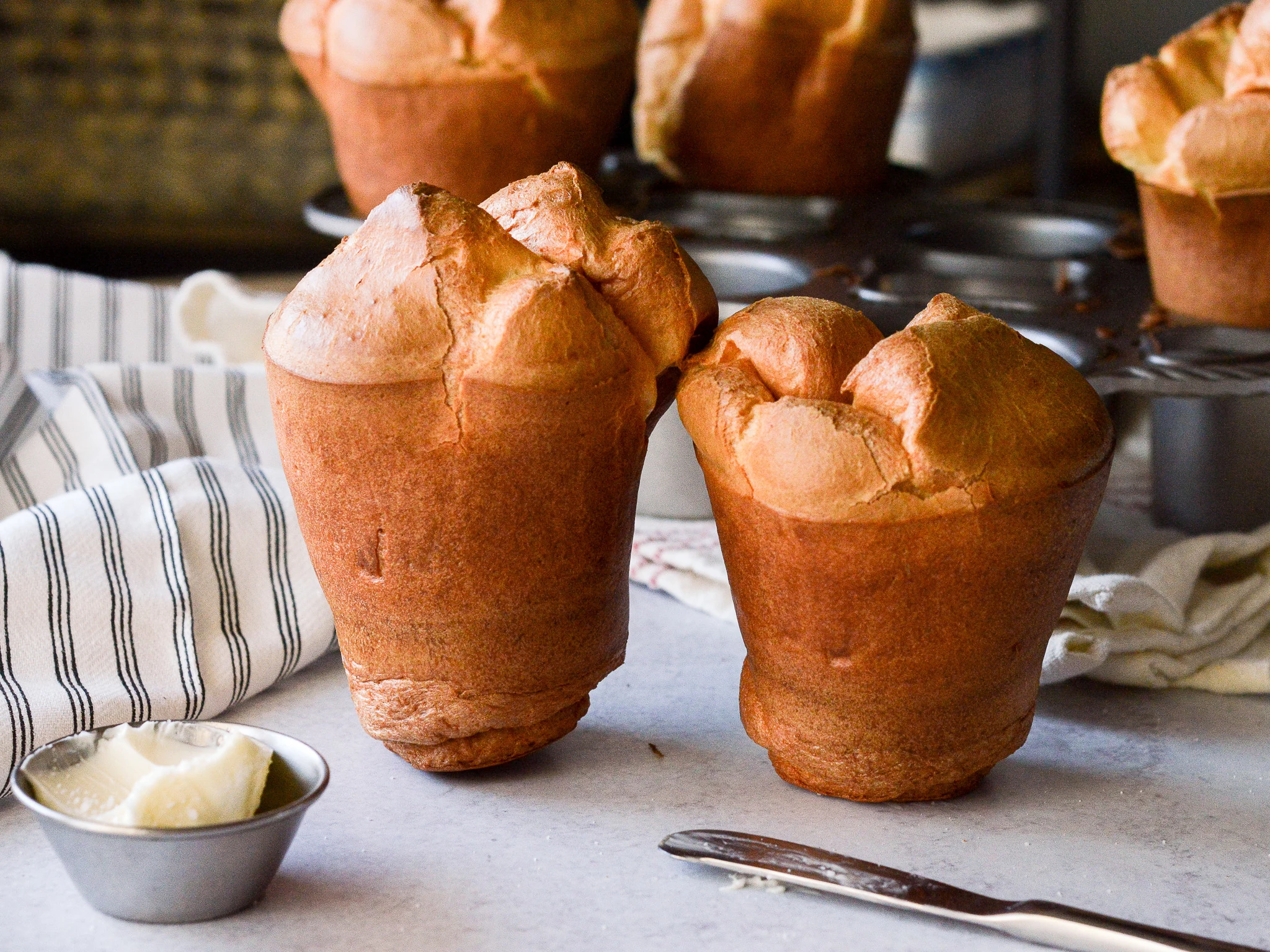 Favorite Popover Tools
I'm never one to encourage buying lots of kitchen gadgets and things if you truly don't need them. I love creating recipes you can turn out in a bare bones kitchen on a budget. You CAN make popovers in a regular muffin tin if that's what you have handy!
But! If you are looking to make popovers with a blender then well, you need a blender!
These are my favorite kitchen tools to have handy when I am making popovers.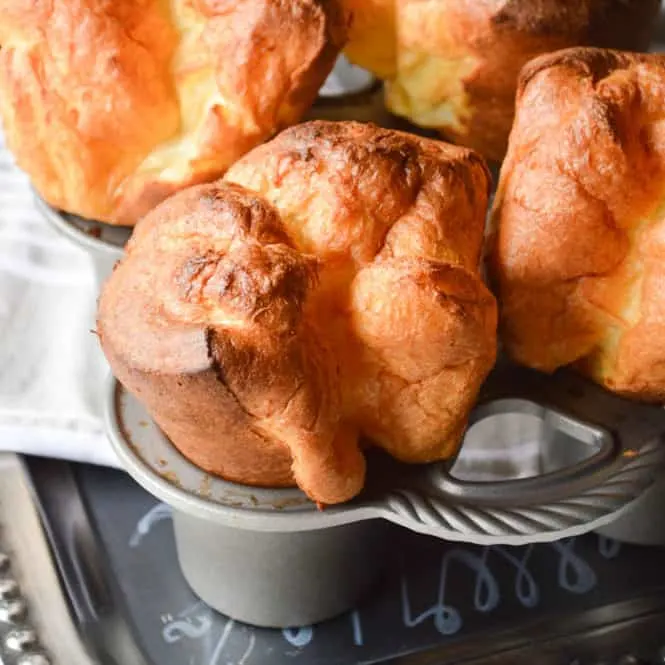 Yield:

makes 6 BIG Popovers
The Biggest Fattest Fluffiest Popover Recipe
The Biggest Fattest Fluffiest Popover Recipe is SO easy! Just a few pantry staples and a really great pan turn out the biggest, fattest, fluffiest popovers ever!
Ingredients
4 large eggs
1 1/2 cups milk
3/4 teaspoon salt
1 1/2 cups all purpose flour
3 tablespoons melted butter
Instructions
Warm the eggs by placing them UN-CRACKED in a medium bowl and cover with hot water (as hot as your tap will go). Let them sit for 10 minutes.
Preheat the oven to 450°F and move the oven rack to a low position (to prepare for huge popovers!). Grease the popover pan thoroughly inside each cup as well as around the top edges.
With your whisk, beat together the eggs, milk and salt until they are combined. The yolks should be completely blended in.
Add the flour and whisk until the mixture is frothy and all large lumps are gone. Then quickly stir in the melted butter.
Divide the batter between the prepared popover cups. They should be about 3/4 of the way full.
Bake the popovers for 20 minutes and then reduce the heat to 350°F. Bake for another 10 or 15 minutes. The popovers will be very golden brown.
My preference is to serve immediately and enjoy them warm!
Notes
Do not top off the cups! ONE POUR to 3/4 full. Topping off can prevent a full rise.
If you can help it DO NOT OPEN THE OVEN!
If your popovers are getting dark too quickly, you can move one of your oven racks up to the top and place a baking sheet on it to shield your popovers from the direct heating elements.
Recommended Products
As an Amazon Associate and member of other affiliate programs, I earn from qualifying purchases.
Nutrition Information:
Yield:
6
Serving Size:
1
Amount Per Serving:
Calories:

244
Total Fat:

10g
Saturated Fat:

5g
Trans Fat:

0g
Unsaturated Fat:

4g
Cholesterol:

144mg
Sodium:

390mg
Carbohydrates:

27g
Fiber:

1g
Sugar:

0g
Protein:

10g