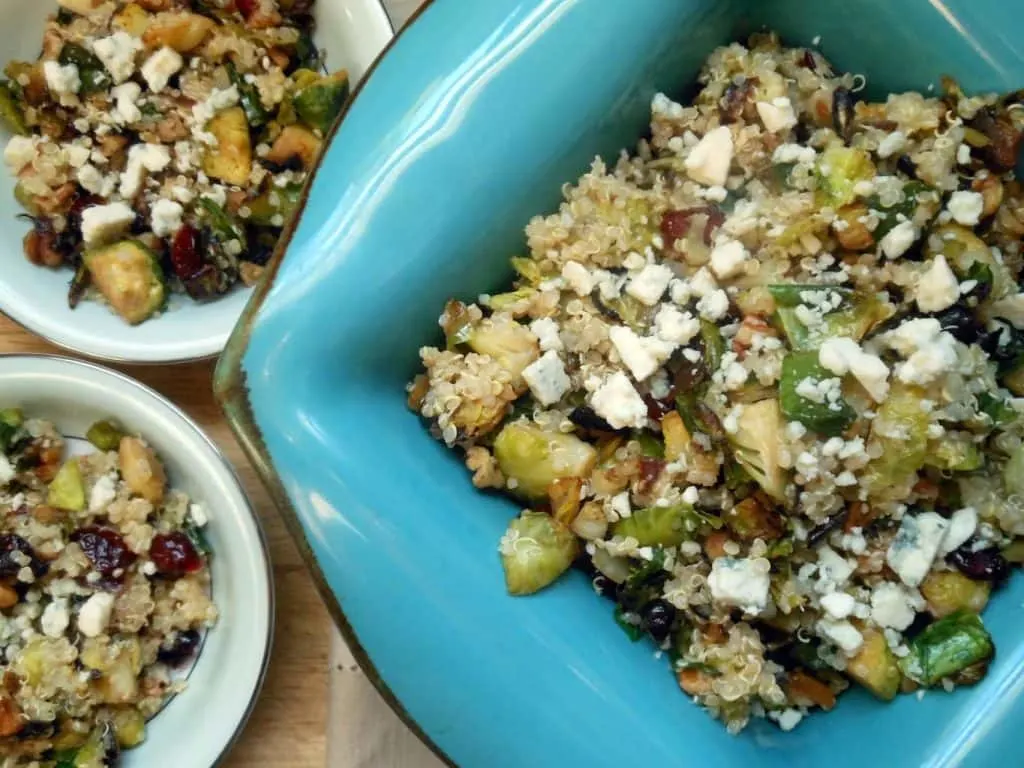 Remember my sister-Asheville-restaurant binge last week? Well.
We had dinner at a place called Posana Cafe. It's a farm-to-table posh kinda spot, so of course we ordered some things and then we all shared. My braised beef bourginon plate came with Brussels sprouts. One of my sisters ordered a warm quinoa salad that was full of pecans and cranberries, so of course some a that landed in the mish mash of food I taste tested my way through.
The warm quinoa salad invoked unanimous raves all around– especially mine that got all mixed up with the Brussels sprouts. I came home with the resolve to re-create the whole deal and then a funny thing happened a couple of days later.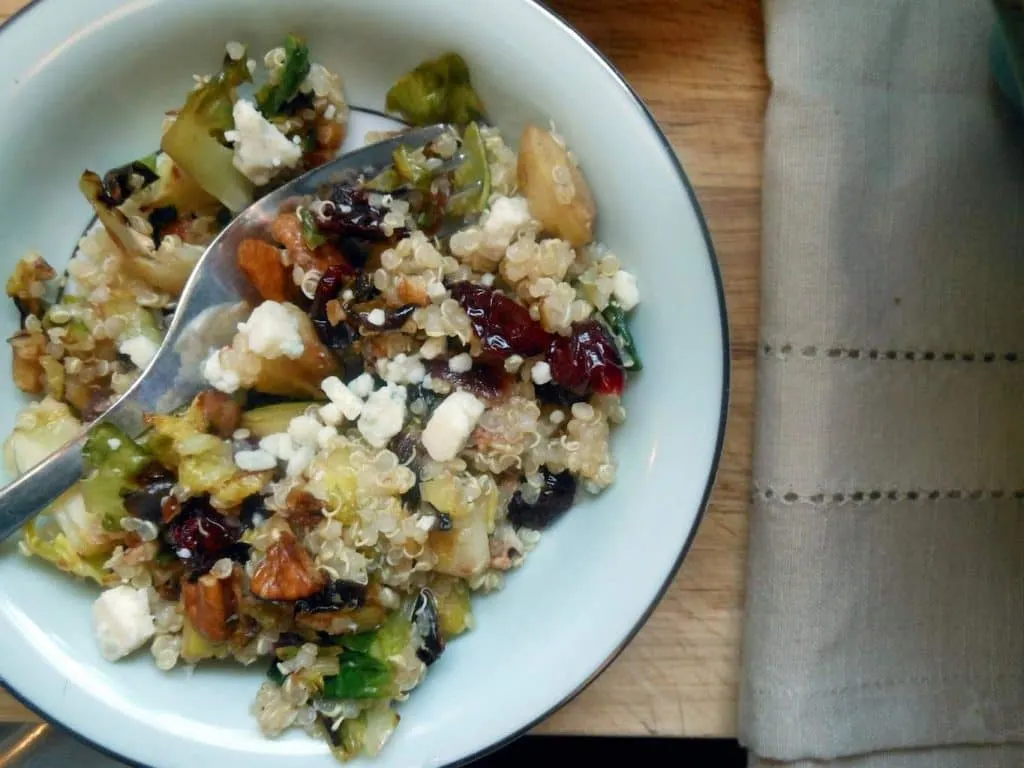 Deanna at SOLE Food Kitchen posted almost exactly the warm quinoa salad that I had on my mind. Except she used barley with her Brussels sprouts. Oh and lemon! Hers looks goooood.
This is my super quick and simple version of the inspiration I carried home from my mini-vacation dinner plate.

Warm Quinoa Salad with Brussels Sprouts + Pecans + Cranberries
Ingredients
1 tablespoon olive oil
½ cup red onion, chopped
12 ounces Brussels sprouts, trimmed and quartered
½ teaspoon kosher salt, more to taste
2 cups water
1 cup dry quinoa
½ cup chopped pecans
⅓ cup dried cranberries
¼ cup Gorgonzola cheese, crumbled, more to garnish
Instructions
Heat the olive oil in a medium skillet.
Add the onion and cook until soft, about 3 minutes,
Add the Brussels sprouts and salt. Set the heat to medium and stir.
Meanwhile, bring the water to a boil in a medium saucepan. Add the quinoa, reduce the heat to simmer, and cover. Cook for about 15 minutes, until all the liquid is soaked and you can fluff the quinoa with a fork.
Toss the pecans and cranberries into the Brussels sprouts, stir, and cook until the sprouts are tender, the cranberries soften a little, and the nuts get a bit toasty.
Remove from the heat and toss the Brussels sprout mixture with the quinoa. Add the cheese, stir, and then finish with a little sprinkle more of cheese.
Serve warm.
What's your favorite way to prepare quinoa?