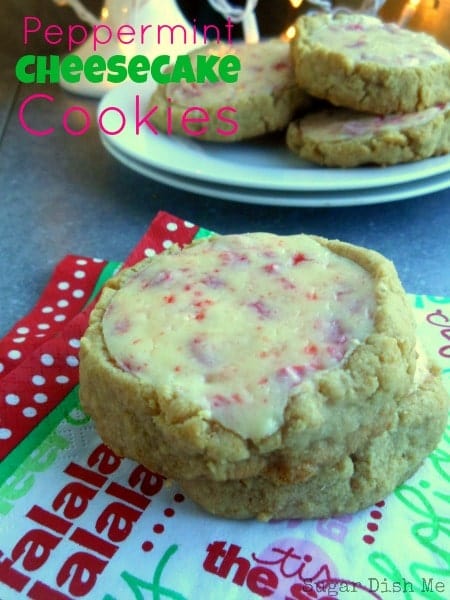 Clearly I am a tiny bit obsessed with peppermint.
I can't help it. I LOVVVEEEEE minty stuff all year round – ice cream, brownies, milkshakes – but at Christmas that little bit of red and white plus crunch makes me so super extra happy!
Every year I put peppermint cheesecake on my to-do list and every year it doesn't get made because Christmastime is crazy busy and I don't have hours to babysit a cake.
So.
I made cheesecake cookies!!!! And I have to say, these are a fan-freaking-tastic cheesecake substitute.
They have a buttery graham cracker crust — just like cheesecake! They are full of a rich, delicious cream cheese filling — definitely just like the real deal. I also added chopped Andes Peppermint Crunch Mints — I cannot get enough of those this season — but you could also use the baking chips to achieve the same effect. It's all delicious.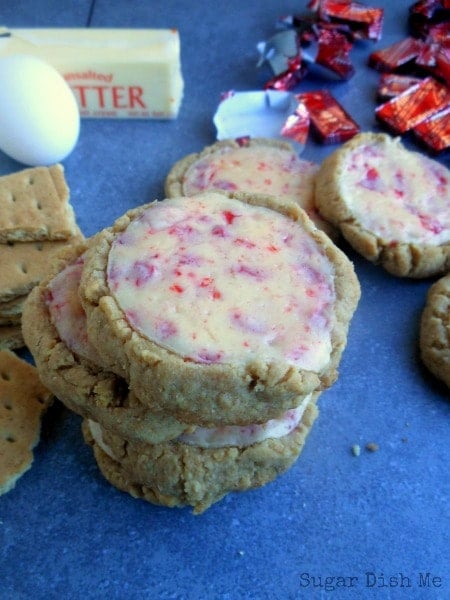 I had been told by the cookie monsters that these are the most amazing cookies in the whole world, which says a lot since they taste test every cookie. Serious cookie palates over here. If you have a cheesecake lover in your life, these are perfect.

Peppermint Cheesecake Cookies
No time to bake a cheesecake? Make these delicious holiday cookies! Graham Cracker Cookie Crust, creamy cheesecake filling and peppermint candy crunch! All the taste of traditional cheesecake in less than an hour!
Ingredients
1¼ cups finely crushed graham crackers (1 sleeve)
1 cup flour
1½ teaspoons baking powder
½ cup packed brown sugar
½ cup unsalted butter, softened
2 eggs, separated
8 ounces cream cheese, softened
½ cup granulated sugar
½ teaspoon peppermint extract
20 Andes Peppermint Thins, unwrapped and coarsely chopped (or use the Andes Peppermint Baking Chips!)
Instructions
Preheat the oven to 350°.
In a large bowl combine the graham cracker crumbs, flour, baking powder, and brown sugar.
Beat in the softened butter. The mixture will be crumbly. Add in the 2 egg whites (set the yolks aside for the filling) and beat for about a minute until combined. The mixture will still be crumbly and you will think I am crazy. It's fine. I promise.
Scoop 2 tablespoons of the crumbles into the palm of your hand. Squish them into a ball. The crumbs will stick together after you work with them for a second.
Place the balls of graham cookie crust on an ungreased cookie sheet an couple of inches apart. Press your thumb down in the center (like when you make thumbprint cookies) to make a little well. I flattened mine a pretty good bit and pinched my fingers around the edges to make what look like little cheesecake crusts. After the first one or two this will go really quickly.
In a large bowl, beat the cream cheese and sugar until smooth, for about a minute or two. Add the peppermint extract and the two yolks. Continue beating for about a minute. Fold in the chopped peppermint thins. Spoon the mixture into the little cookie crusts. You can fill them all the way up.
Bake for 12 minutes.
Let the cookies cool for about 5 minutes on the pan before moving to a rack to cool completely.
I like mine refrigerated!!!! I wrapped these and stored them in the fridge.
Recipe adapted from
Sandra Lee's New York Cheesecake Cookies