Triple threat! Slutty Peppermint Oreo Brownies are made with 3 layers of chocolate peppermint goodness — the perfect treats to celebrate the season. Chocolate chip cookie dough studded with crushed Andes mints, under a layer of Peppermint Oreo Cookies, and topped with my favorite quick from-scratch brownie batter! Make them happen.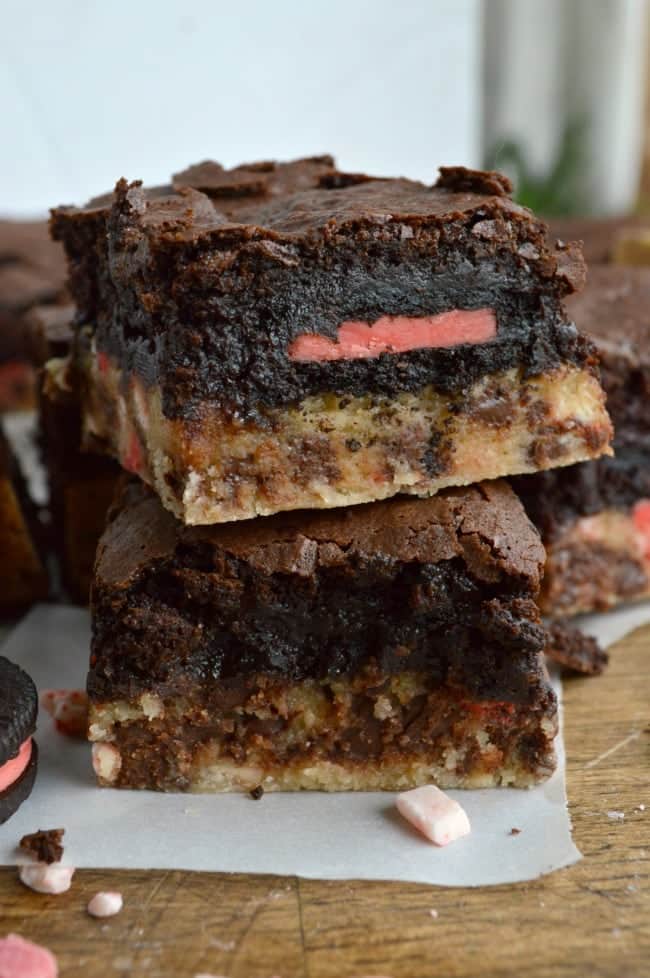 I received free product from Imperial Sugar, Dixie Crystals and Bob's Red Mill as part of The Sweetest Season Cookie Exchange. As always, all opinions and recipe are my own. Thanks for supporting the brands that support Sugar Dish Me!
Someone please take these brownies away from me before I hurt myself. GEEZ.
You will probably remember the Slutty S'mores Oreo Brownies from this past summer. I cannot stop myself from buying all the specialty seasonal Oreo cookies. Even the lemon and pumpkin spice. But if we are keeping it real, my main favorites are (and always will be) peanut butter and PEPPERMINT.
This time of year I crave all the peppermint things. And I had this whole other peppermint cookie recipe thing happening for today's Sweetest Season Giveaway. BUT THEN I remembered that if you don't go buy all the Peppermint Oreo Cookies RIGHT NOW, they will cease to exist until next year.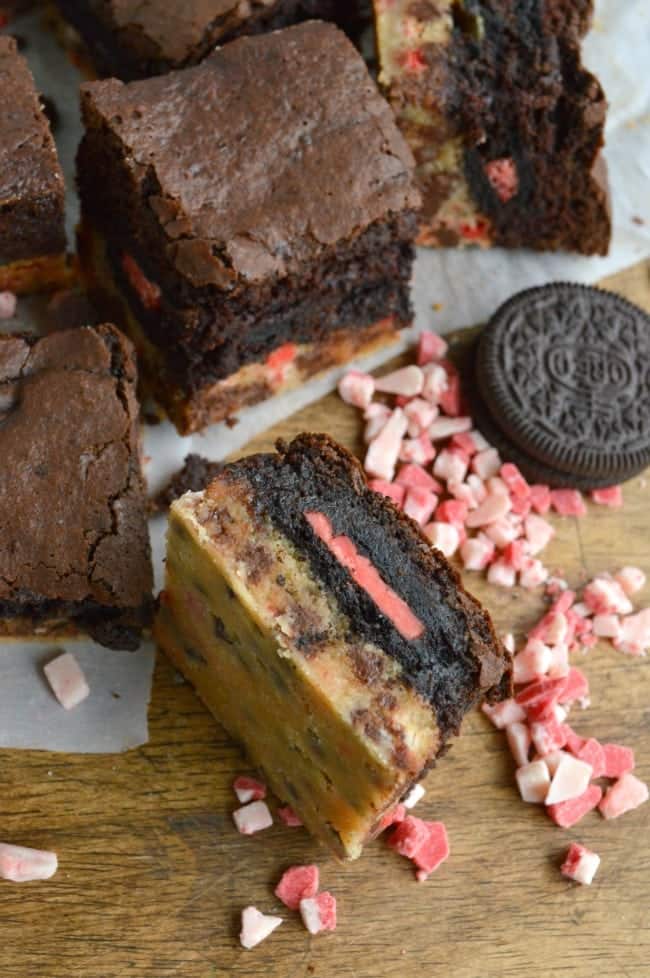 So GO. Get them. And make these Slutty Peppermint Oreo Brownies.
This recipe is straight forward and basic. You can cut some corners and use refrigerated cookie dough, but! You will need to let it soften a little so you can mix in the peppermint extract as well as the crushed peppermint Andes pieces. I used my Chewy Salted Chocolate Chip Cookie Recipe and did some switching with the extracts. Add a layer of the peppermint Oreos and top it with my Best Basic Brownie Batter. Again, you CAN use a mix, but in my tests a mix actually yielded too much batter. The Best Basic Brownie Batter is JUST the perfect amount.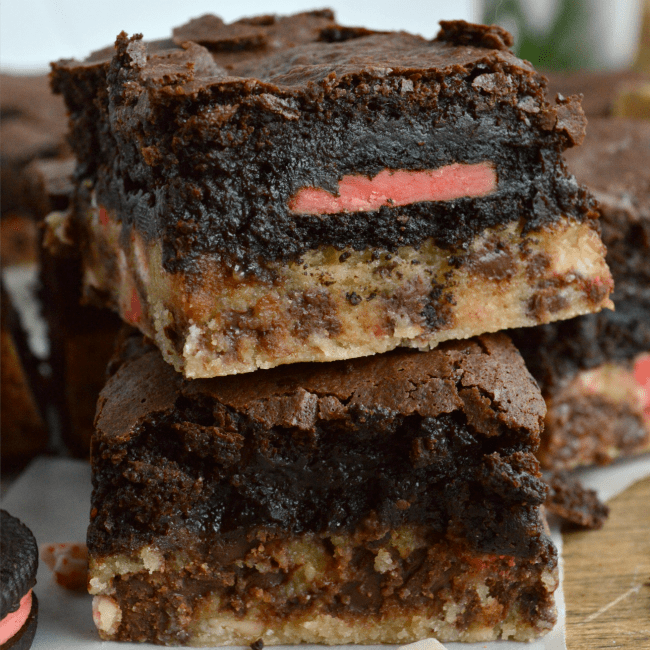 Printable recipe follows! Note that with the Chewy Salted Chocolate Chip Cookie Dough, the full recipe is a little too much for the pan. I just set about 6 tablespoon sized cookies aside and bake them. You can't go wrong.
Giveaway info is after the recipe. There's a mixer. Don't miss it!

Slutty Peppermint Oreo Brownies
Ingredients
**substitute 1 teaspoon peppermint extract + 1 teaspoon vanilla extract for the 1 Tablespoon vanilla in the original recipe
**1 cup Andes Crushed Peppermint Chips
16-20 Peppermint Oreo Cookies
1 recipe Best Basic Brownie Batter
Instructions
Line a 9 X 9 square baking pan with foil or parchment paper. Generously butter the paper. Preheat the oven to 325F.
Follow the preparation instructions for the Chewy Salted Chocolate Chip Cookie Dough, replacing the 1 Tablespoon of vanilla with 1 teaspoon peppermint extract + 1 teaspoon vanilla extract. Stir in the Andes Crushed Peppermint Chips with the chocolate chips. Press the cookie dough into the prepared pan.
Cover the cookie dough with a single layer of Peppermint Oreo Cookies (16 for an 8 X 8 pan; 20 for a 9 X 9)
Prepare the brownie batter and pour it over the top.
Bake for 30-35 minutes.
COOL COMPLETELY. Lift the foil or parchment from the pan, peel away from the edges, and slice with a good sharp knife. For pretty layered slices you might want to rinse the knife in hot water between cuts.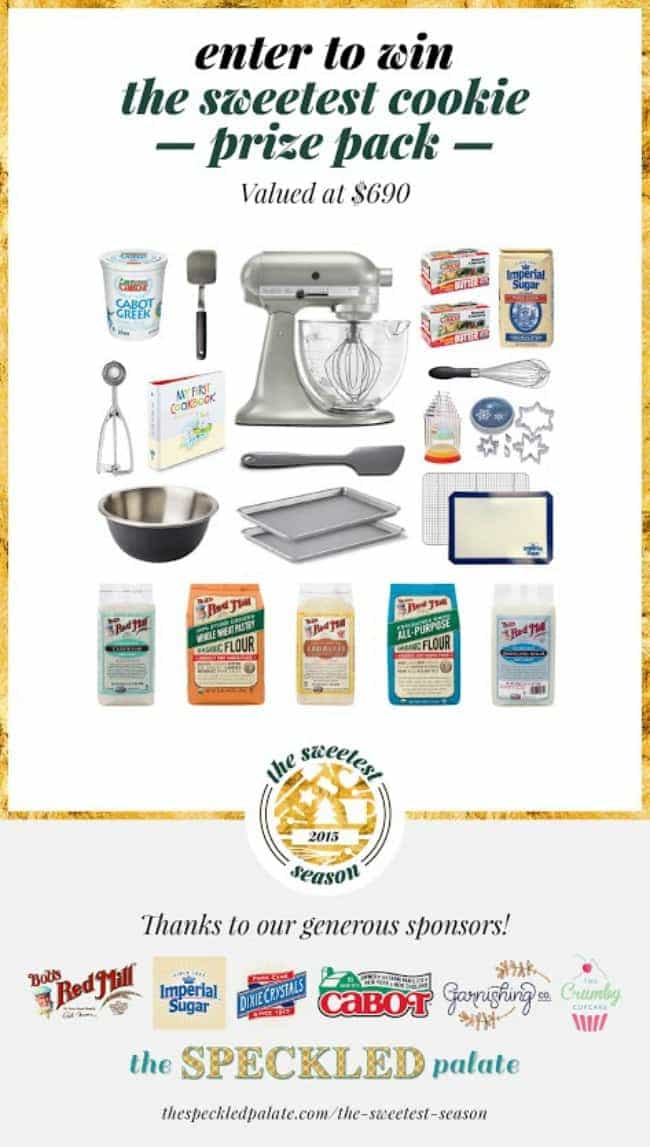 A whopping 51 bloggers teamed up to bring you an awesome cookie-centric giveaway! We picked out a stand mixer and other goodies to make baking this season go smoothly. And, a
big
thank you goes out to the generous sponsors who helped with The Sweetest Season by organizing, as well as providing products to the participating bloggers and donating some incredible prizes for our giveaway! Be sure to check out
Imperial Sugar
,
Dixie Crystals
,
Bob's Red Mill
,
Cabot Creamery
and
The Crumby Cupcake
for lots of great recipe ideas. And check out
Garnishing Co
., who designed our graphics.
We're giving away The Sweetest Cookie Prize Pack, and it is worth $690! See the Rafflecopter below to enter to win this amazing set of cookie baking goodies. The prize pack includes:
Enter the giveaway through the Rafflecopter widget below. Everyone gets a free entry! You can enter multiple times, up to 65 total entries by following the giveaway sponsors on social media. (If you've followed in the past, that counts! Just enter the information as prompted.) All entries will be verified. No purchase is necessary to win.

The giveaway is open until Saturday, December 19, 2015 at 11:59 p.m. CST. One winner will be chosen at random and e-mailed within 48 hours. Winners must claim prize within 48 hours of initial contact. The retail value of the prize is $690. Prizes listed above are the only ones available.

Open to U.S. residents with a valid shipping address only. Must be 18 years of age as of December 5, 2015.

To read all giveaway terms and conditions, visit the

giveaway terms and conditions page

or click the option in the Rafflecopter below to review them.