The Best Peppermint Oreo Brownies have 3 layers of made-from-scratch chocolate peppermint goodness; they are thick and chewy with a whole peppermint Oreo in the center!
Someone please take these brownies away from me before I hurt myself. GEEZ.
You will probably remember the S'mores Oreo Brownies from this past summer. I cannot stop myself from buying all the specialty seasonal Oreo cookies. Even the lemon and pumpkin spice. But if we are keeping it real, my main favorites are (and always will be) peanut butter and PEPPERMINT.
This time of year I crave all the peppermint things. BUT THEN I remembered that if you don't go buy all the Peppermint Oreo Cookies RIGHT NOW, they will cease to exist until next year.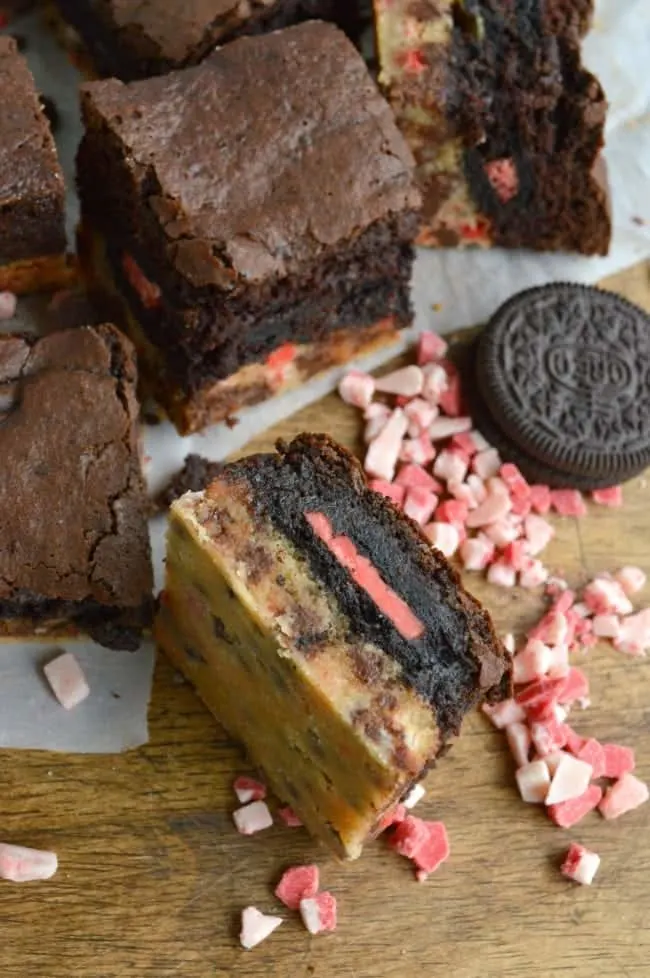 So GO. Get them. And make these INSANELY delicious layered Peppermint Oreo Brownies.
This recipe is straight forward and basic. You can cut some corners and use refrigerated cookie dough, but! You will need to let it soften a little so you can mix in the peppermint extract as well as the crushed peppermint Andes pieces. I used my Chewy Salted Chocolate Chip Cookie Recipe and did some switching with the extracts. Add a layer of the peppermint Oreos and top it with my Best Basic Brownie Batter. Again, you CAN use a mix, but in my tests a mix actually yielded too much batter. The Best Basic Brownie Batter is JUST the perfect amount.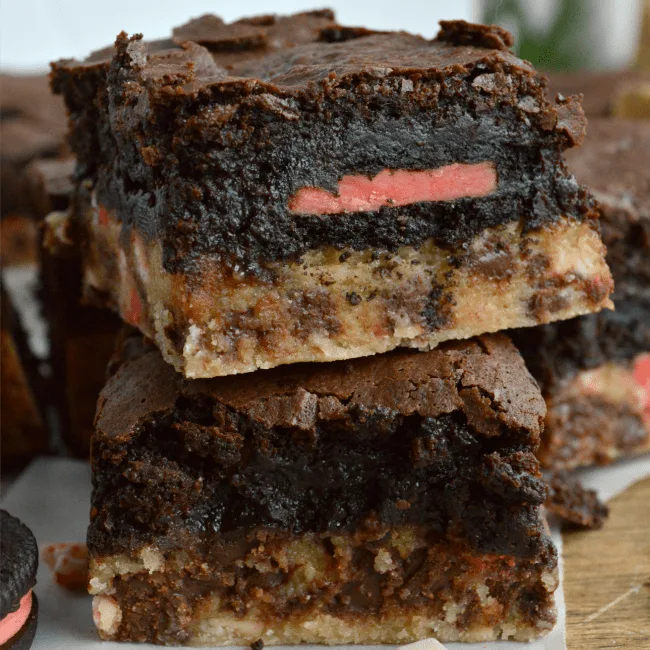 Printable recipe follows! Note that with the Chewy Salted Chocolate Chip Cookie Dough, the full recipe is a little too much for the pan. I just set about 6 tablespoon sized cookies aside and bake them. You can't go wrong.
Yield:

16-20 brownies
The Best Peppermint Oreo Brownies
Ingredients
**substitute 1 teaspoon peppermint extract + 1 teaspoon vanilla extract for the 1 Tablespoon vanilla in the original recipe
**1 cup Andes Crushed Peppermint Chips
16-20 Peppermint Oreo Cookies
Instructions
Line a 9 X 9 square baking pan with foil or parchment paper. Generously butter the paper. Preheat the oven to 325F.
Follow the preparation instructions for the Chewy Salted Chocolate Chip Cookie Dough, replacing the 1 Tablespoon of vanilla with 1 teaspoon peppermint extract + 1 teaspoon vanilla extract. Stir in the Andes Crushed Peppermint Chips with the chocolate chips. Press the cookie dough into the prepared pan.
Cover the cookie dough with a single layer of Peppermint Oreo Cookies (16 for an 8 X 8 pan; 20 for a 9 X 9)
Prepare the brownie batter and pour it over the top.
Bake for 30-35 minutes.
COOL COMPLETELY. Lift the foil or parchment from the pan, peel away from the edges, and slice with a good sharp knife. For pretty layered slices you might want to rinse the knife in hot water between cuts.