Homemade buns that are perfect for piling high with cold cuts, veggies and condiments, and also make the best burger buns! Carrot and Cheddar Sandwich Rolls are speckled with shaved carrots + shredded cheddar, and my favorite to use for leftover ham.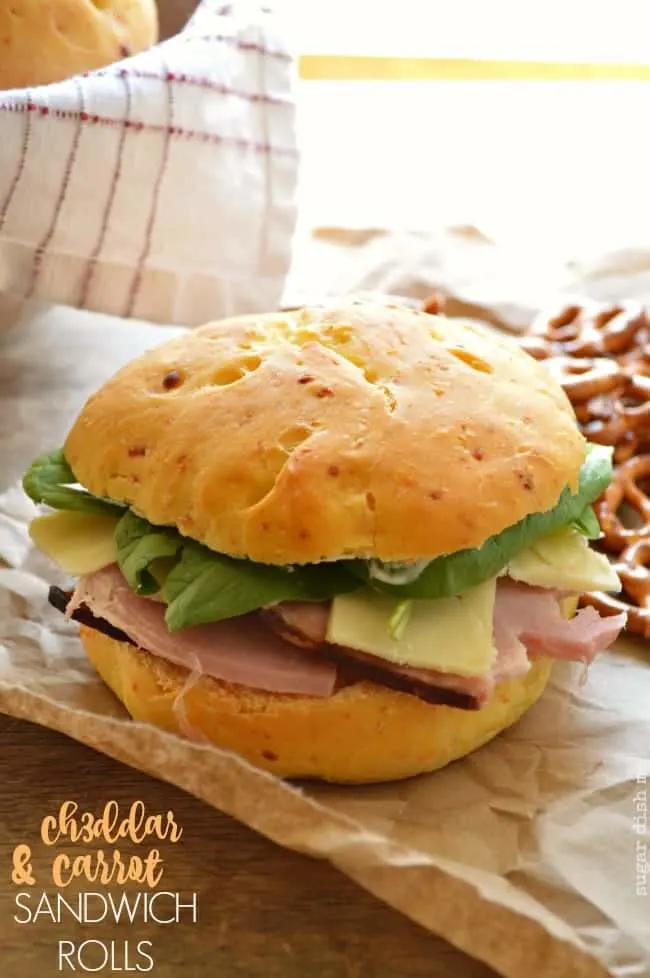 Are you up to your eyeballs in plastic eggs stuffed full of chocolate candies and dye that smells of vinegar?
Are you elbow deep in a vat of potato salad?
Have Jell-O molds taken over your refrigerator?
Is your apron smeared with deviled egg?
Easter is about to happen, people. And typically Easter means HAM. Ham means sandwiches. Oh sweet hammy sandwiches with a smear of delightfully spicy mustard… I look forward to them every year.
This year my mom and I are putting together brunch for our family. Oatmeal pancake and strawberry skewers, bacon & egg muffins, breakfast casserole, fruit salad, deviled eggs, chocolate, chocolate, and chocolate. Today I learned that our brunch is hamless.
HAMLESS.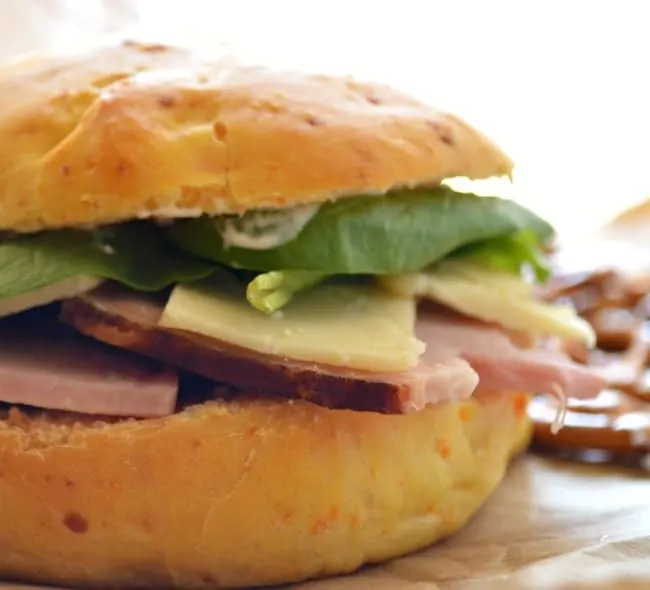 As a holiday food traditionalist I'm a little bit depressed.
Because the best part of a holiday feast is the leftovers. Slices of ham piled high on a paper plate, all covered in plastic wrap for the ride home, that starts beckoning you to layer it on a sweet roll with a spoonful of strawberry pretzel salad at it's side. Scraps that add some salty love to your day after omelette or flavor your green beans the next night. Sigh.
For those of you that are not doing without ham, I've a worthwhile task to add to your Easter to-do list:
Super soft and smooth sandwich rolls speckled with shredded carrots and cheese. A little work. A LOT of payoff!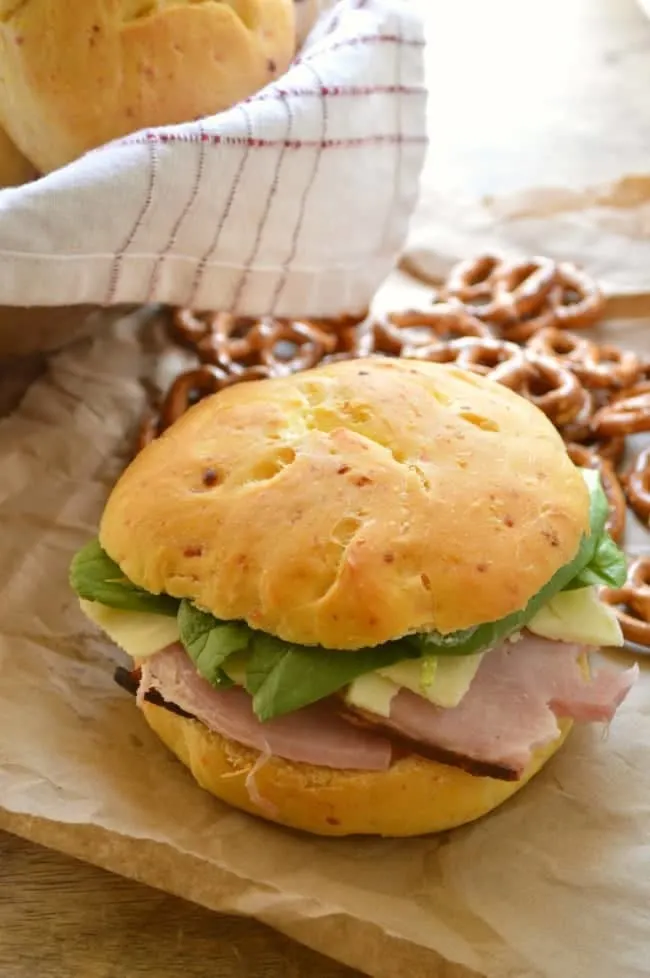 Carrot and Cheddar sandwich Rolls
Ingredients
1 cup warm water (check your active dry yeast for the recommended temperature)
1 cup warm milk (heated to the same temperature as the water)
2 (1/4 ounce each; 4½ teaspoons total) packages of active dry yeast
2 teaspoons granulated sugar
1½ teaspoons salt
1 cup finely shredded carrots
1 cup shredded cheese
¼ cup cold butter, grated
1 teaspoon orange zest (optional)
1 egg, lightly beaten
5½ cups bread flour, plus more for dusting the work surface and kneading
Instructions
Pour the water and milk in a large bowl. Dissolve the yeast and sugar in the warm liquid.
Add the salt, carrots, cheese, shortening, orange zest and egg. Stir well.
Add 3 cups of the bread flour. Stir until moist and then for about 3 more minutes.
Add 2 – 2½ cups of bread flour continue to stir by hand until the dough pulls away from the side of the bowl. Turn it out onto a well floured surface and knead for about 10 minutes, adding more flour as needed. You want the dough to be smooth and silky.
Place the kneaded dough into an oiled bowl and loosely cover with a clean kitchen towel. Let it rise for 45 minutes to an hour; It will have at least doubled in size.
Punch the dough down to remove the air and divide into 18 pieces. Roll each piece into a ball.
Grease two cookie sheets and place 9 rolls on each. Cover the rolls with clean kitchen towels and let them rise for another 30 minutes while you preheat the oven to 375.
After the rolls have risen, bake them for 13-18 minutes, until golden brown.
Notes
Prep time includes 45 + 30 minutes of rise time. Active prep time is only about 15 minutes.
recipe slightly adapted from
Pillsbury
Wanted: Easter Ham. Will bake fresh bread in lieu of payment. May consider trading one chocolate bunny. But maybe not.