These Baked Honey Mustard Ham sandwiches are made on sweet Hawaiian rolls and are topped with a delicious poppy seed onion dressing. Easy to make, great for showers and brunches, Baked Honey Mustard Ham Sandwiches are a traditional and totally addictive little recipe!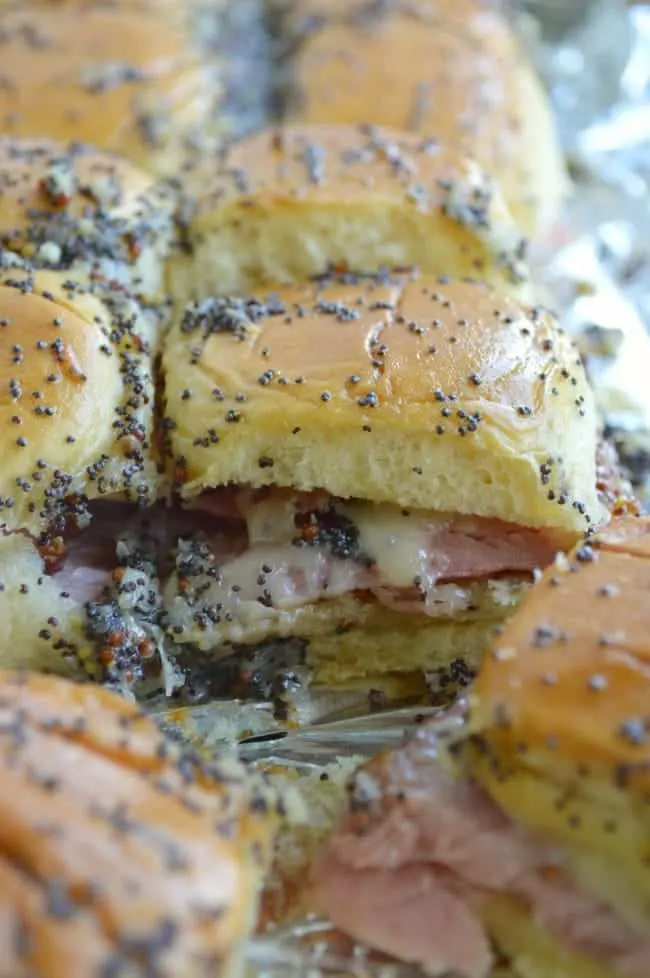 I love a good ham sandwich! And these baked ham sandwiches remind me of church ladies, finger food buffets, awesome pink punch, and baby showers. Baked Honey Mustard Ham Sandwiches are a southern picnic favorite.
Not long ago I catered a baby shower for a friend – a sweet, beautiful, wonderful friend that that is going to have a sweet, beautiful wonderful baby girl!
Truth be told, I am no kind of baby shower pro. I was pretty well flying by the seat of my pants with this one.
So I did what all people should do when they need to know something about somebody: I raided her Pinterest boards. Pinterest boards will instantly tell you what a person likes or wants or needs. Because we all need an infinity pool and an awesome door that leads to a playhouse under the stairs.
You can totally look at my Pinterest boards and see when I want chocolate or when the color blue is talking to me. Some days I'll pin all the things covered in bacon and cheese. Okay most days.
And some days I like healthy recipes. Kind of.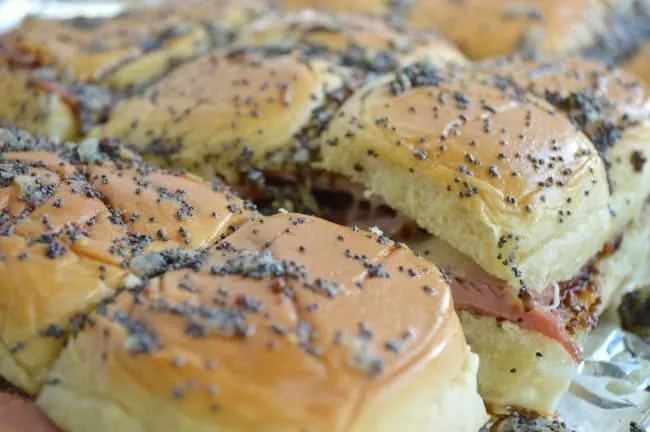 So anyway.
Sorting through my friend's pinned recipes pointed me in the right direction. And more than once that direction was ham sandwiches on sweet Hawaiian-style rolls.
These sandwiches remind me of the finger-food buffets hosted by our church when I was a kid. Some cute little lady always made a pile of ham sandwiches on Hawaiian rolls and I would snatch one every time. But cute little church ladies like to use yellow mustard. I have a secret: I hate yellow mustard. Passionately. Ew.
I loooove Dijon honey mustard though. Especially when I make it myself. So I took the church lady ham sandwiches and just sort of tweaked them into fancy (okay not fancy) good-enough-for-my-gorgeous-friend's-baby-shower sandwiches. Yellow mustard: step aside.
And hey! How perfect are these for Thanksgiving or Easter ham leftovers?! Just saying.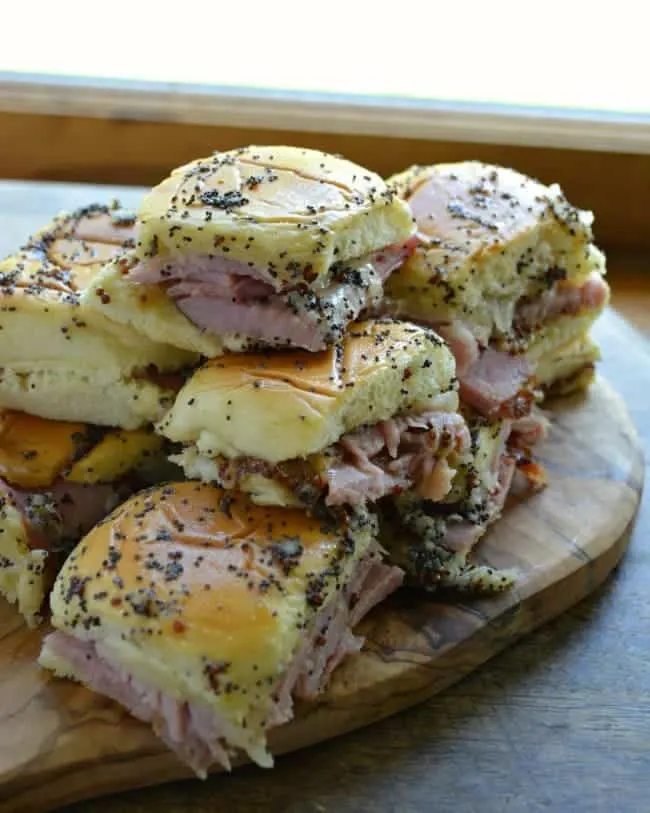 This is a pile of sandwiches I can 100% get down with.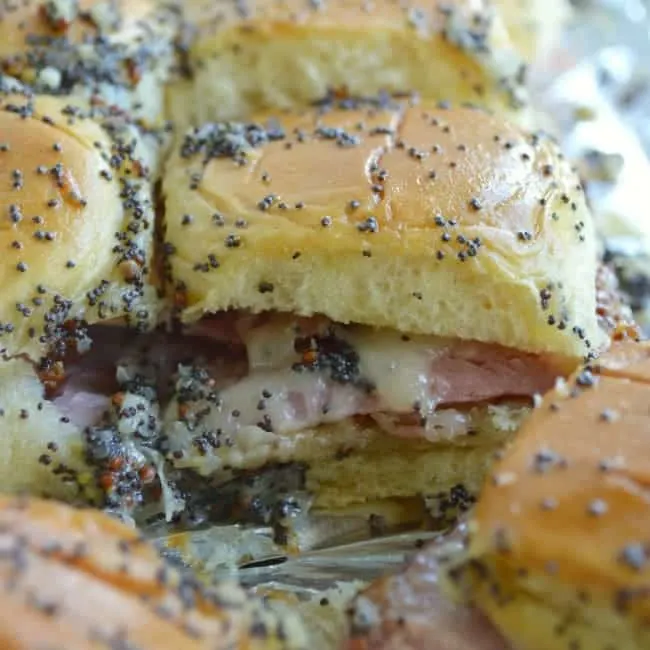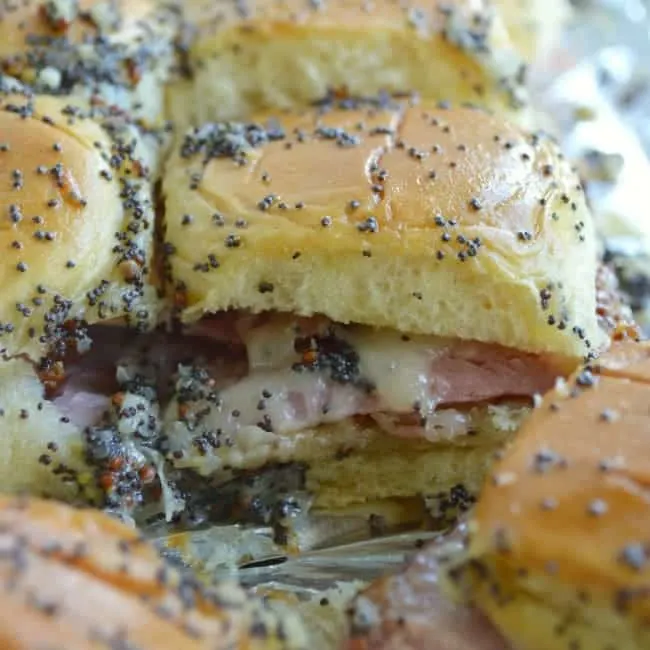 Yield:

12 little sandwiches
Baked Honey Mustard Ham Sandwiches
Delicious ham sandwiches on sweet Hawaiian rolls with cheese, honey mustard, and a buttery poppy seed dressing.
Ingredients
For the Sandwiches:
1 package (of 12) sweet Hawaiian-style rolls
1 1/2 pounds thick-sliced cooked ham, in small pieces
1 1/2 cups shredded cheese (pictured: cheddar; also delicious: Swiss)
For the Honey Mustard:
3 tablespoons Dijon mustard
3 tablespoons honey
1 tablespoon mayonnaise
For the Buttery Poppy Seed Sauce:
1 tablespoon grated onion
1 1/2 teaspoons poppy seeds
1 tablespoon Dijon mustard
1/2 teaspoon Worcestershire sauce
4 tablespoons melted butter
Instructions
Preheat the oven to 350. Line a baking sheet or dish with foil.
Slice the rolls in half. Instead of breaking them apart, I just slice them as one big piece and pull them apart after baking.
Mix together the mustard, honey, and mayonnaise to make the honey mustard. Spread the honey mustard on both sides of the bread.
Layer the bread with the ham and cheese. Put the top half of the bread on top of the ham and cheese and place the whole thing on the prepared baking sheet.
For me, the easiest way to make the Buttery Poppy Seed Sauce is to place all of the ingredients in a jar, screw on the lid, and shake until evenly combined.
Pour the sauce over the sandwiches.
Bake for 12 minutes, or until the cheese is melted.
Serve warm.
Nutrition Information:
Yield:
12
Serving Size:
1
Amount Per Serving:
Calories:

215
Total Fat:

14g
Saturated Fat:

6g
Trans Fat:

0g
Unsaturated Fat:

5g
Cholesterol:

63mg
Sodium:

849mg
Carbohydrates:

7g
Fiber:

0g
Sugar:

5g
Protein:

17g
P.S. make sure to eat these with good friends so you have someone to ask about the poppy seeds in your teeth.
Love ham? Try this: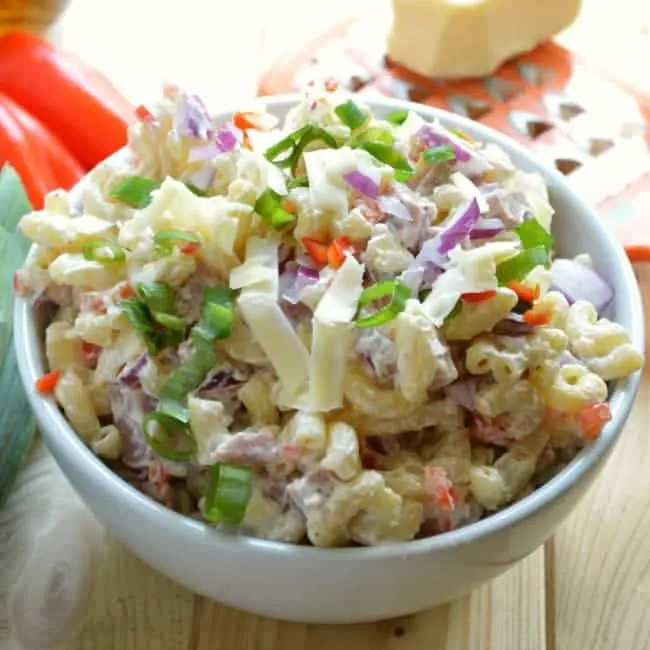 Creamy Ham and Cheddar Pasta Salad is awesome for pot lucks and barbecues or just when you feel like eating lunch out of a container in the fridge.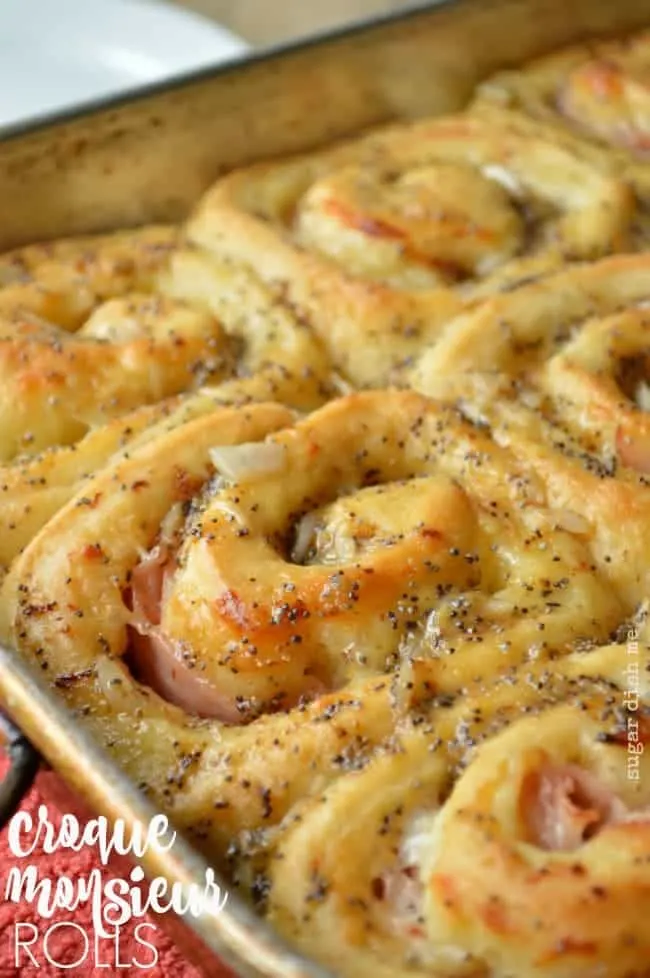 Croque Monsieur Rolls are stuffed with ham and cheese and have a similar dressing. They are pretty dang amazing.