I think that maybe this is so easy that it doesn't actually count as a recipe, but that did not stop me from patting myself on the back when I stacked a plate full of these fun snacky treats one afternoon.
And it did not stop my very flattering friends for telling me cheese on apples on cream cheese was genius.
They are kind of biased about these kinds of things.
But really– cheese on apples on cream cheese is a necessary thing.
Also I wish we had not eaten all the little mini bagels right now because I could go for a snack. I am actually writing this post ahead of time which, if you know me, you know that NEVER happens.
I am so in charge of all procrastination. I cook ahead of time, photograph ahead of time, and then wash tons of dishes. I'm pretty sure it's because these three tasks can be handled while I blast my latest back-to-back episodes of something on TV or turn Pandora radio to an unacceptable volume. Getting words that make sense to appear on the screen while I am clearly very busy with the new season of The Good Wife is probably not happening. Measuring flour? Yes.
Proper grammar? No.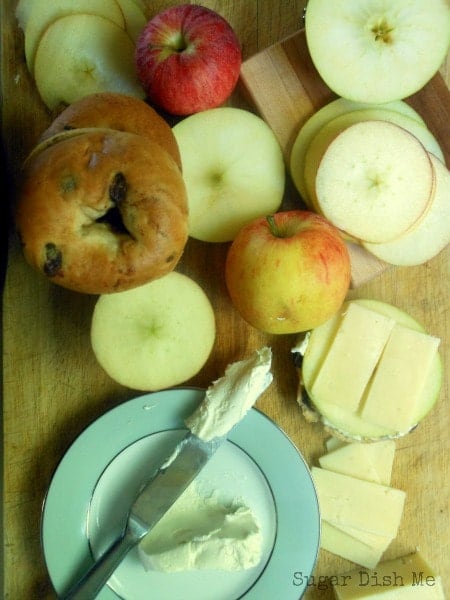 Anyway. I am actually ahead of schedule because roofers are supposed to descend on my tiny little tin can house so I will have to abandon ship and be someplace else in the morning. Technically I could be home but I don't think I could handle it. Vagrant working!!!
I think I might land at Starbucks.
Do you think they would make me one or two of these?

Apple Cheddar Bagel Snack
Best. Snack. Ever.
Ingredients
mini cinnamon raisin bagels
plain cream cheese (I go with light because I never notice the difference)
crisp apples, sliced into rings (see note) I chose Rusty Golds and Pink Ladies
sharp white cheddar cheese (I used Cabot's Sharp Light w/50% less fat)
Instructions
Toast the bagels ( I actually split them and lay them face down on a baking sheet and toast them all at once in the oven at about 375).
Spread the toasted bagels with cream cheese.
Lay an apple slice on the cream cheese.
Place sharp cheddar slices on top of the apples.
Eat.
Repeat.
Notes
Wash the apples and lay them on their sides. Cut straight through the middle. Then cut thin slices from the fattest part of the apple towards the ends of each half piece. The seeds will fall right out and you'll have that pretty star-like pattern in the middle.