Perfect little squares of dense custardy cake topped with Cinnamon Ginger Cream Cheese Frosting. Applesauce Snack Cake is the perfect little afternoon snack for kids and grown ups alike.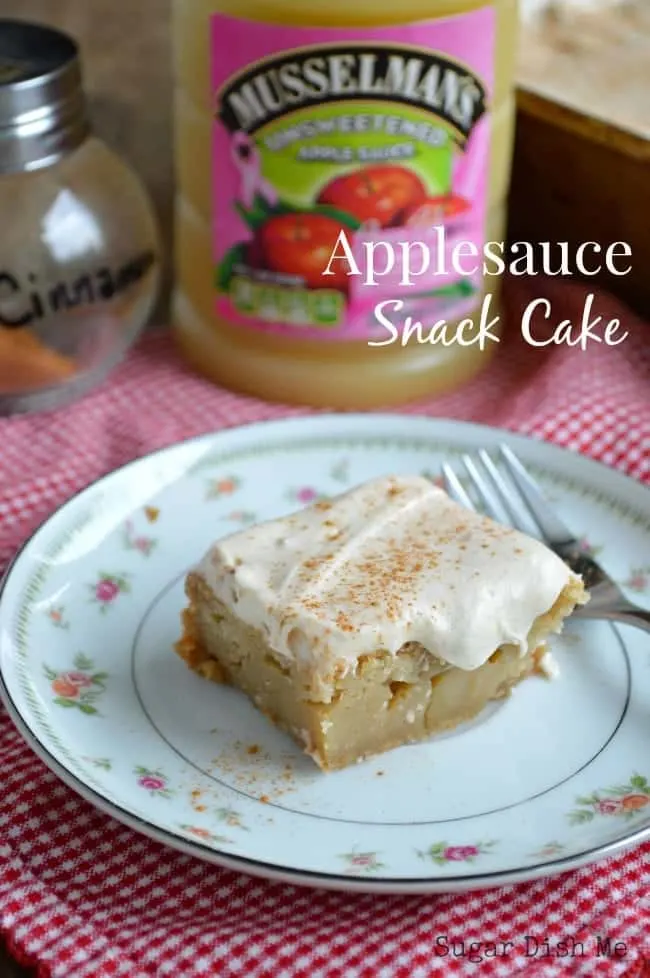 This post was sponsored by Musselman's Apple Sauce, but the original recipe and all opinions are my own.
So I don't know about you, but calling something a snack cake as opposed to a cake cake makes me feel better about eating it. Kind of like when I add oatmeal to the cookies. Oatmeal > Butter = Healthy-ish <– food math
With this particular cake though, feeling better about eating it is more than just a made up equation of words. Applesauce Snack Cake has two whole cups of unsweetened applesauce goodness that give it a flavor and texture you will L.O.V.E.
You guys know about the Applesauce Swap, right? It is one of the easiest changes you can make to lighten up a recipe. You can use it to replace the oil in muffins or a box of brownie mix. You can swap it for the oil in a cake mix. You can even use it in bread. I used applesauce to replace butter and bananas in this cake recipe that I think is one of my favorite things I've ever made.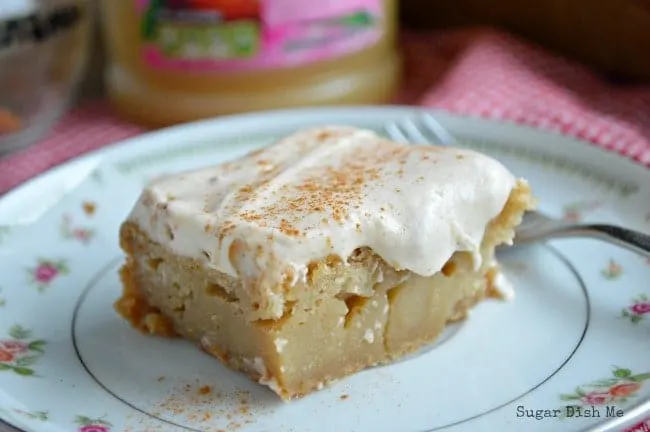 I started with that trusty banana bread recipe I've been making since I was a kid — the one that morphs into all kinds of good treats — and I changed a little of this and a little of that. The resulting cake is this almost bar-like little square of wholesome appley custard that is unbelievably delicious. I topped it with a thick layer of cream cheese frosting spiced with cinnamon and ginger, and every bite tastes like a perfectly crisp cool fall day. I actually can't put into words how much I love this cake.
Because of the unsweetened applesauce in the recipe I did use sugar in the cake, and of course the frosting, but if you are well versed in sugar substitutes for baking you could definitely try that if you'd like to lighten things up more. I can't get down with alternative sweeteners. It's just not my thing. And normally I am the biggest advocate of using real butter in baking, but the applesauce swap is a game-changer. This cake is snack-altering.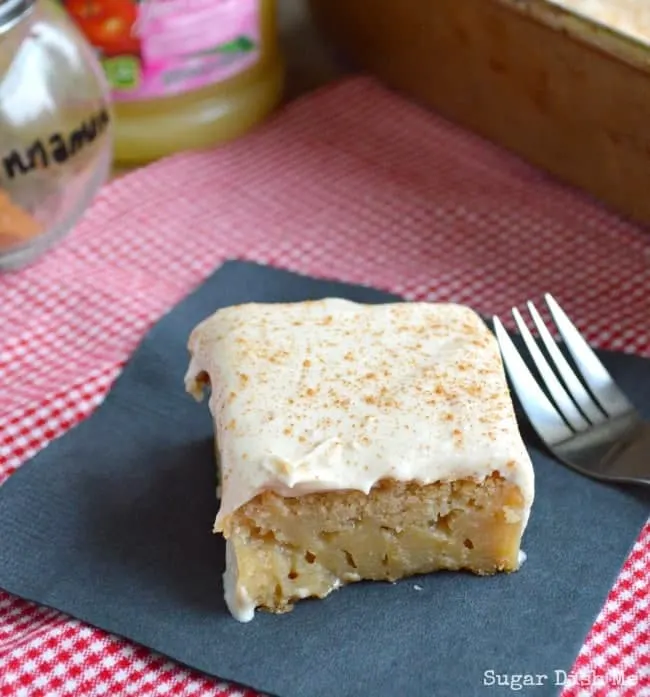 You can alter your own snacks by leaving me a comment below telling me how you like to use applesauce in your kitchen! Musselman's will send one reader a pack of their new Big Cup Original Applesauce, along with some terrific recipe cards and a swap chart helping you to work out the applesauce swap.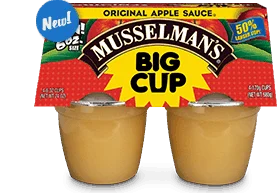 Applesauce Snack Cake
Moist custard-like sheet cake that mixes up easily like a quick bread and uses 2 whole cups of applesauce. Topped with a Cinnamon Ginger Cream Cheese Frosting, this Applesauce Snack Cake is a delicious bite of fall flavor.
Ingredients
For the Cake:
2 cups all purpose flour
1 teaspoon baking soda
1 teaspoon cinnamon
½ teaspoon salt
1⅓ cups granulated sugar
¼ cup vegetable oil
2 eggs
2 cups Musselman's Unsweetened Applesauce
2 teaspoons vanilla
1 cup buttermilk
For the Frosting:
8 ounces Neufatchel (1/3 fat) cream cheese, softened
4 tablespoons unsalted butter, softened
3 cups powdered sugar
1 teaspoon vanilla
2 tablespoons milk or cream
1 teaspoon cinnamon
½ teaspoon ground ginger
Instructions
Preheat the oven to 375. Butter (or spray with nonstick cooking spray) a 9 X 13 cake pan.
In a medium bowl whisk together the flour, baking soda, cinnamon, and salt.
In a large bowl whisk together the sugar and vegetable oil. Then beat in the eggs. Stir in the applesauce and vanilla. Add the flour in thirds, alternating with the buttermilk and stirring well with each addition.
Spread the batter into the prepared pan and bake for 30 minutes. A knife inserted into the center will come out clean.
While the cake cools make the frosting. Beat together the cream cheese and butter until it's nice and fluffy. Add in the powdered sugar 1 cup at a time, mixing well after each addition. Mix in the vanilla and milk or cream to keep things moving. Add the cinnamon and ginger and beat the frosting on high for another minute.
Frost the completely cooled cake and sprinkle the top with just a dash of cinnamon.
This cake can be served at room temperature the day you make it but is even more delicious if refrigerated before serving. Store tightly wrapped and keep refrigerated.
For more great ideas be sure to follow Musselman's on the
web
,
Facebook
, and
Pinterest
. Use and follow #AppleSauceSwap for lots of delicious lightened up ways to use apple sauce in your recipes!