Buttery pound cake loaded up with mashed bananas, chocolate chips, and topped with rich chocolate ganache spiked with Bailey's Irish Cream. Bailey's Banana Chocolate Chip Pound Cake is a perfect decadent treat to pair with your Irish coffee.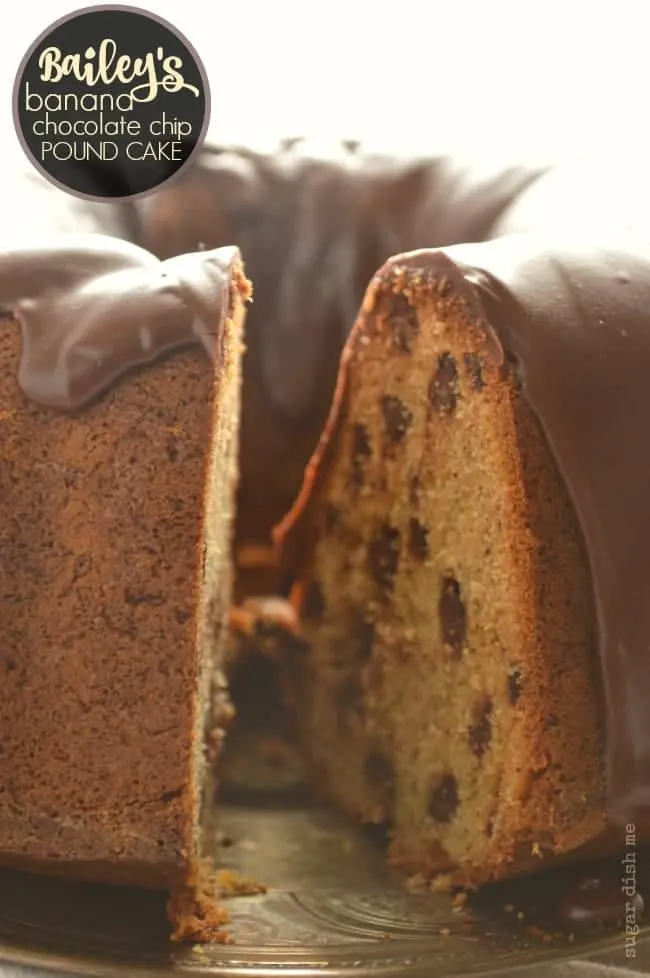 So… I sort of took a break. I wish I could say that I took time off, but I didn't. I'm as busy as I've ever been but I have put off new recipes because… I was feeling like I was out of words to say. Which is weird because if you guys had to hang with me in real life you'd know I'm a talker.
It's just that finding 400 ways to tell you that bailey's Banana Chocolate Chip Pound Cake is awesome can get a little tedious. It IS awesome, don't get me wrong. We will for sure cover that. But…
I want to tell you guys about some of the fun rescue events I have coming up (and the food we are making for one of them OMG). And I want to tell you about wedding planning. Because eeeeeeee!!!! we are getting married!! And so far the budget wedding planning has been really pretty fun (is that weird? Am I supposed to be stressed?). Then there's the house stuff. Chad built me a mantel for our fireplace, and a cool shelf for my work stuff, and we are about to explode the basement. I seriously need to talk all about it.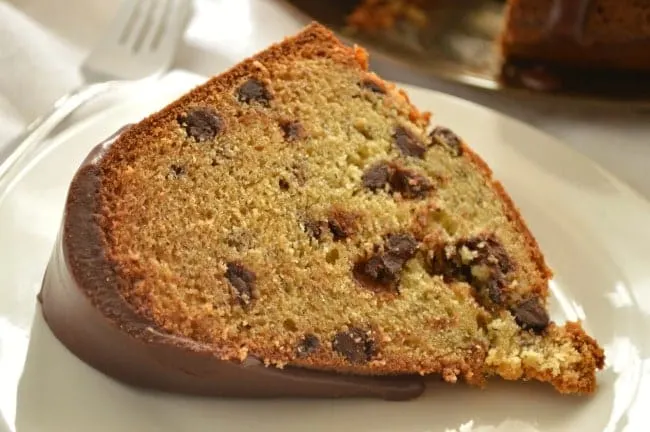 Also dogs. I know you guys know I have 100000 words to say about dogs. So anyway. I'm working on a plan to work all these words out. Here. With you.
Isn't that fun? Yes? are you nodding with a strange cringe on your face because you really just came for cake?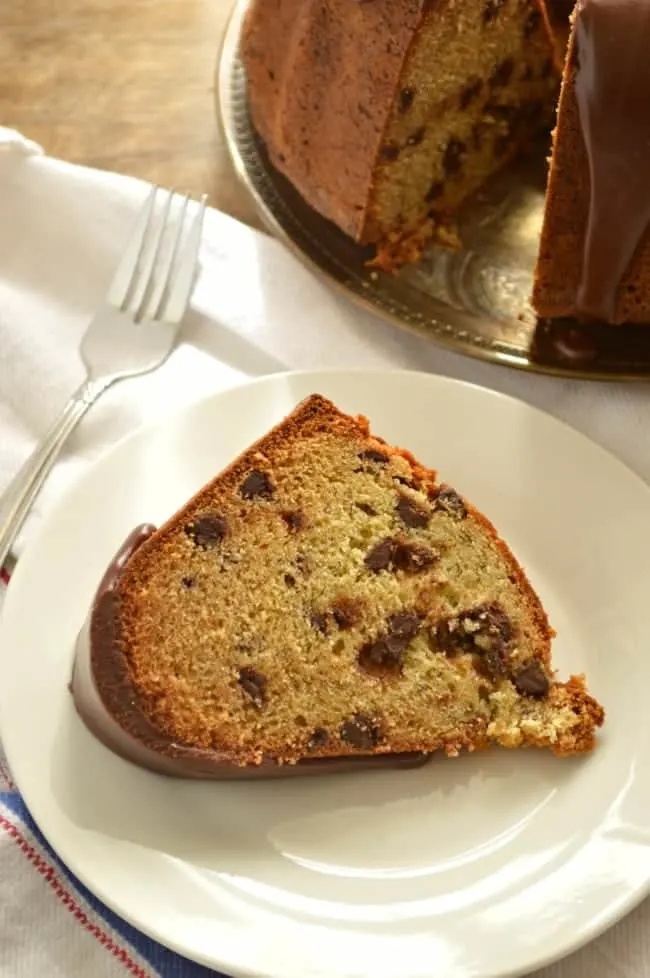 There will still be lots of cake. Don't worry.
This Bailey's Banana Chocolate Chip Pound Cake was inspired by these Bailey's Irish Banana Cupcakes that I made a few years ago. They are always a hit. And this cake was, too! The pound cake is dense and buttery with 2 whole cups of bananas. Can you say moist? Is that still a word everyone hates? Is there a better word for awesome cake? Have I said 'awesome' 43 times in the body of this post?
Anyways. There's bananas. And chocolate chips. A whole bag. The ganache is my new fave though. It's sort of like a poured fudge frosting, all spiked with Bailey's Irish Cream liqueur. Loving it.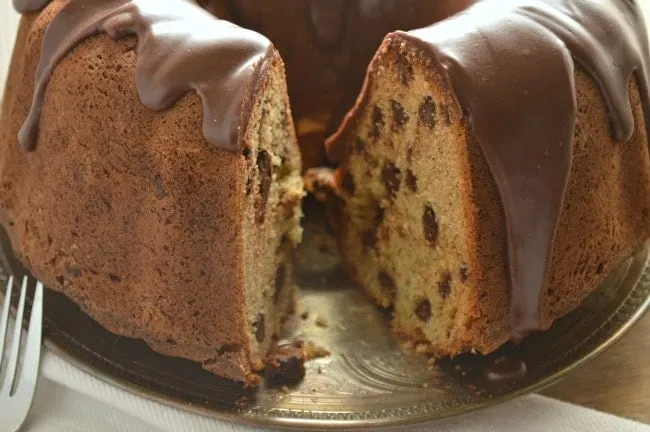 Bailey's Banana Chocolate Chip Pound Cake
Ingredients
1 cup butter, softened
2 cups granulated sugar
4 eggs
1 teaspoon vanilla
4 cups all purpose flour
4 teaspoons baking powder
1 teaspoon baking soda
½ teaspoon salt
2 cups (about 4 medium) very ripe mashed bananas
2 cups (a 12 ounce pkg) of semi sweet chocolate chips
For the Ganache:
¼ cup semi-sweet chocolate chips (or about 3 ounces of chopped dark chocolate)
2 tablespoons butter
¾ cup confectioner's sugar (more to taste/texture)
3-4 tablespoons Bailey's Irish Cream Liqueur (more as needed to reach desired texture)
½ teaspoon vanilla
Instructions
Preheat the oven to 350°F. Generously butter and then flour a 10-inch bundt (fluted tube) pan.
Cream together the butter and sugar until light and fluffy. Add the eggs, one at a time, beating well after each addition.
In another bowl whisk together the flour, baking powder, baking soda, and salt. Add it in thirds, mixing between each addition, and alternating with the mashed bananas.
Stir in the chocolate chips and pour batter into the prepared cake pan. Bake for 60-65 minutes (I was at 65 minutes all the way; be sure to test for doneness with a toothpick).
Let your cake cool completely before turning it out of the pan.
To make the ganache, melt the chocolate chips and butter in a small sauce pan over low heat. Remove from the heat and stir in the powdered sugar a little at a time, alternating with the Bailey's. The powdered sugar will make the frosting thick like fudge; the Bailey's will give it a smooth, pourable consistency. Stir in the vamilla and pour the ganache overthe cooled cake. Let the ganache set up, slice, and serve.