Blueberry Lemon Muffins are buttery and tender, loaded with lemon zest and fresh blueberries. The streusel topping will remind you of your favorite coffee shop muffins!
This recipe was originally published in 2013. I've updated the photos and slightly edited the instructions, but the results are the same – fluffy, soft muffins, scented with lemon, topped with streusel, and loaded with fresh blueberries. You HAVE to try these Blueberry Lemon Muffins!
Did you know that in order for a blueberry bush to produce, you have to plant two bushes, each a different variety? I had no idea. Obviously I'm not much of a farmer.
Or much of a gardener.
I'd like to tell you that I am responsible for growing these berries, but that would be the tallest tale. I like to reserve my extreme exaggeration for stories about my kids or a recap of my most recent source of public irritation. Let's say, for example, we are having a family birthday party at my mom's house on the lake.
And while the whole family is in the yard, some complete strangers on a dinky fishing boat just float on up to the dock and decide to hang out and fish awhile. And stare at our family birthday party. And be weird.
It's like the lake front equivalent of driving to a neighborhood you don't live in, parking in front of a house you've never been to, and then loitering on the curb with a cooler of beer. Except with fishing poles.
I'm convinced that these guys MUST be related to the weirdos that wander uncrowded public beaches and then, in the middle of their walk, just decide to sit down and rest right in front of our family canopy where we are all sunbathing and watching the kids play in the water, effectively blocking our view of the children and invading our personal space all at once.
It's ESPECIALLY weird when there's 100 yards of empty beach on either side of us.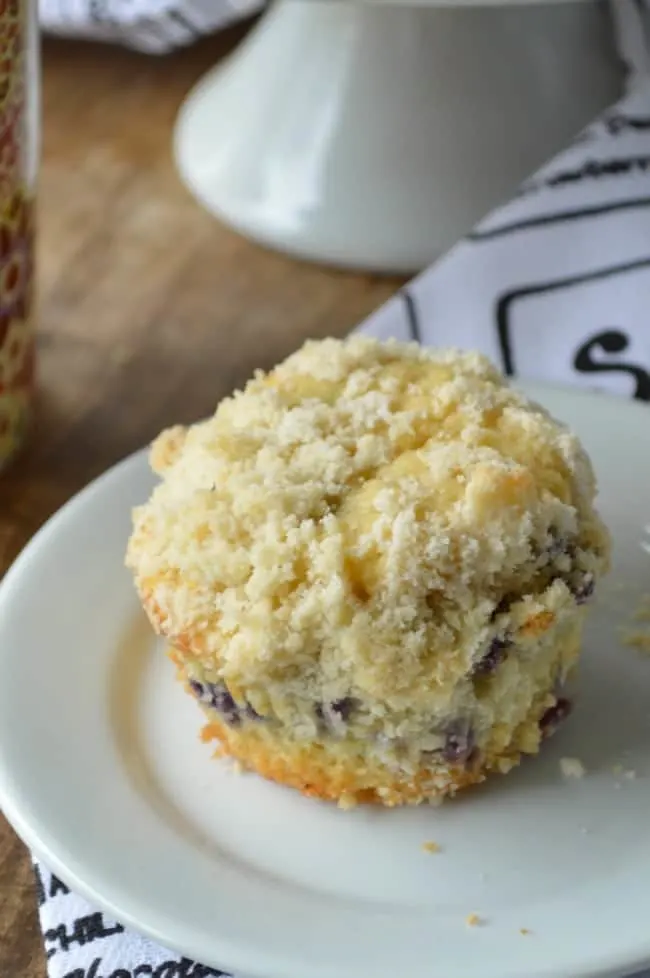 I would like to note that women do not do this.
And! The space-invading dock fishers were wholly unaffected by an army of barking dogs standing on the dock and scaring away all the fish. Adding that I actually didn't exaggerate any of this.
So I didn't grow the blueberries, but I DID buy like 34,000 of them because they were really cheap. Plus they are in season. Tasty, too!
It would be considered a criminal act in this house if I were to purchase blueberries and not make muffins for the little boys. I think it should be considered a criminal act in the world for people to just plain old ignore spatial decency. RUDE.
These muffins have a streusel-ey crumbly topping that really takes them over the top. Adding a topping to already awesome muffins is the opposite of rude. IN FACT, it will make you way way way more friends than showing up uninvited at the birthday parties of strangers.
Probably most things will make you way more friends than crashing someone's front yard, but these muffins will elevate you to hero status.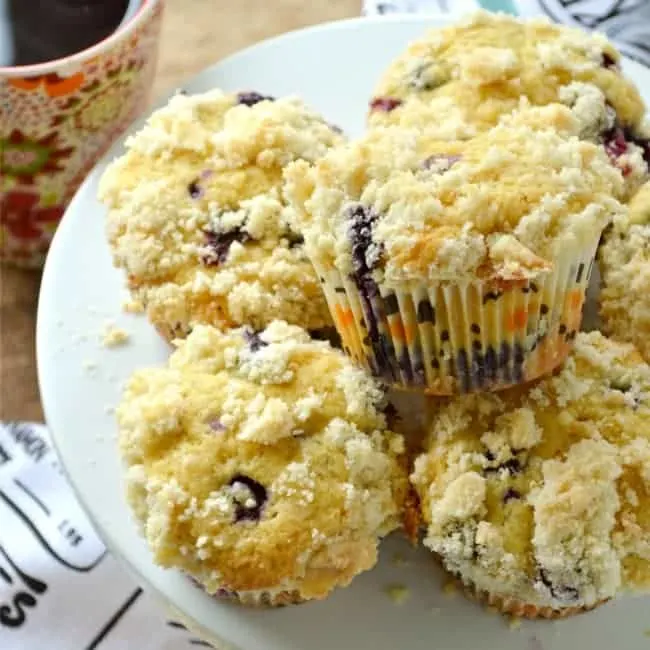 That is not even close to an exaggeration.
Love Muffins? You should also try…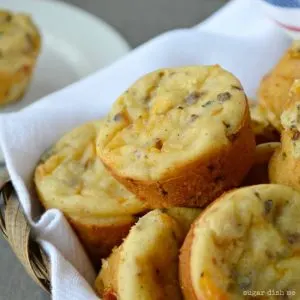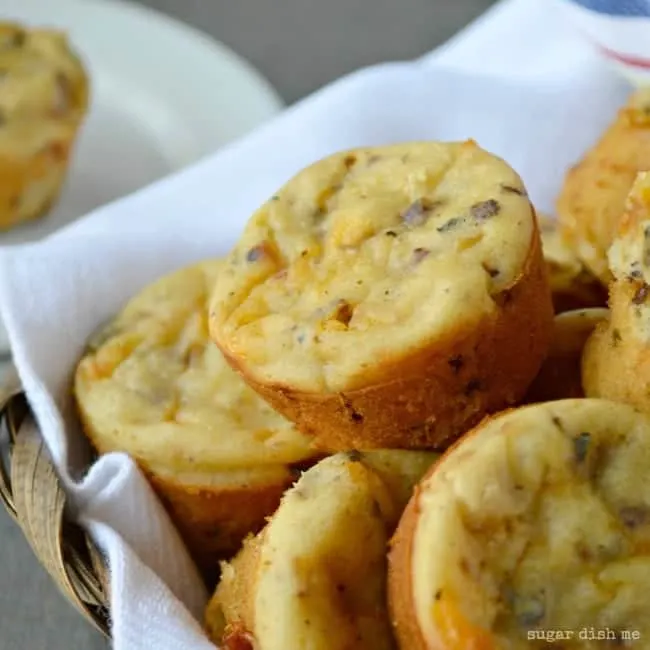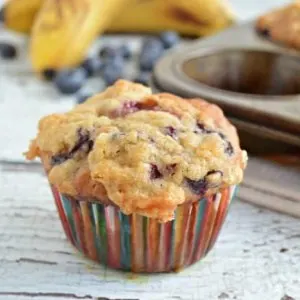 Sausage and Cheese Omelet Muffins are eggy and delicious. These protein packed little bites are one of my favorite make-ahead breakfast recipes!
Banana Berry Coffee Cake Muffins – a brunch best. A super tender muffin with all the natural sweetness you can get from bananas and berries + oats and goodness.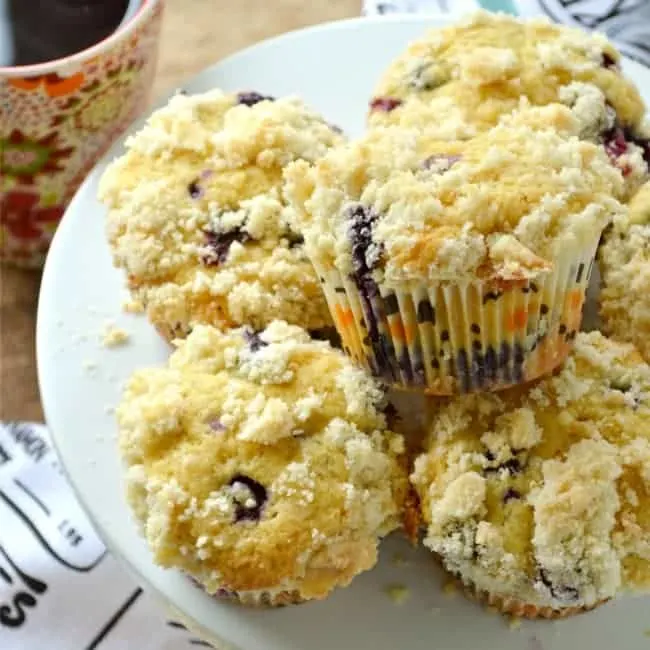 Yield:

12
Blueberry Lemon Muffins
Blueberry Lemon Muffins are buttery and tender, loaded with lemon zest and fresh blueberries. The streusel topping will remind you of your favorite coffee shop muffins!
Ingredients
For the Muffins:
7 tablespoons unsalted butter
1/3 cup milk
1 egg plus 1 egg yolk
1 teaspoon vanilla
1 1/2 cups all purpose flour
3/4 cup granulated sugar
1 1/2 teaspoons baking powder
3/4 teaspoon salt
zest of 1 lemon (about a tablespoon)
1 1/2 cups fresh blueberries
For the Streusel Topping:
3 tablespoons unsalted butter
1/2 cup all purpose flour
3 tablespoons granulated sugar
Instructions
Pre-heat the oven to 375. Line a muffin pan with paper cups.
Brown the butter. (To brown your butter, melt it in a saucepan over medium heat. After it gets frothy and then sounds like your morning bowl of Rice Krispies for a bit, the butter will settle down and begin to brown. You're looking for a medium golden brown color and a little bit of a nutty smell) Pour the butter immediately into a small bowl so it doesn't continue to brown and burn.
In a medium bowl whisk together the milk, egg, yolk, and vanilla. VERY slowly, drizzle the browned butter in a little at a time, whisking well while you add. This tempers the egg and milk so it doesn't scramble in the bowl.
In a large bowl whisk together the flour, sugar, baking powder, and salt. Dump the milk/egg mixture into the flour mixture and mix it all together. The batter will be THICK.
Stir in the lemon zest and blueberries until the batter has just combined, and then divide the batter evenly between the 12 lined muffin cups.
Using your fingers, crumble the 3 tablespoons of butter with the flour and sugar to make the streusel topping. You are looking for coarse crumbles. the mixture over the muffin batter.
Bake the muffins for 18 to 20 minutes until the crumbly topping is golden and a skewer inserted into the center of the muffins comes out clean.
Recommended Products
As an Amazon Associate and member of other affiliate programs, I earn from qualifying purchases.
Nutrition Information:
Yield:
12
Serving Size:
1
Amount Per Serving:
Calories:

249
Total Fat:

11g
Saturated Fat:

6g
Trans Fat:

0g
Unsaturated Fat:

4g
Cholesterol:

57mg
Sodium:

205mg
Carbohydrates:

35g
Fiber:

1g
Sugar:

18g
Protein:

3g
This recipe is from
Joy the Baker
but I found several variations all over the place and I think the moral of the story is that this recipe for Blueberry Lemon Muffins is a KEEPER.