A simple summery tart filled with fresh blueberries, honey, and butter. This Rustic Blueberry Tart has a cornmeal crust that comes together quickly and simply. You could also use your choice of berries and fruit!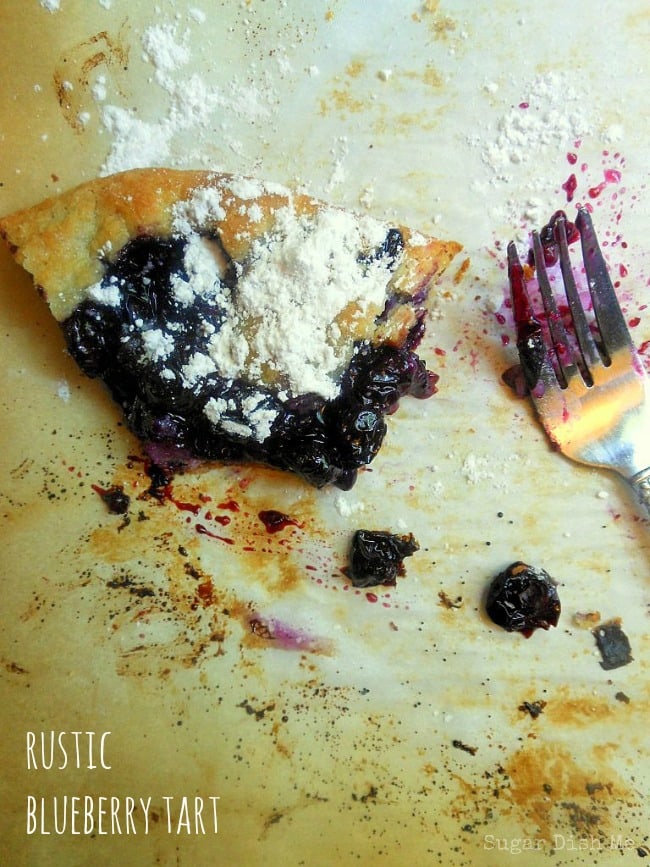 This blueberry tart is like one last hoo-rah before the summer ends.
Starting tomorrow I will be immersed in apple slices and peanut butter sandwiches, early morning rushing and mountains of paperwork. Ohhhhh the paperwork.
New spiral notebooks, freshly sharpened pencils, 4,872 glue sticks, and that waxy smell that could only come from a brand new box of Crayola crayons. Pair all of that new school year awesomeness with the kids' excitement to see old friends and make new ones, while they eagerly set goals and prepare for a great start.
Tomorrow marks the beginning of sneakers with socks (not for me, though), reliable daily schedules, and early bedtimes. It will be the first day of homework charts and reading reminders, after school snacks and early suppers.
First thing in the morning, it will be the first day of school.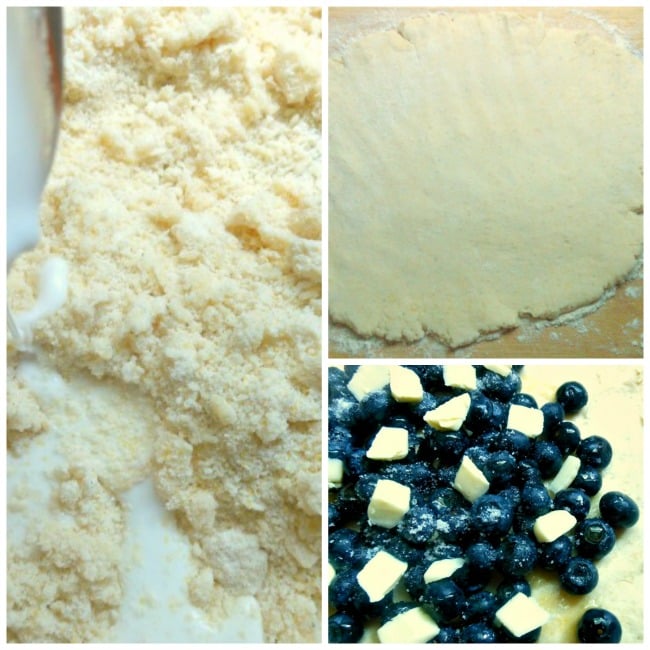 But for right now, you could do yourself this one last summery favor and use up all those blueberries you were gonna add to your morning oatmeal. Skip the muffins and pancakes , just this once, and dump all the blueberries into a pie crust, sprinkle them with sugar, drizzle them with honey, dot them with butter, fold the edges in the most haphazard way.
(We call that rustic. Rustic is kitchen code for that ugly/pretty thing Tyra always tells the girls to do on Top Model. Yes. I just went there.)
Now bake that mess. You won't be sorry.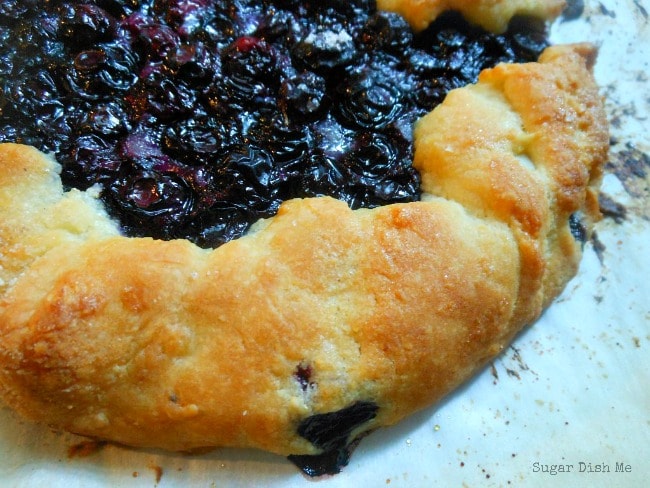 You can make this dough, a Tuesdays with Dorie, Baking with Julia recipe I was thrilled to find because it's super simple and fresh and easy AND I had everything I needed to make it already, BUT if you really really really really wanna have this Rustic Blueberry Tart in say… 45 minutes? Use refrigerated pie crust.
But if you have a couple hours to wait, or, say, you wanted to bake all your blueberries tomorrow, I'll tell you that this dough is both tasty and user-friendly. And the cornmeal makes it sorta special.
This recipe comes from Baking with Julia, by Dorie Greenspan.
A Few of My favorite Blueberry Recipes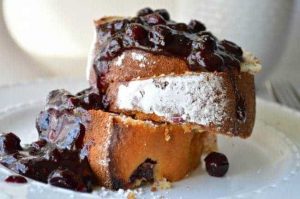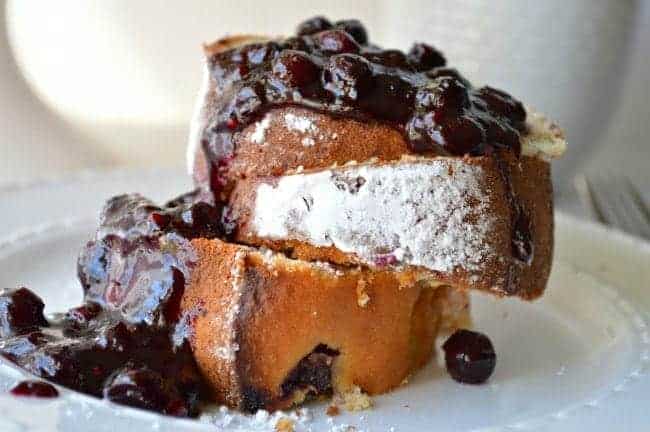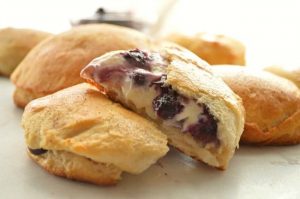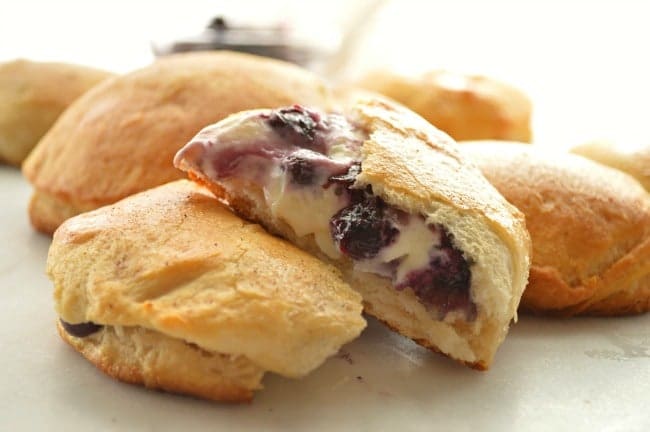 Blueberry Peach Pound Cake with Boozy Blueberry Sauce is perfect with fresh or frozen blueberries. Bonus! There's rum!
Blueberry Biscuit Bombs are desserty little brunch stars and are so simple! They use refrigerated biscuits!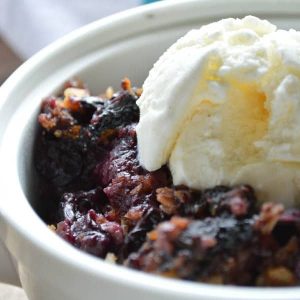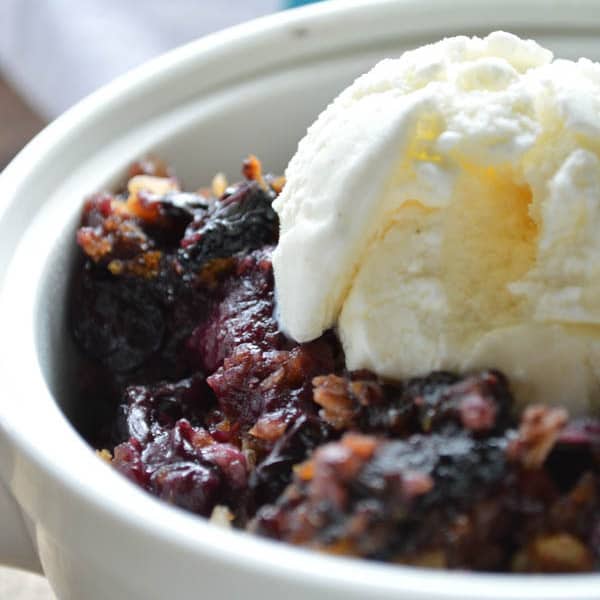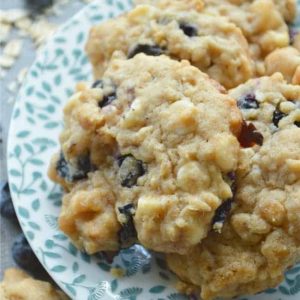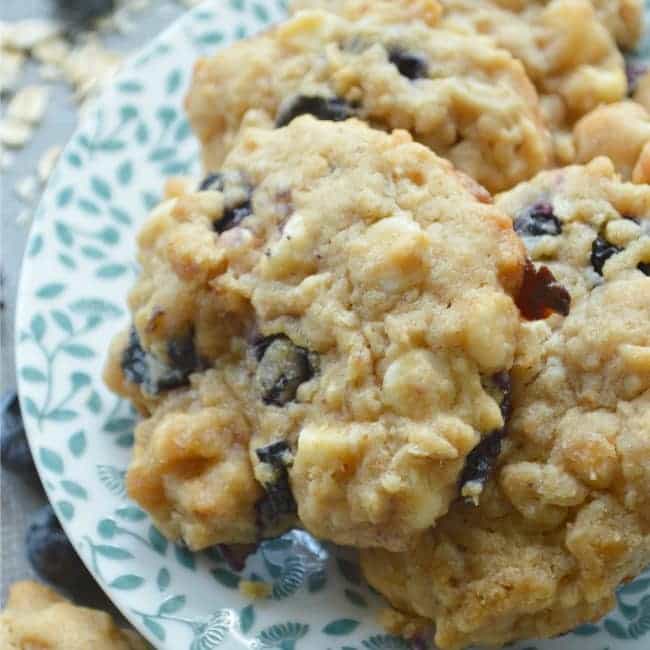 Slow Cooker Blueberry Coconut Cobbler is a reader favorite. There's cake mix involved. Try it!
White Chocolate Blueberry Oat Cookies have peanut butter! Which sounds weird. But trust me.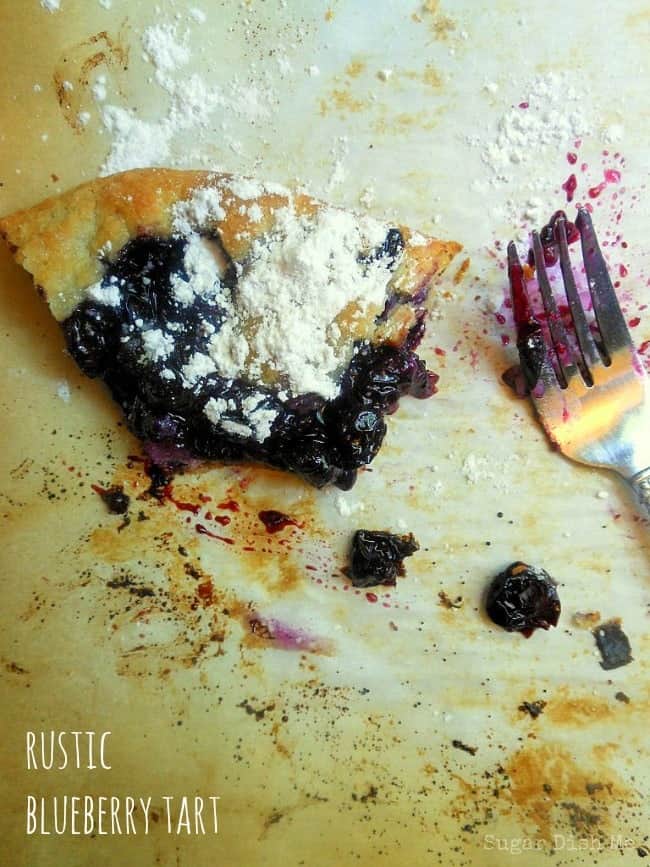 Yield:

Serves 6
Rustic Blueberry Tart
Total Time:
2 hours
50 minutes
A simple summery tart filled with fresh blueberries, honey, and butter. This Rustic Blueberry Tart has a cornmeal crust that comes together quickly and simply. You could also use your choice of berries and fruit!
Ingredients
For the Crust
3 tablespoons sour cream
1/3 cup ice water
1 cup all purpose flour
1/4 cup yellow cornmeal
1 teaspoon sugar
1/2 teaspoon salt
7 tablespoons cold unsalted butter, cut into small cubes
For the Filling
flour for dusting the work surface and your hands
1 1/2 cups fresh blueberries
2 tablespoons cold butter, cut into little squares
1 tablespoon plus 1 teaspoon granulated sugar
about a tablespoon of honey for drizzling
powdered sugar for dusting the finished tart before serving
Instructions
Stir together the sour cream and ice water. Set aside.
In a large bowl whisk together the flour, cornmeal, sugar, and salt. Drop in the butter pieces and work them into the flour mixture. I used my hands.
When the consistency is coarse and crumbly (described in the original recipe as varying between bread crumb-sized and pea-sized), add the sour cream mixture a little at a time until the dough is a consistency you like.
Divide the dough in half and shape each half into a disc, then wrap each disc tightly in plastic wrap. Refrigerate for at least two hours.
Pre-heat the oven to 400. Line a baking sheet with parchment paper.
Flour your work surface and press or roll out your dough into an 11 inch-ish circle that's about 1/8 of an inch thick. It doesn't have to be exact, or pretty. This dough is SOFT, so lift it occasionally and toss more flour underneath. Transfer the dough to the baking sheet.
Dump the blueberries on top, in the center of the dough, leaving a couple of inches all the way around.
Dot the little squares of butter evenly across the berries. Sprinkle with the tablespoon of sugar, and then drizzle with the honey.
Fold the uncovered border of the dough over the filling, allowing the dough to pleat as you lift it up and work your way around. Brush the exposed edges of crust with water and then sprinkle with the remaining teaspoon of sugar.
Bake for 35-40 minutes, or until the dough is pretty crisp and golden brown.
Let it cool slightly and dust with powdered sugar before serving.
Notes
---> prep time includes the time the dough needs to be refrigerated ***The original recipe calls for adding the water/sour cream mixture all at once; I did this and I found the dough MUCH too sticky to be manageable and I wished I'd added it just a bit at a time as is my usual status quo with pie crust***
(or and fruit you like: peaches, strawberries, nectarines, blackberries… or mix 'em up)
Dough can be kept in the fridge for a couple of days if you're making it ahead of time, or frozen for up to a month. Thaw frozen dough in the refrigerator.
Recommended Products
As an Amazon Associate and member of other affiliate programs, I earn from qualifying purchases.
Nutrition Information:
Yield:
6
Serving Size:
1
Amount Per Serving:
Calories:

519
Total Fat:

22g
Saturated Fat:

13g
Trans Fat:

0g
Unsaturated Fat:

7g
Cholesterol:

57mg
Sodium:

238mg
Carbohydrates:

76g
Fiber:

3g
Sugar:

34g
Protein:

6g