Quick and healthy meals can be hard to come by! But this Beef and Brussels Sprouts Stir Fry is a mega-power dish that comes together fast! Add it to your menu this week!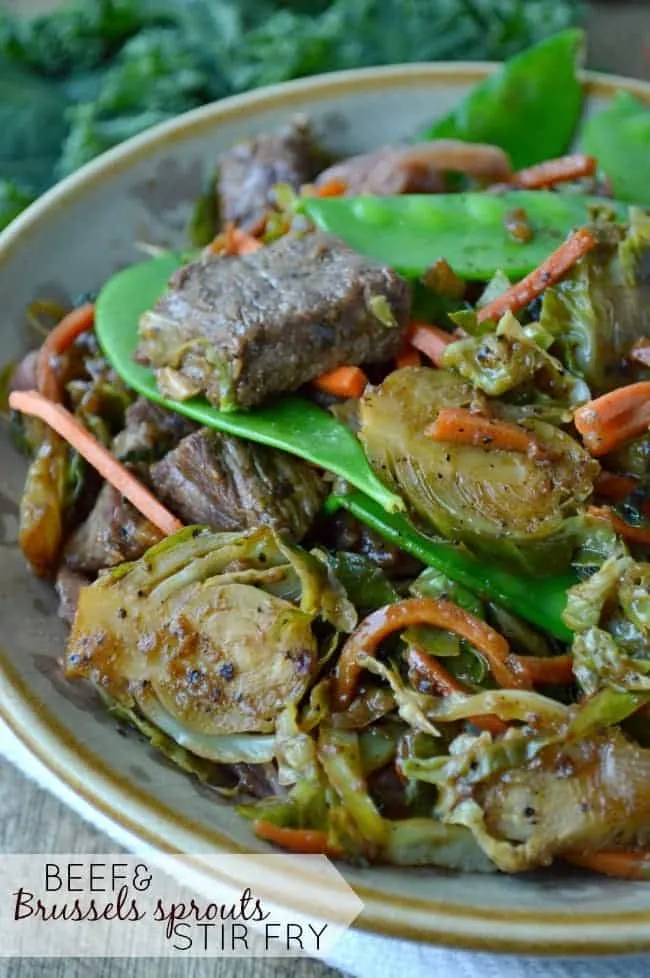 Another oldie but goodie! This recipe dates back to 2013 but I updated the photos and decided that this one just begged to be shared again! We make this Beef and Brussels Sprout Stir Fry often! I think you'll dig it.
I am sharing this today so that you all know I don't exist solely on cupcakes and buttercream frosting. Or cookies and sweet breads. Because while I absolutely adore s'mores brownies and homemade ice cream, I actually eat my fair share of vegetables. I buy LOTS of vegetables.And I really feel like if I eat tons of good green veggies and take the time to exercise then I can feel less guilty about things like Pig Pickin' cake.
You're with me on this right?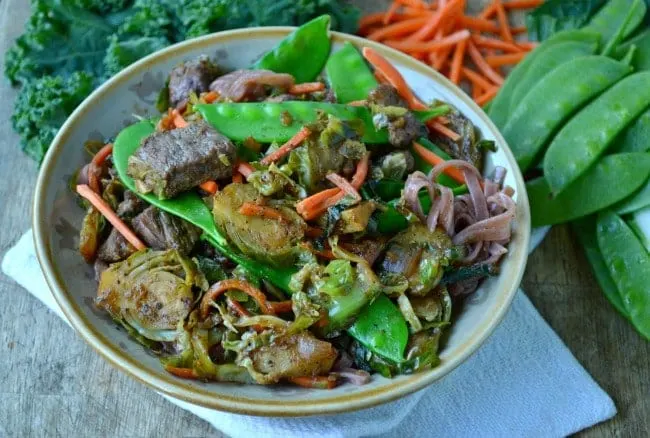 I love Brussels sprouts; they are way up at the top of my veggie list. I usually roast them. Sometimes I saute them. I like them to stay a tiny bit crispy and super extra gorgeously green. Stir frying them definitely seemed like the way to go. It also sold my kids on the redeeming qualities of Brussels sprouts. Because while I could definitely feed them a truckload of broccoli with no problems (weird, yes?), Brussels sprouts have so far been on their "NO" list.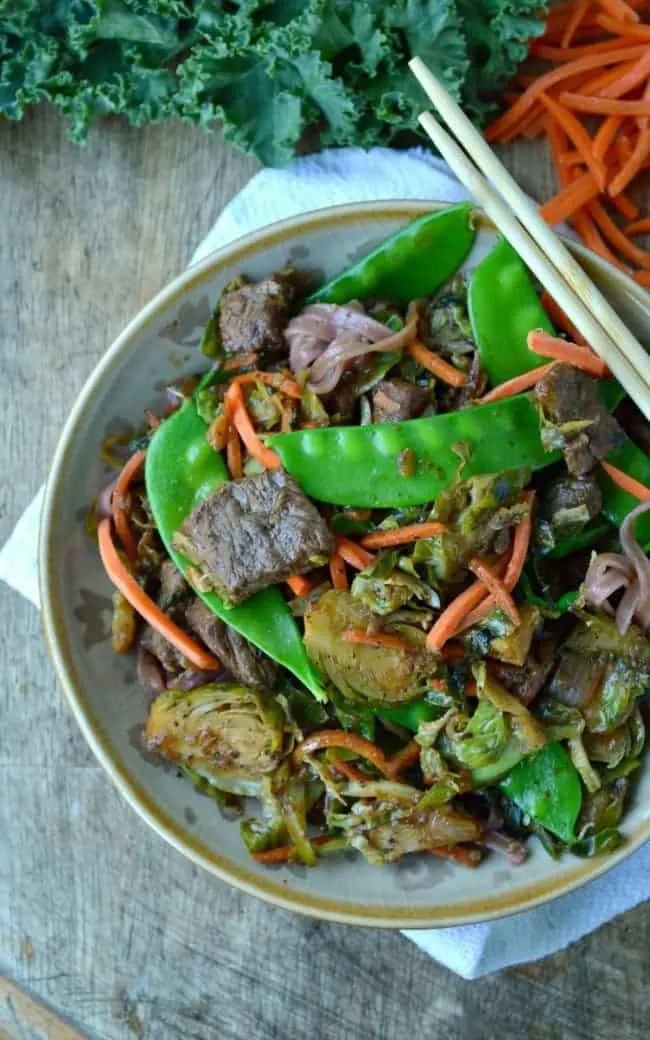 This power-salad sort of combo here with shaved Brussels sprouts, thinly sliced bok choy, ribbons of dinosaur kale, snow peas, and matchstick carrots is enough to fuel you up, and keep you going. Plus for some reason my children will actually eat this. Maybe it's all the soy sauce? Or the fact that sometimes I serve it over a big fluffy bowl of white rice? The sauce is simple and the beef could really easily be swapped for chicken or pork (or left out altogether).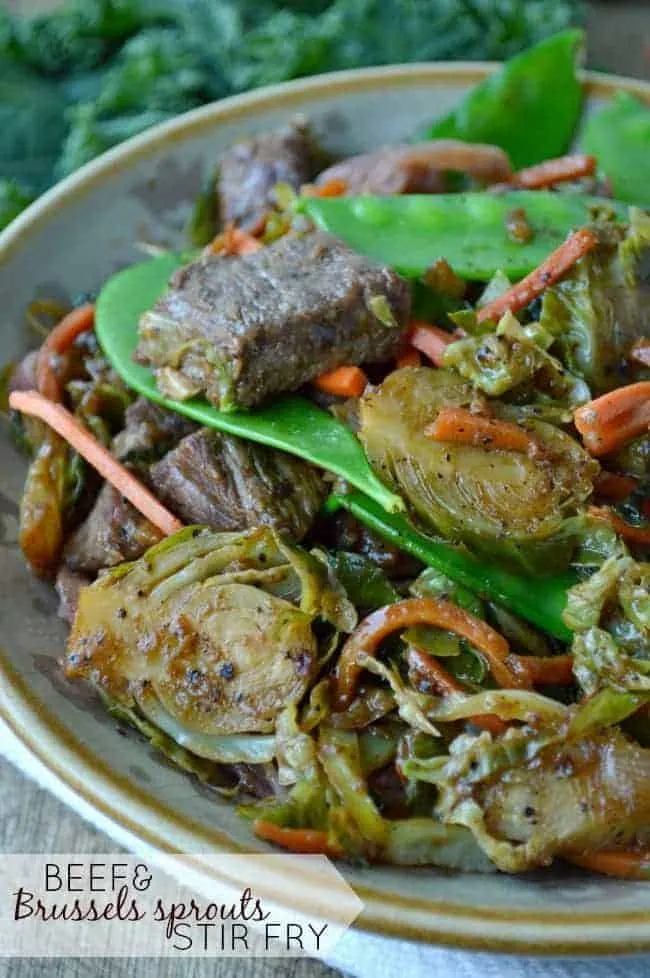 Yield:

4-6
Beef and Brussels Sprouts Stir Fry
Ingredients
1 pound thinly sliced flank steak (or other lean, tender beef)
1/2 cup flour
1 tablespoon oil
1 teaspoon black pepper
1/3 cup low sodium soy sauce, divided
1 1/2 teaspoons sesame oil
1 medium onion, diced
2 cloves garlic, minced
4 cups thinly sliced Brussels sprouts
2 cups of thinly sliced kale leaves (ribs removed)
2 cups thinly sliced bok choy
1 cup snow peas
1 cup matchstick carrots
1/2 cup water
Cooked rice, mai fun, lo mein, or rice noodles for serving
Instructions
Dredge the beef pieces in the flour. In a large skillet heat the oil over medium high heat. Add the beef, sprinkle it with the pepper, and brown on all sides. Pour in half of the soy sauce and cook for another minute. Remove it to a plate.
Pour in the sesame oil and then add the onions. Cook for about 3 minutes until they soften and are translucent. Add the garlic and let it cook for about a minute.
Then add all the vegetables and douse with the remaining soy sauce. Add the beef back in. Cook, turning the veggies over for 3-5 minutes. You want the vegetables to be tender but still bright and crisp. Add the water as needed.
Serve over rice or noodles!
Recommended Products
As an Amazon Associate and member of other affiliate programs, I earn from qualifying purchases.
Love a quick healthy meal? You should also try…