There is no better way to top a big slice of apple pie. Brown Sugar Cinnamon Ice Cream is rich with the flavors of fall. It's creamy and perfect for adding to all your seasonal cobblers and cakes, or just follow my lead and put a huge scoop in a waffle cone.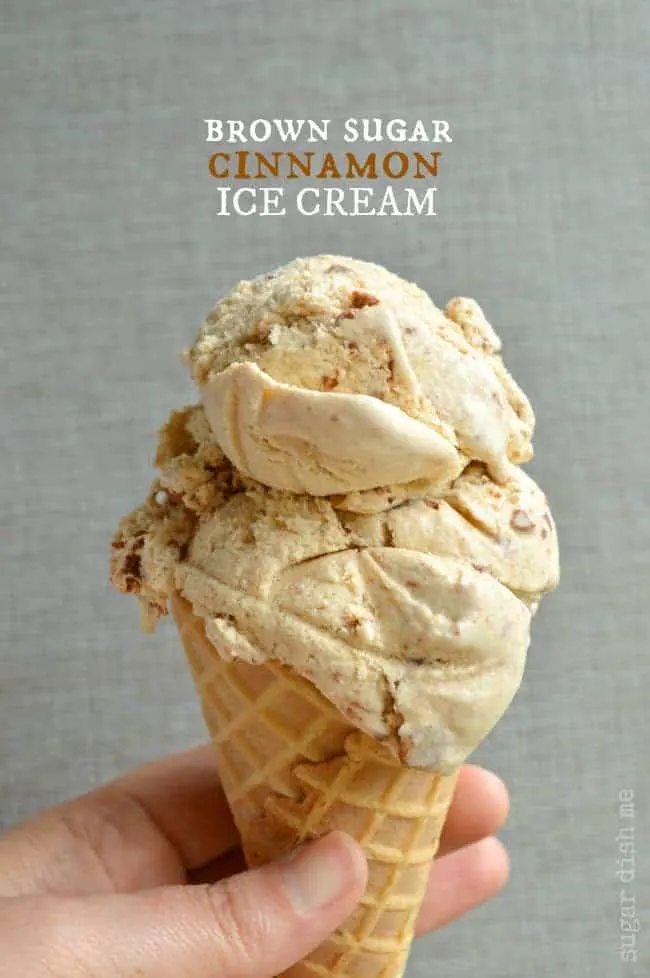 Oh. My. Gawd. (<<— can you hear Janice from Friends in your head right now?)
This ice cream is … the perfect way to step into fall.
Where we are it definitely does not feel like fall — yesterday it was every bit of 90 degrees with like 10000% humidity, which by the way makes my hair look fab-o — but I am doing everything I can manage to trick all the rest of my senses into knowing it's my favorite season.
Yesterday I brought home a life size skeleton. There are pumpkins on my porch. And I have no less than 5 boxes of Frankenberry in the cabinet. #priorities
I also made us this Brown Sugar Cinnamon Ice Cream!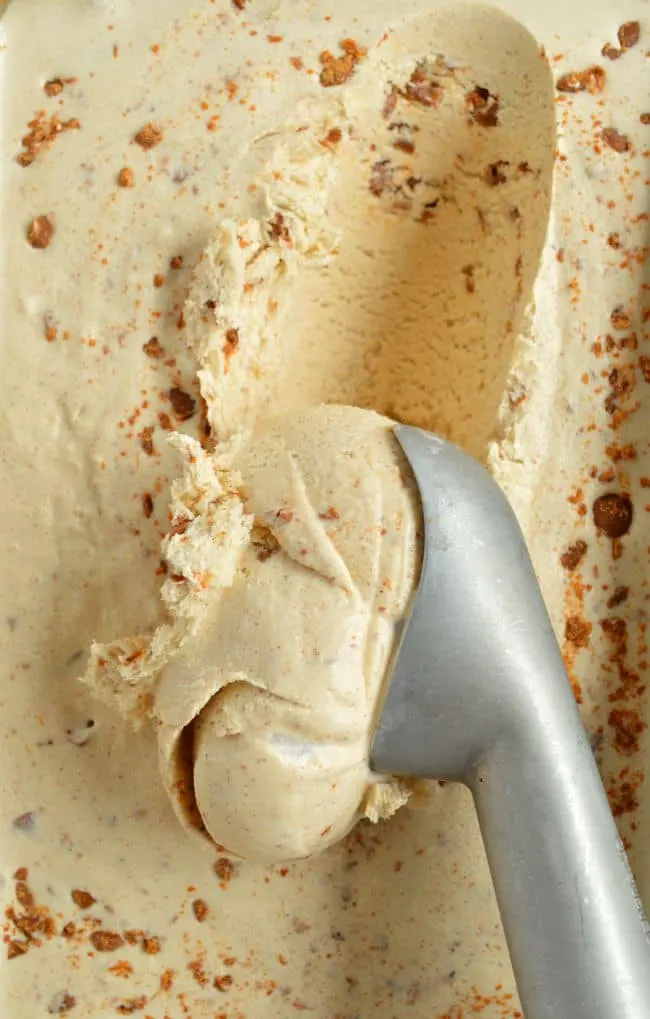 I used my favorite ice cream base, which involves heavy cream, whole milk, and egg yolks. You'll see the same basic technique in my Sweet Cream Apple Butter Ice Cream Recipe.
The egg yolks are cooked, but just really slowly. Egg yolks give your ice cream the greatest texture and it's rare that I make a batch of ice cream without this step.
Try it once and you'll be a believer.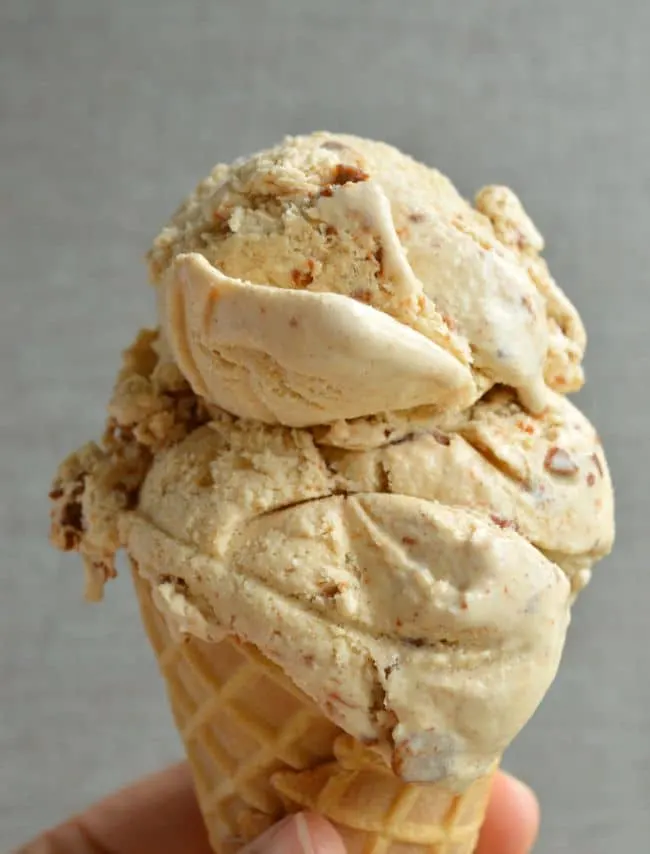 My goal with this recipe was to make the ultimate ice cream for putting on top of all the delicious fall pies. Like adding brown sugar ice cream to this Raspberry Apple Crumble Pie? Best idea ever.
Put it on your crumbles and cobblers, all things apple, sweet potato, and pumpkin.
It is ALSO amazing on Peach Berry Crumble. The Easiest Blackberry Cobbler is for sure a Brown Sugar Cinnamon Ice Cream contender.
I doubled up in the cinnamon with ground cinnamon stirred into the base and then chopped cinnamon chips churned with the ice cream.
Have a great weekend! Put a scoop of ice cream on it.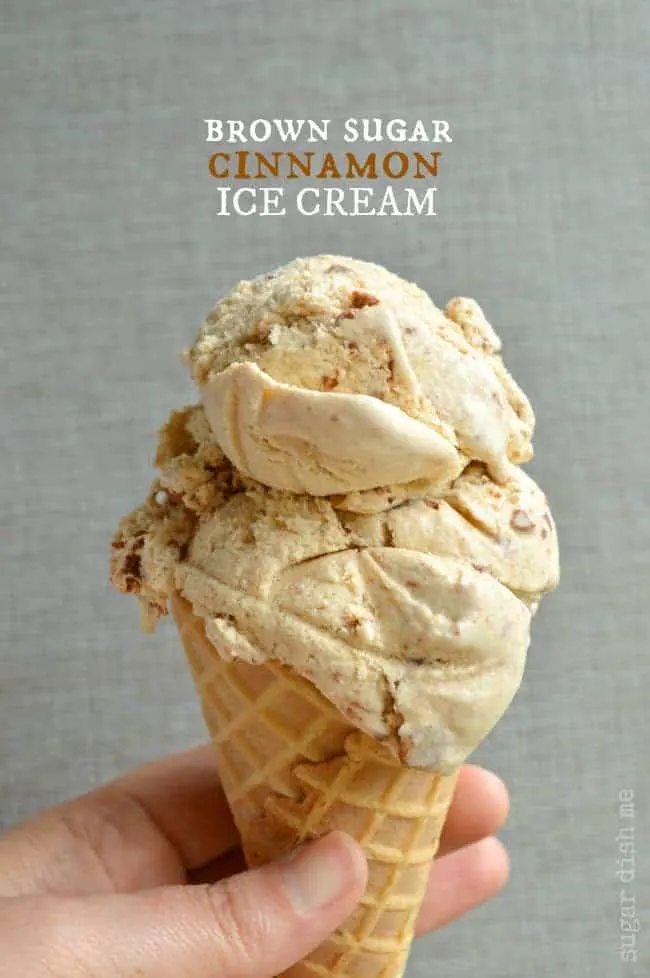 Yield:

makes 1 1/2 pints
Brown Sugar Cinnamon Ice Cream
Freeze Time:
6 hours
36 minutes
Total Time:
6 hours
50 minutes
Brown Sugar Cinnamon Ice Cream is perfect for topping all your fruit pies, cobblers and crisps. It's great on a slice of apple pie and is right at home on top of a dish of blackberry cobbler. Serve it up at your next gathering!
Ingredients
2 cups heavy cream
1 cup whole milk
2/3 cup brown sugar
1 teaspoon cinnamon
pinch of kosher salt
1 teaspoon vanilla extract
5 large egg yolks
Instructions
BEFORE YOU BEGIN: This recipe calls for an ice cream churn. You can use any kind you like, but make sure if you are using the countertop variety, that you put the canister in the freezer while you mix up the sweet cream base and let it chill so everything is ready to go at the same time.
In a medium saucepan whisk together the heavy cream, milk, brown sugar, cinnamon, and salt. Bring it just to a simmer, stir, and then remove from the heat. Stir in the vanilla.
In a medium bowl, whisk together the yolks. Stirring constantly, add about ½ cup of the hot liquid to the egg yolks. This helps to temper them, cooking them super slowly and bringing the temperature up gradually. Whisk in another ½ cup of the hot liquid, and then one more.
Pour the egg mixture back into the saucepan and cook over medium heat until the mixture is thick enough to coat the back of a spoon.
Scrape the mixture into a container and cover (I like to use plastic storage containers like Gladware or Tupperware for this - prevents spills in case anyone bumps it in the fridge!). Chill for at least 4 hours or overnight.
Add the chilled base to the canister of your ice cream churn, add the chopped cinnamon chips, and churn according to manufacturer's instructions.
You can eat the ice cream now -- it's ready! But it will have a more soft serve consistency. I like to scrape mine into a freezer-safe container and let it freeze for a couple of hours more so it's more hard-dipped.
Recommended Products
As an Amazon Associate and member of other affiliate programs, I earn from qualifying purchases.
Nutrition Information:
Yield:
8
Serving Size:
1
Amount Per Serving:
Calories:

408
Total Fat:

30g
Saturated Fat:

18g
Trans Fat:

1g
Unsaturated Fat:

11g
Cholesterol:

210mg
Sodium:

96mg
Carbohydrates:

28g
Fiber:

0g
Sugar:

27g
Protein:

7g