This Crescent Roll Breakfast Bake with bacon, spinach, and eggs is going to be your new favorite breakfast casserole recipe!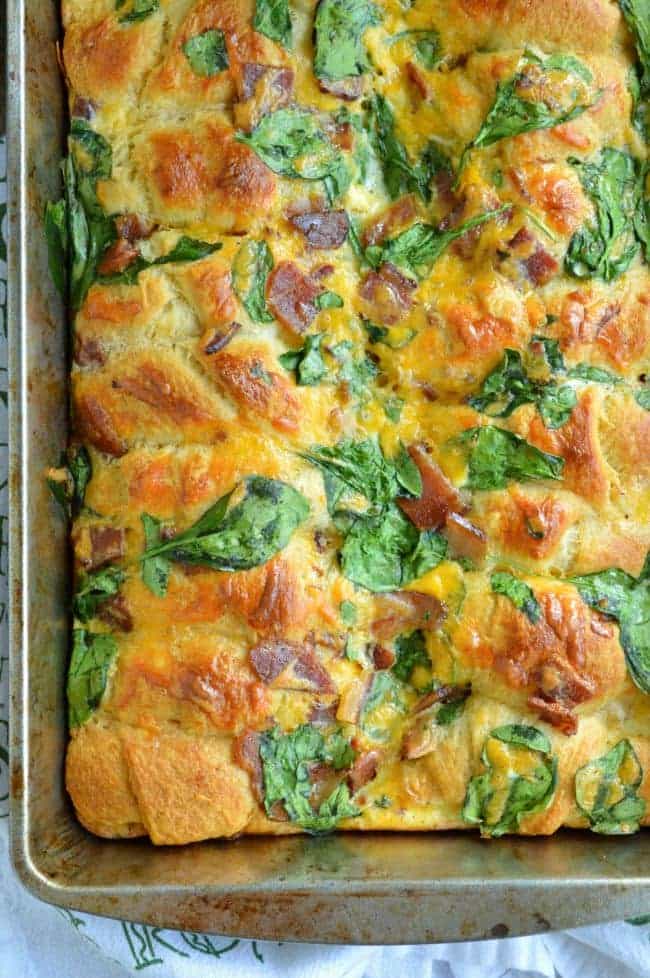 Want to Pin this Recipe for later? Click Here.
I promise after this I will cool it on the breakfast recipes for awhile (except… I just ordered a new waffle iron so who am I actually kidding). It's just… this is one of those recipes that is just. so. excellent. I couldn't wait to share it.
Plus I feel like this is savory enough to work as dinner. There's spinach! And bacon! Crescent Roll Breakfast Bake.
Stay with me.
Last year I made this Christmas Morning Casserole, which you should consider making all 12 months of the year, not just at Christmas. And then maybe 2 years back, I made this Bacon Spinach Breakfast Casserole which, despite the slightly terrifying photographs, remains one of the top recipes on my site.
So I had a fridge full of crescent rolls and decided that the best thing to do would be to marry those two breakfast casserole recipes together.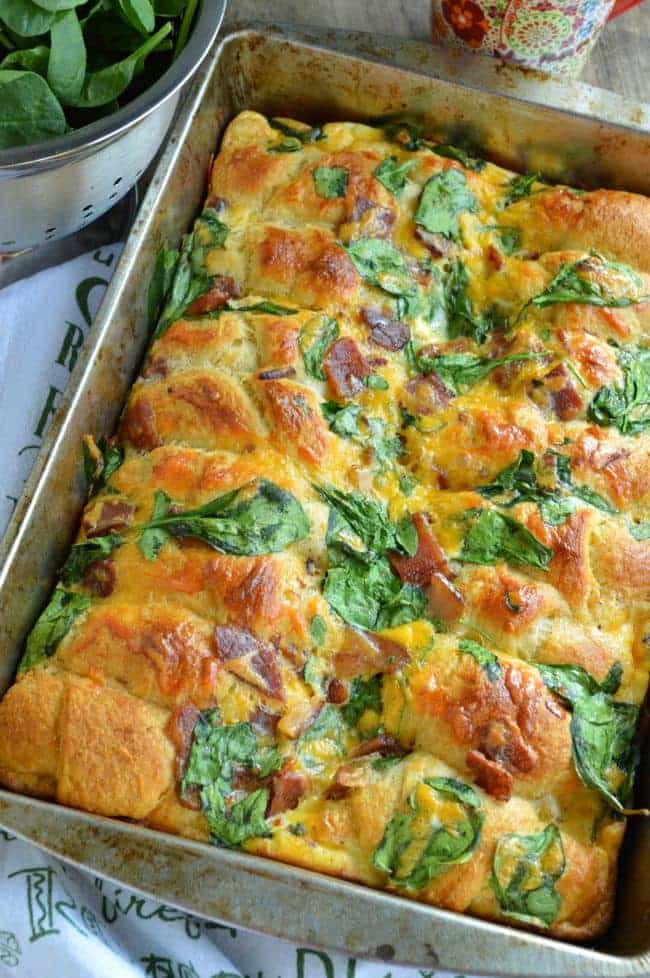 And um, basically, this is too easy to call a recipe. You just roll the crescent rolls up and line them in the pan. Mix mix mix eggs, milk, cheese, bacon, spinach, pour it over the top, and boom. Breakfast Bake.
Fun Fact: This casserole kept really well in the fridge and reheated in the oven beautifully. You could probably also reheat this in the microwave, but since I am one of those weirdos with no microwave, I can't vouch. I reheated ours one portion at a time on 350°F and sent them out the door with Chad in the morning.
A casserole you can eat with your hands on the go is also a big win for me.

The layers here are flaky and buttery, the bacon is salty and BACON, the spinach gives it a nice pop of color plus vegetables so you can feel good about having a big slice of carb happiness for breakfast.
The eggs and cheese bring it all together.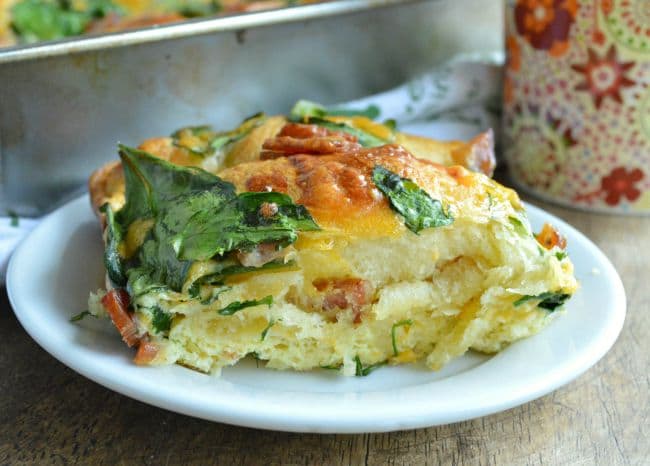 Hoping you love this as much as I do!
Also … pouring one out for my favorite coffee mug that has smashed on the floor since this publication.
Need more brunch recipes? I have just the thing (s)!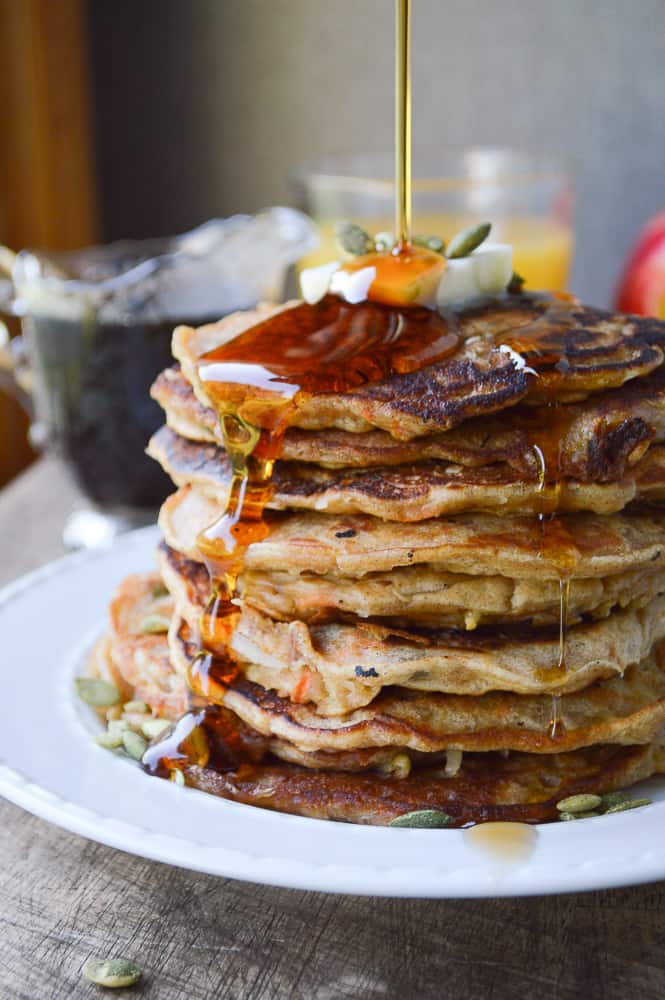 Perfect for the Breakfast Lover's in your life! Morning Glory Pancakes are loaded with goodness.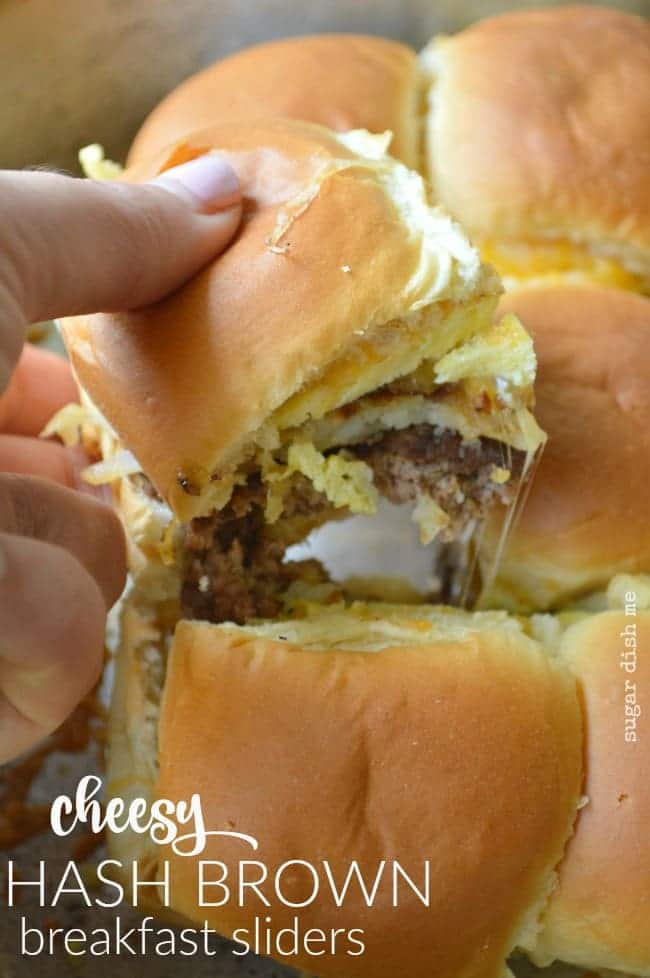 These Cheesy Hash Brown Breakfast Sliders are piled high with cheese, onions, eggs and hash browns to make completely amazing little breakfast burgers.