This is the creamiest ice cream recipe ever! Sweet Cream Apple Butter Ice Cream has a rich ribbon of apple butter caramel swirled through a traditional custard-like ice cream base. It tastes like southern delicious summer in every bite! You will need a churn for this recipe – old fashioned or countertop models are welcome!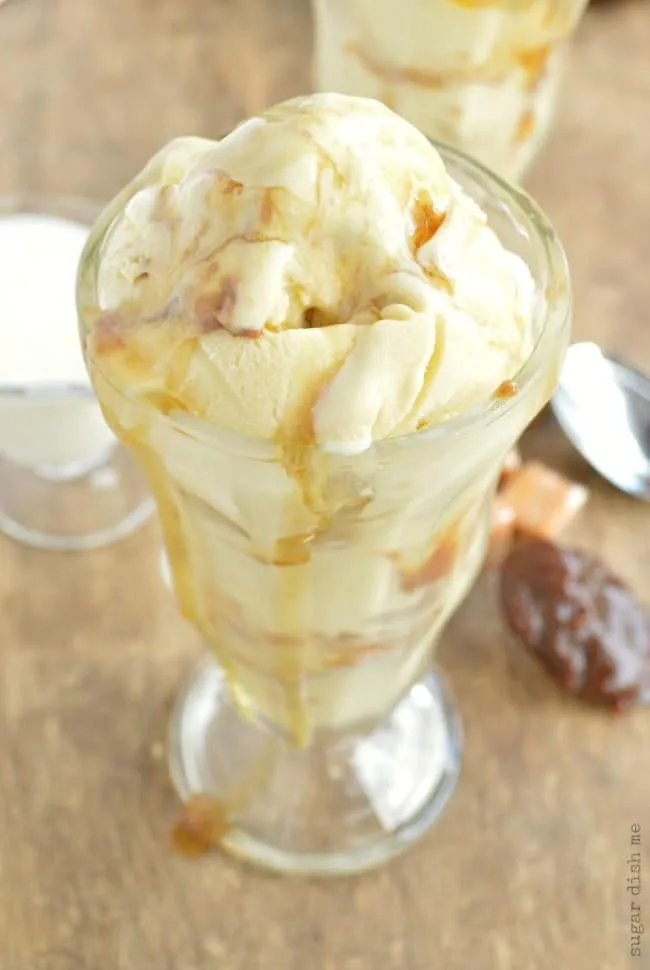 This post is sponsored by our friends at Musselman's Apple Butter!
Is this the perfect way to welcome summer, or what?
The creamiest of all sweet cream ice creams with a thread of apple butter cooked with caramel! The ingredients are totally basic and down-homey and satisfying. Don't you just love when you can make something as amazing as ice cream at home and you only just need a couple of ingredients? It's like ingredient magic of the best variety.
Ice cream is really simple to make. And this recipe is old fashioned to its very core.
Some of you have been emailing me about ice cream recipes lately. Some of you cool people send me recipes you've found here or there; you ask questions about texture or consistency or flavor combinations. But the most common question I get about ice cream is about the BASE. It really is all about that bass er… base (#sorrynotsorry).
Most totally recently, I answered a readers question about an ice cream recipe that called for sweetened condensed milk saying that those recipes are really not my favorite. I don't love them you guys. Ice cream with sweetened condensed milk tastes like artificial sweet to me — the kind of flavor I like to reserve for things like Twinkies. It doesn't turn out that rich, creamy consistency that I totally expect any good ice cream to have.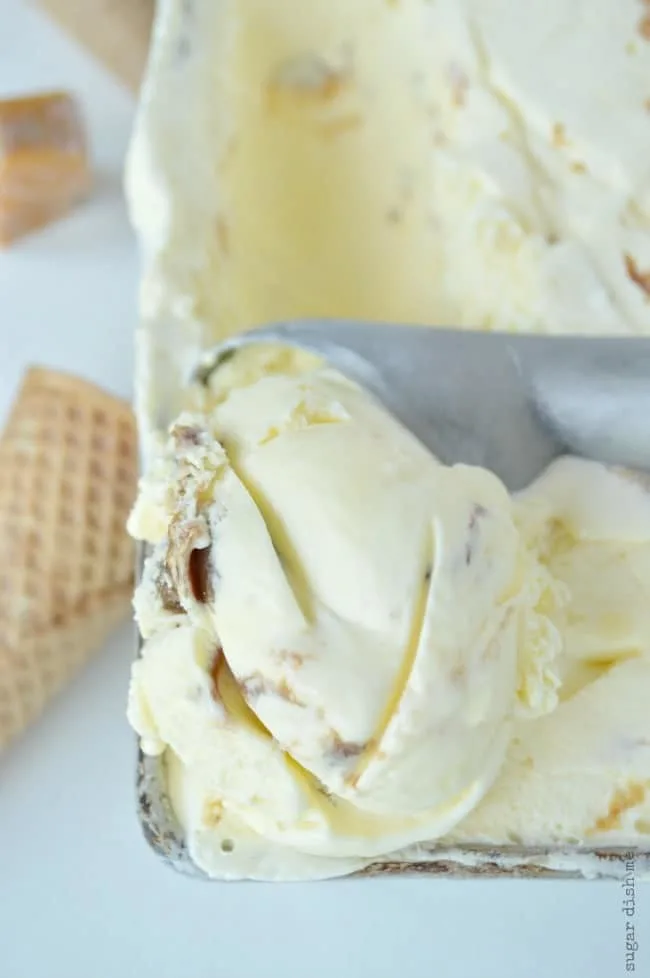 With ice cream texture is ehhhvurything.
And to achieve my favorite texture? My secret is EGG YOLKS.
If you have never made ice cream with eggs then you probably think I am outta my mind right now.
If you have made ice cream with eggs then you know exactly what I'm talking about. Egg yolks are fat and protein. They also help to stabilize the ice cream more so that it isn't a puddle after you scoop it out to eat it. But what's most important for me here is the super creamy dreamy texture the eggs give. This will be the 5th ice cream recipe I've published here, and about half call for eggs. I love all my ice cream recipes the same but!
This one is most definitely my current favorite. We made it 3 times and all 3 times I had to battle my kids to get a scoop. The thread of apple butter caramel all swirled into every bite is totally that good kind of southern charming. And it's easy. Winning!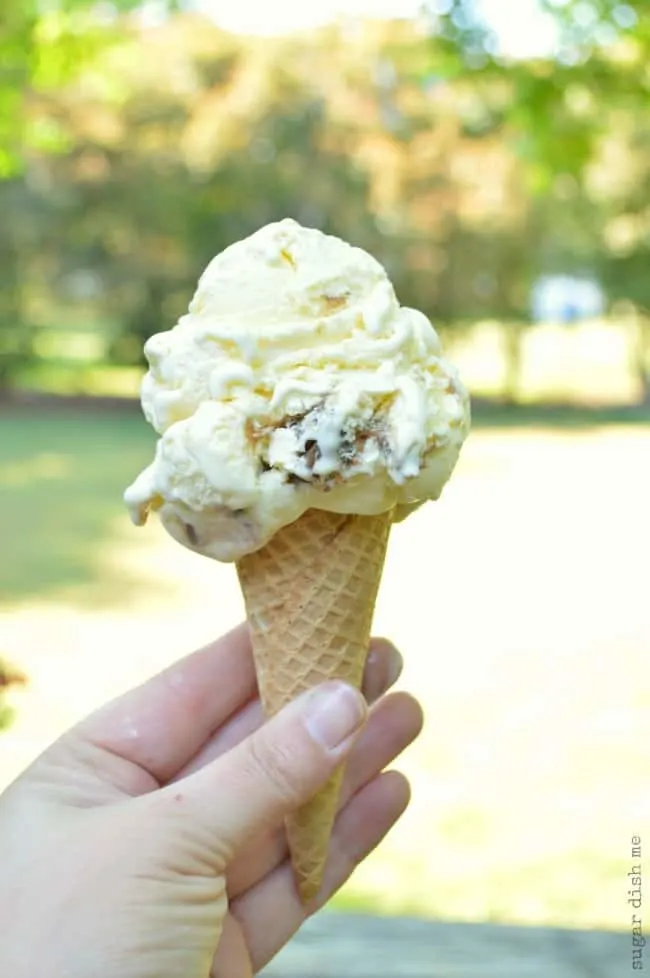 Sweet Cream Apple Butter Ice Cream does take a little bit of planning ahead of time — you'll need to allow a few hours for your creamy base to chill before churning. I personally like to let my ice cream freeze after churning, just so I can scoop it out and feel all profesh that I made a hard-dip ice cream in my modest little kitchen. So if you are sharing this with friends or doing the ice cream social thing, plan it for the day ahead. Active time is MINIMAL! You really don't have to do much at all. Just a little patience while everything chills.
OH! And in case you were over there feeling worried about the egg yolk thing? I got you covered. #1 — if eggs freak you out, spring for pasteurized eggs. Those are the awesome eggs that allow you to eat raw cookie dough to your heart's content. And #2 — these egg yolks actually ARE cooked. Just at a really low, slow temp. It's a stirring thing. It's all there in the recipe. You'll see!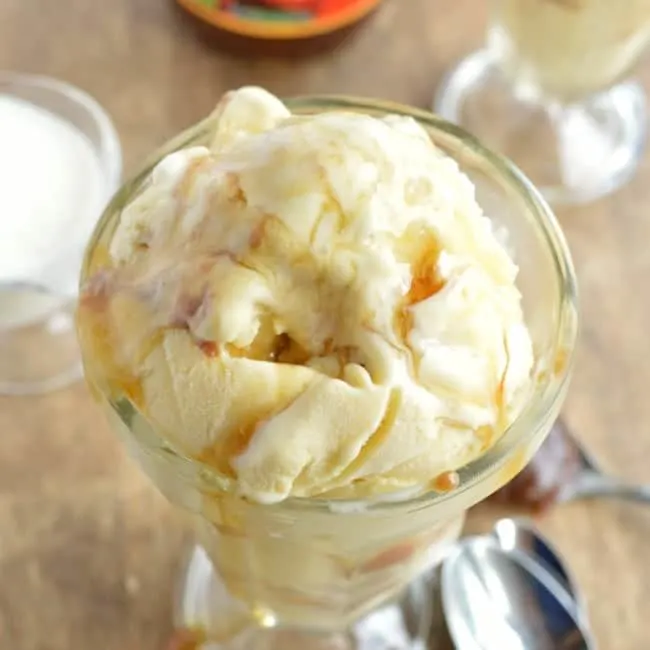 Sweet Cream Apple Butter Ice Cream
The creamiest homemade ice cream recipe with a delicious ribbon of Musselman's Apple Butter and caramel swirled through it! Note that the prep time includes at least 4 hours to chill (or overnight) so plan ahead!
Ingredients
2 ½ cups heavy cream
½ cup milk (at least 2%)
⅔ cup granulated sugar
a pinch of sea salt
6 large egg yolks
1 tablespoon vanilla extract
½ cup Musselman's Apple Butter
10 caramel candies, unwrapped
Instructions
BEFORE YOU BEGIN: This recipe calls for an ice cream churn. You can use any kind you like, but make sure if you are using the countertop variety, that you put the canister in the freezer while you mix up the sweet cream base and let it chill so everything is ready to go at the same time.
In a medium saucepan whisk together the heavy cream, milk, sugar, and sea salt. Bring it just to a simmer, stir, and then remove from the heat.
In a medium bowl, whisk together the yolks. Stirring constantly, add about ½ cup of the hot liquid to the egg yolks. This helps to temper them, cooking them super slowly and bringing the temperature up gradually. Whisk in another ½ cup of the hot liquid, and then one more.
Pour the egg mixture back into the saucepan and cook over medium heat until the mixture is thick enough to coat the back of a spoon.
Scrape the mixture into a container and cover (I like to use plastic storage containers like Gladware or Tupperware for this - prevents spills in case anyone bumps it in the fridge!). Chill for at least 4 hours or overnight.
When you are ready to churn, heat the Apple Butter and the caramel candies over medium low heat, stirring almost constantly until the caramels melt. You can also do this 10-15 seconds at a time in the microwave. Let it cool.
Add the chilled base to the canister of your ice cream churn and churn according to manufacturer's instructions.
When the sweet cream ice cream base is ready, add half of it to whatever container you store your homemade ice cream in (I like to use my 9" bread pans!). Add a few dollops of the apple butter caramel you made. Add more ice cream on top and then use a knife to swirl them. Add any remaining apple butter caramel, swirl again, and then you can either serve OR!! Cover and freeze. If you serve it right away it will have a soft serve consistency. If you cover it and freeze it, it will scoop out like a hard dip ice cream.
You can find all my apple butter recipes here, here, here and here. I have tons! So if you have a jar of Musselman's hanging around I am full of fun ideas.
You can also check out more recipes on the Musselman's site or follow them on Facebook for daily inspiration.