Rich fudge brownies are pressed into a pie plate and covered with your favorite ice creams plus all the toppings! Brownie Bottom Ice Cream Pie is a messy fun twist on a brownie sundae favorite.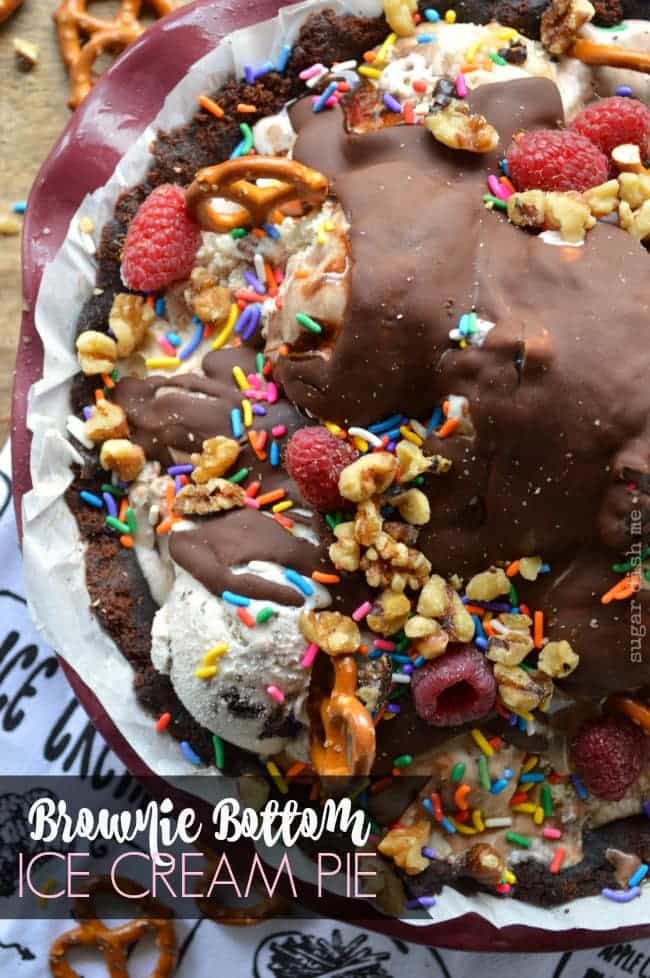 This post has been sponsored by Bounty Advanced Paper Towels. All thoughts, opinions, original photos, and recipes are my own.
My kids have 12 days of school left right now and we are getting ready. Or I should say I am getting ready. The sheer amount of groceries we blow through on any given week of summer break is just plain old astounding. Teenage boys will break you, I swear.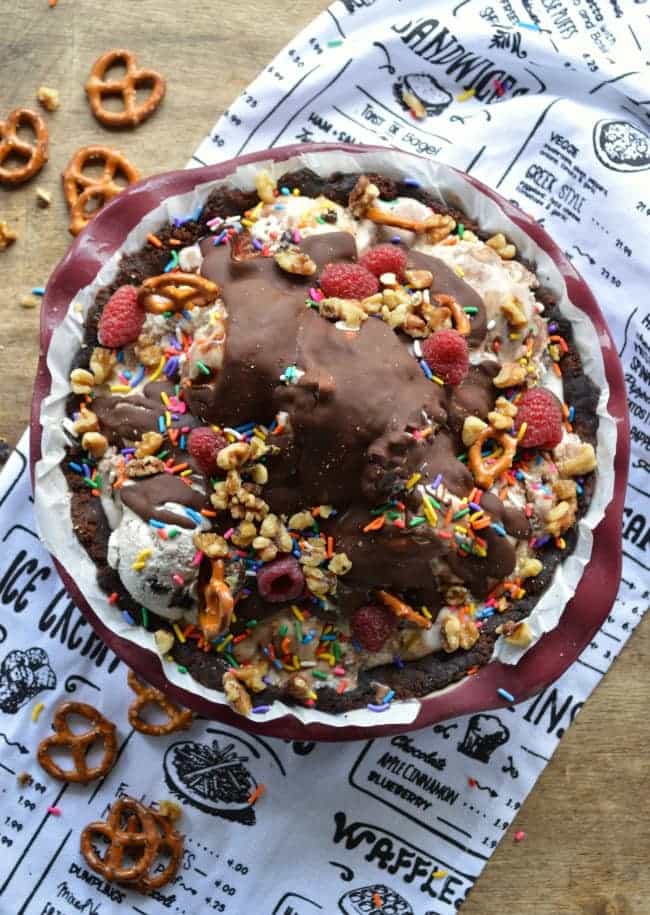 And it's not just the grocery bill that grows (but seriously though HOW do they eat so much more from June to August?), it's everything. I have to buy more laundry soap, more toilet paper, more paper towels. You'd think they don't live here for the other nine months. Can I also point out that I already buy an insane amount of paper towels because of my job (duh), but also because of ALL. THE. DOGS. What I'm saying is that buying more paper towels for me? Is kind of bananas.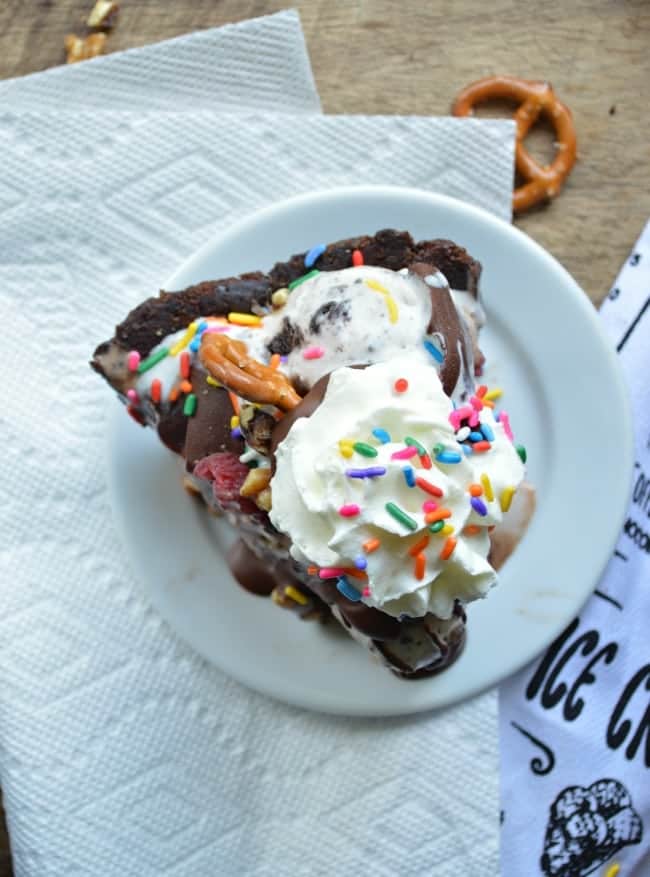 But yet, there it is.
Anyway.
Probably some of that is my fault. Making things like Brownie Bottom Ice Cream Pie does contribute to the mess. I'm actually not sorry about it at all, though. Because everyday life is messy! But that's what makes it interesting. [Ice Cream Pie = Best Kind of Interesting}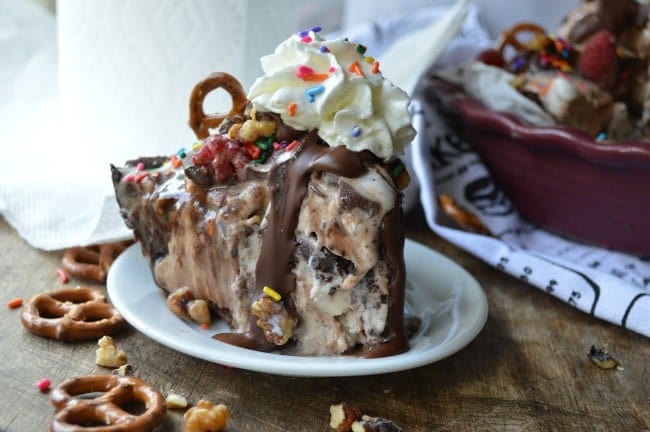 For this pie I kept things simple. I baked my favorite brownie mix, let it cool, and pressed it into a pie pan. Then I scooped out TWO WHOLE HALF GALLONS of my favorite ice cream. Then I added all the toppings. The flavor combos here are endless! My inspiration with this one was my latest froyo creation, which basically consisted of all the fruit and chocolate. Plus sprinkles. The pretzels were a last minute add-on. Sweet + Salty crunch. Chocolate syrup yields a stickier mess (which is most excellent), while melted chocolate cools and hardens when it hits the cold ice cream. Whipped cream is a must. So let's talk about what YOU are putting in your ice cream pie. And while we are at it, I could totally use some tips on satisfying bottomless pit teenage boys. I think I have the mess part covered.
Brownie Bottom Ice Cream Pie
Be sure to allow yourself a couple of hours for your pie to set up in the freezer after assembling. Brownies can be baked ahead of time.
Ingredients
1 package brownie mix, plus the ingredients called for on the box to prepare.
2 (half gallon) cartons of your favorite ice cream
all the toppings! Nuts, fruit, sprinkles, pretzels, chocolate syrup, magic shell, etc
whipped cream for serving
Instructions
Bake the brownies according to package directions and let them cool. You can do this a day ahead if you'd like.
Line a 9" pie plate with parchment paper. Cut the brownies into squares and place all the pieces in the pie plate. Press them evenly across the bottom and sides to make a crust.
Scoop the ice cream into the brownie crust. I alternated scoops to mix the flavors up.
Add your toppings and re-freeze for at least 2 hours.
Slice and serve with whipped cream.
Clean up your mess with Bounty Advance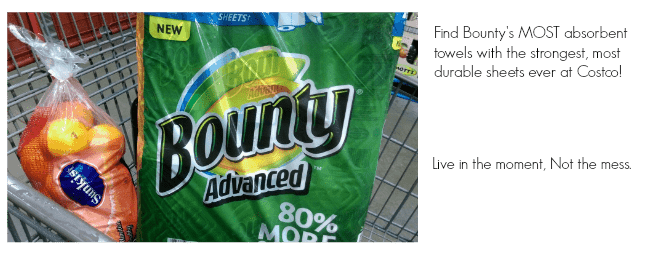 **most absorbent vs.National Bounty Select-A-Size Towels