Brussels Sprout Salad with Farro and Walnuts is crisp and fresh. Grains, cranberries, and walnuts set this holiday salad apart from your other sides!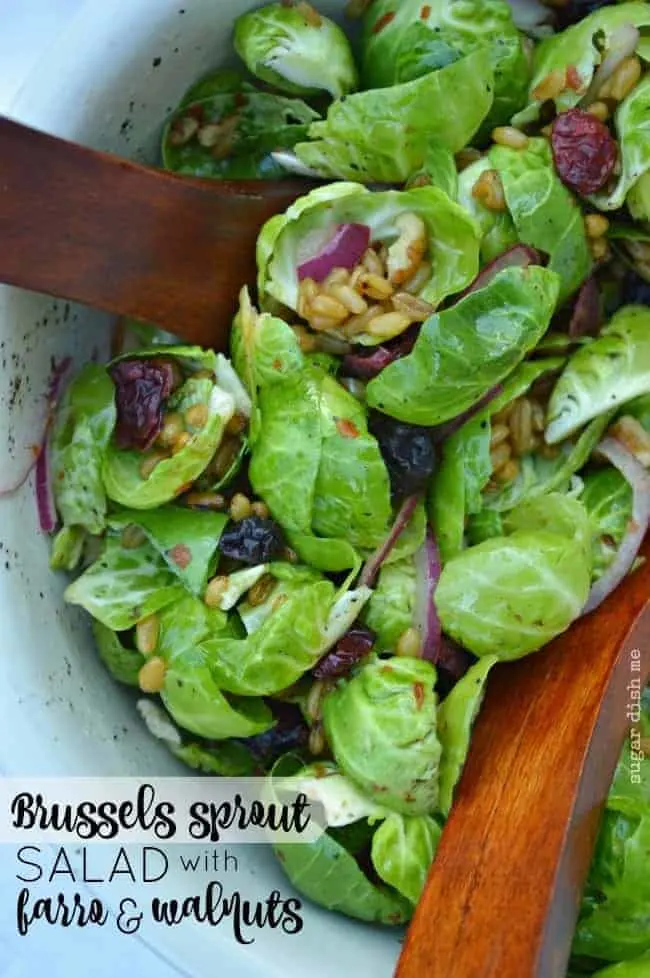 This is a Thanksgiving post. And good news! If you scroll down, there are a bunch of fab-o Thanksgiving recipes from other [very terrific] food bloggers. #score
But if we are keeping it real… this was actually my Halloween detox salad.
We had more pizza and cheese dip and Twizzlers and fun size candy bars than I care to talk about. By the time we got to the end of the weekend, my insides felt gross, guys. Like covered in pizza Twizzler scuz.
I knew I was on the cusp of needing all the Thanksgiving recipes, which to me usually means pie, pie and more pie.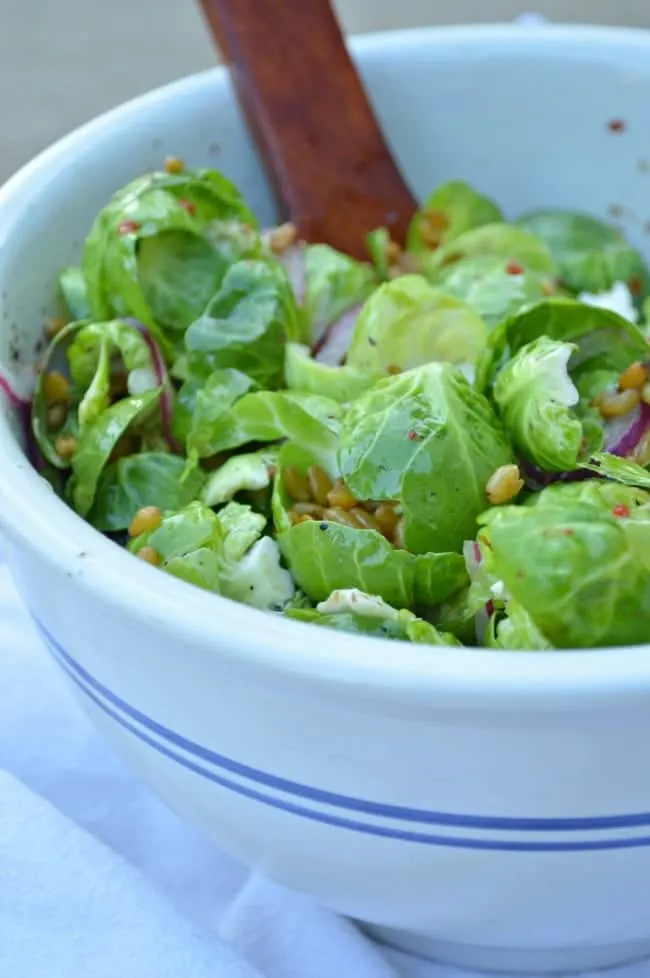 Brussels Sprouts Salad with Farro and Walnuts was my real life solution to my pull-n-peel red licorice problem.
Every Thanksgiving I like to add in some things that are colorful, fresh, and healthful; I think it offers a nice balance with all the mashed potatoes and mac 'n' cheese.
Also, based on the fact that How to Grill Brussels Sprouts remains a top 10 Sugar Dish Me recipe – EVEN IN THE WINTER WHEN NO ONE GRILLS – tells me y'all love Brussels sprouts things.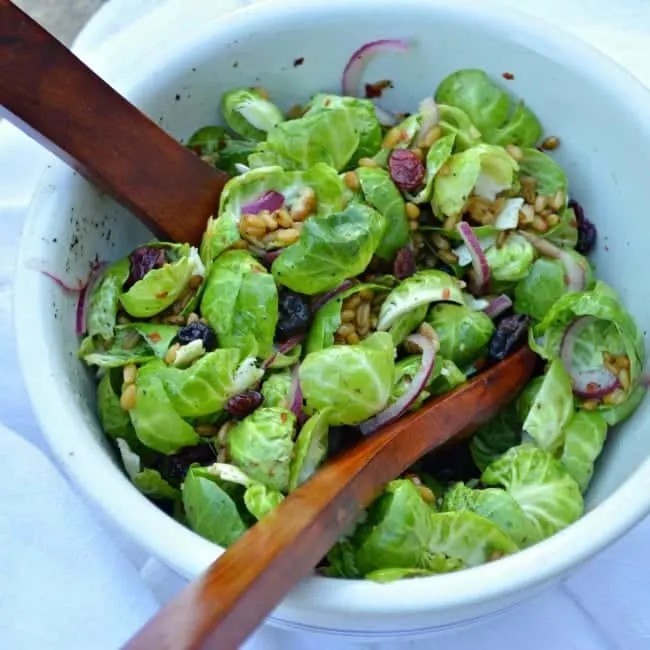 This salad. It's fast and fresh. Savory and a little tart. Has the perfect amount of crunch. AND THIS DRESSING. Whoa mah gah.
It's really great anytime you want a salad that's a little different.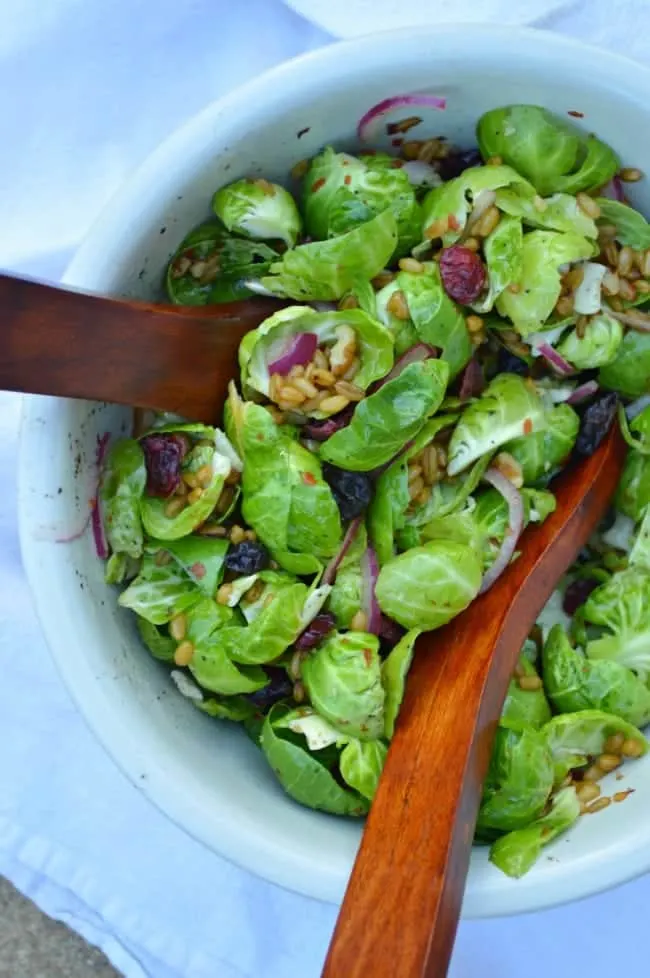 And now because I love Thanksgiving recipes and SO DO YOU…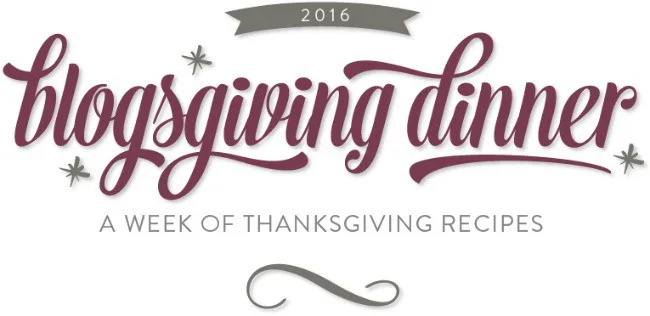 Thanksgiving is all about family, friends and delicious food. Luckily, the food blogging community is all about these things as well. To celebrate the holiday, Meghan from Cake 'n Knife and Susannah from Feast + West are hosting Blogsgiving Dinner. There are more than 20 blogs sharing recipes today!
The idea is based on an old-fashioned potluck dinner party. Each blogger is bringing one or more dishes to the party, so be sure to stop by each one and get some ideas for your own Thanksgiving meal. We'll be posting to social media with the hashtag #blogsgivingdinner, but you can see the entire menu below in our recipe roundup.
Ginger Pumpkin Beer Shandy by Feast + West
glühwein/mulled wine by Tag&Tibby
White Chocolate Pumpkin Martini by The Culinary Compass
Apple Ginger Punch by The Little Epicurean
Cheesy brussels sprouts dip by Living Well Kitchen
Sun Dried Tomato & Goat Cheese Spread by Life's Ambrosia
Cranberry Goat Cheese Tarts by Cake 'n Knife
Roasted Butternut Squash Apple Ginger Soup by The Secret Ingredient Is
Sheet Pan Carrot Soup by Macheesmo
Kale + butternut squash mac and cheese by Family Food on the Table
Twice Baked Parmesan Butternut Squash by A Mind Full Mom
Twice The Onion Green Bean Casserole by Melanie Makes
Lightened Up Green Bean Casserole by Dash of Herbs
Easy Corn Casserole by Love Bakes Good Cakes
Cranberry Honey Butter by Little Dairy on the Prairie
Butternut Squash Lasagna by Hello Little Home
Beer-Brined Stuffed Turkey Loin by Beer Girl Cooks
Roasted Mushroom Pot Pie by The Cookie Writer
Chocolate Pumpkin Fudge by Around My Family Table
Carrot Cake by bell'alimento
Praline Pumpkin Upside Down Cake by The Speckled Palate
Roasted Banana Pecan Cheesecake by Lady Behind The Curtain
Chai-Spiced Apple Crumble Blondies by The Crumby Cupcake
Pecan Pie Crumble Bars by A Joyfully Mad Kitchen
Pecan Pie Milkshake by Brunch-n-Bites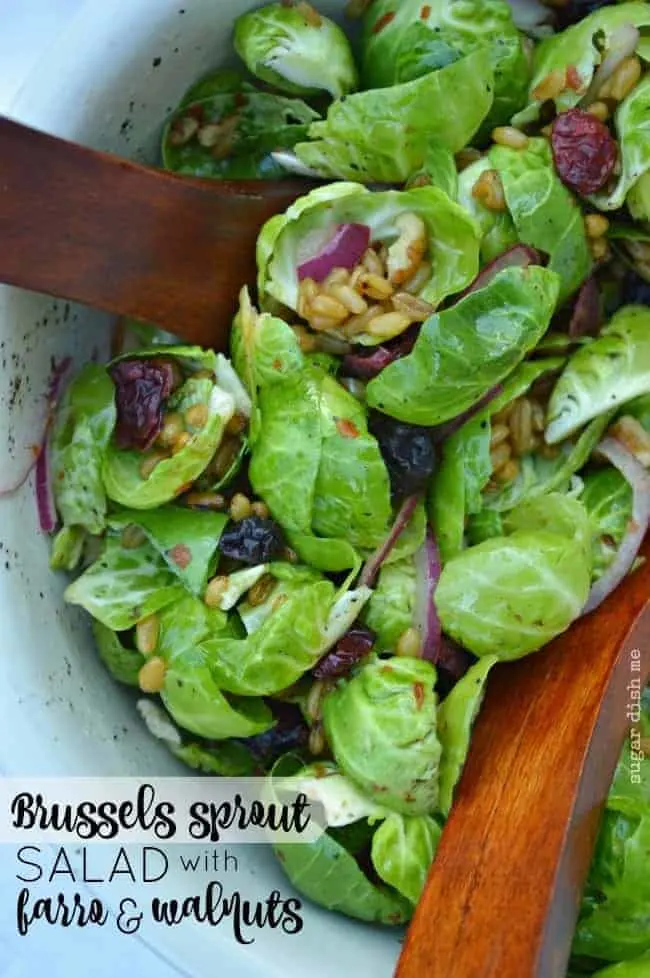 Yield:

serves 4-6
Brussels Sprout Salad with Farro and Walnuts
Brussels Sprout Salad with Farro and Walnuts is the perfect side at holiday meals, and the perfect salad when you want something a little bit different. It's fast and fresh and OH that vinaigrette!
Ingredients
For the Salad
1/2 cup uncooked farro
1/2 teaspoon crushed red pepper flakes
3 pounds whole Brussels sprouts
1/3 cup very thinly sliced red onions
1/3 cup dried cranberries
1/2 cup chopped walnuts
For the Vinaigrette
2 tablespoons extra virgin olive oil
3 tablespoons apple cider vinegar
1/2 teaspoon sugar
3/4 teaspoon kosher salt
1/2 teaspoon ground black pepper
Instructions
Bring 1 1/2 cups of water to a boil. Add the 1/2 cup dry farro and the 1/2 teaspoon crushed red pepper. Bring it back up to a simmer. reduce the heat to medium low, cover, and simmer for 20 minutes.
While the farro cooks, trim the stem ends off the Brussels sprouts so that the larger leaves will easily pull away. Peel the larger leaves off each Brussels sprout, saving the hearts in the center for another use (see notes).
TIP: when the leaves no longer separate and peel off of the sprout easily, set aside the center and start on the next one. You should end up with about 4 heaping cups of Brussels sprouts.
In a large bowl whisk together the vinaigrette ingredients. Add the Brussels sprout leaves and toss to coat. Then add the onions, cranberries, and walnuts. When the farro is cooked through toss everything one more time to coat with the dressing.
Notes
Toss the remaining Brussels sprout hearts in olive oil and roast them using the instructions in this Rainbow Harvest Roasted Vegetables recipe.
Nutrition Information:
Amount Per Serving:
Calories:

0
Cholesterol:

0mg
Sodium:

0mg
Carbohydrates:

0g
Fiber:

0g
Sugar:

0g
Protein:

0g
Want EVEN MORE THANKSGIVING?!!
I have loadssssss of Thanksgiving recipes.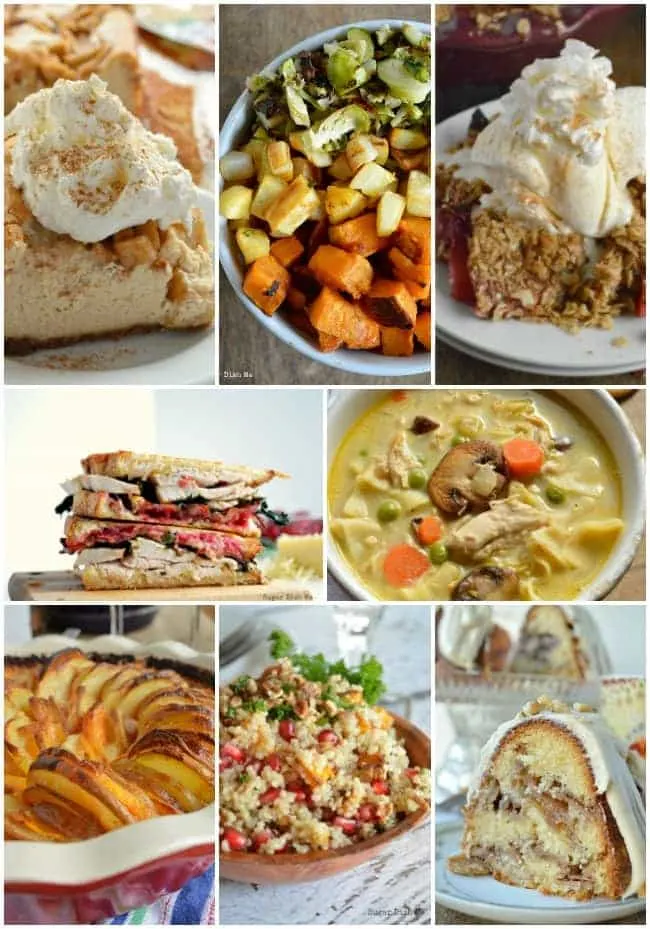 Some are indulgent, some are fresh and healthy, all will make you a happy meal to commune over with friends and family. You can find all my favorite Thanksgiving Recipes here.