My favorite way to cook Brussels sprouts (and most veggies) in the summer! This is an easy step-by-step tutorial for How to Grill Brussels Sprouts so you can have your veggies while you are cooking out!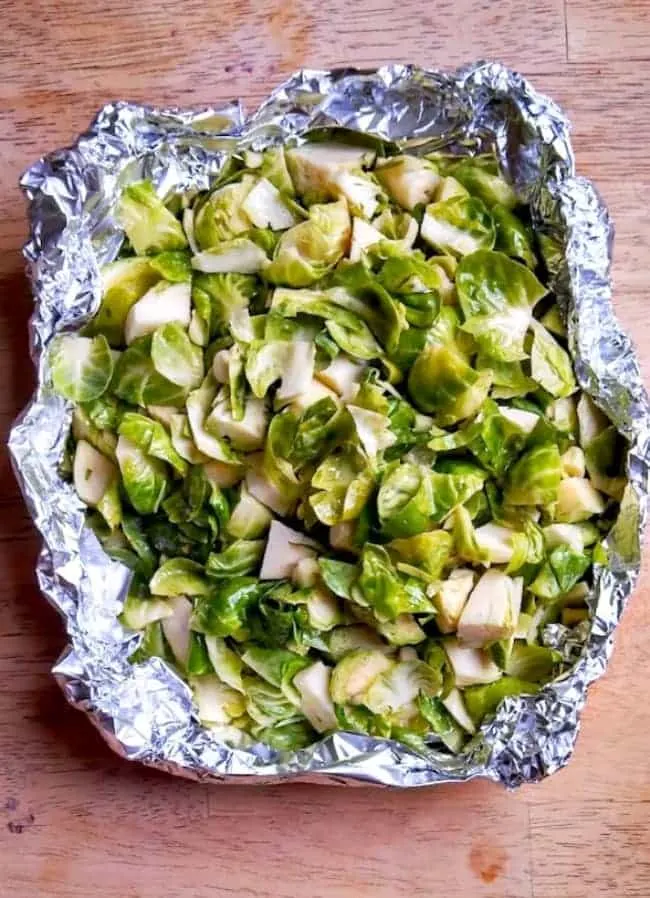 Since it's basically too hot to cook every day all the time but we still have to eat, I've been grilling pretty much everything. Vegetables included. And usually grilled vegetables for me conjure images of skewers and stuff.
But when you're not having a party and you are just trying to EAT skewers are pretty annoying. So I'm giving you this easy photo tutorial (as told by my phone camera) on How to Grill Brussels Sprouts (and pretty much any other vegetable). Brussels Sprouts are my favorite.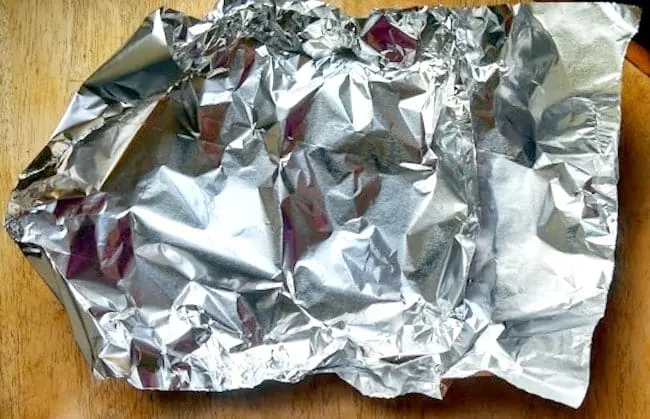 You need foil. I like to overlap two pieces just in case. If you have that heavy duty foil then a single layer should be fine.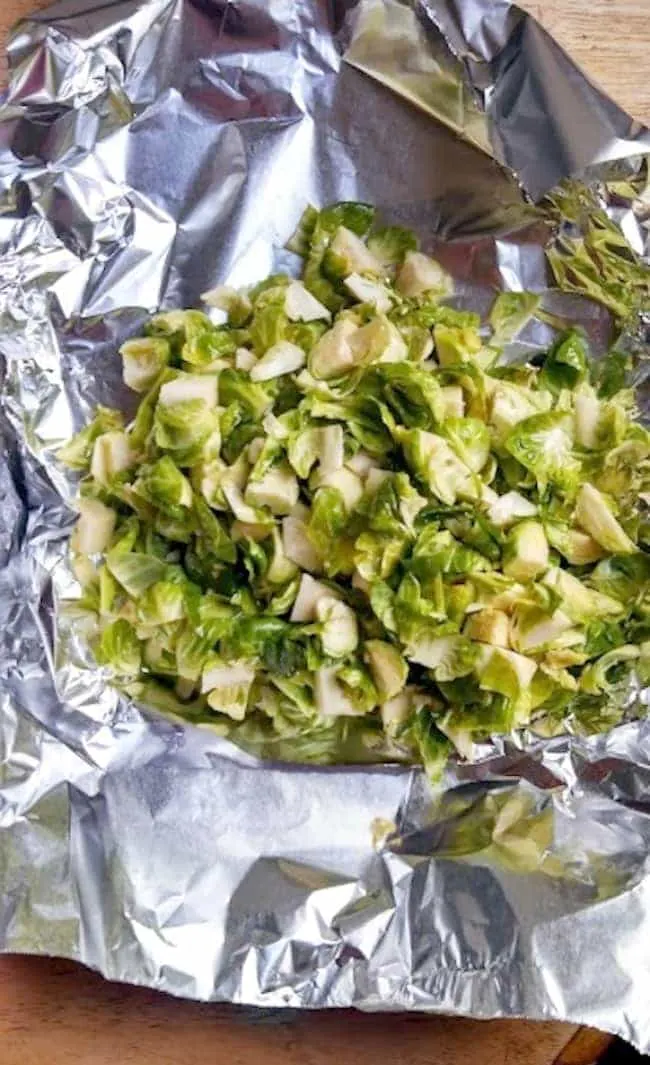 Coarsely chop your Brussels Sprouts, toss them with a little olive oil, and place them in a big 'ol heap in the middle of your foil. If you overlapped 2 pieces make sure they are mostly on the double layer so nothing falls out in transport.
Roll up the sides to make a pouch. I sort of crumple the edges to give it some structure. It's not pretty but it does the job.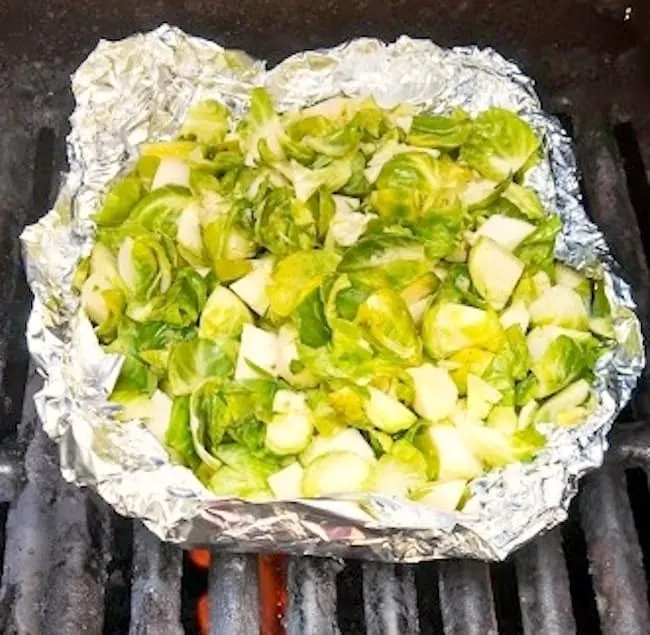 Throw your little pouch on a hot grill. I keep the heat about medium-ish. Close the lid. Have a drink.
Grab a fork and stir the Brussels Sprouts around a little after 5 minutes or so. This helps them to brown more evenly– I flipping love those little crispy caramelly charred bits. YUM.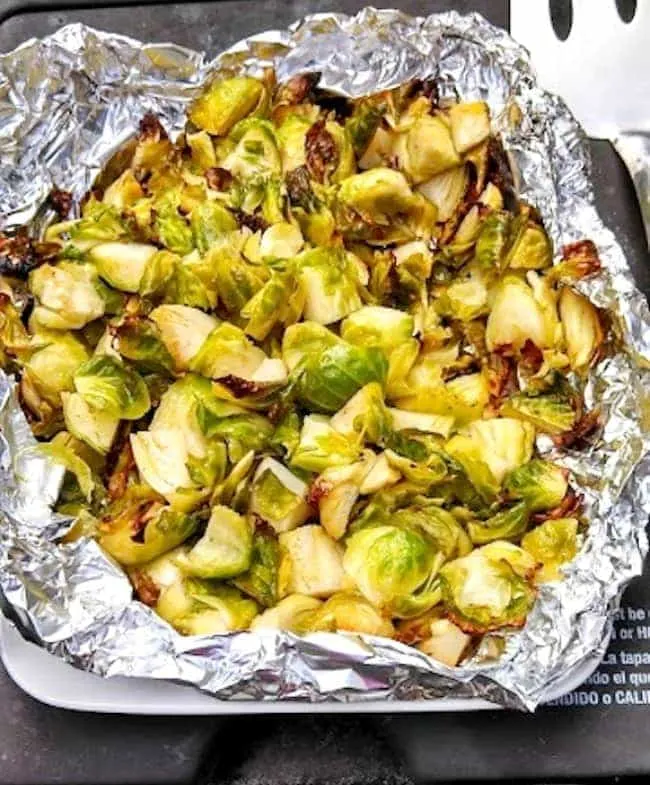 Cook the Brussels Sprouts for 15-20 minutes… more or less depending on the heat. Just peek every 4 or 5 minutes or so to see how golden-ey they are looking. "Golden-ey" is a technical cooking term, in case you were wondering. Some of the pieces will still be pretty green and you'll think they are not done.
But they are.
And green vegetables are good for you. Use a giant spatula to remove the whole pouch to a plate.
Empty the contents from the pouch and eat!!!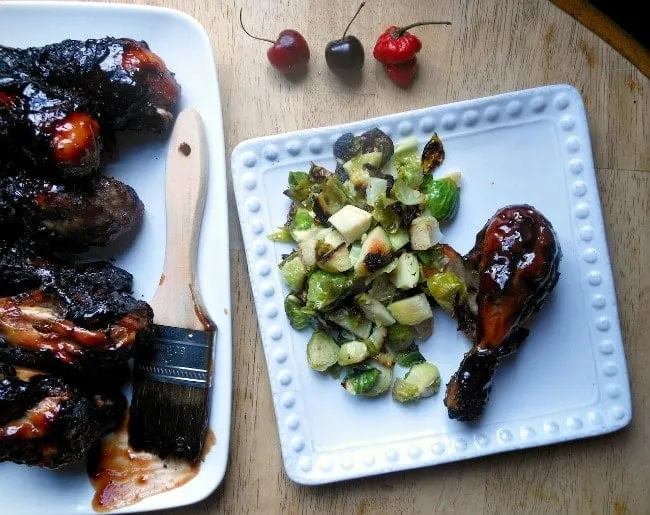 The best part about these (besides the fact that they are delicious) is that you can set them off to one side of the grill while you cook other things.
I made these to go with Cherry Bomb Chicken. I just threw them on halfway through cooking the chicken and everything was done at the same time. And the house never got hot.
What are your favorite veggies? Have you grilled them?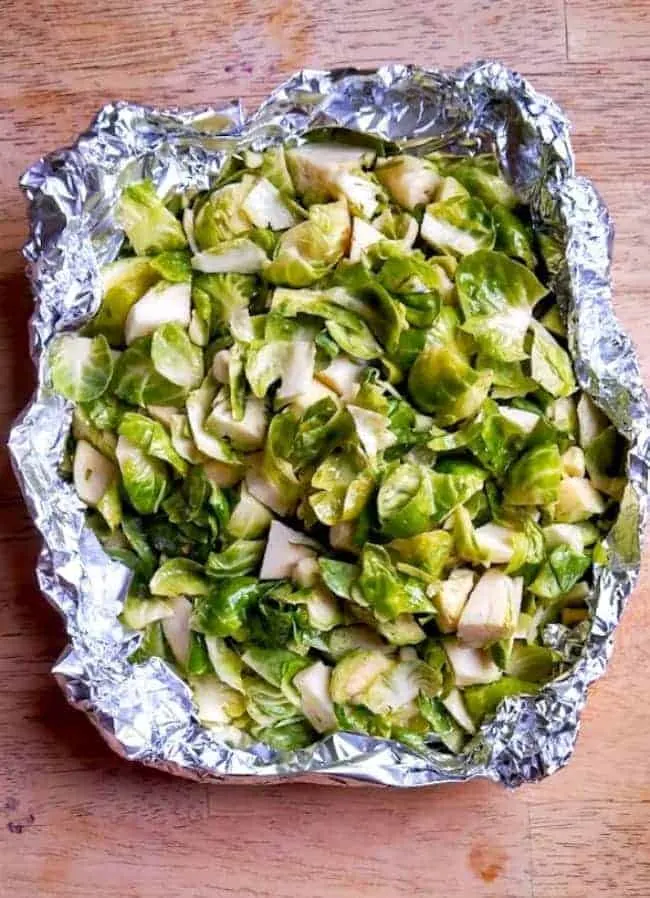 Yield:

4-6
How to Grill Brussels Sprouts
How to Grill Brussels Sprouts (or pretty much any vegetable) -- a recipe with no skewers (or skill) required.
Ingredients
6 cups fresh Brussels sprouts, trimmed and coarsely chopped
1 tablespoon olive oil
1 teaspoon kosher salt
Instructions
Toss the Brussels Sprouts with the olive oil. Set aside.
Heat the grill to medium to medium high (between 350 and 425).
Make a foil pouch. Place the Brussels sprouts in the center of the pouch and roll up the sides leaving the top open.
Sprinkle the Brussels sprouts with the kosher salt.
Toss the pouch on the grill. Close the lid. Stir after about 5 minutes.
They will be done in 15-20 minutes. Some pieces will be crisp and charred, others will be golden, and others will be green and look steamed.
Remove the Brussels sprouts from the pouch to a plate and serve.
Recommended Products
As an Amazon Associate and member of other affiliate programs, I earn from qualifying purchases.
Nutrition Information:
Yield:
6
Serving Size:
1
Amount Per Serving:
Calories:

76
Total Fat:

3g
Saturated Fat:

0g
Trans Fat:

0g
Unsaturated Fat:

2g
Cholesterol:

0mg
Sodium:

385mg
Carbohydrates:

11g
Fiber:

4g
Sugar:

3g
Protein:

4g