Cherry Bomb Chicken is salt-brined and then smothered in an easy Cherry Pepper BBQ Sauce while cooking. This recipe makes for the most tender and sticky sweet spicy chicken ever!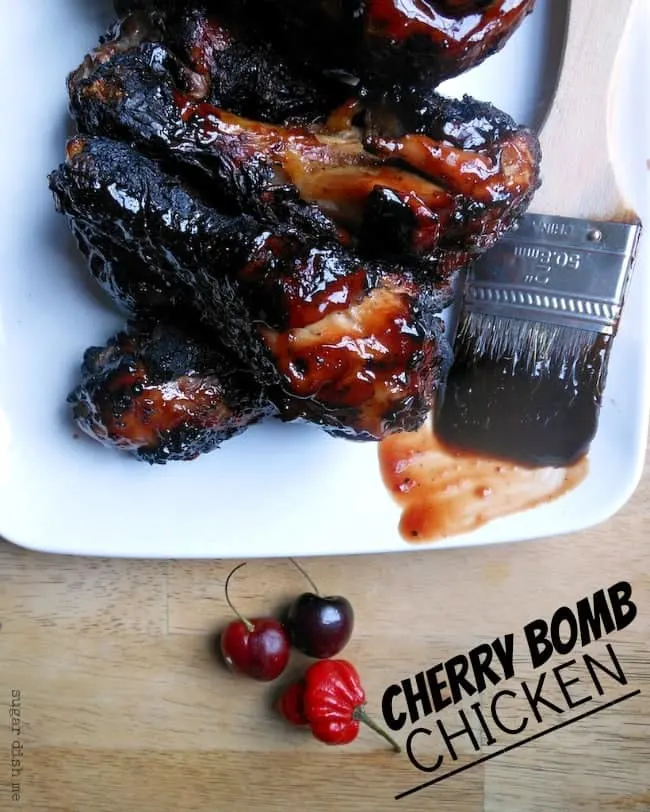 I have made this chicken 3 times and I almost didn't share it. Because 3 out of 3 times I have not gotten a photo that does this chicken justice.
But it is so so so amazingly good– like sticky sweet BBQ chicken deliciousness made with fresh cherries and hot peppers and things like molasses —I just had to give you the recipe.
This chicken is all full of summer BBQ love. And with the 4th looming over next week and the fireflies in full swing, the timing seemed right.
It started with a friend – my friend Judith that knows about the insane amount of crazy hot peppers Chad has managed to grow in and around this house. She sent me a recipe and said it would use up a few peppers because FYI: if you have never grown peppers you wait and wait and wait and wait and then… you have 1 billion peppers.
The recipe she sent me was called "Cherry Bomb Chicken" and I was stoked. Cherries and peppers? Yes yes yes. It sounded sweet to me, a good way to balance the ridiculous heat of a Carolina Reaper or Butch T. Trinidad Scorpion, peppers that make Habaneros look tame. So I read the recipe and…
It did not call for cherries. It called for cherry tomatoes.
Wamp wamp.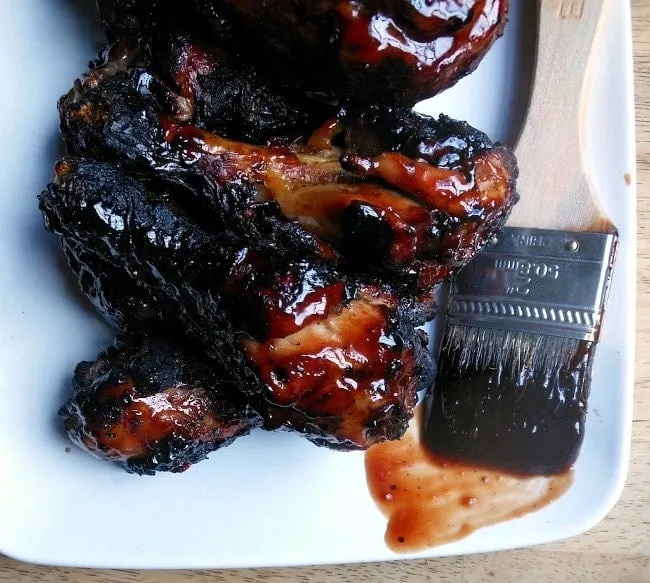 Judith made the original with just a few minor adjustments and she was really happy with the results. You can find her Cherry Bomb Chicken and lots of other goodies at The Midnight Baker. But I was still stuck wanting cherries with my hot peppers and so I ran with my instincts and came up with Forreal Cherry Bomb Chicken.
It's the real deal.
Cherries, rice vinegar, honey, molasses, and a smidge of sugar were enough to balance out the hot pepper heat and offer up a distinctive flavor. They always say hot peppers "taste fruity" or whatever, but usually my mouth is all puffy and on fire and I actually have no idea what the flipping peppers taste like. Who are "they" anyways?
This cherry glaze combined with the brine lets you taste the FLAVOR of the pepper without drinking a gallon of milk afterward.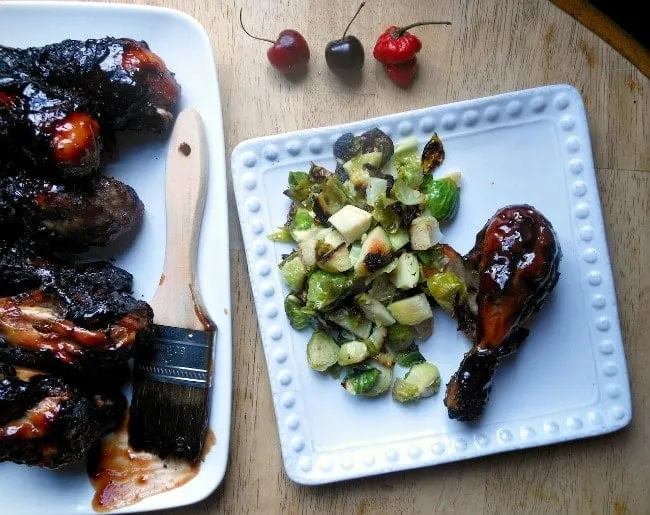 Then there is the brine itself. Holy wow!!! I make rubs and marinades for chicken all the time but I don't believe I've ever used this kind of brine method. It makes the chicken fall right off the bone. Tender, juicy, full of flavor– you'll be like a BBQ hero.
Cherry Bomb Chicken. Get with it!!
And have a great weekend!!!

Cherry Bomb Chicken
A sweet and spicy grilled chicken marinated in a cherry pepper brine and then covered in a cherry pepper glaze. Make sure you allow 4-6 hours for the chicken to soak in the brine.
Ingredients
10 chicken legs, skin-on (or the equivalent number of pieces; about 3 pounds)
Brine:
1 quart warm water
⅓ cup kosher salt
½ cup granulated sugar
½ teaspoon allspice
1½ cups fresh cherries, pitted
2 Carolina Reaper peppers, coarsely chopped (or 3 Habanero chiles-- see note)
2 cloves garlic
Cherry Glaze:
1 tablespoon oil
1 cup onion, diced
1 teaspoon kosher salt
1 pint fresh cherries, halved and pitted
1 Carolina Reaper pepper (see note)
1 cup water
1 tablespoon cornstarch
¼ cup rice vinegar
¼ cup honey
¼ cup molasses
3 tablespoons granulated sugar
Instructions
Place the pitted cherries, warm water, kosher salt, sugar, allspice, chili peppers, and garlic in the blender. Blend until you have frothy pink liquid.
Place the chicken pieces in a large container or bowl, pour the brine over the chicken, cover, and refrigerate for 4-6 hours.
While the chicken marinates, make the cherry pepper glaze. Heat the oil and add the onion and salt. Continue cooking over medium heat for about 10 minutes, stirring occasionally.
Add the cherries and chili pepper and cook for another 2-3 minutes.
Stir in the water, cornstarch, rice vinegar, honey, molasses, and sugar. Continue cooking over medium heat, stirring occasionally, for about 20 minutes. The mixture will be THICK and sticky!!
Place a fine mesh strainer over a bowl and pour the glaze through. You may need to press it with a spatula. This removes the cherry skins. You can skip this step if you're not particular.
Heat the grill to about 500. Remove the chicken from the brine and discard the liquid.
Place the chicken pieces on the HOT HOT grill for about 2 minutes. Flip them and cook for another minute or 2. Reduce the heat to medium, close the lid, and let them cook for about 10 minutes. Turn them again, close the lid and cook for 10 more minutes. (If you are cooking on a charcoal grill: Make a hot hot side and a less hot side by piling the coals to one side of the cook kettle. Sear the chicken on the hot hot side and then move the pieces to the other side, cover, cook, and continue)
Brush each piece with the cherry pepper glaze. Cook for a few more minutes, turn, and glaze the other side. Remove the chicken to a plate and serve.
*****Degree of Doneness/Cook Time will depend on the size of your chicken pieces and whether or not there is a bone. Use a meat thermometer to check that the internal temperature at the thickest part is 165 degrees.*****
Notes
Carolina Reaper Peppers are freakishly hot chili peppers that we grow here at home. You probably will not find them unless you grow your own so I would suggest using either Habanero chiles (easily found at the grocery store) or the hottest peppers you can stand. The salty sweetness of the brine takes the heat away so the only HOT you'll be getting is from the glaze.
Additionally, make sure that you are cooking in a well-ventilated area or outside with hot hot peppers-- the fumes can become like pepper gas if you aren't careful! I always turn the vent on over the stove.
P.S. The only annoying part of this whole entire recipe is pitting the cherries. I really like this little
OXO Cherry Pitter
– It's cheap and it does the job!
For the Grilled Brussels Sprouts in the photos you can find the recipe for How to Grill Brussels Sprouts <<<<——here