Banana Berry Coffee Cake Muffins are super moist, loaded with fresh blueberries, mashed bananas, and oats. Made with whole wheat flour and topped with a buttery brown sugar streusel, these muffins make for a great breakfast or brunch.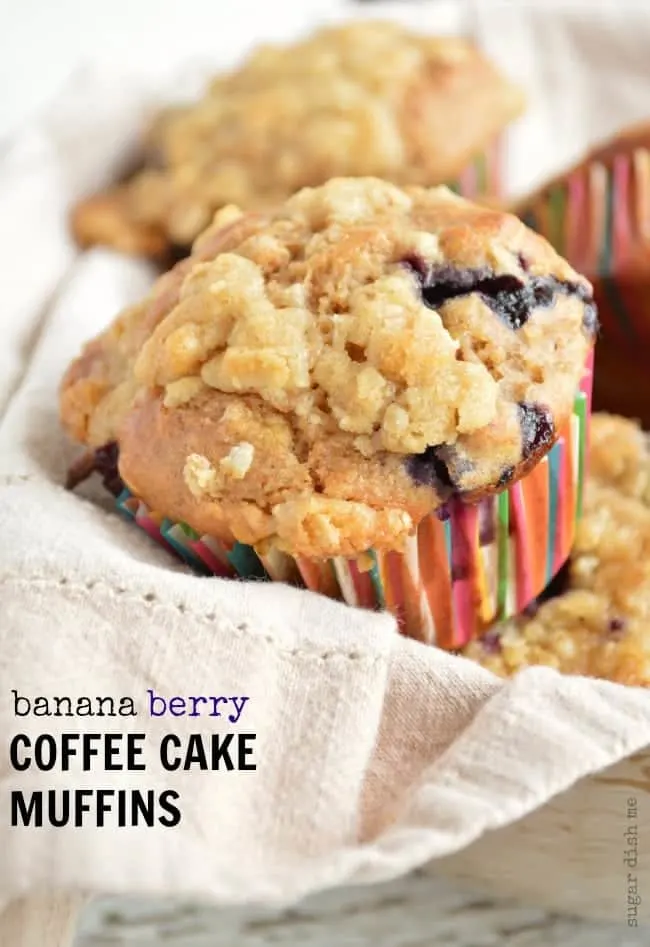 Have you had enough of me shoving fruit recipes in your face this week? I hope not because I am in no way done. I have lost all self control with summer produce– you'd think I was a fruit hoarder if you wandered through my kitchen right now.
There is cantaloupe. Watermelon. A big basket of peaches. Cherokee Purple and Roma tomatoes from my garden. An absurd amount of strawberries in my fridge. Blueberries.
The only summery fruits I seem to be missing right now are blackberries. I haven't managed to get my hands on the blackberries just yet because you have to take out a personal loan to afford like 5 blackberries at the grocery store. What's the deal with that?
Anyway.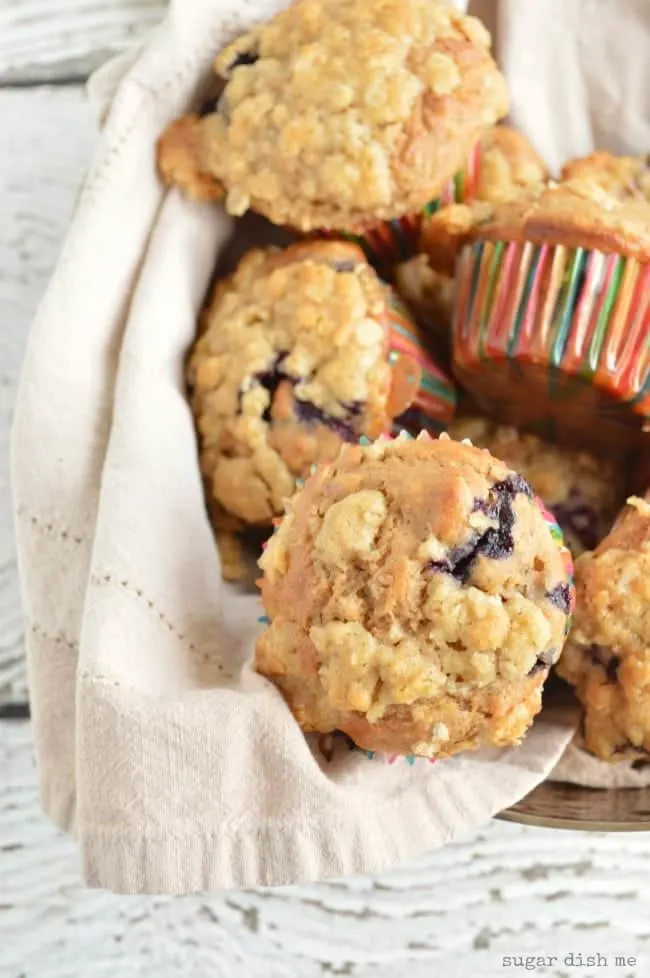 Fruity muffins are one of my favorite kid-snack solutions.
These boys are eating us out of house and home. Are they this hungry during school? Because I am pretty positive I don't pack this much food in their lunch boxes.
I've been trying to help them understand BALANCE in food, in their snacking. If you just eat a handful of pretzels you will be hungry again in 15 minutes! But if you have a few pretzels, a few nuts, and a glass of water, you can get out of my face for at least an hour so let's try that, shall we?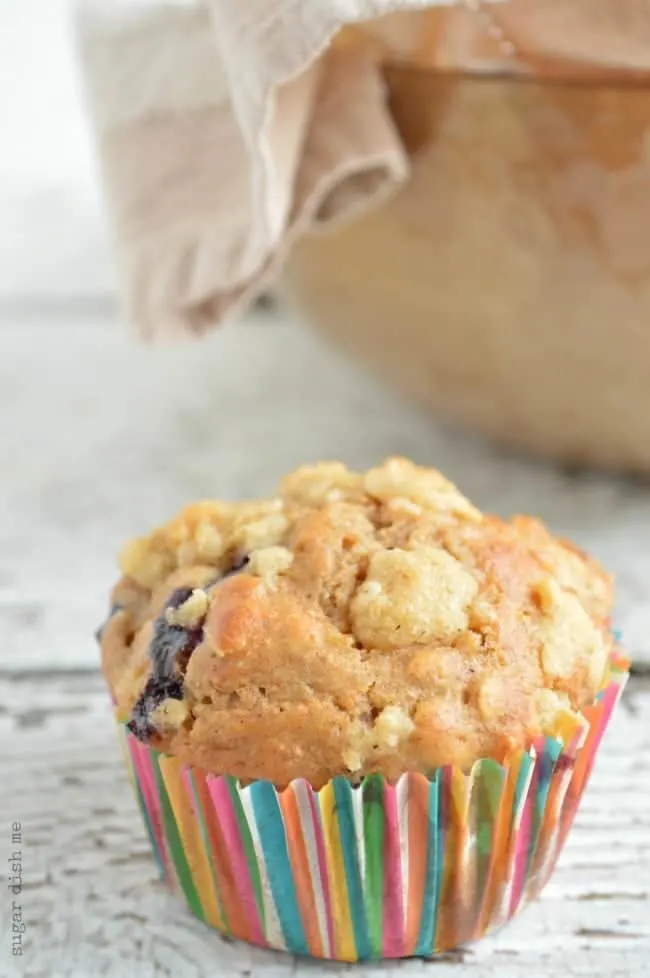 My favorite is when they think I can't hear them tippy-toe into the kitchen and rummage through the cabinets. They do the sloooooooow crunch with the pretzels hoping that the 3,541st episode of Mythbusters will camouflage the sound of the endless noshing.
I am here to tell you– Mommy hears EVERYTHING. You are not fooling me. Also– the empty bag of tortilla chips you left on the shelf? Not smooth, dudes.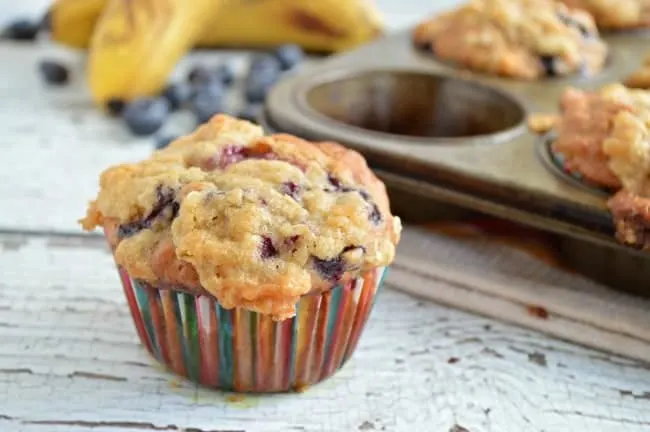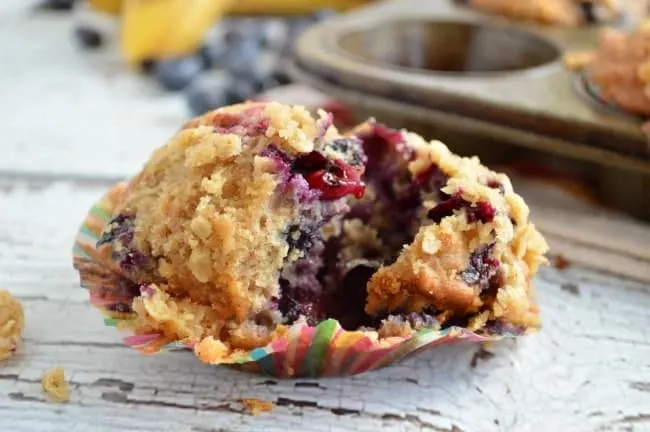 But!!! These muffins. They are filling!
And loaded with fruit. And whole wheat flour. There's only 1/2 cup of brown sugar in the batter (that doesn't count the 4 tablespoons in the topping, but I am of the opinion that the topping is both necessary and does not count. Because I say so.) so they aren't that kind of store-bought sugary muffin sweet. But they are DE-freaking-LICIOUS.
And after 1 muffin the boys left the kitchen alone.
Magical muffins.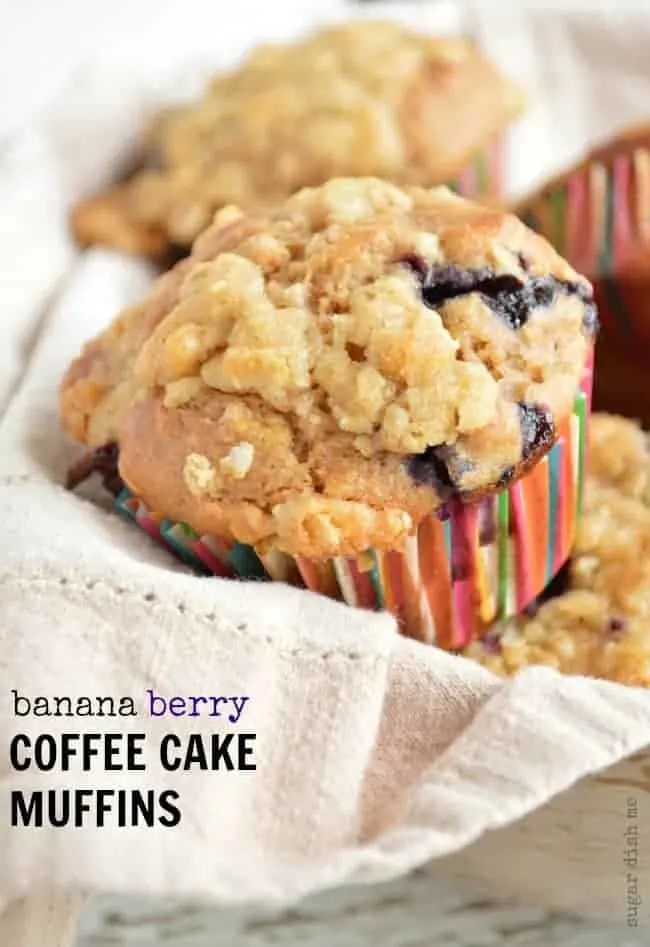 Yield:

about 15 standard muffins
Banana Berry Coffee Cake Muffins
Banana Coffee Cake Muffins loaded with fresh berries and topped with a buttery brown sugar streusel
Ingredients
For the Muffins:
2 cups whole wheat flour
1/2 cup oats
2 teaspoons baking powder
1 teaspoon cinnamon
1/2 teaspoon nutmeg
1/4 teaspoon baking soda
2 eggs
1/2 cup light brown sugar, packed
1/2 cup sour cream (or Greek yogurt)
3 medium bananas, mashed
1/2 cup milk
1 1/4 cups fresh blueberries
Streusel Topping:
4 tablespoons softened butter
4 tablespoons whole wheat flour
4 tablespoons old fashioned oats
4 tablespoons packed light brown sugar
1/2 teaspoon cinnamon
1/2 teaspoon kosher salt
Instructions
Pre-heat the oven to 400 and grease a muffin pan or line with paper liners.
In a large bowl whisk together the flour, oats, baking powder, cinnamon, nutmeg and baking soda.
In a medium bowl, beat the eggs with the brown sugar and sour cream. Stir in the milk and bananas until just combined. Then fold in the blueberries. The batter will be THICK!!! Careful not to over-work.
Fill each muffin cup all the way up. **See Note**
In a medium bowl combine the streusel ingredients until coarse crumbles form. Sprinkle on the top of each muffin.
Bake for 20 minutes. A pick inserted into the center will come out clean.
Let them cool slightly before removing from the pan.
Notes
This recipe will yield about 14 standard sized muffins or 10-12 jumbo muffins. For jumbo muffins you may need to increase the bake time to 25 minutes.
Recommended Products
As an Amazon Associate and member of other affiliate programs, I earn from qualifying purchases.
Nutrition Information:
Yield:
15
Serving Size:
1
Amount Per Serving:
Calories:

196
Total Fat:

6g
Saturated Fat:

3g
Trans Fat:

0g
Unsaturated Fat:

2g
Cholesterol:

38mg
Sodium:

200mg
Carbohydrates:

33g
Fiber:

3g
Sugar:

13g
Protein:

5g