You can't beat a great chocolate chip cookie. These Chewy Salted Chocolate Chip Cookies are just the right amount of soft and chewy with loads of chocolate chips, finished with a pinch of sea salt!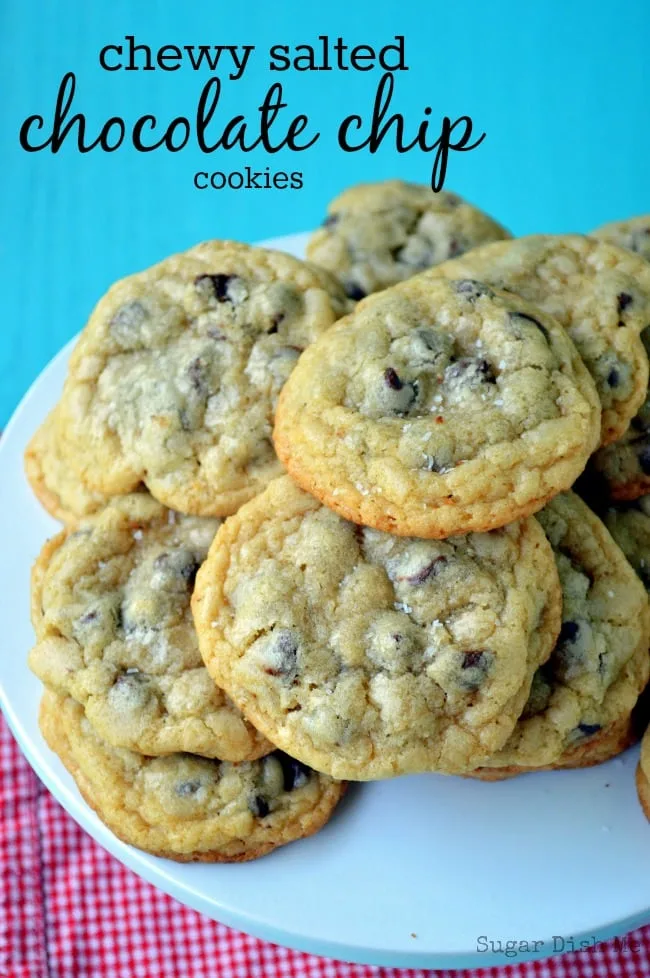 This week has been like a baking bonanza.
When my kids and I were figuring out teacher gifts this year, we decided that treats were our best bet. I'm always sending recipe trials in lunch boxes, and then end up getting lots of second-hand-from-an-11-year-old questions about what that was and how do you make it because so-and-so asked me.
Just so we are clear, secondhand-from-an-11-year-old information is not that reliable.
So anyway, the boys gave me their best teacher treat guesses and I got to work.
If you know me even a tiny bit (or have read my About page), then you know I am completely incapable of accomplishing anything at all without a crazy amount of background noise. It's some strange relic of my childhood in a house with 5 kids, the TV always droning on in the background. Reruns of MacGyver were our bread and butter.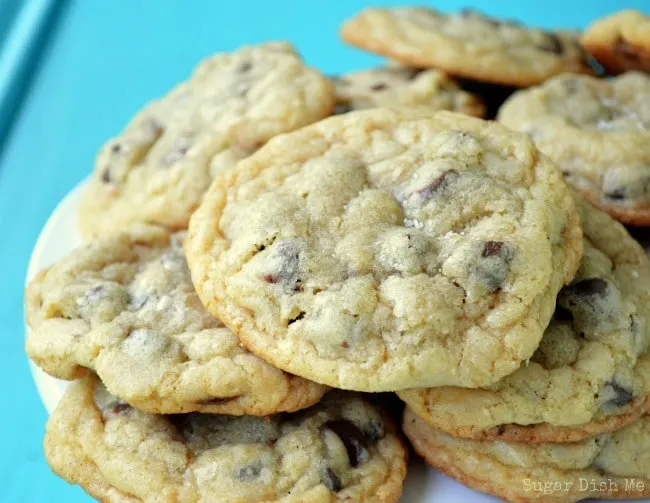 So because I work with the TV on most of the time, especially if I am in the kitchen all day, I can burn through a series pretty quickly.
Enter summer and TV shows on vacation.
There is nothing to watch! But I don't really watch. I just turn up the volume and listen, turning my head when action or dialogue seems to require it. With nothing on TV though (FYI, the 2nd season of Orange is the New Black comes out tomorrow and I CANNOT wait; I will for sure promptly binge-watch the whole thing and then will be sad for a whole year because there are no new episodes #mostimpatientpersonever), I turn to my second media addiction: Pandora radio.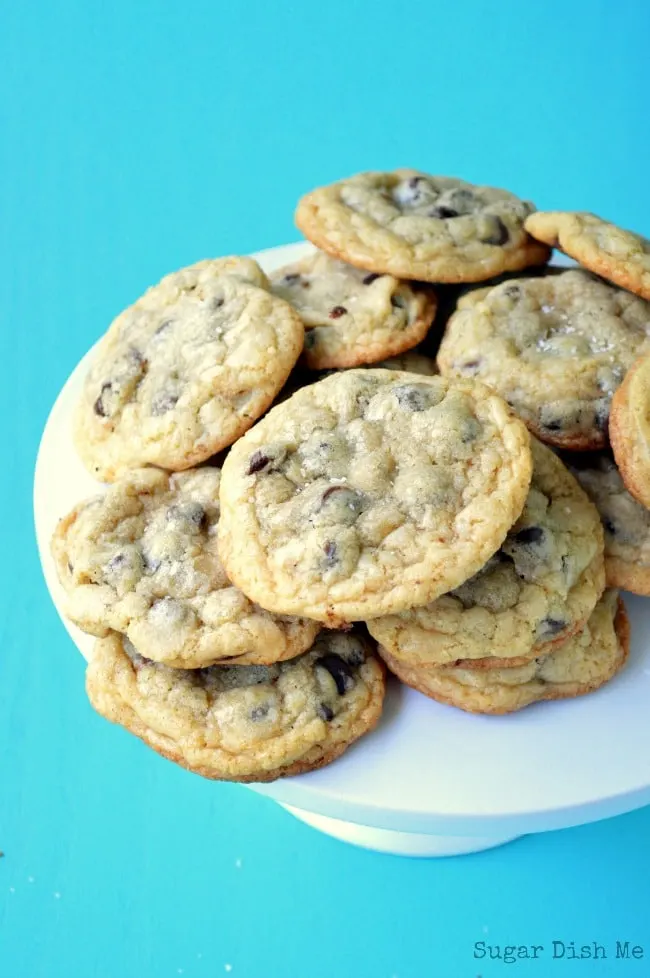 All these cookies have kept the music blasting all week long which is great because I think the music makes me slightly more productive than the TV (no head turning, only pauses for embarrassing dancing and song). The problem is though, that I'm pretty sure I am close to burning through my 40 free hours of Pandora music.
Then what will I do? Silence is not an option.
I think I need some summer TV action, stat. Or media noise detox.
Because I'm pretty sure that silence doesn't crank out cookies like these.
They are soft and loaded with chocolate, and are double sea-salted -once in the batter and once before the bake. Salty chocolate is the best.
If you'd like tips on How to Ship Baked Goods, I wrote a whole post about it because people very much like to be mailed cookies.
Want More Chocolate Chip Cookie Recipes?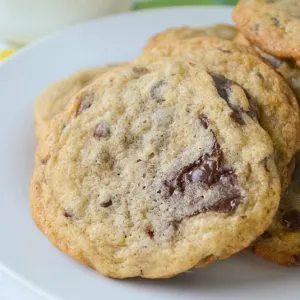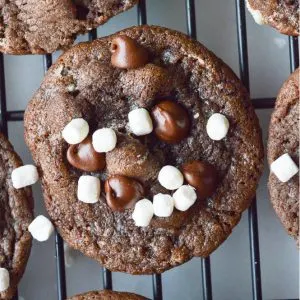 Classic Chocolate Chip Cookies were the first recipe I ever posted on Sugar Dish Me. They are loaded with chocolate and are still a solid classic recipe all these years later.
Hot Cocoa Cookies are made with cake mix! Shortcuts are terrific.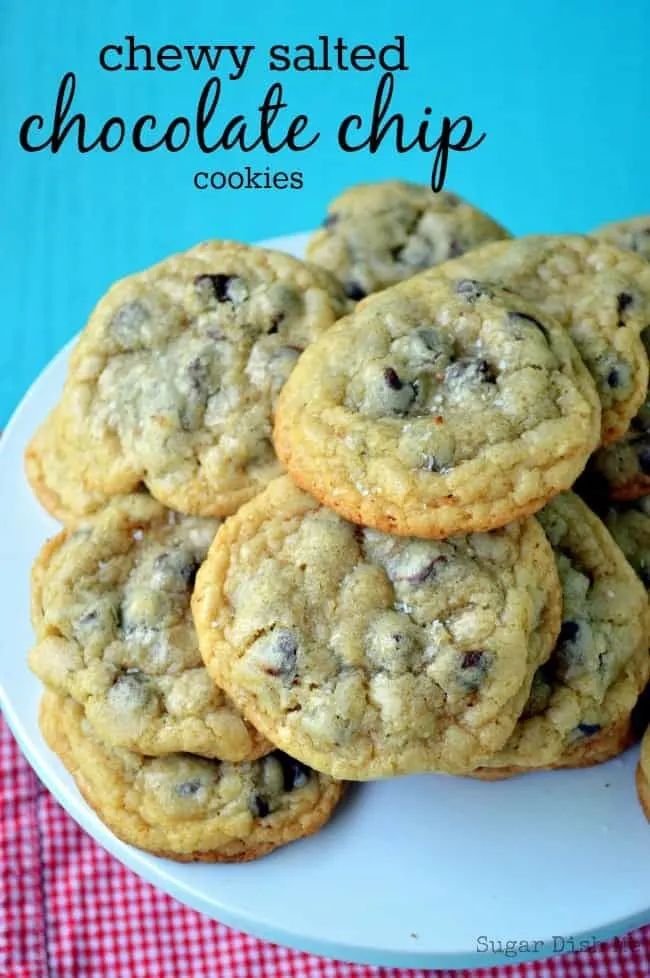 Yield:

36 cookies
Chewy Salted Chocolate Chip Cookies
Salted chocolate makes rich cookies even more delicious and complex! These chewy chocolate chip cookies are salted twice with sea salt for extra flavor you'll love!
Ingredients
3/4 cup unsalted butter, softened
3/4 cup packed light brown sugar
3/4 cup granulated sugar
1 tablespoon vanilla
1 egg
1 3/4 cups all purpose flour
1 tablespoon cornstarch
3/4 teaspoon sea salt + more to sprinkle over each cookie before baking
1 1/2 cups semi-sweet chocolate chips
Instructions
Preheat the oven to 375.
In a large bowl beat together the butter and sugars until fluffy. Add the vanilla and egg and beat until just combined.
Add the flour, cornstarch, and sea salt all at once and mix until the dough comes together.
Stir in the chocolate chips.
About a tablespoon at a time, portion the dough out onto an ungreased baking sheet, spacing the cookies about 2" apart. Sprinkle more sea salt over each cookie.
Bake for 9-11 mins (10 is always perfect for me). Your cookies might look slightly under-cooked - it's ok!!! They are done. Over baking takes away the chewy texture.
Nutrition Information:
Yield:
36
Serving Size:
2
Amount Per Serving:
Calories:

129
Total Fat:

6g
Saturated Fat:

4g
Trans Fat:

0g
Unsaturated Fat:

2g
Cholesterol:

15mg
Sodium:

51mg
Carbohydrates:

18g
Fiber:

1g
Sugar:

12g
Protein:

1g