A rich and decadent version of a classic favorite! Sugar Dish Me's Classic Chocolate Chip Cookies have a few secret surprises that set them apart.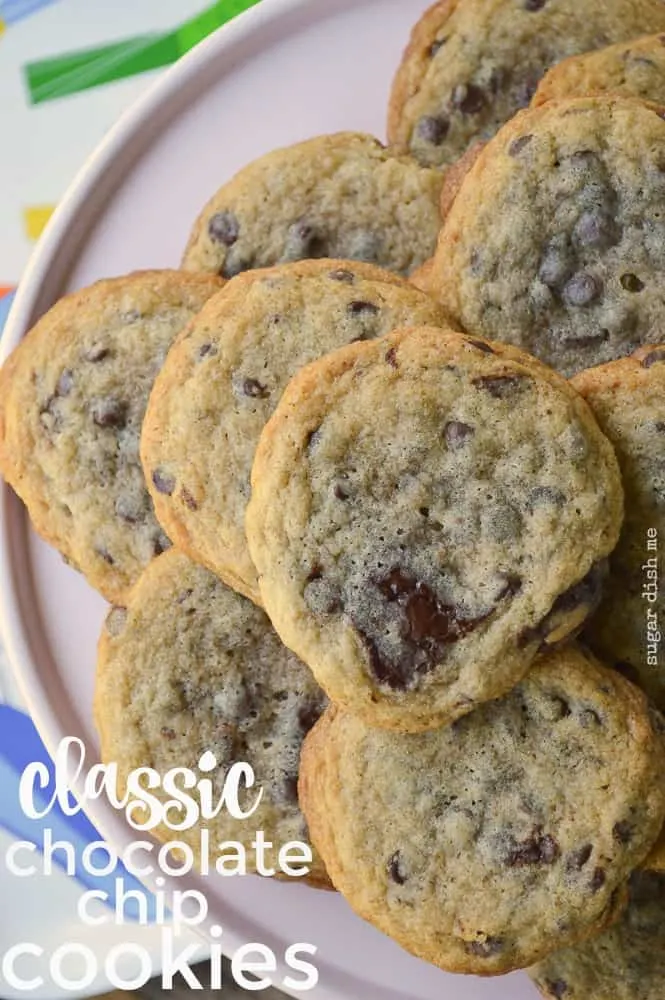 Update September 2017: SIX WHOLE YEARS LATER! Holy moly. This is the very first recipe ever published on Sugar Dish Me. Classic Chocolate Chip Cookies – still probably my boys' favorite recipe. I've updated the photos here and some of the text. Added a printer-friendly recipe card and links to some of my other very favorite Chocolate Chip Cookie recipes, but the basic recipe is still the same. SO GOOD!
The beginning.
Through a series of weird and unfortunate events, I lost my job at a little local store that I ran. Instead of getting into all the details there though, let's talk about why I decided to start a blog.
I had this fantastic little what-the-heck-do-I-do-now sit-down with my sister, whereupon she suggested I get down to business, and start using my long stagnant brain to earn a living. Apparently my skills in bullshit are proficient because I have somehow managed to give people the impression that I am a completely capable, yet out of practice writer.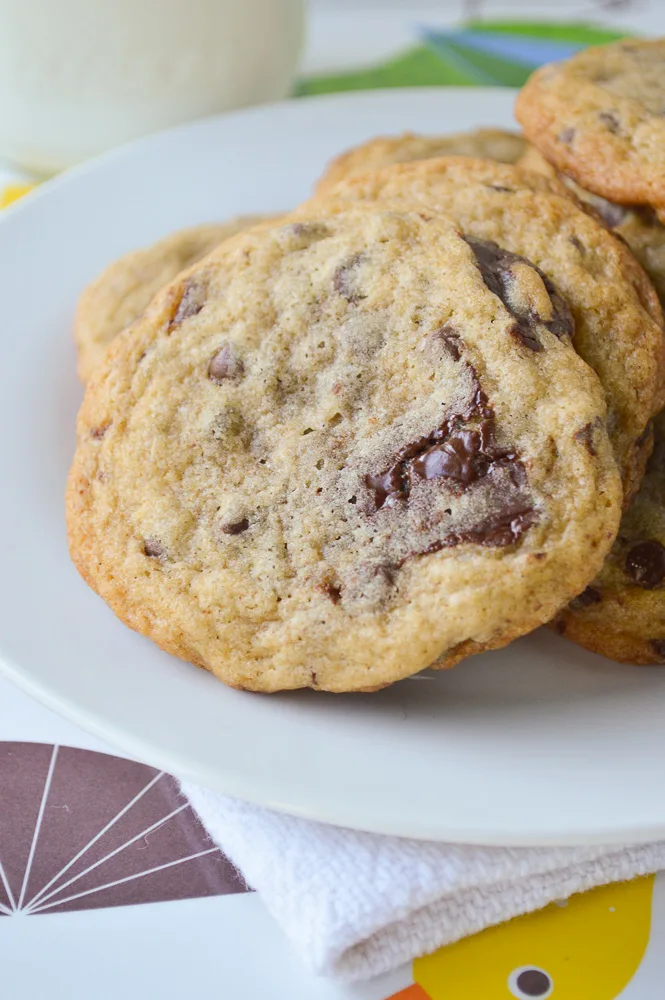 My sister and I spent hours on the internet scrolling through websites, and looking at photos of beautiful farmer's market produce, and recipes that people have just created and then shared.
I should tell you that I have ZERO clues what I am doing here. I don't know the first thing about building a website and I think I am basically just really bad at the internet.
But I make a damn good chocolate chip cookie.
Knowing how to make a damn good classic chocolate chip cookie is important because when it gets down to it, cookies fix almost everything.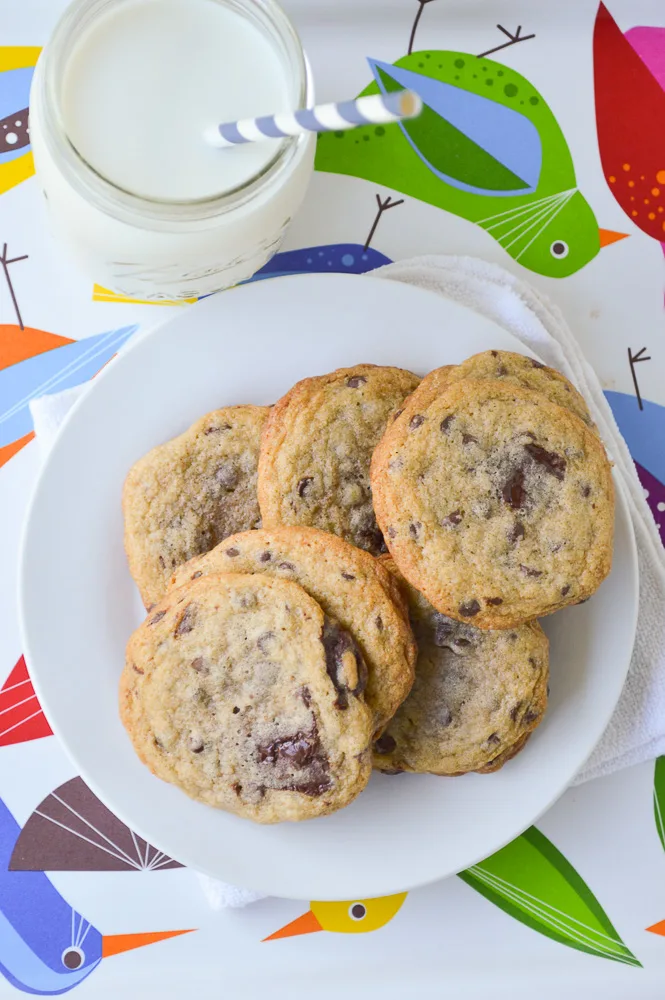 I have a few cookie tricks up my sleeve. First! Cornstarch. Makes for softer cookies.
Second! I add a little cinnamon and nutmeg. It makes just enough difference that the flavors are more interesting than you expected them to be.
Next – chilled cookie dough. I know. That's annoying. But I promise chilled dough makes the best cookies.
UPDATED INTERLUDE>> I have LOTS of cookie recipes on this site now! Cookie recipes that don't require refrigeration. You might want to try these Triple Chocolate Peanut Butter Oatmeal Cookies. OR!! Coffee Lover's Cookies. These are amazing, y'all. You can find all cookie recipes <<–HERE
The last important cookie trick is to keep my other half from eating all the cookie dough before I bake the cookies. It's usually best to bake when he's at work.
Mission accomplished. Classic Chocolate Chip Cookies. I feel better now. I even made one giant cookie for my son's science class.
So now science is happy, too.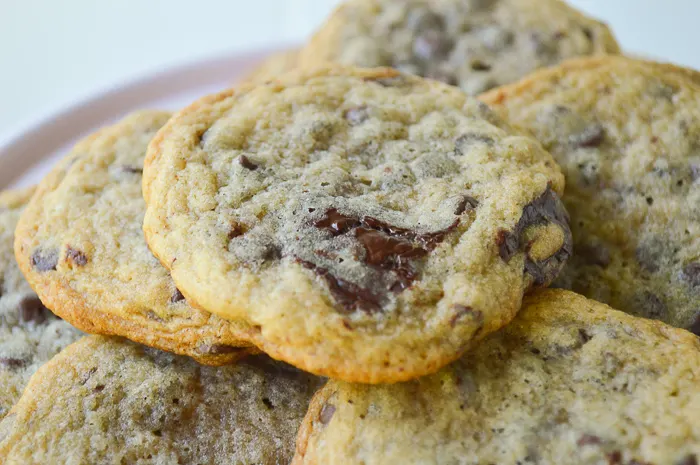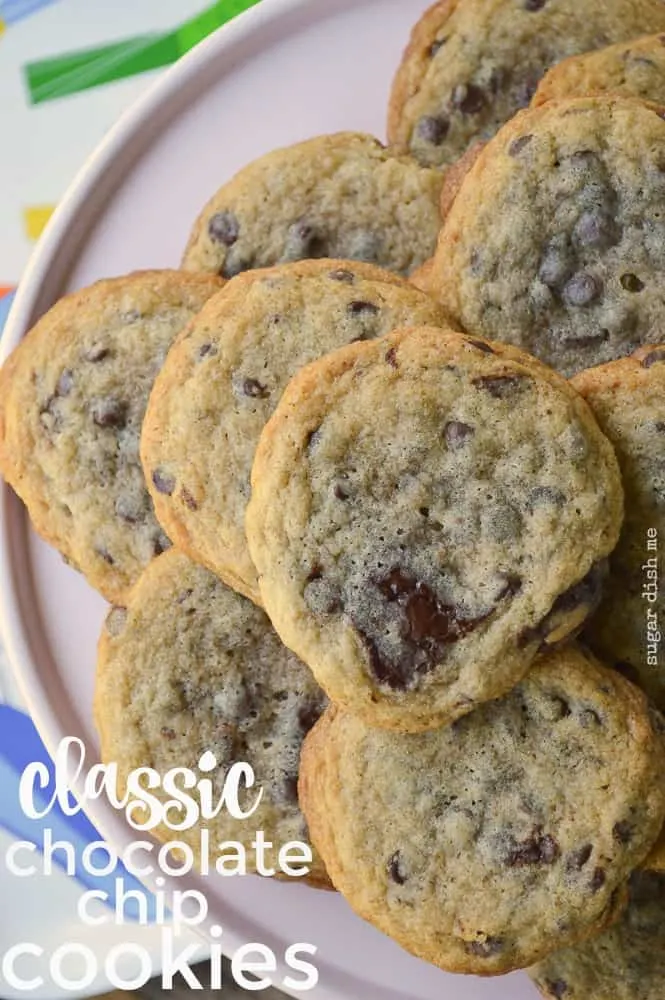 Yield:

about 4 dozen cookies
Classic Chocolate Chip Cookies
Additional Time:
30 minutes
Classic Chocolate Chip Cookies have a few fun twists! One of the secrets to great cookies is to chill the dough. Prep time includes 30 minutes for chilling - don't skip it!
Ingredients
1 cup butter, softened
3/4 cup granulated sugar
3/4 cup packed light brown sugar
1 teaspoon vanilla extract
2 large eggs
2 1/4 cup all purpose flour
1 tablespoon cornstarch
1 teaspoon baking soda
3/4 teaspoon salt
1/2 teaspoon ground cinnamon
1/2 teaspoon ground nutmeg
2 cups semi-sweet chocolate chips
1/4 cup chopped dark chocolate
Instructions
Preheat the oven to 350°F and line a baking sheet with parchment paper.
Cream together the butter and sugars. Add in the vanilla and eggs.
In a medium bowl whisk together the flour, cornstarch, baking soda, salt, cinnamon, and nutmeg. Gradually add in the flour mixture and mix until JUST combined. Stir in the chocolate chips.
Chill the cookie dough for at least 30 minutes.
Using a cookie scoop, portion the cookie dough out in 1" balls on the prepared cookie sheet, spaced 2" apart.
Bake for 10 minutes. Let the cookies cool fot about 3 minutes on the cookie sheet before removing to a wire rack to cool completely.
Recommended Products
As an Amazon Associate and member of other affiliate programs, I earn from qualifying purchases.
Nutrition Information:
Yield:
48
Serving Size:
2
Amount Per Serving:
Calories:

124
Total Fat:

7g
Saturated Fat:

4g
Trans Fat:

0g
Unsaturated Fat:

2g
Cholesterol:

18mg
Sodium:

95mg
Carbohydrates:

16g
Fiber:

1g
Sugar:

10g
Protein:

1g
If you LOVE Classic Chocolate Chip Cookies you should also try…