…(and broccoli)
Loaded with cheese and garlic plus two of my favorite greens, and a generous helping of chicken sausage, this Chicken Sausage and Spinach Pizza will knock your at-home-pizza-making socks off. Fast and simple! Dinner on the table in 30 minutes or less.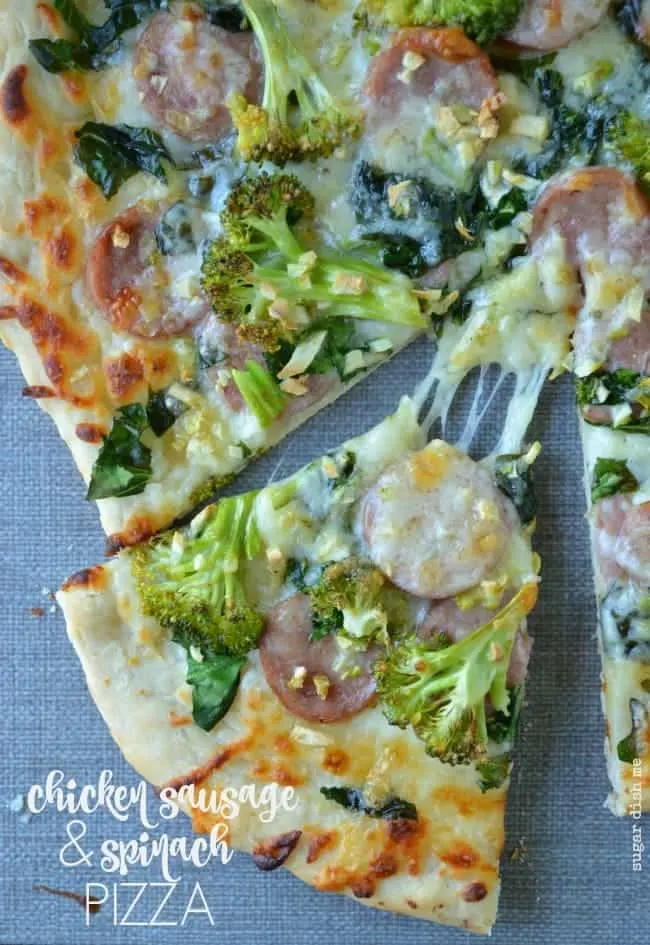 This is a sponsored conversation written by me on behalf of Aidells®. The opinions and text are all mine.
Oh, pizza. It's been awhile, and I've missed you.
The last few weeks have been a series of unfortunate kitchen events for me, until I made this Chicken Sausage and Spinach Pizza with Garlic. What kids of unfortunate events, you ask? Well.
Last week I heated up my cast iron skillet so that I could brown a roast for this other fab-o recipe I'm working on (and will share as soon as I get my mojo back) and then got distracted. So… the pan got hotter than I realized. And when I added a tablespoon of oil to the hot pan, it burst into flames. Like giant flames that were jumping up and licking my sad excuse for a hood vent that doesn't even push the air outside.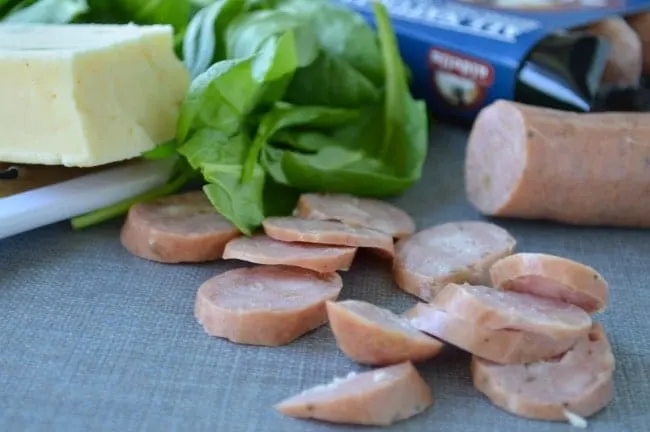 Fortunately I was present enough to think quickly and throw most of a box of baking soda on the fire and it went out.
Except then there was smoke everywhere. And the smoke crept down the hall where it alerted not just one smoke detector, but two.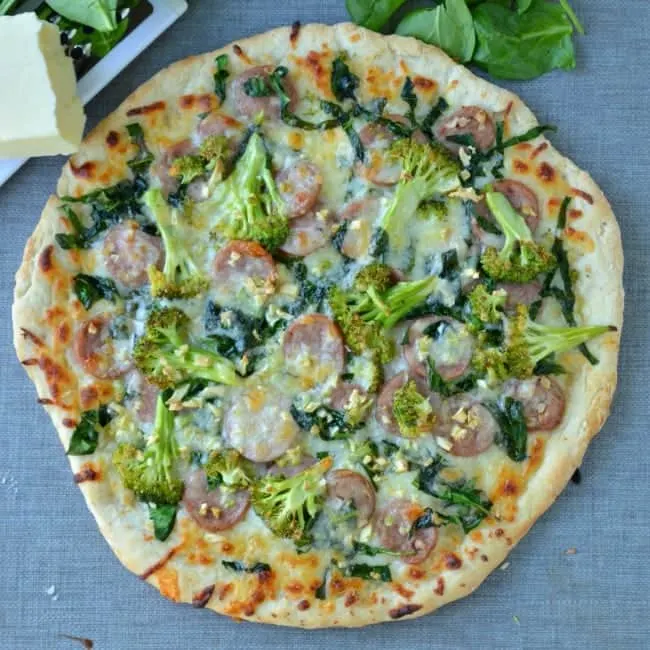 AND THEN!!! All the dogs started barking. That is SEVEN DOGS. Barking. While two smoke alarms screeched.
So I tried to enter the code to turn off at least the one that is connected to our alarm system because fire trucks in my driveway is not my idea of a good time. Buuuuut the alarm keypad is touch screen, and it picked this most inopportune time to not work.
So then I grab the broom and start fanning the smoke away from the smoke detectors. While 7 dogs continue barking at me. And all this time I am looking at my phone, expecting the alarm company to call me so I can tell them this is all just a mistake and there's no fire. They didn't call me though. They called Chad. Who is a welder and is not normally at liberty to answer the phone while he builds things with actual fire.
I'd already sent Chad a text with all the swear words so he knew I was not burning the house down, so he did know to give them the passcode or whatever prevents the entire fire department from parking in my driveway with more sirens blaring, but seriously?
I was just browning a roast.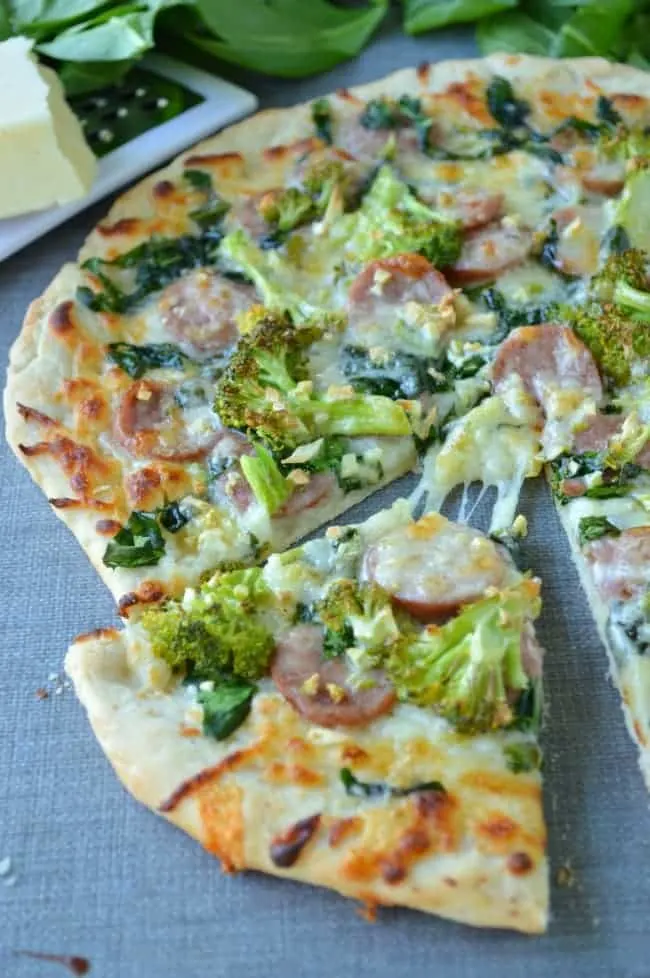 This is not the only disaster of a set back I had in the kitchen in the last 7 days. It IS the disaster that moved me to turn out one of the simplest recipes possible. Because barking dogs and smoke alarms were enough to break me. It was almost time to eat cereal and make myself a drink. I had this Aidells® Chicken & Apple Sausage in the fridge though, and my favorite 10 Minute Pizza Dough Recipe.
So dinner actually happened.
You could use refrigerated pizza dough, or even a prepared pizza crust. the toppings are what made this totally amazing. I found Aidells® at Publix – there are a whole bunch of varieties (Italian, Cajun Style Andouille, Spicy Mango Jalapeno, Roasted Garlic & Gruyere!!!)- but the Chicken & Apple is my favorite go-to. They are also nitrate-free with no added hormones and are put together in small batches.
This pizza is an awesome way to bring sausage to the dinner table!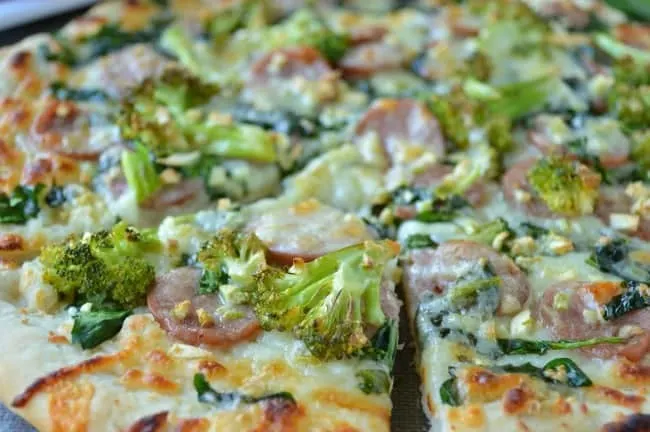 Chicken Sausage and Spinach Pizza with Garlic
Serves:
makes 2/ 10" pizzas
Ingredients
1 recipe10 Minute Pizza Dough(or refrigerated pizza dough/prepared crust) - this recipe is enough for 2 pizzas
2 tablespoons olive oil
2 cups shredded mozzarella cheese
1 cup shredded sharp cheddar cheese
2 links Aidells® Chicken & Apple Sausage, sliced into thin rounds
3 ounces fresh spinach leaves, cut chiffonade-style (roll a bunch of the leaves and cut into thin ribbons)
2 cloves garlic, minced
1 cup thinly sliced broccoli florets
Instructions
Preheat the oven according to the instructions for your pizza crust (for 10 minute pizza dough it's 500°F). Brush your stretched pizza dough with one tablespoon of the olive oil.
Sprinkle the with one cup of the mozzarella cheese.
Evenly scatter one of the sliced sausage links over the cheese, then the cut spinach. Next add ½ cup of the sharp cheddar, then half of the garlic, and half of the broccoli. **I very lightly brushed my broccoli with just a dab of olive oil to help it roast in the oven**
Bake your pizza according to the instructions for your pizza crust.
Repeat with the remaining ingredients and the second pizza.
** There is currently an in-store promotion for Aidells® Sausage at Publix – you can pick them up 2/$10!**
This is a sponsored conversation written by me on behalf of Aidells®. The opinions and text are all mine.