A recipe for an amazing yeasted loaf bread full of those English Muffin nooks and crannies, cinnamon and raisins. Cinnamon Raisin English Muffin Toast makes a wonderful addition to brunch, a beautiful holiday breakfast, and awesome gift!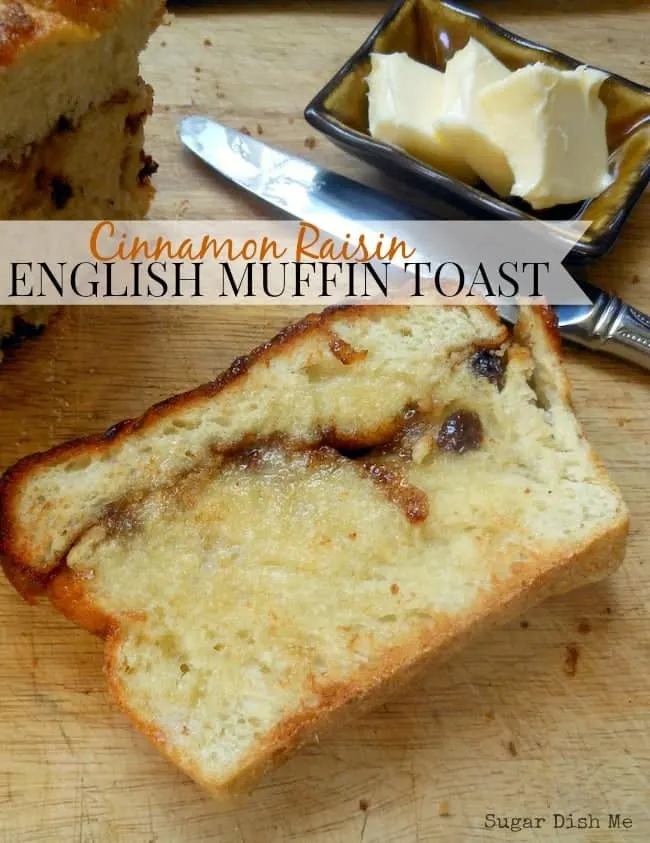 I'm gonna need you to sit down for this.
No seriously.
I think this might be the best thing I ever made. Not even kidding.
If you follow me on Facebook then you might remember that last week I was all jumping up and down about my Hot Mess Black Eyed Pea Burgers being featured on Tasty Kitchen. Tasty Kitchen is a fun place launched by Ree Drummond (The Pioneer Woman) where you can share recipes and make friends and it's pretty happy. So I submit my original stuff there and then fill my little virtual recipe box full of good stuff shared by others. While flipping through that site I came across a recipe for English Muffin Toastable Bread that I really just couldn't get over. It was one of those things that lived in my head for weeks until I made it.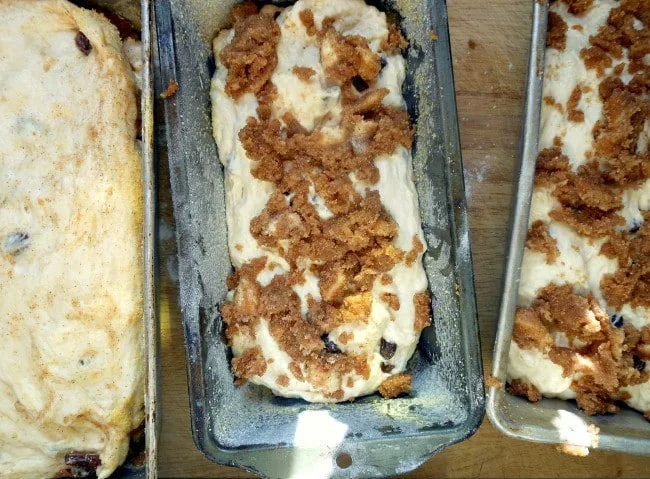 Then I made the mistake of walking too slowly through the bread aisle at the grocery store. You know that sweet spot where everything smells like cinnamon rolls because of all the cinnamon raisin bread? I have to physically drag myself away from there every. single. time. Fortunately the bread is strategically placed next to the ice cream on my way out the door. Who are these grocery store marketing geniuses anyway?
I digress.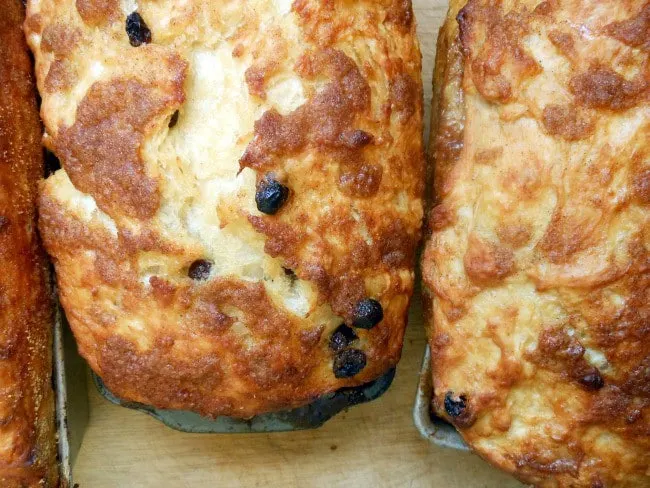 What happened next is amazing.
I promise I'm not exaggerating.
I followed Foodie with Family's recipe EXACTLY but I added this streusel-ey ribbon through the middle and a bunch of raisins (if you don't like raisins then leave them out but really— for this I want you to try and make friends with raisins) and then more streusel-ey stuff on top. My whole house smelled like cinnamon toast crunch while this was baking.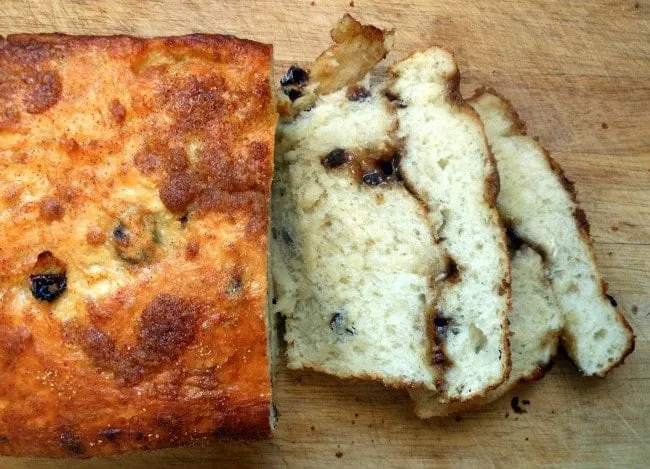 Of course I sliced this straight out of the oven and ate it warm. If you don't like warm fresh from the oven bread I'm pretty sure we are not even friends at all.
This bread is soft and sweet and basically the best bread I have ever ever made. BUT THEN.
I toasted it. Twice because it's all full of those English muffin nooks and crannies. And when it came from the toaster all dark golden brown and piping hot I added butter.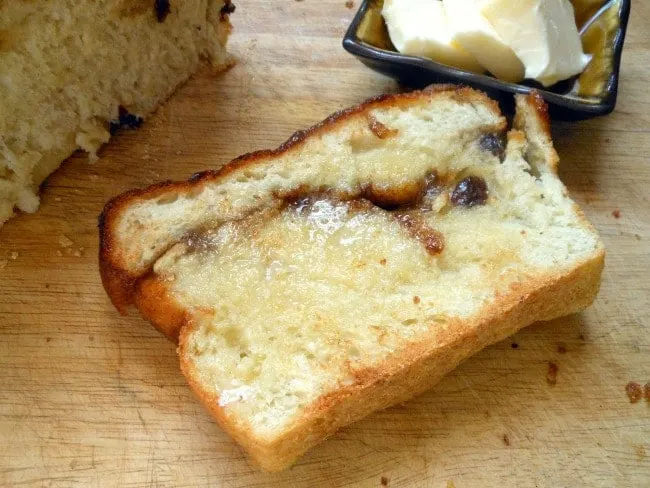 Let's skip dessert and just have this toast.
Can you even believe I just said that?

Cinnamon Raisin English Muffin Toast
Ingredients
11½ cups all purpose flour
2 tablespoons + ¾ teaspoon active dry yeast (3 packages)
2 tablespoons kosher salt
2 tablespoons granulated sugar
5½ cups warm water
1½ cup raisins
nonstick cooking spray
¼ cup cornmeal (for coating the pans)
1 cup packed light brown sugar
2 teaspoons cinnamon
½ cup cold butter, cut into small pieces
3 tablespoons butter
Instructions
In a very large mixing bowl whisk together the flour, yeast, salt, and granulated sugar. Stir in the warm water until combined- it will be a shaggy dough and will require some arm muscles to stir!!). Stir in the raisins.
Spray a piece of plastic wrap with nonstick cooking spray and cover the dough with it. Let it rise in a warm place for about an hour.
While the bread rises prepare the pans. Spray 3 loaf pans (I used both 8 X 4 and 9X5 with this recipe. The larger pans will probably work better because my loaves rose A LOT but if all you have are smaller pans you will be just fine) with the nonstick cooking spray. Toss a little of the cornmeal into each of the pans and shake to coat the bottom and sides (like when you flour a cake pan).
Now make the streusel by combining the brown sugar and the cinnamon. Add the butter pieces and smash everything together with the back of a fork (or your fingers- I like to get all hands on).
When the dough has risen, preheat the oven to 350. Spray your hands with cooking spray and divide the dough into 6 kinda equal parts.
Place one part into the bottom of each prepared loaf pan and stretch it a little to fit.
Sprinkle ¼ of the streusel on top of the dough in the pan. Save the remaining ¼.
Place the last 3 parts dough on top of the streusel in each pan.
Divide the remaining streusel between the 3 loaves, sprinkling it on top of each (my hands were COVERED with cinnamon sugar at this point and I sort of worked it all over the top of each loaf to coat it with the cinnamon and sugar).
Cover with the plastic wrap and let rise for about 15 more minutes. It will be peeking over the top of the pan.
Bake the loaves for 30 minutes.
While they bake melt the last 3 tablespoons of butter.
At the 30 minute mark take the loaves out one at a time and brush the tops with butter. Bake for 10 more minutes.
Turn the loaves out of the pans as soon as you take them from the oven and let them cool on a rack.
Slice, TOAST and butter to serve
If you don't want 3 loaves you can find a scaled down version of
English Muffin Toastable Bread
at Foodie with Family. Most days I feel like I'm feeding a small army with these guys here so I made every bit of 3 loaves.